In 1652, Johannes Cornelisz Verspronck, a Dutch portraitist of the Golden Age, painted his Portrait of a Lady. Three centuries later, in Nazi Germany, the painting would figure in the midst of a heated battle in the name of another lady's justice—one who was stripped of all that she loved.
Alma Salomonsohn didn't want to believe the rumours. She refused to leave Berlin to join her sons in the United States until the day her friend, physicist Max Planck, came to her door. "If you ever want to see your sons again," he told her, "you have to leave the country now."
It was summer 1939. Planck had come to Salomonsohn's home in downtown Berlin to warn her of Hitler's plans to shut Germany's borders. Finally convinced, Salomonsohn fled to London, grabbing just one small painting, while leaving instructions for the packing and shipping of the rest—among them a Rembrandt, works by Brueghel and Ruisdael and Verspronck's Portrait of a Lady. In September, the Second World War began. The crate of paintings never arrived in London.
Half a century later, the Verspronck would rejoin Salomonsohn's family, but not before it passed through unnamed hands and went on an extended Canadian sojourn far from its rightful owners. As the Jews of Eastern Europe were in flight or worse, the Nazis plundered their homes. This included art: the Nazis saw the export of important art as the theft of German culture; if a painting was deemed unworthy, it would be impounded or burned. Much of this looted art is still lost, and thousands of works have ended up within Canadian borders—but only a handful, thus far, have been repatriated.
In 1943, the Allied armies formed the Monuments Men—a group made famous by the 2014 George Clooney film—with the mission to protect cultural treasures from the vagaries of war. After the armistice, the group was able to recover and eventually repatriate millions of plundered objects—usually to the governments of the countries they were taken from and not to their original owners or descendants. Often these pieces ended up in national collections or were sold without a trace of paperwork. As the stolen paintings migrated around the world, Jewish survivors started new lives. Art was not top of mind.
Arthur and Alma Salomonsohn had purchased Verspronck's Portrait of a Lady in 1909. Arthur was a partner at the Disconto-Gesellschaft bank, which later merged with Deutsche Bank. The couple enjoyed a large apartment in central Berlin as well as a country house, both of which were filled with art. Arthur died in 1930. Later, when Alma fled Berlin for London, the painting was sold at a Frankfurt auction in 1941, with the proceeds going to Nazi offices in Berlin-Brandenburg; the owner identified only with the untraceable initials "F.L." Alma would never see Portrait of a Lady again. During the war, Alma would join her children in the United States, leaving behind the wealth she enjoyed in Berlin. She changed her name to Alma Solmssen.
In the late '40s, Solmssen began efforts to retrieve her paintings. She compiled a list of the artworks she had packed before leaving Berlin and enlisted a lawyer to track them down using photographs and a statement of confirmation from Carl George Heise, director of Kunsthalle Hamburg, that he had seen the works at her home. The search proved fruitless; the family decided to forget the paintings and move on.
The Verspronck reappeared in 1986, when it was purchased by Dutch and Flemish Old Master dealer Johnny Van Haeften from an art runner with the last name of König. As in 1941, the owner did not want to be known. Van Haeften wasn't able to sell the Verspronck through his London gallery, so he sent it to Sotheby's for their Important Old Master Paintings auction in New York in June 1987. No questions were asked about the painting's provenance.
"The 1980s were a very different time," says Lucian Simmons, head of provenance and research at Sotheby's. No processes were put into place to ensure the art trading hands had the proper paperwork to confirm ownership.
With funds from its volunteer committee, the Art Gallery of Hamilton bought the painting for US$58,000 at this auction. They owned a small Dutch collection already, but wanted a portrait to expand it. The work went on to become one of the small gallery's prized possessions and was included in many exhibitions.
In 1991, Sarah Solmssen was poking around her mother-in-law's attic in Philadelphia, in search of something to hang in her new home, one she shared with husband, Peter, Alma's great-grandson. They came across the one painting that Alma had brought with her from Berlin to London.
"Sarah, you might like this," her mother-in-law said. The painting was dark and dirty, had been left out of its frame and was very yellowed. It depicted a country inn, with travellers on horseback being greeted. Sarah brought it home and hung it in their new master bedroom, where she would stare at it as she fell asleep each night.
A few years later, Peter and Sarah decided to get the painting restored, and, after dropping it off in Paoli, Pennsylvania, Sarah got a call from the restorer.
"Mrs. Solmssen, do you realize what you have here?" the restorer asked her. It was by Adriaen Jansz van Ostade, a 17th-century Dutch painter of peasant life who was likely the student of Frans Hals. Sarah often considered the photos she'd seen of Alma's home in Berlin, with paintings hung, salon-style, all over the walls. Thoughts of all that Alma lost were "always brewing and simmering."
The topic of art looting stayed on her radar—she had been reading books and keeping newspaper clippings. Sarah knew that Peter's Omi remained an important figure in his life, even after her death when he was young. By searching for Alma's painting and learning about her past, she felt that she got a chance to know her. The more she learned, the more she couldn't get over "the injustice of it all—this theft on such a grand scale."
In 1996, Jost von Trott zu Solz, a Berlin lawyer famous for working with restitution cases, approached the family. He worked with a cousin of the Solmssens to reclaim their art, and became aware that the Solmssens had missing art as well. Sarah and Peter met with von Trott zu Solz in New York, where he explained that a Swiss hedge fund would pay for the historical research in exchange for a percentage of the painting's worth. With nothing to lose, the Solmssen family went ahead.
Due to the high fees associated with getting a painting back, percentages of its worth are often used as payment. For many trying to recover stolen art, the legal costs make pursuing restitution prohibitive.
"There is a class element to all this," Marc Masurovsky, who co-founded the Holocaust Art Restitution Project, explains. In some cases, a painting's worth is not enough to interest law firms and is never fought for at all. Masurovsky says that this is the case for 90 per cent of people with lost art.
The Solmssens were in the fortunate position to afford the legal fees out of pocket. Sarah became the liaison with the lawyers. They sent a list based on Alma's original letter—the first piece, by Italian early Renaissance painter Alesso Baldovinetti, hung in Berlin's National Gallery. When the claim was sent, the gallery handed it right over. German law is clear with restitution: the painting had Alma's husband Arthur's name burned onto its back—and the Gemäldegalerie had put their stamp right next to it.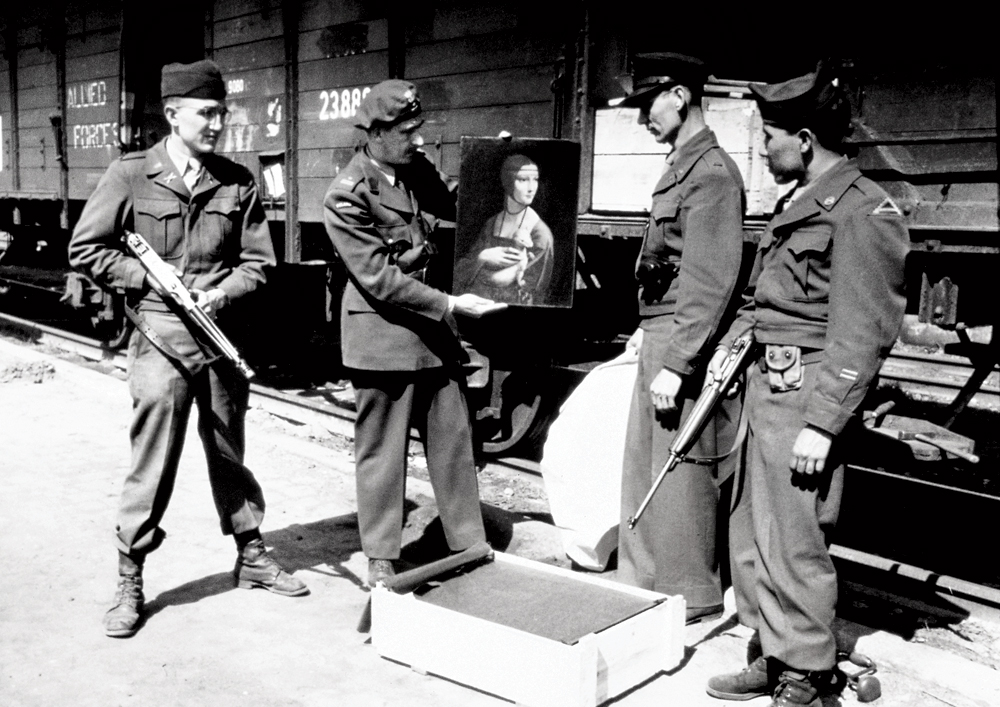 Everett Parker Lesley, Jr. (left) of the Monuments Men returning Leonardo da Vinci's Lady with an Ermine (ca. 1489–90) to its home in Kraków, Poland, in 1946. Courtesy: Monuments Men Foundation.
The art world began taking the topic of Nazi-looted art seriously in the 1990s. In 1997, when Masurovsky co-founded the Holocaust Art Restitution Project—which conducts research on looted works, assists claimants and seeks improvement of legislation—the issue could no longer be ignored. A year later, the Washington Conference on Holocaust-Era Assets saw 44 countries come together to establish 11 principles on art restitution and >provenance practices. Each promised to implement the development of a national process.
Meanwhile, Maria Altmann, heir of the Bloch-Bauers, laid claim to Klimt's painting of Adele Bloch-Bauer, her aunt. The 2015 film Woman in Gold, starring Helen Mirren as Altmann, tells the tale: Altmann started a long and ultimately successful legal battle with Austria for the painting.
A Matter of Justice, a conference held in Ottawa in 2001, ended with a list of recommendations for Holocaust-era property in Canada. Masurovsky was in attendance, and says, "It was one of those rare moments where there was a desire from all parties to come up with a product, or at least an outcome." If even a small part of the plan made at the 2001 conference had been acted upon, he says, it would place Canada "at the forefront of the art-restitution movement." Canada only started taking action in 2013, after Dr. Mario Silva was appointed chair of the International Holocaust Remembrance Alliance on behalf of Canada.
The Canadian Art Museum Directors Organization began a project involving six of their member galleries. They worked on identifying provenance gaps, and their research enabled galleries to create best-practices restitution guidelines. Masurovsky says that filling in the gaps in provenance is a big job to do on a grant of $191,000, which is how much was allocated from Canadian Heritage. Moira McCaffrey, executive director at the Canadian Art Museum Directors Organization, says that they were happy to have the grant and to be able to do this work. "This is a particularly important project and in an ideal world there would be a lot more money for individual galleries to conduct provenance research of their own." The guidelines became available in June 2017.
Canada also participated in the conference that culminated in the Terezin Declaration of 2009, where the role of the national government is deemed "essential." According to Masurovsky, Canada has only made an "expression of goodwill" and, as of yet, has shown an unwillingness to return stolen property.
Without public policy, institutions remain unaccountable. Outside of Canadian common law, there is no legal obligation for a gallery to give back paintings, and therefore no consequences. The art market and galleries must realize, he says, that what they are working with "has a taint of genocide on it."
In 2003, von Trott zu Solz, the Solmssens' lawyer, sent a letter to the Art Gallery of Hamilton claiming Verspronck's Lady belonged to the Solmssens. Everyone at the gallery was shocked.
Imke Gielen, the lawyer currently working on retrieving the Solmssens' paintings, explains that the first thing that needs to be established is the circumstances of how the piece became lost. Even with all the proof, the gallery needed to be convinced that this painting was the same one that left Alma's hands in Berlin.
Christine Braun, collections manager at the Art Gallery of Hamilton, says that it is normal for restitution to take a while. A large, grey accordion file marked "Verspronck" at the Art Gallery of Hamilton attests to the back-and-forth research and correspondence conducted over the years between the gallery and von Trott zu Solz.
Von Trott zu Solz died a few years after sending the first letter to the Art Gallery of Hamilton, and the case ran cold for about five years.
During this time, the gallery didn't reach out. In 2011, Sarah pushed the firm to do something, and Gielen started corresponding with the gallery again. A new curator, Benedict Leca, began at the gallery with a stack of high-piled papers, all about the Verspronck. The Art Gallery of Hamilton notified Peter and Sarah in 2015 that the painting would be returned. Leca says that it was clear what had to be done. It's a red flag when there's a 30-year gap in a painting's history. He believes you "can't be on the wrong side of history."
Braun and Leca have the same answer when asked if they were upset to see the painting go: "It was the right thing to do." Leca maintains that although a long time passed between the initial claim and the restitution, the gallery took all the right steps.
The fight is far from over for the Solmssens. They continue to look for Arthur and Alma's paintings, and right now their focus is on a Brueghel that is at a museum in Seattle.
But for now, they have their Lady. While the gallery processed the documents for the portrait's return, Sarah researched how to have the work shipped: it would cost $5,000—expensive. They figured they could just pick the work up. As Sarah explained to Peter: "We have a Yukon Denali—let's just lay her in the back." Peter thought she was crazy, but they did it. The Solmssens pulled into the service bay of the Art Gallery of Hamilton one morning in July 2015.
The 400-year-old painting sat wrapped in the back of the car. Peter, Sarah and the Verspronck went first to pick up Sarah's parents in northern Michigan. Sarah wanted to stop in Wisconsin, where some of their old horses still lived. The route took them across Lake Michigan, Verspronck's Lady in the hold of the ferry. Sarah said goodbye to an old horse, who died a few months later. They went on their way, leaving the work in their car in garages deemed safe, or carrying the work into hotels. It sat wrapped until getting to the Solmssens' second house in New Mexico, where they keep an organic farm.
They brought the work into the study and laid it on the carpet, cutting open the thick packaging with an X-acto knife. With tears in her eyes, Sarah lifted the painting up while Peter snapped a photo. Taking her place on the wall next to some of the art she kept company with in Alma and Arthur's apartment in Berlin, Verspronck's Lady was finally home.
This post is adapted from an article in the Fall 2017 issue of Canadian Art, themed on "The Idea of History." To get every issue of our magazine delivered to you before it hits newsstands, visit canadianart.ca/subscribe.