In the spring of 2015, Toronto multidisciplinary artist Casey Mecija and I were jointly touring our short films. Hers features her father, and mine features my mother. My presentation always included a photo of my mom, at which I would point and say, "It's strange to see how much I resemble her now."
One aspect of the creative process that I find marvellous is never knowing when an idea is gestating. It was likely the repetition of this comment throughout our tour that planted the idea of Trisha, a project in which I investigated this resemblance through the recreation of several vintage photos of my mother taken during her honeymoon in Jasper, with me replacing her as subject.

For Trisha, Vivek Shraya reconstructed images of her mother from the 1970s—but with Vivek's own personality and humour showing through, too.
In November 2015, I approached my friend and collaborator Karen Campos Castillo about photographing me for the project. Given the personal and vulnerable nature of the project, I wanted to work with a friend, someone I trusted not only to assist in realizing the vision, but also to understand the project in a way that only someone who knew me—and my relationship with my family—could. I wanted the focus of the shoot to be honouring my mother as opposed to adjusting fancy lighting or gold reflectors.
In our initial meeting in the lobby of Carlton Cinema, we talked about the importance of selecting images of my mother that reflected a range of expressions and settings. We also deliberated over how exact the replicas should be. I worried that if the goal was to recreate every detail in my mother's photos, any small difference would become exaggerated and viewed as a flaw. We realized that letting go of precise duplication created room to include both contemporary props and my own personality and humour.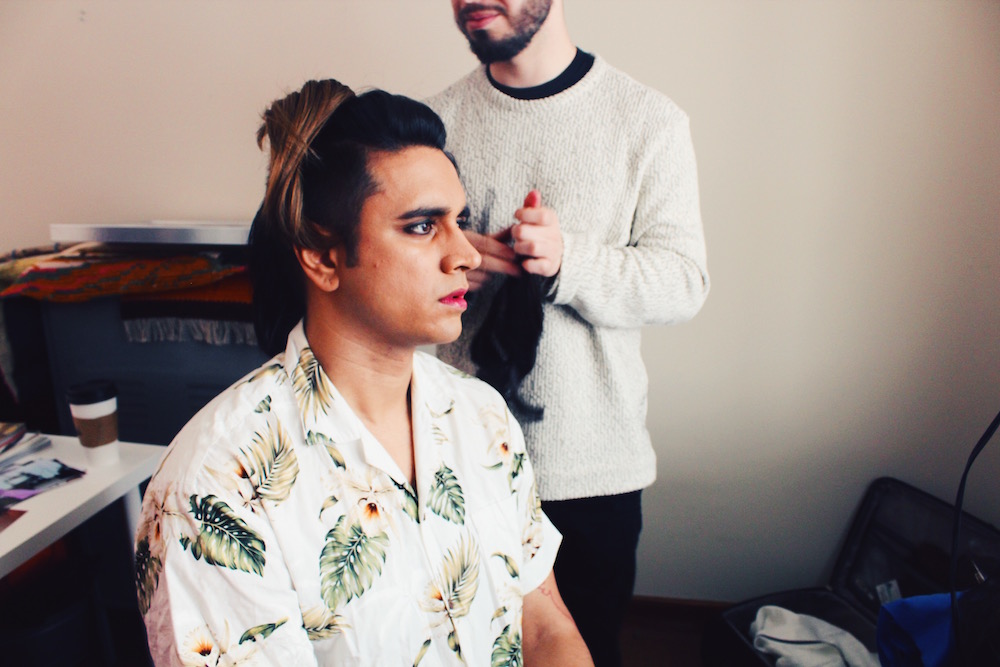 Vivek Shraya prepares for one of the Trisha shoots. Photo: Karen Campos.
I also worried about the clothing. How would I find versions of my mom's vintage tops and dresses? And in my size? It could take months to find comparable pieces, even with my friend Katherine's dedicated and rigorous Value Village–shopping expertise. Instead, I opted to work with local designer Mickelli Orbe to tailor three of the key pieces. Everything else I pulled from my own wardrobe or purchased from Gerrard Street's Little India and the Bay.
On March 5, 2016, I arrived at Karen's home at 9:30 a.m., with mandatory Tim Horton's, to commence photographing Trisha. Strangely—and serendipitously—her house featured several backdrops similar to the ones in selected photos of my mother. I could imagine my mother declaring, "That is what you call 'synchronicity!'"
Everyone on set received a colour PowerPoint printout of each of my mom's photos; each was labelled with the location where the recreated photo would be taken, and with a list of required props (incense stand, Elmo, cellphone) and accessories (wedding necklace, bangles, my mom's trademark outfit-matching bindis). I gave my set and wardrobe assistants Adam Holman and Shemeena Shraya a tour of the house, and they began arranging each area according to my mother's photo, but improvising—with a Mariah Carey cassette propped on the TV, for instance—where necessary.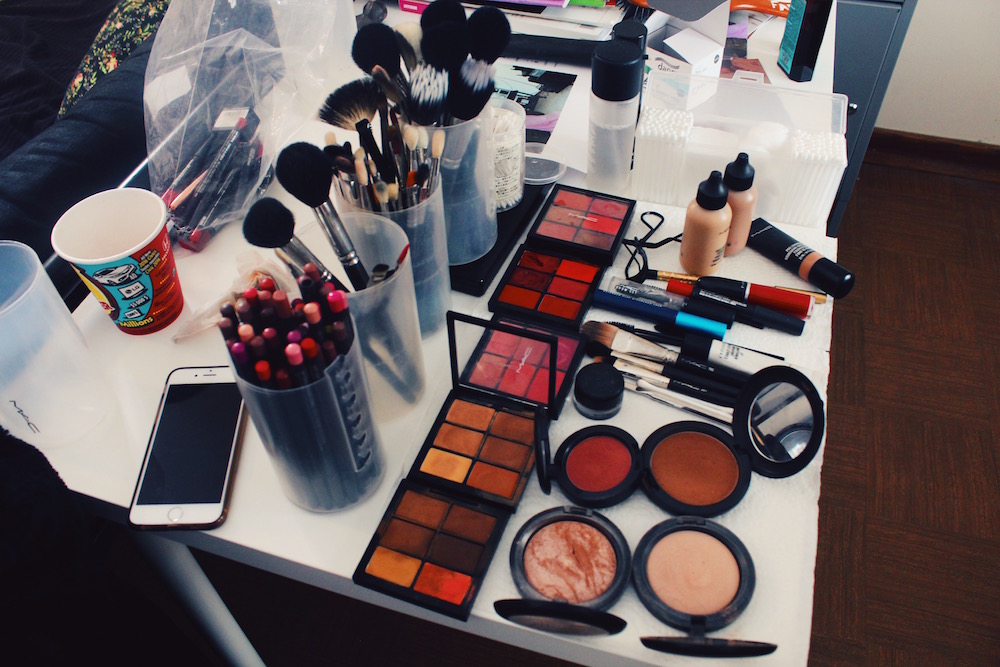 Makeup and Tim Horton's—two materials indispensable on the Trisha shoot. Photo: Shemeena Shraya.
When hairstylist Fabio Persico first pitched the idea of hair extensions, I wasn't sure that they were necessary—again, I was concerned about the line between producing a perfect copy versus an homage. But when he pulled them out of his bag, he said, "They belong to my mom." Reflecting on the beauty of this new connection between our mothers being created through art, I responded, "Let's do it!"
Meanwhile, Alanna Chelmick, my makeup artist, laid out her supplies, rapping along with Kanye West's The Life of Pablo, which was playing in the background. We all laughed.
Throughout the shoot, Karen offered to show me the photographs as she was taking them. I consistently declined, knowing that if I looked at the photos, I would worry about how I looked, especially because I was dressed in a way that I wouldn't typically dress. It felt imperative to stay "in character," to summon my mother's energy.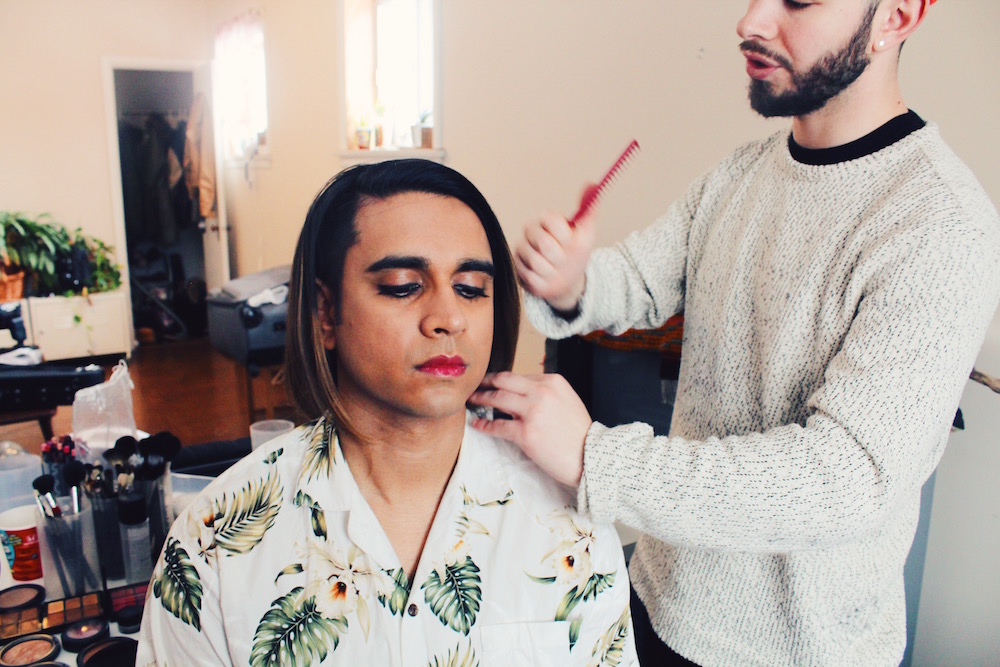 Getting in character for Trisha. Photo: Karen Campos.
I was afforded this luxury because I was surrounded by a team that was invested in getting each photo right. After each click, Adam, Shemeena, Alanna and Fabio would look at the photo on Karen's camera screen, refer to the original photo in their pamphlets, and adjust me accordingly, propping me up with a pillow or instructing me to tilt my head lower. While taking the streetcar shot on St. Clair West (intended to reference a photo of my mother that included a train), Alanna, Fabio and Adam all helped Karen balance on a metal bench at the stop. Adam also checked the Rocket Man app on his iPhone, calling out how many minutes until the next streetcar would approach as we tried to capture the photograph.
One of the most surreal moments of the day was walking into the kitchen with the window curtains Shemeena had steamed and the cake Adam had baked and iced especially for the shoot. Wearing the forest-green dress Mickelli had made for me, it didn't take a lot of work to imagine that I had been transported to the '70s, and that I was my mother, cutting a cake that she had most likely also baked herself.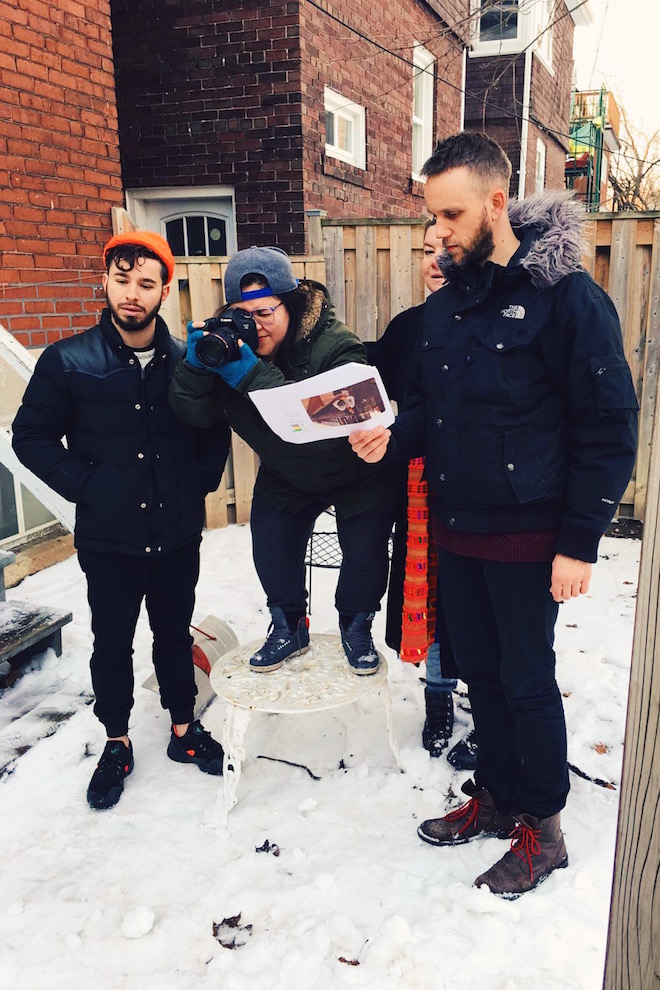 Several talented people were involved in helping Vivek Shraya to realize Trisha. Each reconstructed photo was checked against the original. Photo: Shemeena Shraya.
As the afternoon sun began to fade, Alanna drove us to the Beaches, where the last photo of the series was to be shot. Once we got out of the car, we all raced to the water (including Fabio, who wasn't wearing winter boots), chasing the last minutes of sunlight. Despite being surrounded by snow and icy lake water, I kicked off my footwear and took off my socks to be barefoot like my mom. After a dozen shots Karen called it—"I think we have it." We all hugged and selfied.
Later, I was told that shooting nine looks in one day was overly ambitious. But even though we were all exhausted by the end, the day itself was filled with much playfulness and focus. Trisha is perhaps the most magical and memorable art project I have made, and this is largely because I was surrounded by a group of friends who were generous with both their time and their care. Creating Trisha felt like the definition of collaboration (and one I will hold as the standard): we had all worked together, lovingly, to make something beautiful.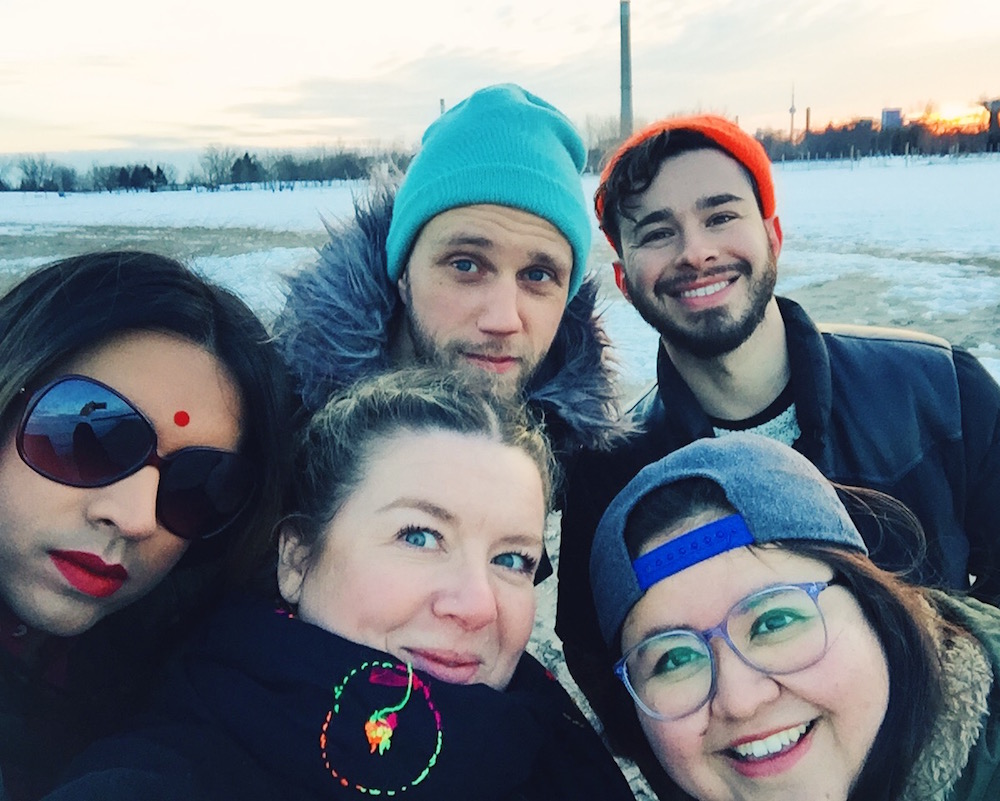 The Trisha team celebrates the final shoot of the project—a barefoot pose on a wintry Toronto beach. Photo: Alanna Chelmick.
Trisha was released online on April 25, 2016, the day after my mother's 60th birthday. I had come out as trans on my own birthday two months prior. What I thought was going to be a mere photo project ended up also intimating the significances and histories behind these anniversaries and their intersections. Looking back, I am ever grateful for a femininity that was shaped and supported by my mother, but that I am trying, every day, to make my own.
Vivek Shraya is a Toronto-based artist whose body of work includes albums, films and books. Her first book of poetry, even this page is white, was longlisted for CBC's Canada Reads and was listed as one of the Best Books of 2016 by the Walrus. Her project Trisha will be on view at the Art Gallery of Mississauga from May 4 to June 18, 2017.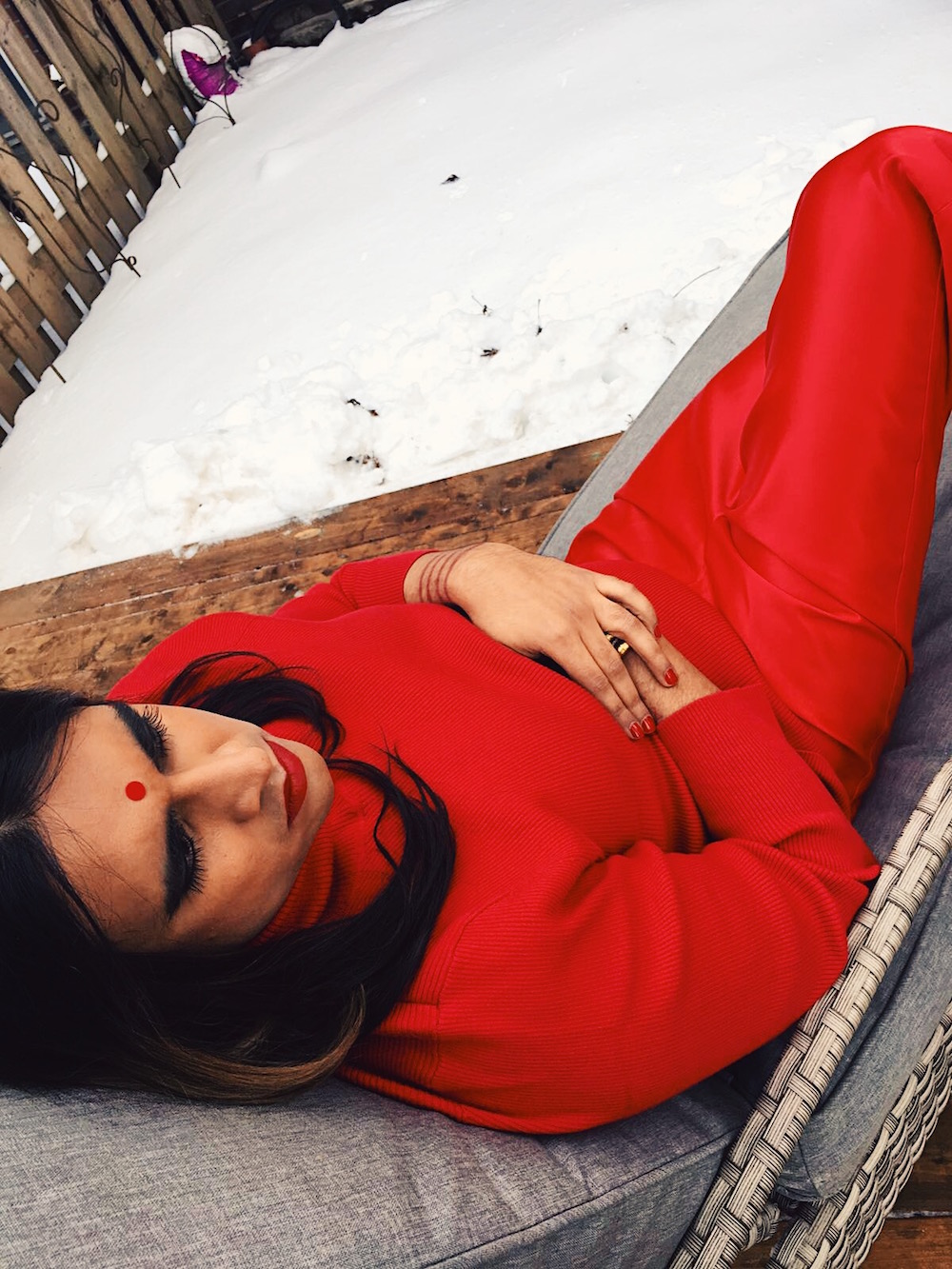 A quiet moment during the Trisha shoot, which offered many opportunities to reflect on how mothers shape their children's ideas of femininity. Photo: Shemeena Shraya.