On September 28, one of Canada's most exciting contemporary art auctions will happen at Social 2017: Reveal—an evening in support of the vital work of Canadian Art.
Prestigious national and international artists who have generously donated to this year's auction include Geoffrey Farmer, Kent Monkman, Lawrence Paul Yuxweluptun, Julia Dault and other art luminaries.
Here are six works in particular that have caught the attention of leading curators, critics and collectors advising our auction. To see more, visit canadianart.ca/social2017.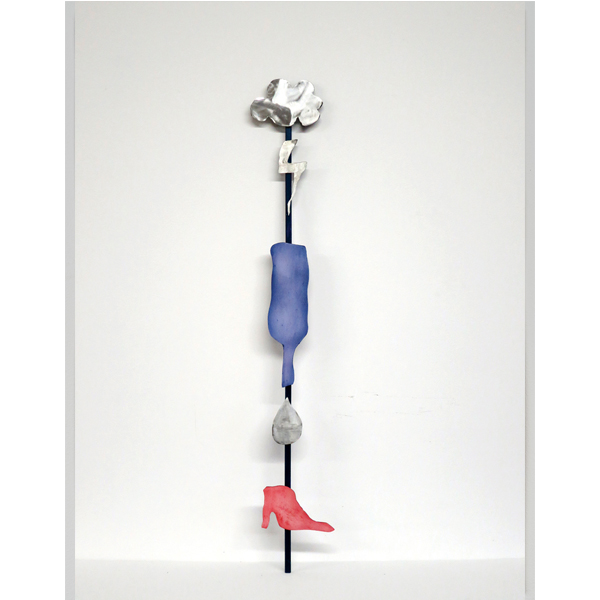 Vanessa Brown, Wednesday Charm, 2017. Steel, paint and magnets, 30 x 6.25 x 2" Courtesy the artist and Wil Aballe Art Projects. Estimate: $1,200
Wednesday Charm by Vanessa Brown
Weekday charms: we can all use them, at work and in love. Vanessa Brown makes metal sculpture with a light hand and a playful heart. Her vertical sculpture Wednesday Charm holds stormy weather atop with a silver cloud and lightning bolt over an empty wine bottle disgorging its last drop. These float above a fetching red high-heel shoe. Looks like the party lasted longer than the weekend. Is this good or bad luck?
Brown's sculpture melds popular culture, jewellery, decor and craft, but leaves the question of meaning open, ambiguously posed by the objects she assembles. From the early 20th century craze of decorative bracelets dangling miniature objects, launched by the unlikely, staunch Queen Victoria, to its popular role as a de rigeur rite of passage for young ladies in the 1950s, the charm bracelet has seen several resurgences. I have a penchant for bracelets, but alas, no charm bracelet in my collection. Vanessa Brown's Wednesday Charm tempts me to get started, with hers. –Jessica Bradley, curator and collections advisor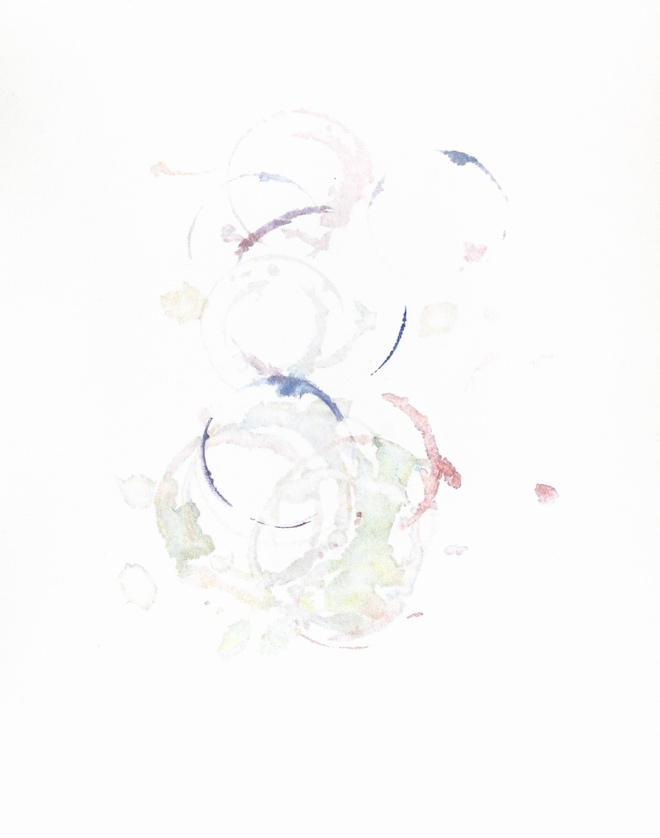 Claire Greenshaw, Returns, 2017. Coloured pencil on paper, 14 x 11 in. Courtesy the artist and Clint Roenisch Gallery. Esimate: $1,600
Returns by Claire Greenshaw
Splashy, spectral rings left over from cups of coloured water—traces of vein-blue, grape-purple, ochre-red and yolk-yellow—coalesce to form the cosmic composition of Claire Greenshaw's Returns. The watery circles are faithful reproductions, in delicate coloured pencil, of residue from the artist's studio matboard. Like Mary Pratt, Greenshaw has a knack for finding the imperfect beauty in the ordinary, and, with her humour, patience and grace, is able to draw out the magic in the seemingly mundane. Returns is a small devotion—a reminder that there is invisible labour concealed within all acts of love and care, and that it's important to slow down and take notice. –Rosie Prata, writer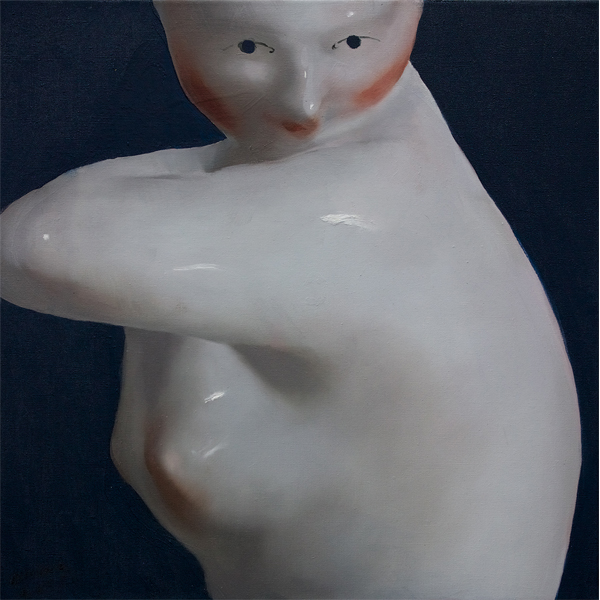 Ambera Wellmann, Choker, 2017. Oil on linen, 23.6 x 23.6 x 1.2 in. Courtesy the artist. Framed by Superframe. RBC Canadian Painting Competition Finalist, 2016 and 2017. Estimate: $3,200
Choker by Ambera Wellmann
Ambera Wellmann's work has some kind of magic flowing through it. Strange and lingering in the serene, Wellman's imagery is coolly distanced, often engaged with depictions of ceramic figures and surfaces. Her works combine the weighted history of objects, with ephemeral glances and interferences that shift the content into the surreally unknown but recognizable. Her distinct surfaces hold the eye, as if trapped within a fine glaze, hardened, holding your gaze but obscuring any clarity—except, here, in the traced black definition of eyes, staring back. –Corrie Jackson, associate art curator, Royal Bank of Canada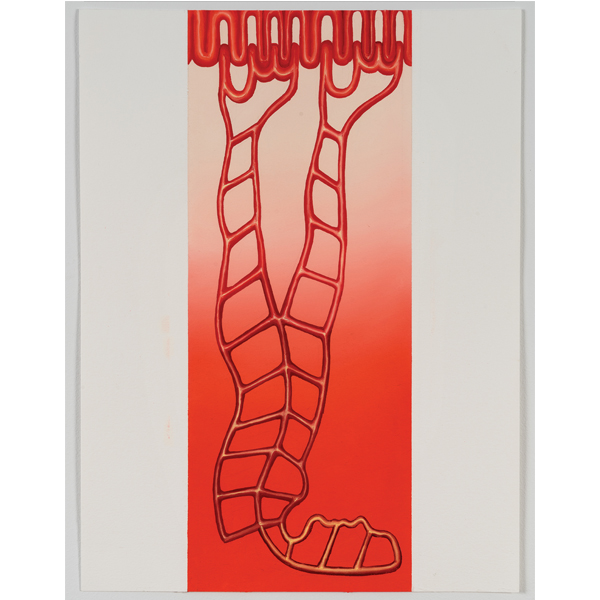 Sascha Braunig, Study after 'Backbone,' 2017. Oil on Arches oil paper, 12 x 9 in. Courtesy the artist and Foxy Production. Framed by Superframe. Estimate: $11,000.
Study after 'Backbone' by Sascha Braunig
If Sascha Braunig's flawlessly executed, beguiling paintings did not captivate viewers in the 2015 New Museum Triennial, New York audiences were afforded ample opportunity to assess her painterly prowess at her more recent solo exhibition at MoMA PS1. Few Canadian artists have commanded such a venue with the concise elegance that Braunig brings to her craft.
The DNA of a Braunig image may splice together the mannered Deco style of a Tamara de Lempicka portrait and the uncanny precision of a Frida Kahlo face, with off-key patterning and palette choices reminiscent of Op art. When she was an MFA student at Yale, Braunig encountered Peter Halley, Neo-Geo's adroit theorist, from whom she gleaned her razor-clear aesthetic: sharp lines abstractly applied to form ideal bodies. Upside down is the right way up for Braunig, whose work is conceptual yet deeply physical. –Leslie Gales, president of the Midland Group of Companies, and David Moos, curator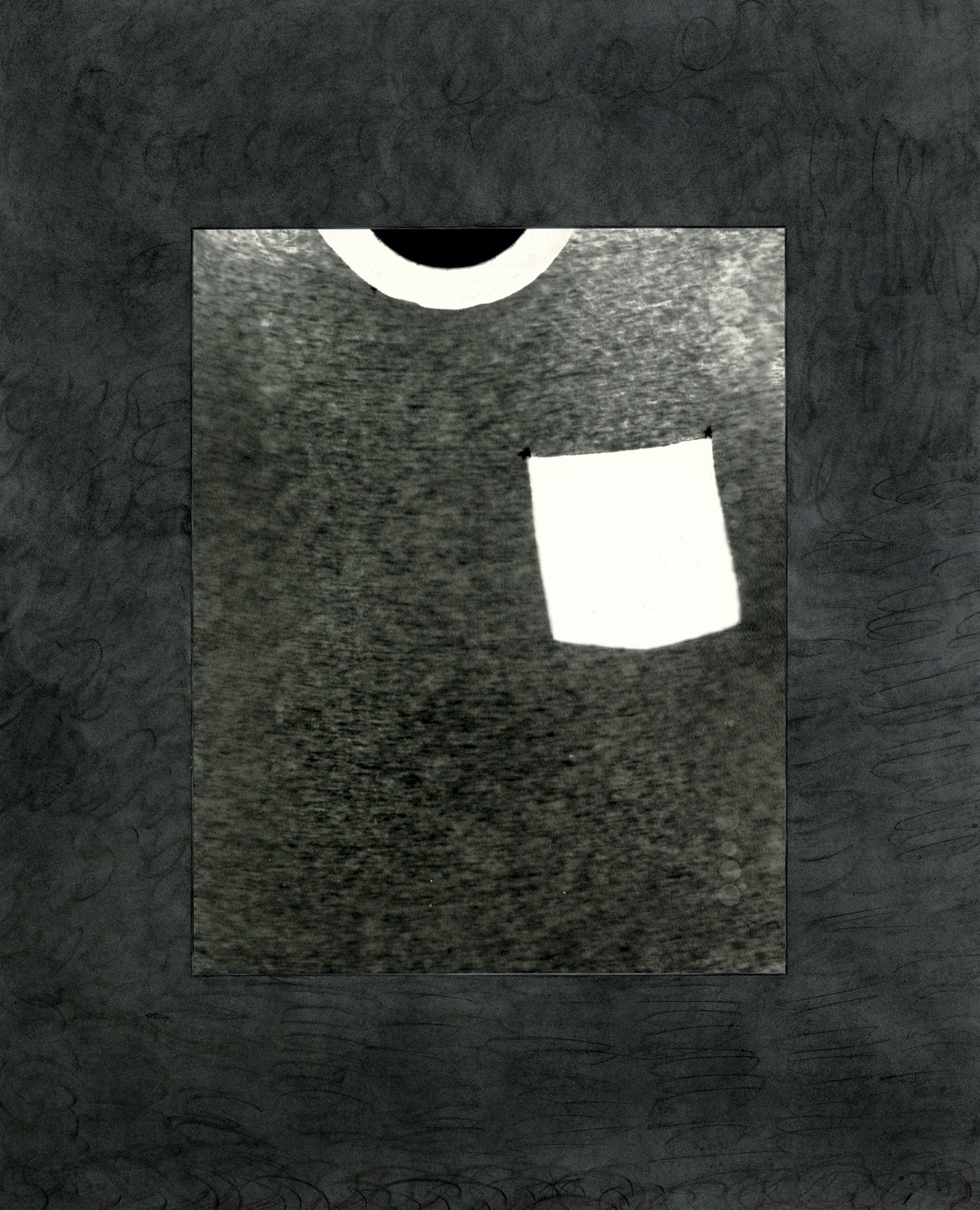 Lili Huston-Herterich, Being Tucked, 2017. Silver gelatin photogram, 33 x 26.5 in. Courtesy the artist and Zalucky Contemporary. Estimate: $2,300.
Being Tucked by Lili Huston-Herterich
There is nothing more comforting than a well-worn t-shirt, held onto long after its best-before date; it is like a second skin that you don't want to shed. Artist Lili Huston-Herterich memorializes the idiosyncratic history of garments she solicited from Toronto's Junction residents by stretching them over photosensitive paper and exposing them to light. Like an X-ray, these photograms reveal details within. Marks of wear are captured on the surface of the photo while the artist's hand is captured in the dense, swirling graphite drawing that frames the image. Being Tucked is a poetic commemoration of Huston-Herterich and the community where she works. –Stefan Hancherow, Social 2017 art advisory committee co-chair & curator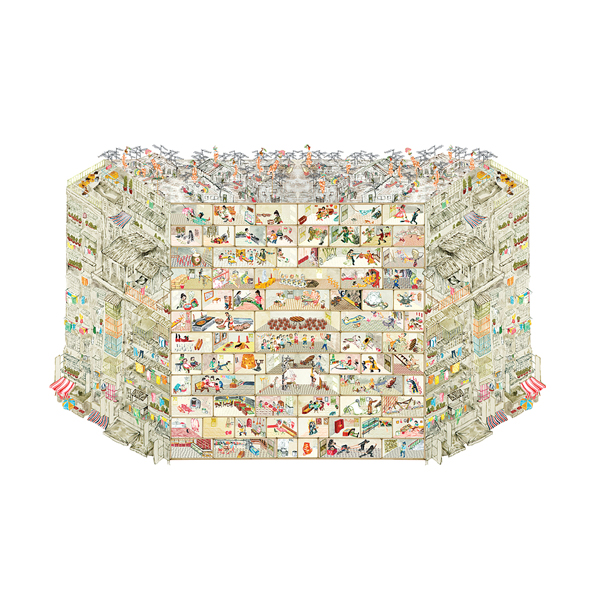 Howie Tsui, Kowloon/Wudang Walled City, 2017. Artist proof 1 of 3. Epson ultrachrome pigmented ink on Epson coldpress rag paper, 36 x 48 in.. Courtesy the artist and Art Labor. Framed by Superframe. Estimate: $4,000.
Kowloon/Wudang Walled City by Howie Tsui
One of 2017's hands-down exhibition highlights for me so far was Howie Tsui's spectacular early spring installation at the Vancouver Art Gallery, "Retainers of Anarchy." The installation was crowned by a five-channel, 25-foot-long scroll-style animation that vividly portrayed Tsui's personal interpretation of the gory, subversive martial-arts genre wuxia.
Tsui sets part of his video in a mythic rendering of Hong Kong's now-demolished Kowloon Walled City, home to outcasts of all sorts, and an architectural statement of resistance against Chinese authority. This elaborate paper work materializes the animation's centrepiece, giving breathtaking, maddeningly detailed insight into Kowloon—and into Tsui's hyper-intelligent, exacting approach to art making. –David Balzer, editor-in-chief and co-publisher, Canadian Art
To view all of the works in our Social 2017: Reveal auction, visit canadianart.ca/social2017.