On August 19, the sort of warm, moonlit night that feels like a dream in foggy Saint John, Third Space shut down the streets to make room for Third Shift, the artist-run centre's annual nighttime art event, which in just two years has become one of the city's best-attended public happenings, cultural or otherwise.
More than 3,000 people (a good-sized crowd in this town of 68,000) strolled through the historic Trinity Royal neighborhood that evening, encountering nearly a dozen works of contemporary art tucked into alleys, abandoned lots and storefronts.
For Emily Saab, director of Third Space, the city's only artist-run centre, and one of the few places supporting the production and presentation of non-commercial contemporary art in Saint John, the scale of participation was almost unfathomable.
While Third Space doesn't gauge success by audience numbers alone, or even primarily, Third Shift is a dramatic example of how it is "making space" for contemporary art in Saint John, an industrial city with no art school, high unemployment and an exodus of young people.
Third Space's triumph has been hard-won. Born of necessity, its current collaborative, public-facing space-less model relies on diverse partnerships, non-traditional exhibition spaces and actively developing its audience.
"Contemporary art is almost always about translating one thing into another"
As the gallery's name implies, "space" has always been a consideration, no more so than in the last few years, when Third Space had no space at all. When it opened, in 2005, it occupied three airy, hardwood-floored rooms in an uptown building, the third iteration of The Space, Saint John's original artist-run centre. Founding director Chris Lloyd says the name also referenced Homi Bhabha's translation theory about the "third space" that opens up in exchanges of language and culture.
"That was behind almost all the programming we were doing," says Lloyd, a contemporary artist, from his current home in Montreal, "because contemporary art is almost always about translating one thing into another, the tangible into the intangible, or vice versa."
Third Space operates as translator between contemporary art and the locals. Saint John's art scene is steeped in tradition: the legacies of its most famous 20th-century painters—Miller Brittain, Jack Humphrey, Fred Ross—dominating local lore, while commercial galleries like Buckland Merrifield and Handworks are a prominent feature of the cultural landscape.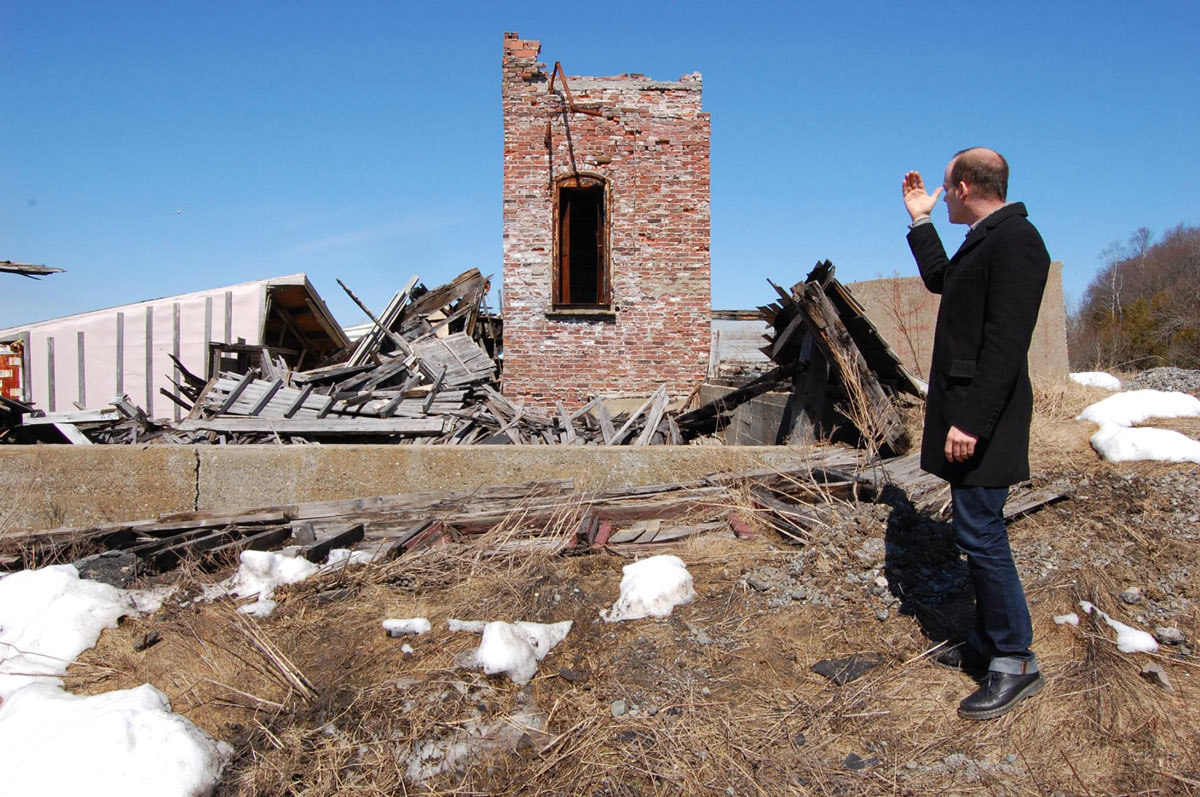 Artist Victoria Stanton and resident Peter Josselyn led tours of "Invisible Saint John" as part of a project for Third Space in 2014. Photo: Facebook.
Saint John, a historic port city that is home to Canada's largest oil refinery, lacks many of the support mechanisms of other New Brunswick artist-run centres. Struts, in Sackville, has Mount Allison University's fine arts students and faculty, and the town's national reputation as a locus for independent arts and music. In Moncton, Galerie Sans Nom is buoyed by the vitality of the contemporary Acadian art scene as well as its location in the lively Aberdeen Cultural Centre. In genteel Fredericton, the provincial capital, Connexion Artist-Run Centre benefits from its proximity to two universities, as well as the Beaverbrook Art Gallery, New Brunswick's provincial gallery.
Lloyd, who grew up in a suburb of Saint John, relates to the prevailing notion in his native city of art as mostly two-dimensional and figurative—it's the sort of work he made as a young artist. It was at NSCAD he encountered work that was conceptual, experiential, temporal, relational—and loved it. Back in Saint John, ready to co-found the city's first artist-run centre, he considered "the problem of what people think art should be."
Artist-run centres are "like the legion" for artists, Lloyd says, pointing to their vital function as gathering place. But in a small city with a miniscule contemporary art scene, Third Space had to move beyond the typical clique of art-school grads and their pals to survive.
"Partner or perish"
Lloyd knew the uninitiated would not flock en masse to a white cube of esoterica, although he had faith in the public's ability to engage with Third Space's programming, which is mandated to present work that is exploratory, challenging and critical in nature. To elide the intimidation factor of the gallery, Third Space developed a public program to complement its in-house offerings. It found partners to present work in public or non-traditional spaces, often in subversively subtle ways: Sofa-Tête, an absurdist installation by Jean-Denis Boudreau in the Bargain Shop window, and Stephan Schulz's traffic-activated drums installed on a building on King Street are just a couple of examples.
In 2008, Lloyd left Saint John for Montreal. Soon after, Third Space lost it permanent space when new owners took over its building, and the sort of partnerships Lloyd had cultivated became critical to the gallery's very survival.
"Partner or perish" could have been its mantra.
Shepherded by a fiercely dedicated board of directors, Third Space sought non-art spaces in which to present its projects. It worked with local municipalities, entrepreneurs and social-service agencies. Projects took place in a designer clothing boutique, a local pizza joint, a children's performing arts school.
Third Space presents six to eight projects a year on a central theme. Once selections are made, "right off the bat we're thinking, who might have the space?" Saab says. "But more importantly, what makes sense?"
In June, as part of Third Space's three-part interdisciplinary series Conflict State, Francisco-Fernando Granados arrived in Saint John from Toronto. Working from a classroom at the Saint John YMCA Newcomer Connections Centre, which provides settlement support to immigrants and refugees, he had developed the show in conjunction with the activities and services provided there.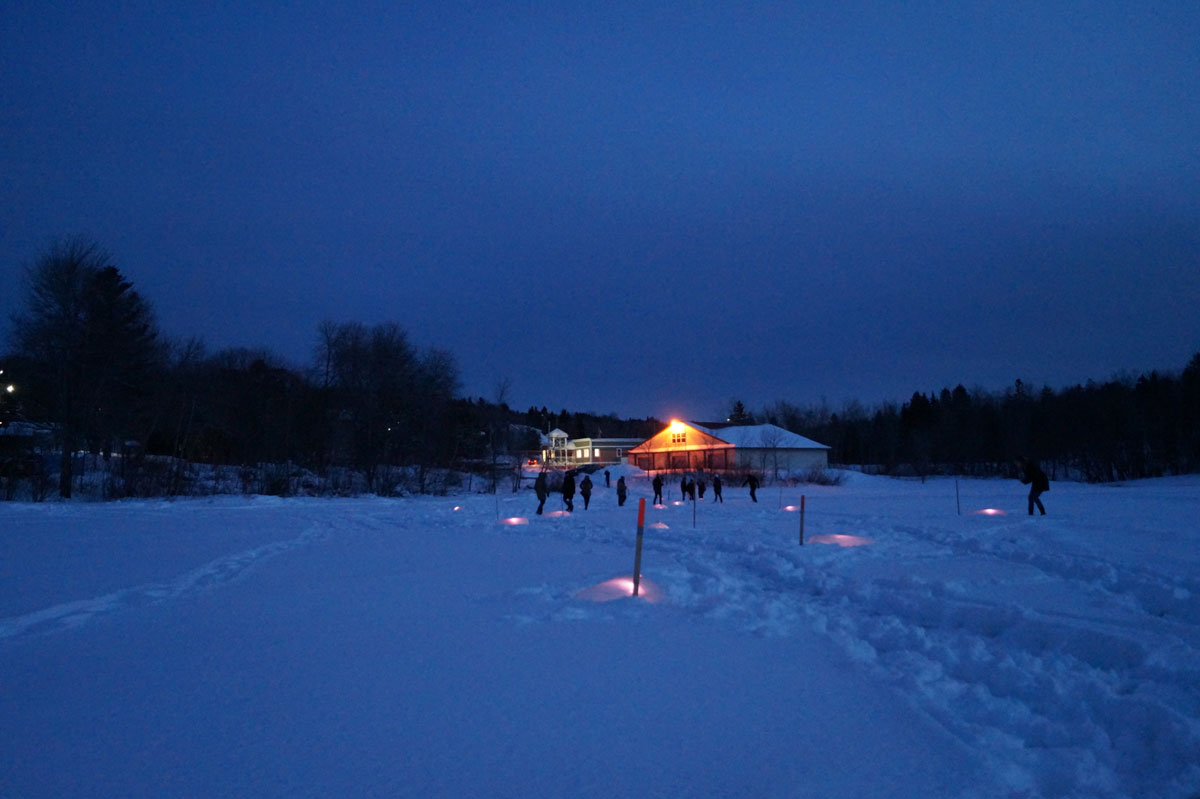 Michael D. McCormack's Signal/Floe illuminated the landscape along New Brunswick's Kennebecasis River.
The show "1.Make a line.," Granados's first solo exhibition, reprised a number of projects from the last five years reflecting his interest in the politics and aesthetics of immigration and assimilation, as well as his personal history of immigrating to Canada from Guatemala as a teenager. Much of it had been previously exhibited in galleries and carefully curated art spaces.
Saint John was different. Here, the primary audience was not contemporary arts aficionados steeped in art-historical knowledge, but clients of the centre, including a number of Syrian refugees and other newcomers.
"The stakes were really high," Granados says by phone from Toronto. "I could really see if the work would speak to people who understood the experience; if the work would work in the context of that space."
Judith Mattie, a community engagement officer at Newcomer Connections, says that having Granados there, along with his art, clinched the connection.
"The big thing for us was, after…talking to him about his journey and how that influenced his work…that really helped to explain, 'Why?' That's the main question that comes up…because that really puts the heart to it."
After performing Spatial Profiling, in which he continuously traces the outline of his profile while moving along the wall, Granados invited audience members to do the same. Mattie watched as he disappeared into the small crowd. "You couldn't tell who was the artist, anymore," she says. It was just the sort of intermingling Third Space aims for.
The residency was "everything I had dreamed it could be," Granados says.
"By shifting the context, you can see different aspects of the work. For artists like me, who are interested in working critically, and site-specifically, and are interested in the formal and the political, not as rivals, but deeply folded within each other, it presents the most interesting kind of opportunity."
"The whole hierarchy of guest and host levelled out"
That shift in context interested Michael D. McCormack as well, who presented SIGNAL/FLOE during his Third Space residency in February.
"It's a really good example of a project that couldn't exist in a gallery space," Saab says.
On the coldest day of the year, McCormack gave an artist talk on the frozen expanse of the Kennebecasis River about the work, a series of 36 ice sculptures he created on-site alongside video projections of images his grandfather collected in 1953 as an operator in the Distant Early Warning (DEW) Line project. The piece, which considers the relationships between technology, media and landscape, and the impact that temporary cold-war infrastructure had on the environment, was the latest iteration of an ongoing series that McCormack had shown in galleries and more traditional exhibition spaces.
"I wanted to bring it back into the public again to see what would happen," he says. "It was a way of keeping the work alive, like taking the dog for a walk."
McCormack has long been interested in unconventional exhibition spaces and "accidental audiences." Former director of Halifax's Eyelevel Gallery, which gave up its permanent exhibition space in 2013, McCormack has developed a course for NSCAD on non-traditional exhibition spaces. He is this year's curator of Nocturne, Halifax's Nuit Blanche-esque event, and artistic director of Flotilla, an exhibition as part of the 2017 biennial meeting of the Association of Artist-Run Centres from the Atlantic, whose themes include nomadism and temporary location.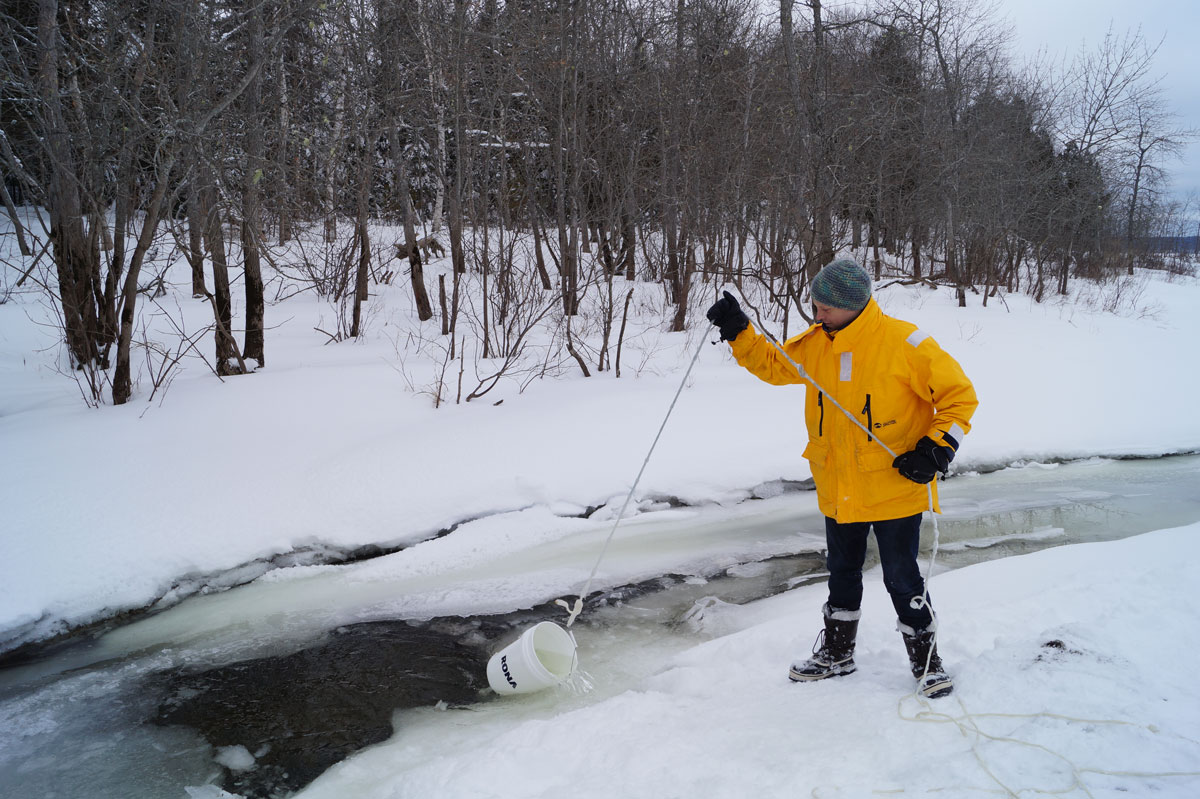 Artist Michael D. McCormack at work on his outdoor installation Signal/Floe, part of Third Space's programming, in February 2016.
McCormack's Third Space residency was a return to his earlier public-oriented practice, which included The McCleave Gallery of Fine Art, a portable exhibition space for emerging artists.
Housed in a suitcase, the McCleave "was basically a delivery system of an art gallery where people could call me up… like a taxi stand," McCormack says.
He took it everywhere: to work, school, parties, cafes, and on the street.
"What really sticks to my mind is I felt like I was just as much a visitor as the viewer. The whole hierarchy of guest and host levelled out and folded over itself."
SIGNAL/FLOE had that similarly unpredictable, collaborative element he finds exciting.
"I had to ask a lot of advice—how safe is the ice this time of year? How do I get freshwater to the barrels?" A member of the local ice-fishing association assisted, while the Town of Rothesay, where the work was installed, was another partner.
"For me it's about building relationships, and being humble," he says. "I think it's more of a two-way street or a conversation than a lecture format. And Third Space is, in a sense, embodying that perspective…it's opening up the conversation both ways. That takes a lot of time, and it isn't easy to do, but it can really open up a lot more opportunity."
"Artwork that isn't separate from everyday life"
Saab says that working in a new space, with new partners on every project prompts a return to essential questions.
"Who is art for? What is contemporary art? What is the artist doing? Making artwork, yes, but artwork that isn't separate from everyday life," she says. "If we were in a vacuum, we might be less inclined to revisit these basic questions."
More than ever in its history, Third Space truly feels of Saint John, reflecting the personality and plurality of the city in which it is based, which situates it smack-dab in the midst of an ongoing discussion about who and what artist-run centres are for. The opening essay in The Artist-Run Space of the Future, published by the Institute of Applied Aesthetics, in the US, envisions it as deeply local and interactive, both creating and deriving meaning from its partners, a kind of "creative consulting agency that will consider and attend to the challenges down the street and maybe some of the problems that will emerge in the 22nd century."
In September, Third Space moved into new digs that include office space, as well as a small space for exhibiting work, and events such as artist talks.
But it has no intention of limiting its activities to within those four walls. It is going to bring all that it has learned during its itinerancy about itself, about contemporary art, and about its community, bringing those insights into its new space.
"Third Space is always someone different," Emily Saab says. "It's never in the same space twice."
Kate Wallace is an award-winning culture writer and arts advocate who believes the arts are crucial to the future of New Brunswick, her home province. Before establishing her freelance writing practice, Kate was executive director of ArtsLink NB, a provincial organization that improves the incomes and outcomes of artists.
This article is part of Canadian Art's year-long Spotlight on New Brunswick series, created with the support of the Sheila Hugh Mackay Foundation.