The morning I interviewed Tamara Henderson, she was on her way to pick up smoked salmon from her fishmonger in Arbroath, Scotland, where she was working on a project for Art Basel. I had just awoken to a hugely pregnant spider in my bed in Montreal. Since the recent passing of two people very close to her, Henderson tells me she's been conflicted about killing even insects. Her sights have turned to the question of energy's passage through people, places and things.
In past artworks, she's called upon various practitioners, from hypnotherapists to aura readers, to pry open these esoteric channels of discovery. Her first experience with a hypnotherapist was in Paradise, Newfoundland. He pulled up to her friend's parents' suburban house wearing jeans and cowboy boots, long white hair surfing the wind, driving a blue convertible. Based on sketches produced after that session, Henderson developed furniture pieces for her show "You And Me We'll End Up In A Chair By The Sea," and continued to visit hypnotherapists all over—Vienna, Stockholm, Vancouver—to semi-consciously work through subsequent furniture designs. These chairs, couches and beds have a handmade quality: some look like half-staircases wearing loose sweaters; others employ wavy silhouettes and colourful patterns reminiscent of Italian avant-garde furniture design of the 1960s.
Henderson's work is headless in that she attempts to access places, textures, scenarios and strings of words untethered to rational, conscious thought. In the same way that, in dreams, a faceless flesh blob is also your ex-boyfriend is also the cashier you had yesterday, locales in Henderson's work quiver in and out of recognition. They are humid afternoon-nap fantasies.
Perhaps Henderson owes her mastery of capturing familiar unfamiliarity to her nomadic nature. While in Istanbul preparing for a recent project, she formed tenuous relationships with "familiar strangers"—regularly visiting the same fabric-shop owner and becoming accustomed to the rhythm of his gestures. The sun-bleached lengths of ribbon and fabric she collected there were patched together to make the totem-like scarecrow sculptures populating her exhibition "Seasons End" that showed at Glasgow International this past April. Despite the vacuum-seal effect that air travel has on bodies and belongings, the textiles were still fragrant when she unpacked them.
Henderson takes pleasure in these strangely dissonant experiences of place. When you close your eyes for the first time in months for a reason other than to sleep, and you feel like a bunch of organs on strings, hanging unevenly and trembling—that feeling beckons Henderson to go deeper, to retreat further into the body and the mind's unconscious hollows and to slow way, way down.
This spotlight article, adapted from the Fall 2016 issue of Canadian Art, has been generously supported by the RBC Emerging Artists Project.
Tamara Henderson, The Scarecrow's Holiday, 2015. Textile, wood, glass, sand, pigment and rope, 2.6 m x 1.12 m x 56 cm. Courtesy Rodeo, London. Photo: Plastiques.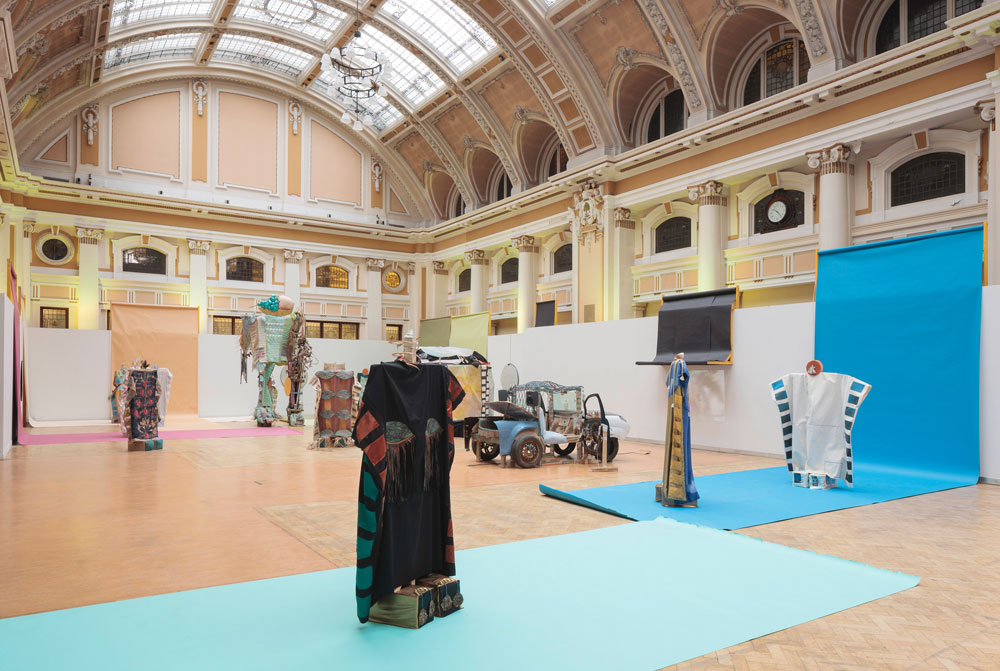 Tamara Henderson, Season's End, 2016. Installation view at Glasgow International. Commissioned by Glasgow International. Courtesy Rodeo, London. Photo: Ruth Clark.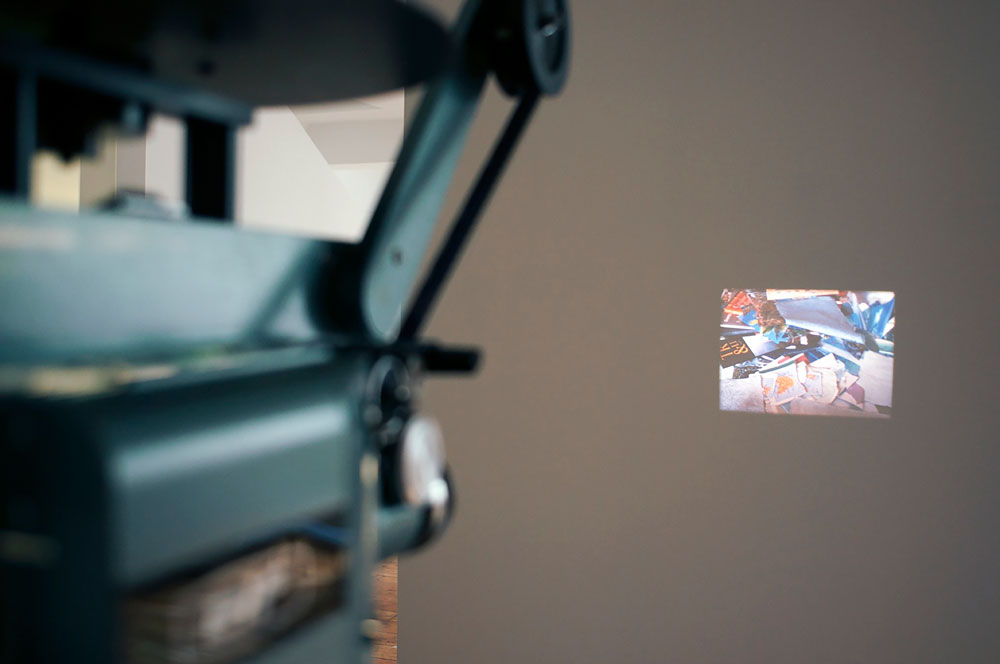 Tamara Henderson, What's Up Doc?, 2014. 16-mm colour film and optical sound (sound: Dan Riley), 7 min 51 sec. Courtesy Rodeo, London. Photo: Harry Scott.