Anyone who thinks that art can't change the world—or that activist art can't win widespread recognition—should really have a chat with Sharmeen Obaid-Chinoy.
In February, the Pakistani-Canadian filmmaker's short documentary A Girl in the River, about so-called honour killings, had a special screening at the Prime Minister's Secretariat in Islamabad. It was preceded by a discussion with the PM on closing legal loopholes around such murders, and it was followed by new laws against rape and gender-based violence.
That same month, in Los Angeles, A Girl in the River won Obaid-Chinoy an Oscar—her second. (The first was for her 2012 documentary Saving Face, about victims of acid attacks.)
"If something makes me angry and I want people to talk about it, and that issue needs to be addressed—that's how most of my films have been defined," Obaid-Chinoy explained over the phone from Lahore.
What Obaid-Chinoy calls her "barometer of anger" around choosing project topics has served her well. Some of her other films have focused on the Taliban's methods of recruiting and training child soldiers, and the difficulty that Filipina women have in accessing abortions. Obaid-Chinoy's passionate, critical eye extends to Canada, too, where she lived off and on since 2005.
"In 2006, I made a film called Highway of Tears about First Nations women who had been abducted" along the stretch of road between Prince Rupert and Prince George, Obaid-Chinoy says.
"I think what has happened to First Nations communities in Canada is a tragedy. I spent a lot of time on reserves, and I saw first-hand the poverty and the lack of opportunities, the sheer frustration, the addictions. This sense that they have been wronged is the same sense you find anywhere in the world where a community has been marginalized, has had its roots cut off."
Yet Obaid-Chinoy—who spends much of her time right now in Pakistan, in part because of the support her extended family provides in raising her two young daughters—also had a lot of positive experiences during the years when she was based on Hayden Street in downtown Toronto and, before that, on Yonge Street in North York.
"The fact that you can walk into any restaurant in Toronto and hear five different languages—as a filmmaker, you feed off of hearing stories from all over the world. It helps you realize we are, essentially, all the same. It is only the circumstances and opportunities that are different."
Earlier this month, Obaid-Chinoy was commissioned by the British Council to create a short film about migration between the UK and Pakistan. A specially commissioned film on female boxers in Pakistan also recently showed at TED Women in San Diego.
This spotlight article, adapted from the Fall 2016 issue of Canadian Art, has been generously supported by the RBC Emerging Artists Project.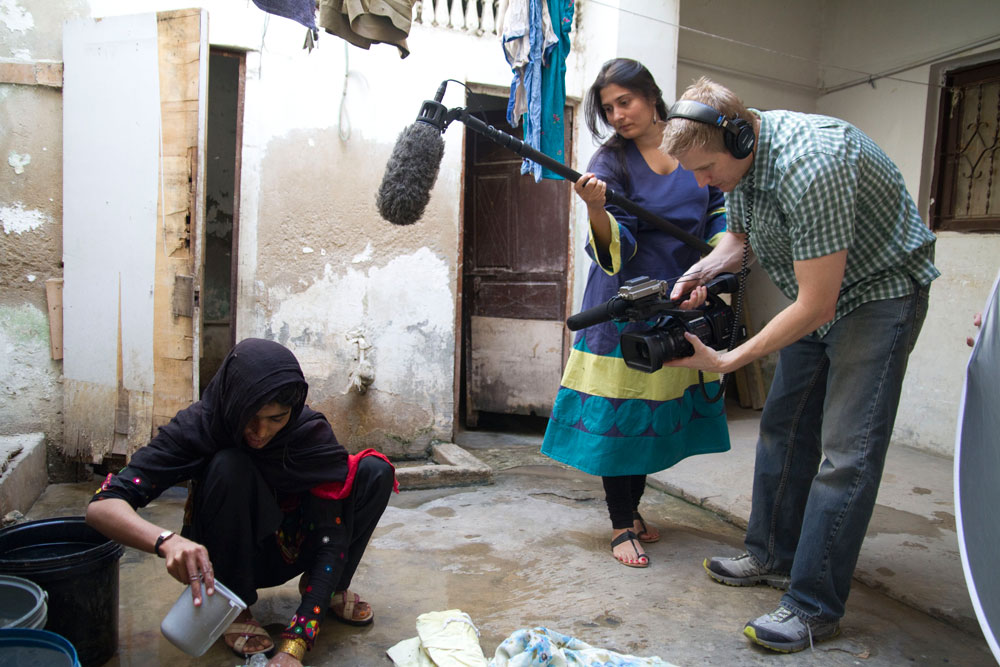 Sharmeen Obaid-Chinoy on location in the south of Punjab, Pakistan, for the filming of Saving Face, 2012 .