Before I leave her studio, Zadie Xa gives me a print. It's one of my favourites by her, a work first exhibited in 2018 at her show "Soju Sipping on a Sojourn to Saturn," at the Galería Agustina Ferreyra in Mexico City. Titled Call Waiting, it's a painted textile work that shows two women standing in front of pink- red flames and a planet that looks like Venus; they are holding conches to their ears as if they were telephones, revealing the shells' fire-red, vulva-like apertures. When we first met, I told Xa that this work reminded me of one of my artistic obsessions: Soviet space-age painting of the kind I'd seen in Central Asian galleries. Xa explains that the image has its nexus much closer to home, even if home, family and domesticity are, for her, complicated concepts. She had originally wanted to use an image of her mother as a young woman, but her mother was too reticent, so Xa instead drew from vintage Korean advertisements, which her mother used to collect as a teenager—"an image of a woman whom my mom might have wanted to look like, and who serves, for me, as an avatar or weird parallel character," Xa says.
This personal history of displacement is a constant source of inspiration for Xa. She was born in Vancouver and raised by her mother, who had moved there from South Korea. She worked as a waitress for two years before going to the Emily Carr Institute of Art and Design. Xa graduated in 2007, and lived in Madrid for four and a half years before moving to London to study painting at the Royal College of Art. Her practice is varied, and, as a painting, Call Waiting is not typical of her recent work. Indeed, Xa says that traditional painting didn't suit her for "communicating the ideas I wanted to." The conch shell, however, is a recurring motif. Many of Xa's aesthetic inspirations sprang from her youthful engagement with pop culture, and she credits a trip to see the Disney movie The Little Mermaid in theatres with her mother as the moment that "made me feel like I wanted to make pictures." During her first visit to Korea as an adult, she noticed how haenyeo—Korean female divers—collected these shells, among other things, as part of their seafood harvest. Xa fixated on the conches, not just because they symbolically "encapsulated so much of Korean folklore," but because they also acted as a "portal to a homeland," to her childhood in Vancouver, spent near the ocean.
"I imagine myself being included in a group of powerful women—maybe a metaphor for my desire to be accepted within my family's homeland and culture."
Her video Mood Rings, Crystals and Opal Coloured Stones (2016) is a combination of computer-generated effects and live action, with archival footage of Korean dancing and drumming alongside images of re and the sea. In the video, Xa immerses herself in water and dances in the forest, wearing clothes that she made herself: the baggy jackets, jeans and boots worn by the "hyper-masculine" musicians that Xa idolized in the 1990s and 2000s. For her, they projected the confidence required to appear in front of large audiences, and helped her think past stereotypical presentations of womanhood in her costume design. "Maybe," she adds, "it was also a rebellion against heteronormative images of womanhood and sexual femininity, and against the cis-heterosexual male gaze that I felt trapped by as a younger person."
Stylistically, Mood Rings borrows its rapid cutting and bright colour schemes from music videos, a format that resonates with Xa's desire to "tell stories in a non-linear way." During our conversation, she references the Wu-Tang Clan, citing the way the group draws on Asian culture, and how their videos were a more formative influence on her than, for example, Hito Steyerl's moving-image works. Thematically, Mood Rings draws on Xa's interests in magic, witchcraft and astrology—all practices that in the West have been coded as feminine, and associated with women who threaten the patriarchal order. In the video, Xa specifically refers to the rituals Korean shamans (mudang) use to beg the gods to intervene in the fortunes of humanity. She tells me, "I see these initiations as entry points whereby I imagine myself being included in a group of powerful women— maybe a metaphor for my desire to be accepted within my family's homeland and culture."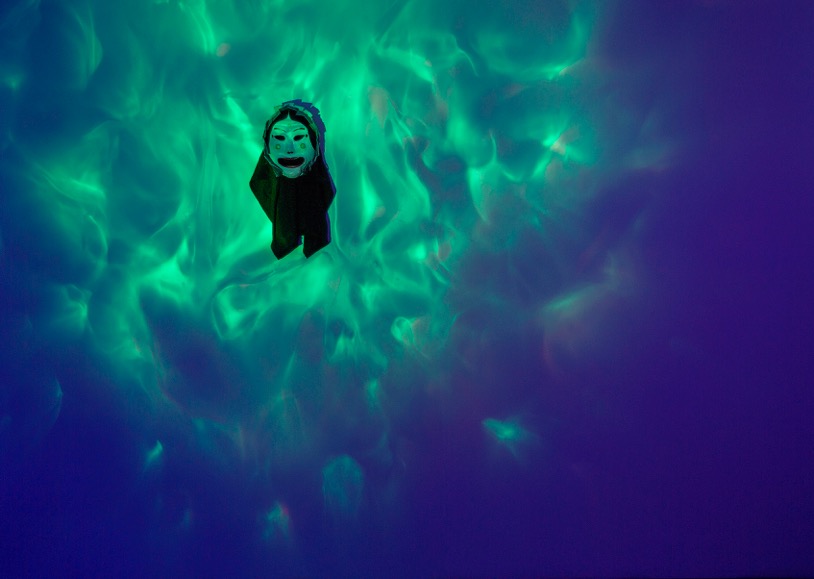 Zadie Xa
The Conch, Sea Urchin and Brass Bell
, 2017. Installation view, Pump House Gallery, London, UK. Courtesy the artist. Photo: Eoin Carey.
In a 2017 two-channel video work, The Conch, Sea Urchin and Brass Bell, Xa employs a similar aesthetic. Again, she appears in clothes she designed herself, thinking first about practicalities: she often makes capes, not just because of their association with magic and superheroes, but also because, crucially, they "allow the body to move." Xa's dancing varies the rhythm of the video, making it quieter and more contemplative than Mood Rings. She also develops the marine-life theme further: the video slides through images of seagulls, molluscs and rocks at the beach and in reefs. I am most drawn to the shifts between scenes showing Xa picking up and touching shells from the shore, and Korean women collecting sea life, chopping it up and preparing it for eating. Knives are another symbol that figure repeatedly in Xa's video and performance work, partly because of their significance in shamanistic rituals, such as ones in which women perform knife-dances to entertain the watching generals or "walk barefoot across a scythe at the climax of their performances to show that the spirits are happy, and that they're invincible."
"Perhaps it can be intimidating to see someone wielding a knife in a trancelike way," says Xa, "but for me, it recalled my mom in the kitchen. As an only child in a working-class, single-parent household, watching her prepare vegetables—that stayed in my mind. That's why I use kitchen knives rather than shamanistic ones in my works. I am more interested in the everyday, that reminder of domesticity, and the strength of my parent."
The way women pass on knowledge to each other, through the workplace or the home, when men are excluded or simply not present, comes up when we talk more about the two women depicted in Call Waiting. "I never knew my grandmother, who died when I was young," Xa tells me. "My godmother was present, but [in Call Waiting] I was thinking about my mother's mother." The experience of growing up with a Korean mother who had moved across the Pacific led Xa to try hard to assimilate into "mainstream white Canadian culture," and I'm curious about how the resulting sense of cultural dislocation has influenced her work. (I tell her that my family, by comparison, moved only about 80 miles in several hundred years, across southern England.) Xa relates, unsurprisingly, that this has led her to explore her relationship with her mother more deeply, in a society where they were both outsiders, even though Xa found more of an Asian community in Vancouver than in Madrid or London. "Often," she says, "I'm interested in working with Korean folkloric imagery because as a kid I felt ashamed of not being white."
At art school, Xa wondered if focusing on so-called Orientalist painting, on trying to problematize the question of who looks at such work, might be a way to disrupt European or Western-centric perspectives. She ultimately found she was more interested in how Orientalist imagery had permeated Western pop culture. "I used the yin-yang symbol for a while because as a child, I fixated on it. It felt like an authentic symbol of Asianness because I recognized it from a tae kwon do class that my uncle went to, so it felt real," Xa says. "As a teenager and then adult it meant nothing; I saw it used in a vapid, Western way to denote Zen, balance, meditation, holistic lifestyles. Even the Tube uses a variation of the symbol in an oyster colour." (I had never noticed this, despite using the London Underground's contactless payment card for years.) "At the same time, I do hold it up with value because it is still rooted in authenticity and valid meaning outside of its use within Western capitalism."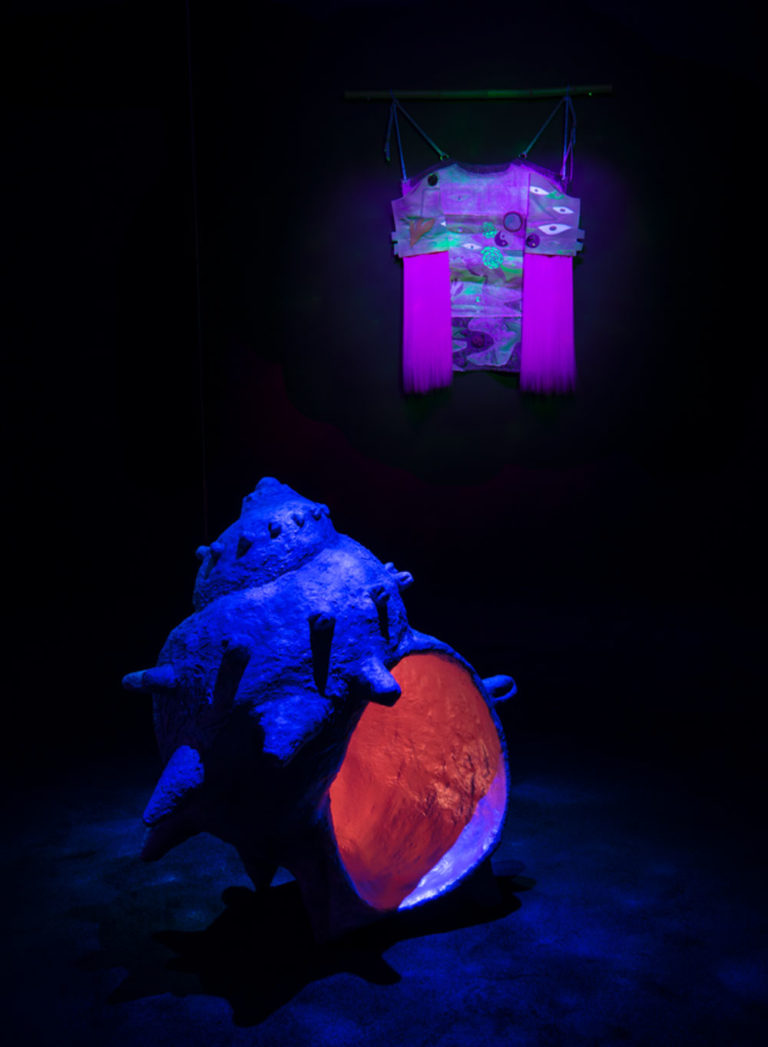 Zadie Xa's
HOMEBOY 3030: Return the Tiger 2 the Mountain
, 2018. Installation view, Union Pacific, London, UK. Courtesy Union Pacific. Photo: Benito Mayor Vallejo.
"Sometimes I feel comfortable in a North American pan-Asian environment because I recognize that space," Xa says, "but I often feel insecure about being an 'authentic' Korean. It's frustrating because I don't believe in essentialism, but that insecurity suggests an essential idea of Koreanness into which I don't fit, which makes me anxious. So I used the yin-yang symbol because for some people it could be read as 'Korean/Asian artist'; for others it'll say, 'What is this fake Asian bullshit?' For many young people, if you're not constantly exposed to cultural reflections of where your family is from, it starts to feel familiar if it's represented to you, even if it's remixed and strange, a pastiche, through TV."
This dislocation was strikingly present in Xa's May 2018 show at Union Pacific in London, titled "HOMEBOY 3030: Return the Tiger 2 the Mountain." Xa created a soft, meditative environment, inviting viewers into a dark room where one of her textile works—a shirt covered in yin-yang symbols and shells, with pink synthetic hair hanging from the sleeves—hung on the wall, and a blue conch-shell sculpture, hollowed out and glowing from within, was lit softly on its surface by pulsating moving lights that mimicked water reflections. Over soothing bird songs and ocean sounds, a voice repeats: "For all your silky black hair, olive skin, small eyes and chin, you are not them…skinfolk but not kinfolk."
Xa's intended viewers are not just Korean or Asian, although her representation of Korean folk tradition has struck a chord with people from similar backgrounds. After an outdoor performance at London's Serpentine Gallery in 2016, in which Xa staged a mask drama (a reference to the tradition of Korean talchum), a passing tourist was so overcome with emotion at seeing something from his culture that he gave Xa's group a gift. Traditionally, the masks were liberating, partly because they allowed villagers to satirize familiar characters from Korean feudal history: the aristocrat, the monk, the banker, the shaman, the drunk. Watching the footage, I'm struck by how mixed the crowd's reactions seem as they tentatively follow the performers across Hyde Park to the drumbeats, unsure of how to react to the combination of public spectacle and private ritual, or to the way Xa's hand-made masks are gender-ambiguous, rendering their wearers' identities equally indeterminate. At times, Xa got into onlookers' spaces to make them clear the way for the dancers, overturning the Western power dynamic in which women of colour are often figuratively or literally pushed aside by white people, who are conditioned to be more confident in public space.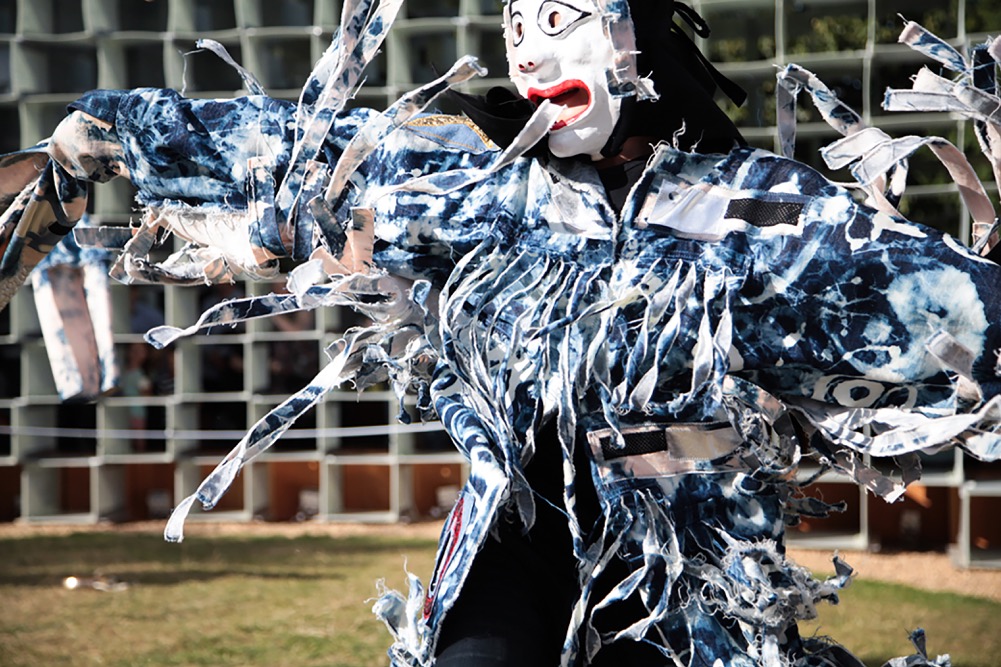 Zadie Xa,
Linguistic Legacies and Lunar Exploration
(performance documentation), 2016. Photo Manuela Barczewski.
Xa found it easier to find a community in London than in Madrid, where the lack of a large East Asian diaspora not only felt isolating, but also meant she constantly encountered "really basic, stereotypical perceptions of Asianness" that weren't so much threatening as utterly enervating. Though London is among the most diverse cities in the world, Xa isn't plugged in to an East Asian community there the same way she was in Canada. "If I were still in Vancouver, coming from the same perspective, I would probably have people who would be more critical of me," she says. "In many ways, I would be less special."
If she had not doubly distanced herself from Korea by way of having left the Korean diaspora in Canada, Xa feels that different themes may have come to the fore in her work. She describes her sense that, when speaking about race relations in Canada, there should be more discussion about the intersections of non-white, non-Indigenous Canadians with Indigenous communities and European settlers—for example, recognition of what Chinese immigrants have contributed to the building of Vancouver— and that it would be better to understand these histories as intertwined rather than separate.
Xa has never exhibited in Vancouver, and says she left the city because chances to make and display work there were not forthcoming. Now, she is working on using Vancouver as the (physical) backdrop to interpret an ancient Korean creation myth about a grandmother-goddess figure who uses her bodily fluids to create land formations and new environments. Here, with this work, Xa finds many returns, reconciling her childhood home with that of her mother's.