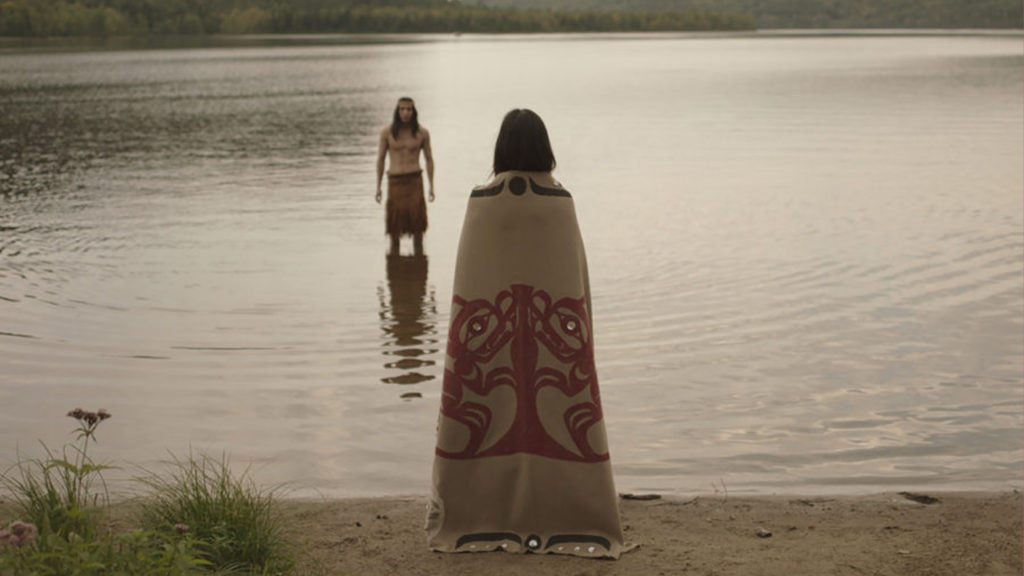 Keenan Grom (Wade at 17) and Fail Maurice (Georgina) in
Trickster
. (Photo: CBC)
Trickster 
CBC and CBC Gem
Premiered October 7, 2020
Adapted from best-selling 2017 Eden Robinson novel Son of a Trickster, the series focuses on the life of an Indigenous teenager who strives to keep his dysfunctional family together in unconventional ways. Labelled a "supernatural thriller," Trickster addresses Indigenous issues while bringing Haisla-Pacific Northwest storytelling to the forefront. The series was created by Métis/Algonquin filmmaker Michelle Latimer and Tony Elliott, and features a predominantly Indigenous cast, lending to relatable narratives for NDN country in this much-anticipated drama. —Adrienne Huard, editor-at-large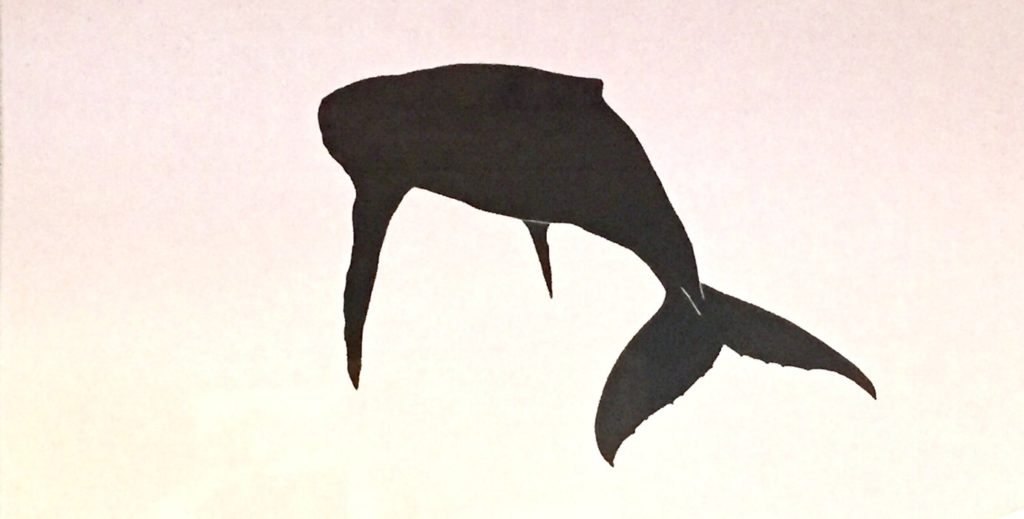 A painting by Katy Payne.
Nocturne: ECHOLOCATION
Curated by Lindsay Dobbin, K'jipuktuk/Halifax
October 12 to 17, 2020
The 13th annual Nocturne arts festival is back once more. It's a little different than previous years as organizers have adapted the late-night festival for the pandemic. Many of the week's events have moved online or outside to make the festival's activities safe and accessible. This year's curator, Kanien'kehá:ka artist Lindsay Dobbin, has oriented the theme around echolocation to draw attention to our connections to the natural world and the waters we share. The theme of whales, dolphins and other marine life that surround Halifax are present throughout the week of programming, including a collaboration between whale acoustic biologist Katy Payne and vocalist Daniela Gesundheit. —Ossie Michelin, editor-at-large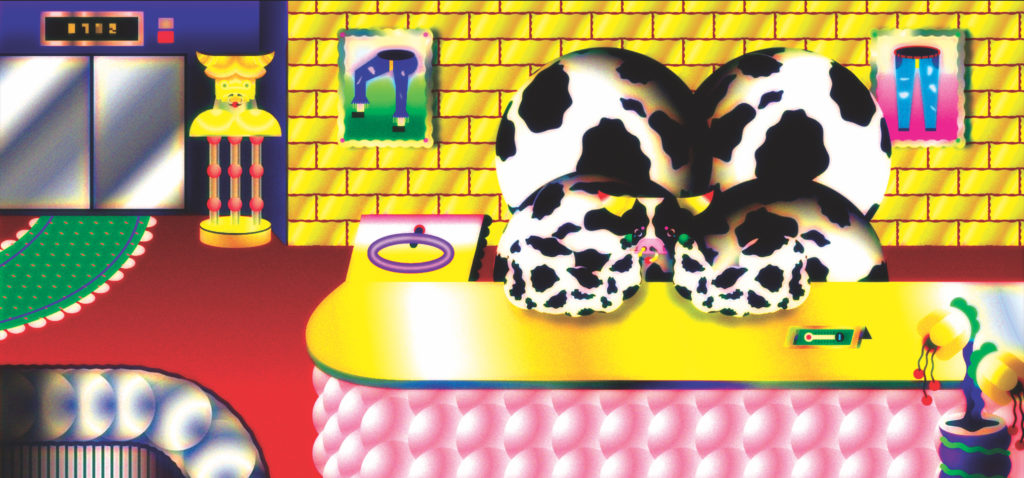 WONG Ping,
Wong Ping's Fables 2
, 2019. Single channel animation, 13 minutes. Courtesy of the artist, Edouard Malingue Gallery, Hong Kong / Shanghai and Tanya Bonakdar Gallery, New York / Los Angeles.
Wong Ping 
Bradley Ertaskiran, Montreal
September 11 to October 31, 2020
Wong Ping's Fables 2 is a screening of two back-to-back animations that address greed, incarceration, digital consumerism, narcissism and desire through the narratives of a wealthy imprisoned cow and a conjoined rabbit triplets. With its vivid colours and seeming tactile gradients, the gimmicky aesthetics of the animations are captivating. They stray away from reality, diving head first into fiction, only to end up back to square one: a cynical take on systemic structures. Hong Kong artist Wong Ping blurs the line between absurdity and reality, a powerful space for social critique. —Sarah Sarofim, editorial resident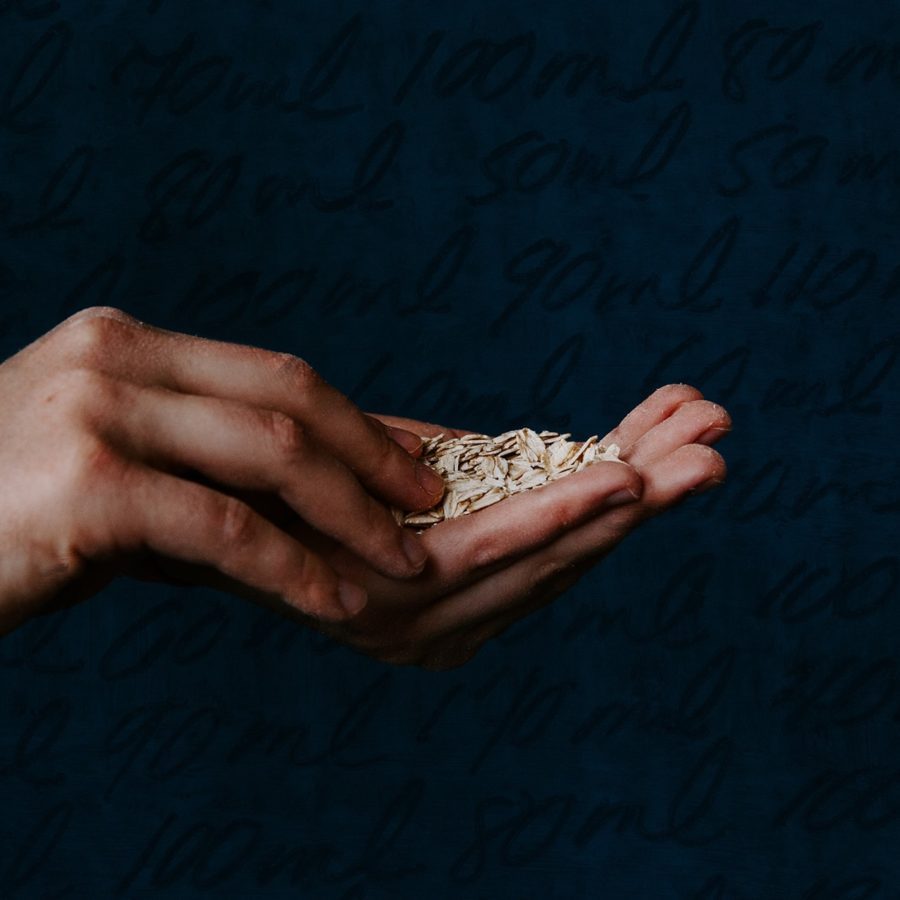 Annie France Noël,
Les Baby Blues : Nutri
.
Annie France Noël
Galerie Murmur, Moncton
October 16 to November 20, 2020
Annie France Noël unveils her experience with baby blues, or postpartum feelings, in a photographic installation at Galerie Murmur. Her photographs are intimate, treading a soft line between tenderness and pain: drops of milk escaping her hand, repeated notations of millilitre quantities, hands holding grains. "Les Baby Blues: Nutri" works through data Noël collected and the emotions surrounding her difficult experience with breastfeeding, reminding us to think about how to care and who to care for.  —Sarah Sarofim, editorial resident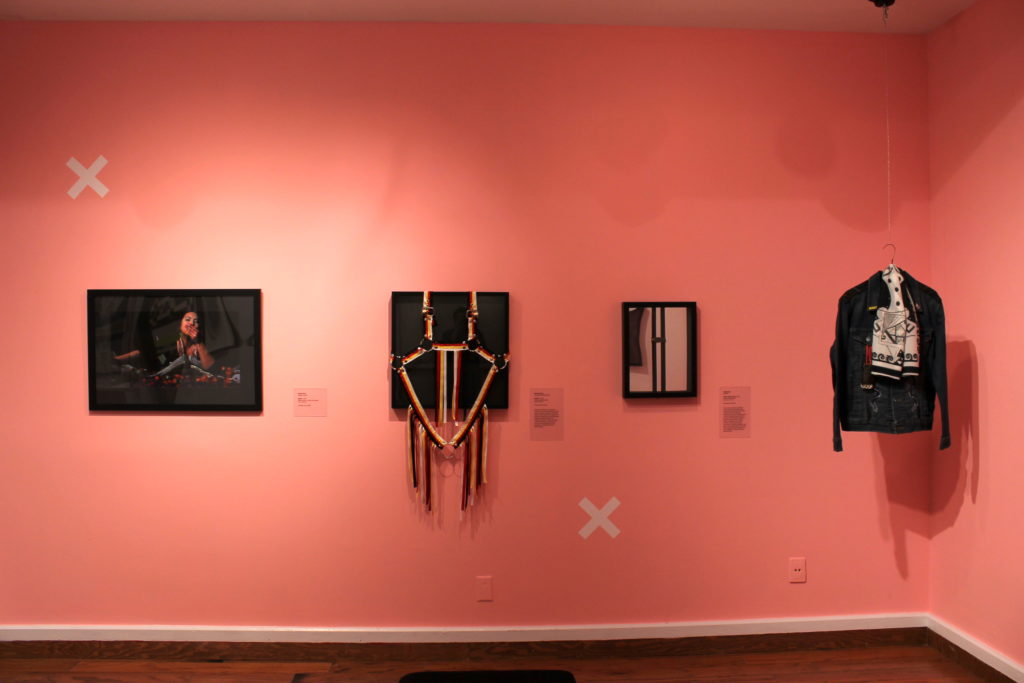 "Worn Inward," 2020. Installation view at Grenfell Art Gallery. Courtesy the artists and the Art Gallery of Nova Scotia.
Worn Inward
Grenfell Art Gallery, Corner Brook, Newfoundland and Labrador
To December 5, 2020
Self-representation, adornment and wearable art are stitched together in "Worn Inward," curated by Aiden Gillis. The exhibition features eight emerging Indigenous artists—Killa Atencio, Brandy Bernard, Darcie Bernhardt, Flora May Chubbs, Brandon Hollohan, Gesig Isaac, Natasha Root and Arielle Twist—and some of the works they made in response to Mi'kmaq artist Jordan Bennett's 2019 Art Gallery of Nova Scotia exhibition "Ketu'elmita'jik [they want to come home]." Given that that AGNS show was in Halifax, and Bennett was born in Stephenville Crossing, not far from Corner Brook, this Grenfell show might too be read as a form of homecoming. —Leah Sandals, content editor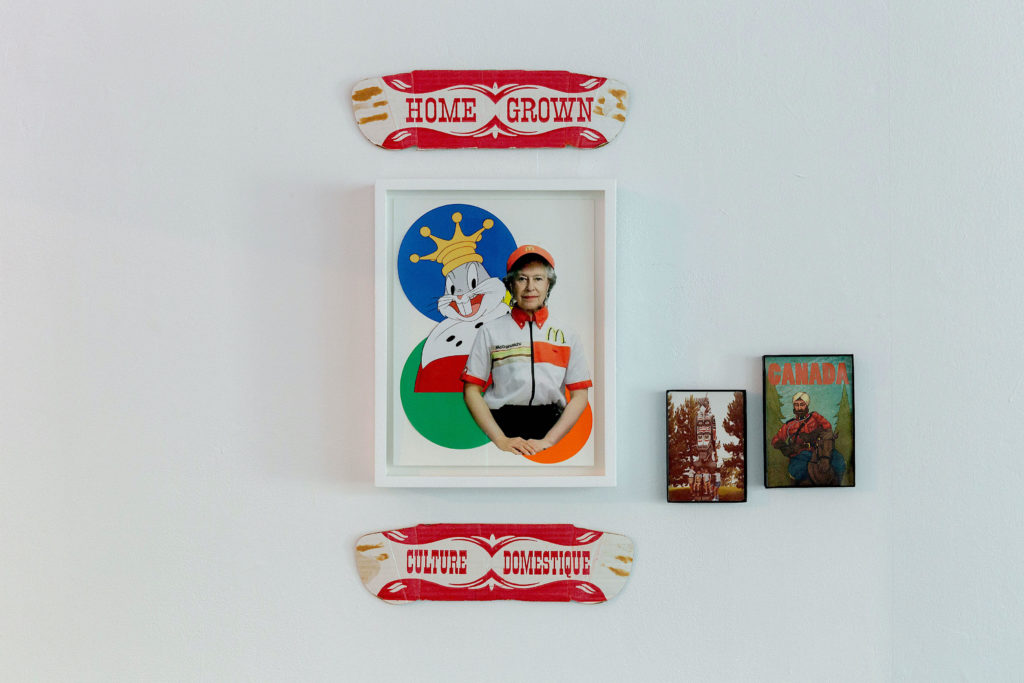 Pamila Matharu,
Adjacencies
, 2020. Mixed media installation. Photo: Juliet Tanas. Courtesy Durham Art Gallery.
Pamila Matharu 
Durham Art Gallery, Ontario
To December 5, 2020
Pamila Matharu's second solo exhibition comes after last year's lauded "One of These Things is Not Like the Other" at A Space Gallery in Toronto. Matharu's installations include constellations of works, objects and sprawling invitations to others to take up space with her, in efforts to decolonize archives and cultural inheritances. With curator Jaclyn Quaresma, "What Haven't We Learnt Yet, Still?" continues resolutely feminist ways of making artwork against and inside institutions that reject swathes of people from memory. Matharu forms an aesthetics out of elevating lived experience, conversations between friends, co-conspirators and peers, to the level of an archive—to be on record. A companion text by Sarah-Tai Black speaks clearly and movingly to how whiteness replicates itself, and the need to be held otherwise. —Joy Xiang, assistant editor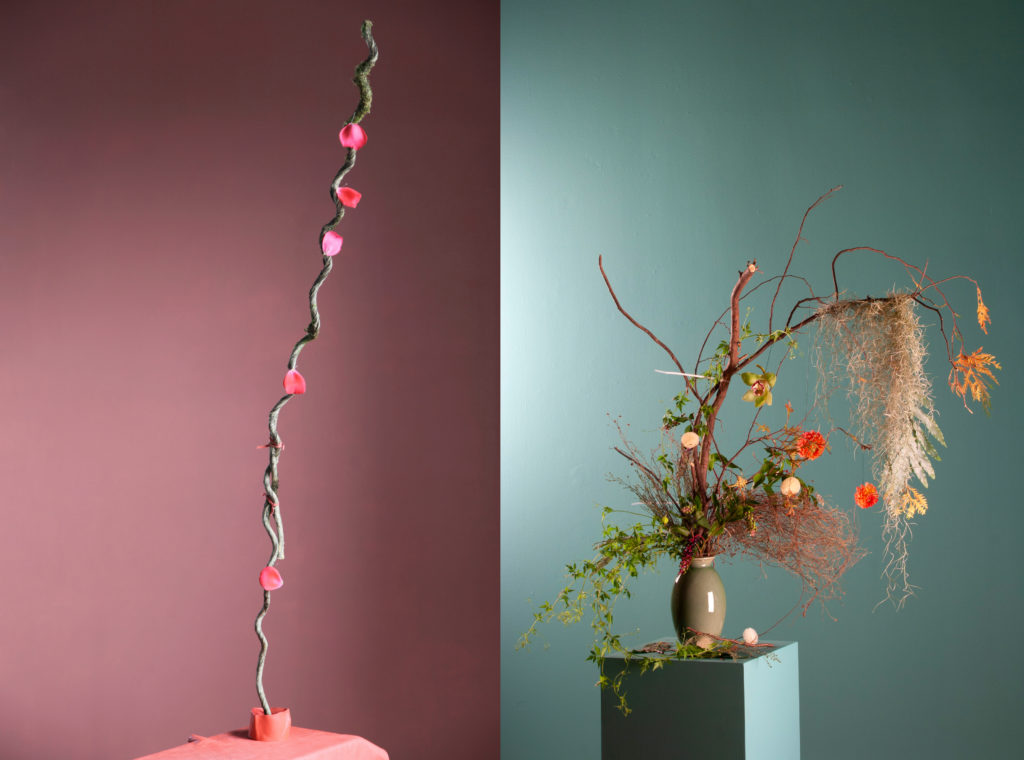 Benny Nemerofsky Ramsay (left) with Vincent Edet (right),
A Hum in the Library
, 2020.
Benny Nemerofsky Ramsay
Carleton University Art Gallery, Ottawa
To December 12, 2020
Completed last year as part of his PhD research, Nemerofsky's I Don't Know Where Paradise Is assembles collaborative audio guides and visual work to sensitively share queer archival histories. Unlike other gallery audio guides, Nemerofsky's don't describe precisely what is seen, but rather narrate encounters with objects and texts in private collections of queer scholars and artists located in Amsterdam, Montreal, London, Paris and Vienna. At the CUAG, members of the Ottawa-Gatineau LGBTQIA+ community have responded by way of floral arrangement, a sort of duet with Nemerofsky's own arrangements, themselves inspired by the audio chapters. The resulting pairs are fragile and also quietly momentous, mirroring in many ways the social-spatial relations to which the audio guides give voice. —Erin Saunders, copy chief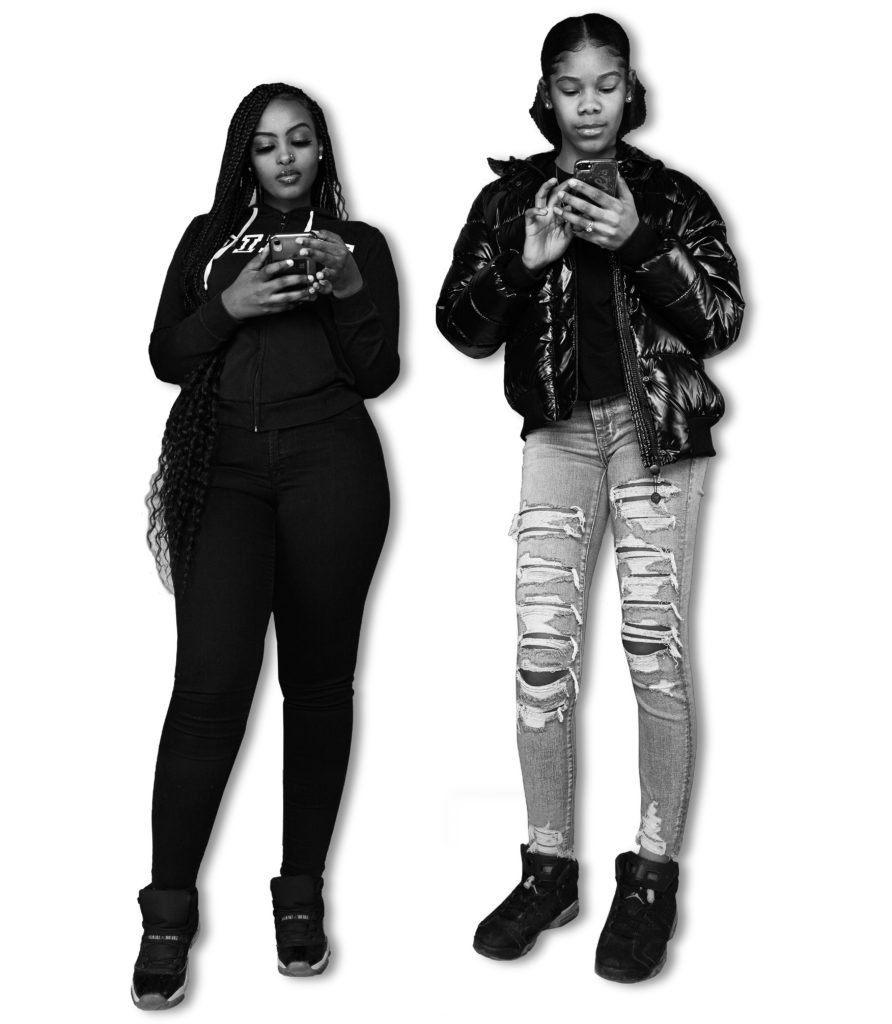 Ebti Nabag,
I'm Listening
, 2020
Three-Thirty 
Lester B. Pearson Collegiate Institute, Malvern Public Library, Doris McCarthy Gallery, Toronto
To December 18, 2020
Anique Jordan, an award-winning artist who makes evocative photographs and performances, is an inspiration and a powerhouse. For this year's Scotiabank CONTACT Photography Festival, she curated the exhibition "Three-Thirty" across several locations in the Malvern neighbourhood of Scarborough (in Toronto's GTA). Artists Kelly Fyffe-Marshall, Aaron Jones and Ebti Nabag worked with local youth, who are largely Black and Brown. Theirs is an essential presence that has often been sidelined, discounted and overlooked; the works in the exhibition carefully register the ways in which they do, in fact, shape and impact their environment. Jordan will deliver an online lecture October 21 and a curator's talk on October 27. —Yaniya Lee, senior editor-at-large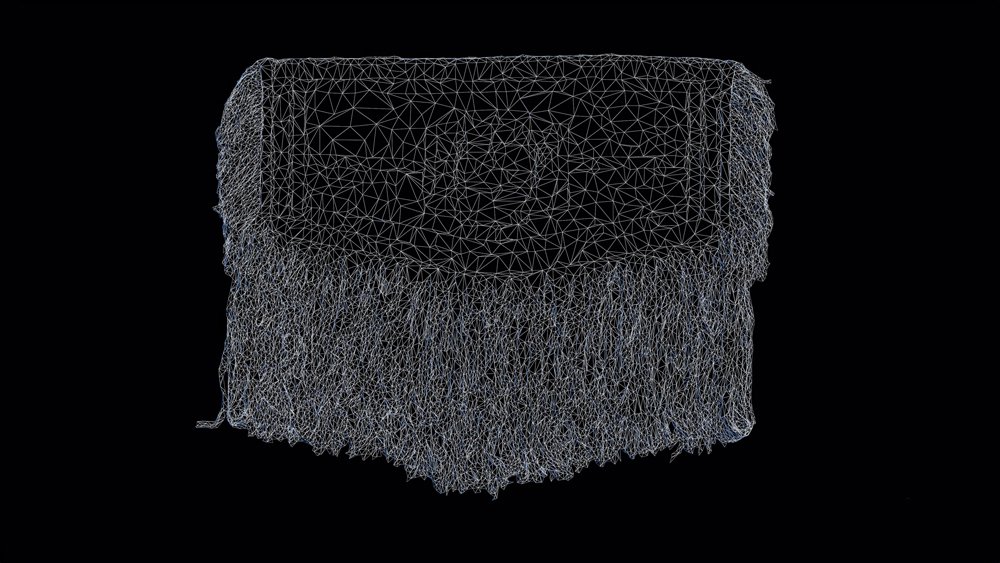 Wrapped in the Cloud
(video still), 2018. © Jaad Kuujus (Meghann O'Brien). Produced in collaboration with Conrad Sly, Hannah Turner, Reese Muntean and Kate Hennessy.
Sovereign Intimacies
Plug In ICA, in partnership with Gallery 1C03, with support from Video Pool Media Arts Centre, Winnipeg
To December 20, 2020
In the essay for "Sovereign Intimacies," Nasrin Himada writes in a conversation with co-curator Jennifer Smith that the exhibition evolved from "a common understanding that…the process of getting to know someone means there is possibility for transformation." The warmth, strength and optimism in such a statement feels restorative in this time of uncanny separation, and so nicely frames a selection of work by artists Hassaan Ashraf, Annie Beach, Ayumi Goto, iris yirei hu, melannie monoceros, Peter Morin, Mariana Muñoz Gomez, Wanda Nanibush, M. NourbeSe Philip, Meghann O'Brien, Marie-Anne Redhead, Cheyenne Thomas and David Thomas, as well as extensive online programming including screenings, readings and talks. —Erin Saunders, copy chief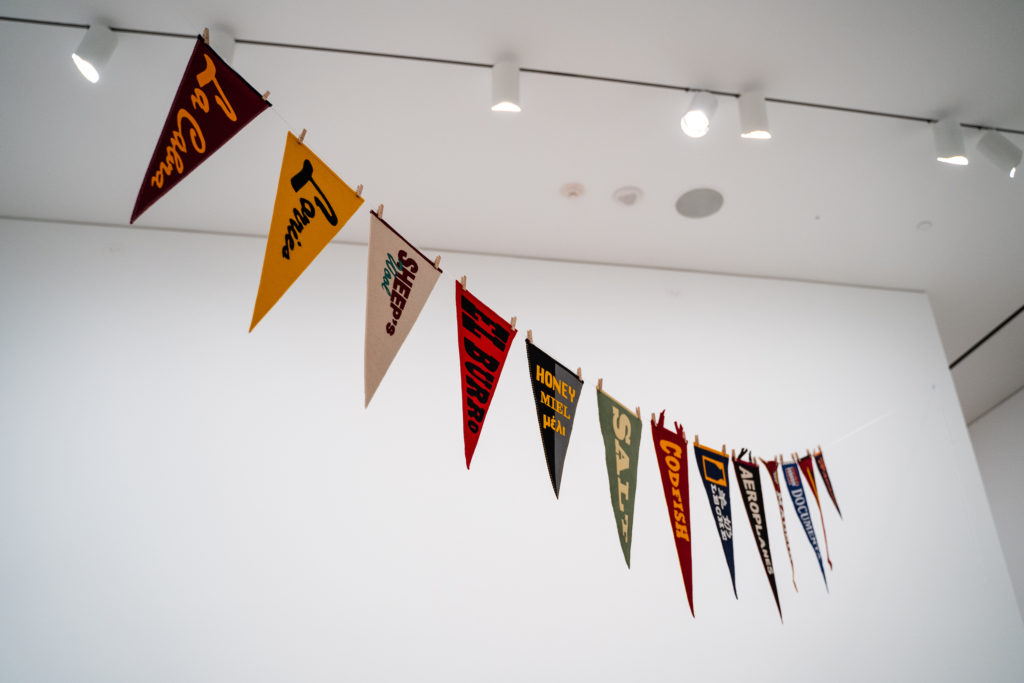 Bill Burns,
The String of Boiled Wool Pennants about Trade, Love and Precarity
, 2020. Boiled wool pennants, 40 x 10 x 0.4 cm each. Courtesy of the artist and MKG127.
borderLINE: 2020 Biennial of Contemporary Art
Art Gallery of Alberta, Edmonton, and Remai Modern, Saskatoon
To January 2 and February 14, 2021
The prairie landscape doesn't stop at provincial borders, and neither does its art. Surveying the practices of "34 artists and collectives across two provinces and five treaty territories," this first borderLINE is not to be missed (as long as COVID precautions permit!). The artist list is impressive, including Judy Anderson and Cruz Anderson, Cindy Baker, Elisabeth Belliveau, Heather Benning, Bill Burns, Thirza Jean Cuthand, Wally Dion and others at the Remai Modern, and aiya哎呀, Jason Baerg, Catherine Blackburn, Lori Blondeau, Sean Caulfield, Carole Epp, Elise Rasmussen and others at the AGA. Curated by Remai curator Sandra Fraser, Remai guest curator Felicia Gay, AGA curator Lindsey Sharman and AGA adjunct curator of Indigenous arts Franchesca Hebert-Spence, it promises much for the expanses of present and future. —Leah Sandals, content editor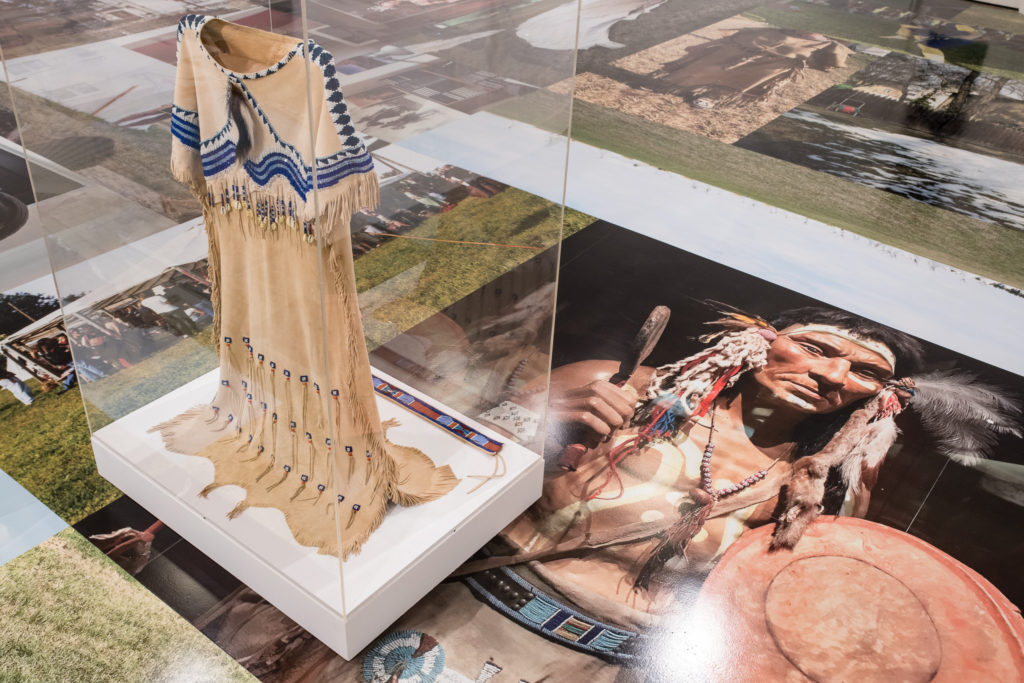 Krista Belle Stewart, installation view at the Nanaimo Art Gallery, 2019.
Fatma Bucak and Krista Belle Stewart
Museum of Contemporary Art, Toronto
To January 3, 2021
"Acts of Erasure," pairs two artists with distinct practices to better understand relationships between land, heritage and cultural identity. Bucak, who identifies as both Kurdish and Turkish, mixes photography and performance to investigate the politics and social realities of border landscapes. Stewart, a member of the Upper Nicola Band of the Syilx (Okanagan) Nation in British Columbia, brings similar concerns to her practice through deep research into archives and questions around how national identity is produced. Brought together in a year when the politics of nationalism are all-consuming, this is a welcome opportunity to interrogate how images contribute to, or counter, representations of the nation-state. —Jayne Wilkinson, editor-in-chief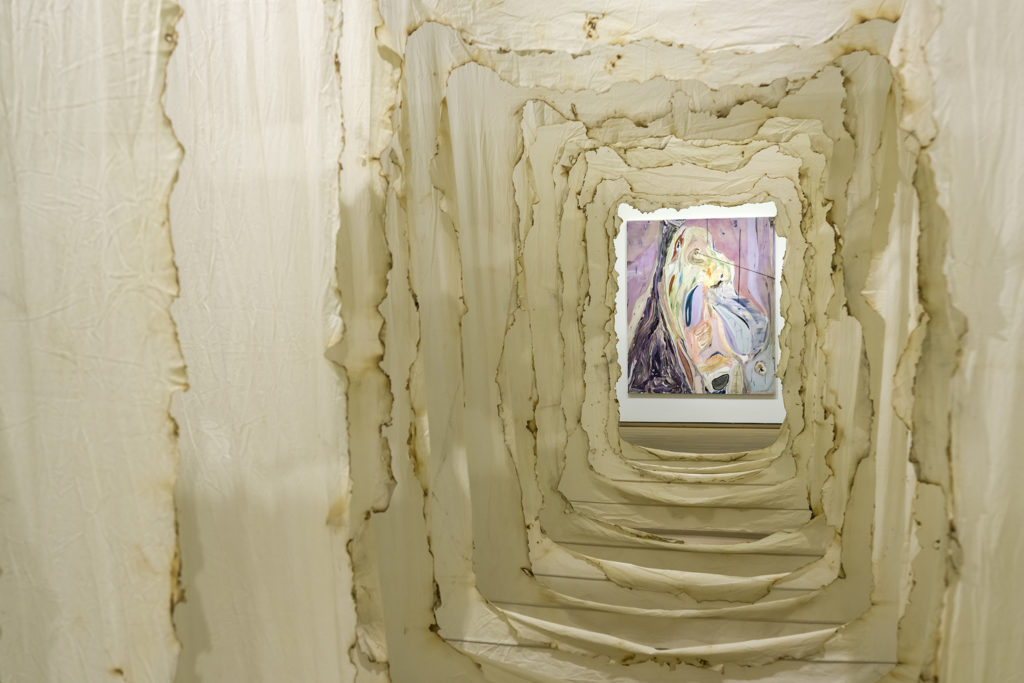 Installation view (detail) of Manuel Mathieu's
Ouroboros
(2020) and (on wall)
St Jak
(2018). Courtesy Montreal Museum of Fine Arts.
Manuel Mathieu
The Power Plant, Toronto/Montreal Museum of Fine Arts
September 26, 2020, to January 3, 2021/September 17, 2020 to March 28, 2021
In this pair of institutional-debut solo exhibitions, Montreal artist Manuel Mathieu offers a kind of kaleidoscopic perspective on memory, identity, resilience and the experimental, pan-disciplinary realities of art practices in a time of unprecedented flux. At the Power Plant, "World Undiscovered Under Other Skies," curated by Amin Alsaden, assembles a selection of new and recent large-scale paintings, drawings and watercolour studies, and ceramics that operate as abstracted windows on or tangential cues to key moments in the revolutionary history of Haiti (Mathieu was born and grew up in Port-au-Prince). Mathieu's work explodes from that narrative baseline in a shifting counter-balance between figuration and abstraction, personal history and collective memory, and material and theoretical concerns that push the work well outside of the frame. The centrepiece of Mathieu's "Survivance" at the MMFA (temporarily closed due to COVID-19), curated by Sylvie Lacerte with a title nod to the writing of French philosopher Georges-Didi Huberman, is a commissioned installation of 15 large, hanging cotton panels almost completely burned through to create a bookended (by paintings on either side) view of the ongoing, subjective violence of colonial histories and fragile, ever-changing nature of personal identity. Think of it, perhaps, as an intervention as much as an installation, which suggests clues, but no answers. —Bryne McLaughlin, deputy editor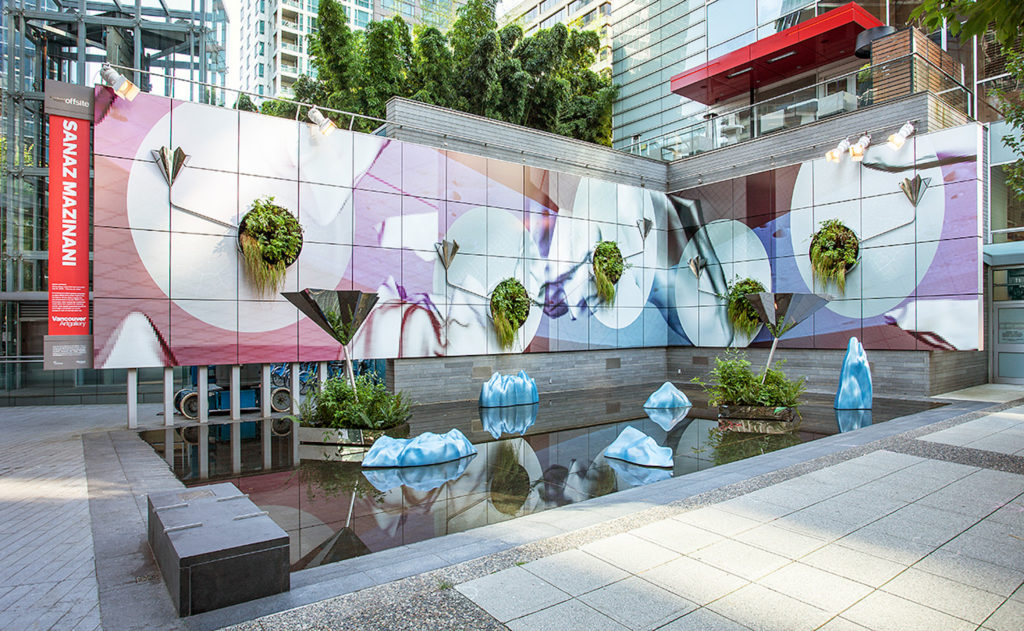 Installation view of Offsite Sanaz Mazinani. Photo: Ian Lefebvre, Vancouver Art Gallery.
Sanaz Mazinani
Vancouver Art Gallery Offsite
To February 15, 2021
The VAG Offsite presents public art that is permanently installed outdoors but for short periods at a time—a strategy even more vital as we look for distanced art experiences in this pandemic year. Mazinani's All that Melts: notes from the future-past reimagines the space as both a garden and a glacier, offering opportunity to consider the effects of climate change, the surety of a melting future and the lives of plants: the species used here were all selected based on their capacity for growth in the uncertain forecast of Vancouver's 2080 climate. —Jayne Wilkinson, editor-in-chief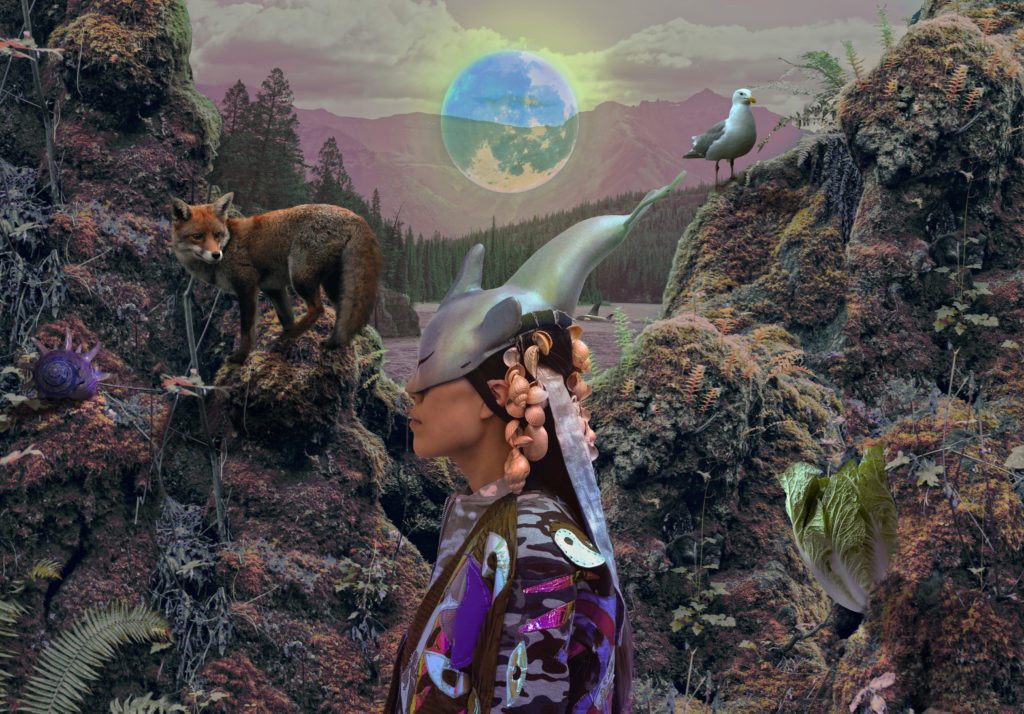 Zadie Xa and Benito Mayor Vallejo, 
Moon Poetics 4 Courageous Earth Critters and Dangerous Day Dreamers
, 2020, digital collage. Courtesy of the artists.
Zadie Xa
Remai Modern, Saskatoon
October 24, 2020, to February 21, 2021
A new body of work from Zadie Xa promises to be special: masks and garments that embody her multi-referential processes hark to ancestral and matrilineal stories and expand into collages that equally hold exuberant myths and images, are collated by the self to make a home out of the very act of becoming. While the Vancouver born-and-raised artist rose in international profile from her current home base of London, UK, this marks Xa's first solo exhibition in Canada. Every time I view her work, it seems like additional layers sharpen the complex dream: Korean folk culture, sea textures, orcas off the West coast, and now, green wilderness, forces of nature. "Moon Poetics 4 Courageous Earth Critters and Dangerous Day Dreamers" might leave you feeling like you want to be in Xa's world, and that you are capable of creating worlds. —Joy Xiang, assistant editor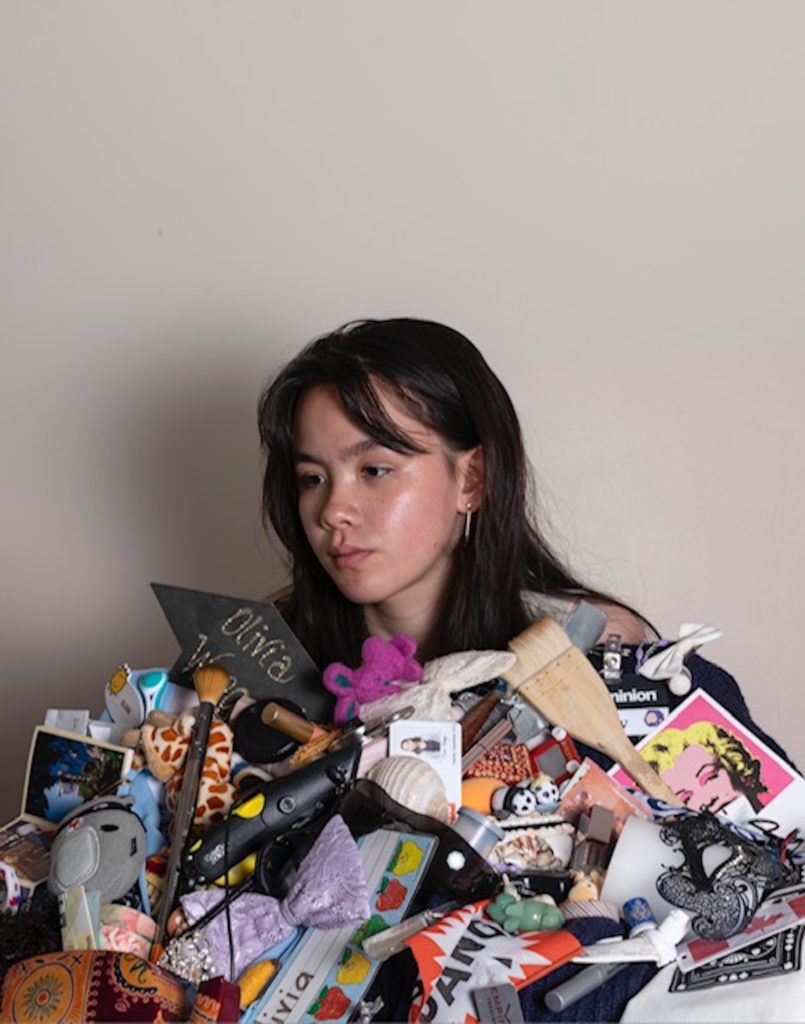 Olivia Wong,
Shrine
, 2020. Digital print on paper, 19 x 13 inches.
Give Me Shelter
Confederation Centre Art Gallery, Charlottetown
October 23, 2020 to April 6, 2021
Though Atlantic Canada is currently participating in its own four-province "bubble," it's a region that spans vast distances. It can take 24 hours, for instance, to travel between Charlottetown and St. John's—a distance that "Give Me Shelter" helps bridge by drawing together works by 13 St. John's artists for viewing in PEI's capital. Curated by CCAG curator Pan Wendt, and with support from Eastern Edge Gallery, The Rooms Art Gallery, Emma Butler Gallery and Christina Parker Gallery, this informative mini-survey (as I'm personally thinking of it) features work by Nicholas Aiden, Greg Bennett, Pepa Chan, Hazel Eckert, Jose Gonzalez, Ashley Hemmings, John McDonald, Jason Penney, Emily Pittman, Daniel Rumbolt, Mimi Stockland, April White and Olivia Wong. It's complemented by "Tukien (Awaken)" a solo show by St. John's–based Mi'kmaw painter Nelson White, which includes his terrific Native Gothic (2019), among other striking portraits. —Leah Sandals, content editor