There's lots of great art to see this weekend at Papier14, Montreal's works-on-paper fair. But here is what stood out most to associate editor David Balzer and online editor Leah Sandals at Thursday's fair preview.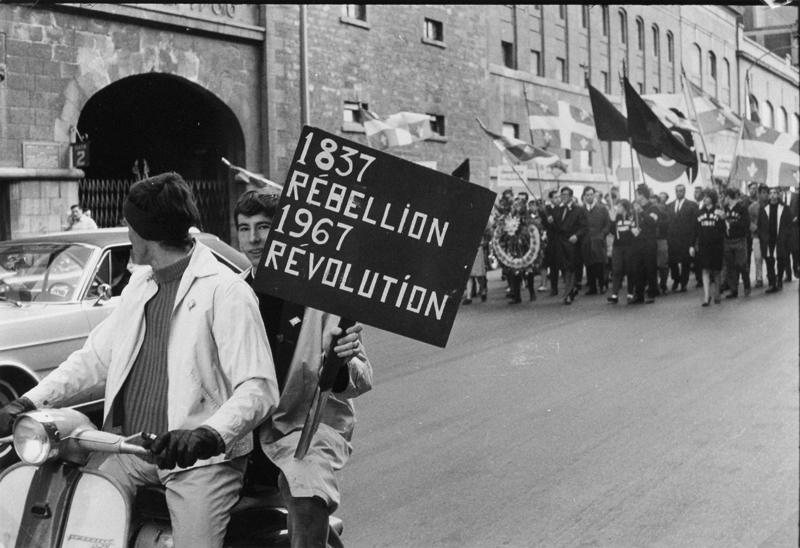 Henri Cartier-Bresson at Stephen Bulger Gallery's Booth
Is this Toronto gallery's decision to show a series of 1965 photos by Henri Cartier-Bresson depicting a Quiet Revolution–gripped Quebec a shrewd, market-driven one, given ongoing assumptions about Quebecois collectors favouring Quebecois work? Regardless, the series is absolutely transfixing; some of Cartier-Bresson's photos later made it into a Ken Burns-y NFB film entitled Québec vu par Cartier Bresson, but none of those are at Bulger's booth, making these prints—the only ones of their kind—a hands-down Papier highlight.–DB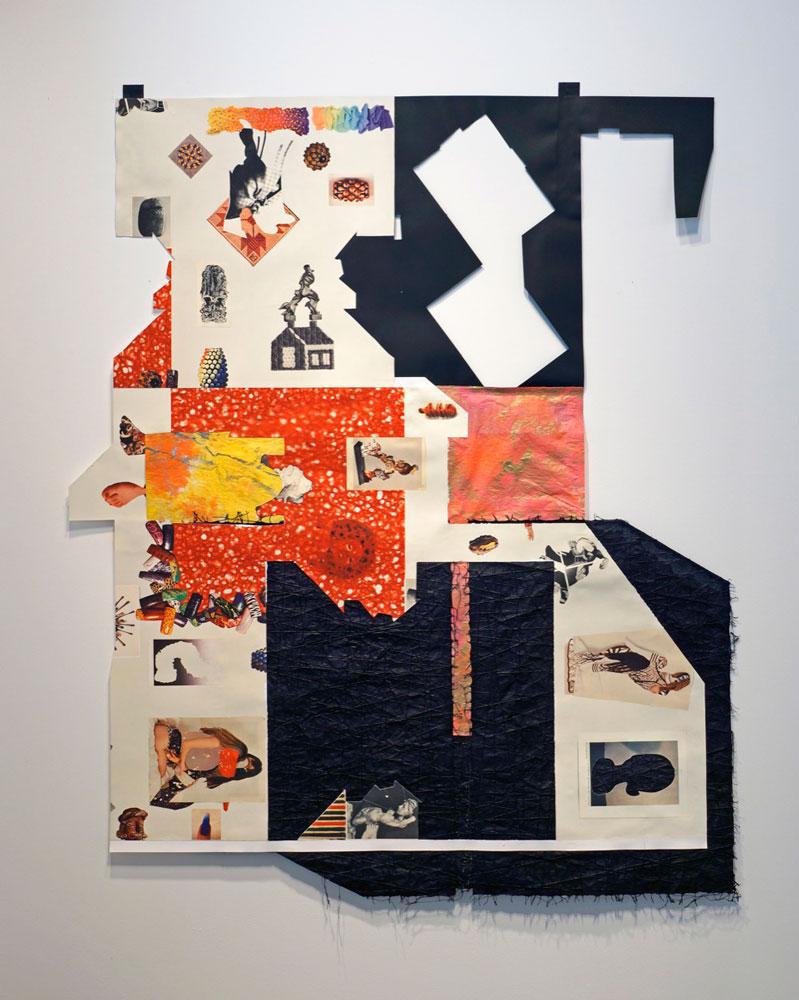 Luanne Martineau at Trépanier Baer's Booth
Luanne Martineau goes large-scale in Posts and Braces, a massive collage work that combines nail art, porn, textured paper, rainbow hues, needlepoint and Boccioni's iconic sculpture of a Futurist-styled man, Unique Forms of Continuity in Space. Given that the Futurists' vision of humanity emphasized speed and sleek, modern machinery, and that Martineau's practice emphasizes (or at least references) slower, more analog, and more tactile craft approaches, an effective and often humorous tension is set up—and it's one of many in the sprawling piece.–LS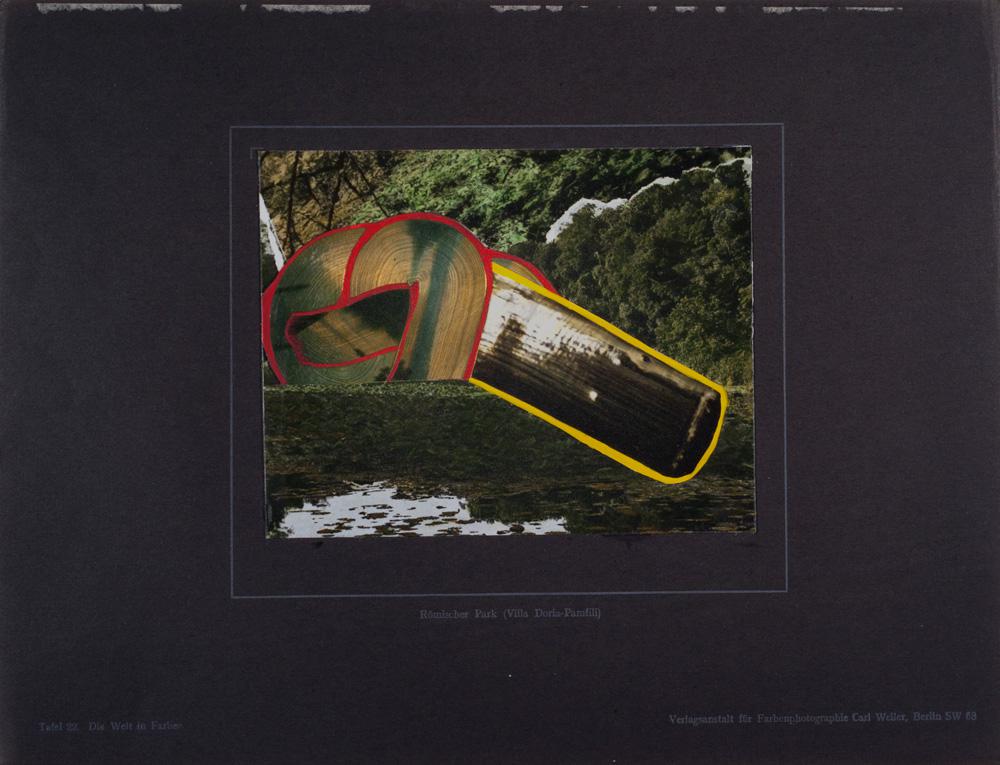 Wil Murray at p|m Gallery's Booth
Most know Wil Murray as the painter of maximalist, psychedelic works. At Toronto gallery p|m's booth, he shows novel restraint and elegance with a grid of hand-coloured prints based on lithographs made from a photo-portfolio book he found in Berlin showing the great sites of Europe. It's clever and arresting—a détourné, surrealist tourist manual suggesting John Hawkes, Jorge Luis Borges and Walter Benjamin.–DB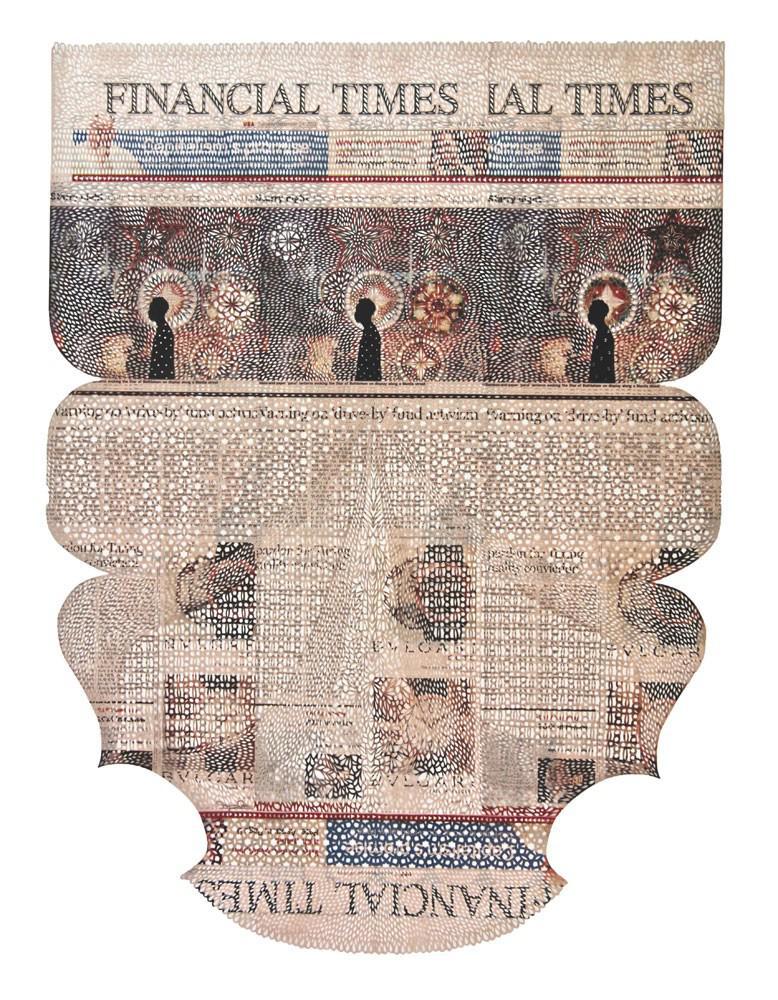 Myriam Dion at Galerie Division's Booth
Dion's intricate and skillful cutouts of newspaper pages take the mundane and straightforward and turn it into something luminous and treasured. The visual effect is complex and impressive, as is the emotional resonance of taking the didactic version of a day and turning into something enigmatic and lasting.–LS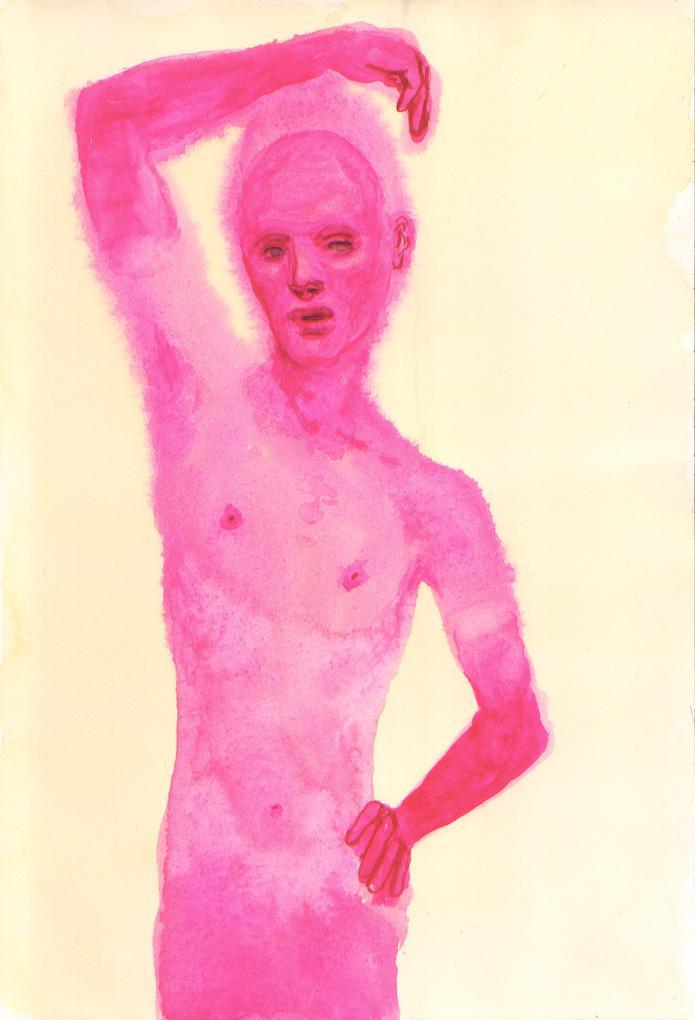 Travis McEwen and Other Artists at dc3's Booth
Edmonton's dc3 offers a strong roster of artists, not all of them from Western Canada. Two standouts, Andréanne Godin and Travis McEwen—that's one of McEwen's works above—are Montrealers. McEwen's figurative watercolours are what I'd call glam-minimalist; his characters are painted in flushed tones, as if they're embarrassed or have just finished, er, getting down. Actually, these works would look great on the cover of a dance-funk 12-inch.–DB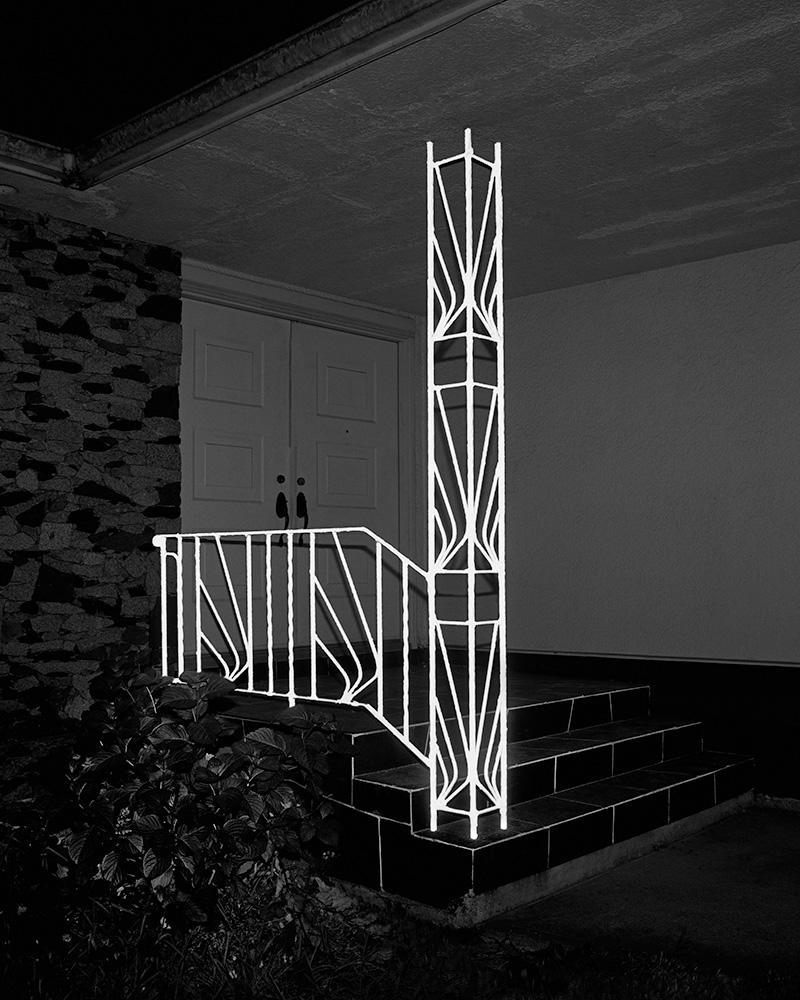 James Nizam at Birch Contemporary's Booth
James Nizam's elegant interventions into architecture and photographic documentations thereof are kind of a mashup of Gordon Matta Clark's building breakdowns and Lynne Cohen's eerie, here-be-humans? prints. Though there's only one new work by Nizam a Papier14, it's worth a look. For it, he wrapped part of a suburban porch support in Scotchlite tape and photographed it using a flash. The mundane ironwork glows like a ghost against the dark of the house in the evenings, its edges gone fuzzy against the crispness of the leaves and steps around.–LS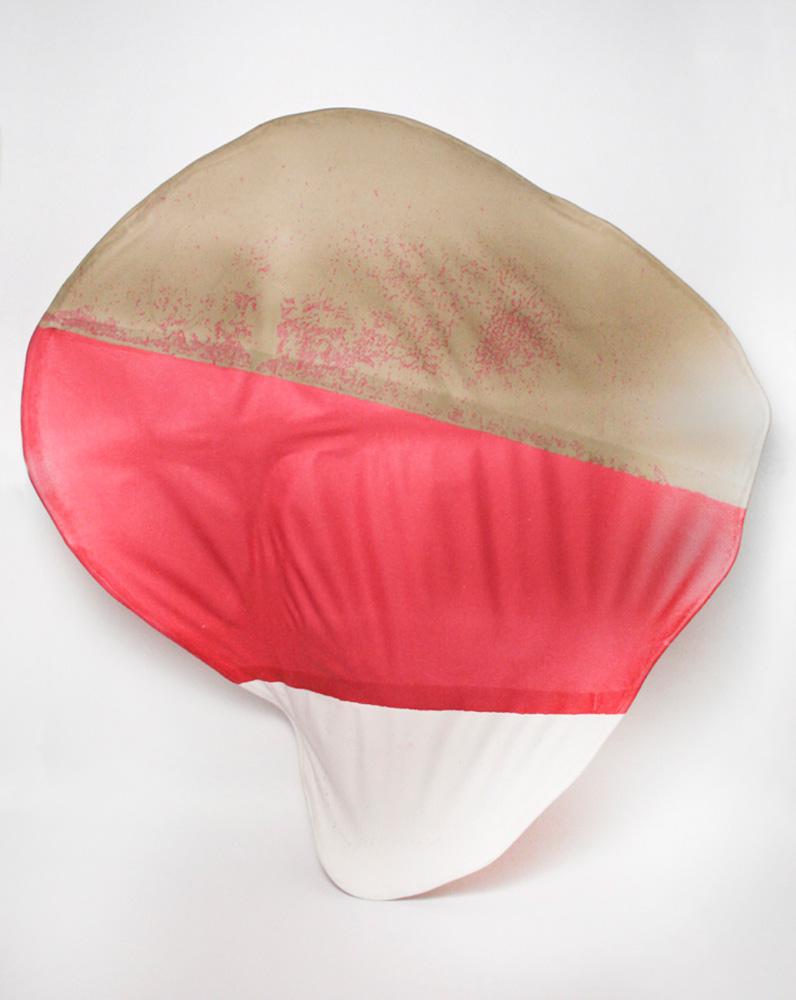 Fabienne Lasserre at Parisian Laundry's Booth
Parisian Laundry knows how to hang a fair booth. At Papier, they are showing, among others, sculptor Fabienne Lasserre, who typically works with fabric, but here stretches pigmented-linen paper on copper tubing. The results are sensual and whimsical, resembling kites, or those wonderful floppy hats Catherine Deneuve and Françoise Dorléac wore in Jacques Demy's film musical Les Demoiselles de Rochefort.–DB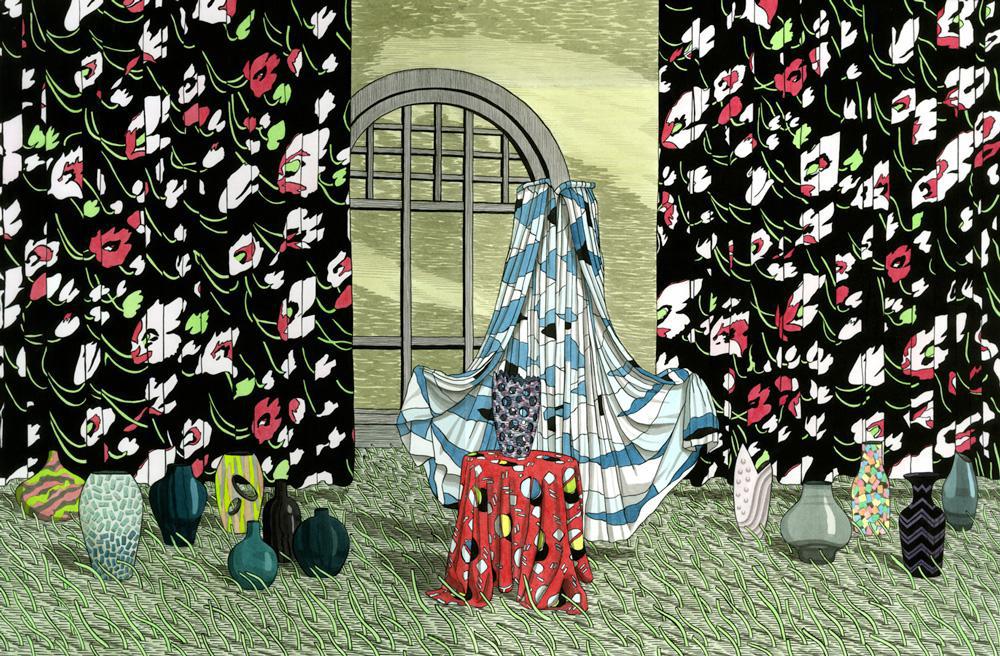 Luke Painter at Le Gallery's Booth
Bring the noise! The visual noise, that is, in Luke Painter's mirthful, raucous ink-on-paper drawings. In them, decorative patterns from various eras run wild over interiors that are somehow also exteriors. Has Painter been spending too much time trolling the fabric stores of Queen West, where buckets overflow with patterns of every geographic tradition and colour wheel combination? Has he been hanging out in the aisles of Value Village, sketching all manner and hue of discarded ceramic vase? Whatever he's doing, it's working for him.—LS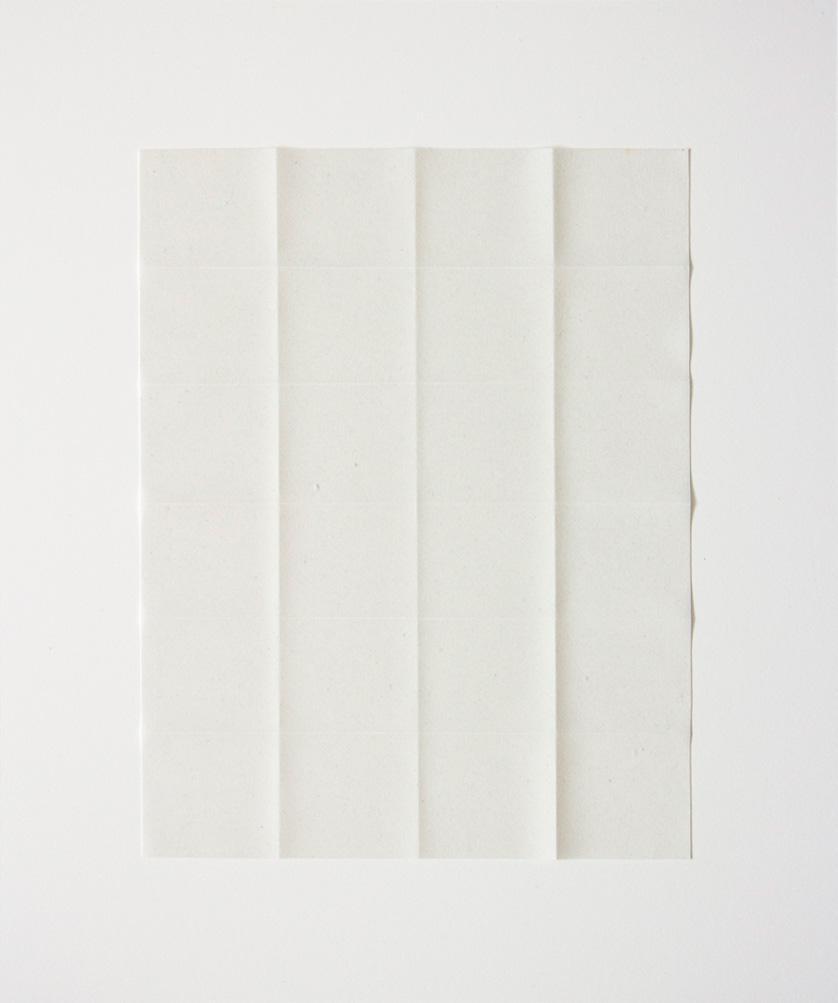 Tammi Campbell and Other Artists at Galerie Hugues Charbonneau's Booth
Tammi Campbell's new series riffs on Sol LeWitt's paper constructions, with sheets of her unique paint mixture folded into minimalist patterns. (Campbell's aren't technically works on paper, but we won't report them to the Papier authorities because we like them so much.) Oil-on-paper works by David LaFrance, a watercolour by Trevor Gould, and a cut-paper sculpture by Seripop (in which elements from some of their larger installations are compactly unfolded and stacked) are other standouts of this strong booth.–DB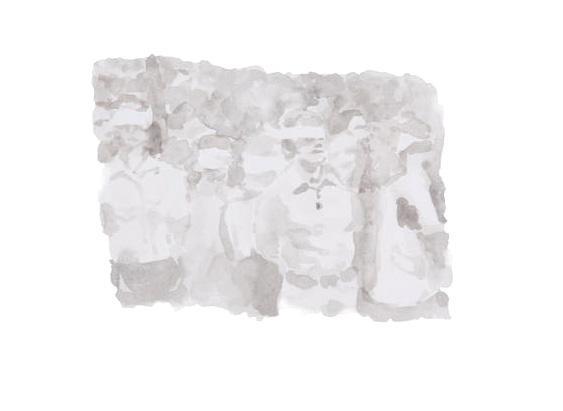 Mark Crofton Bell at General Hardware's Booth
Mark Crofton Bell excels, among other things, at quick-seeming watercolour paintings that teeter on the edge of truth and uncertainty. Often based on the raw pixels and newsprint of media imagery, Bell's work inserts a sense of poetry and humanity into difficult, wince-worthy images. That they are presented by the box here at Papier is a boon to fans, as you can look through the selection at one's leisure. Our messy world is organized into elegant, soft images is both a pleasant and a troubling thing. –LS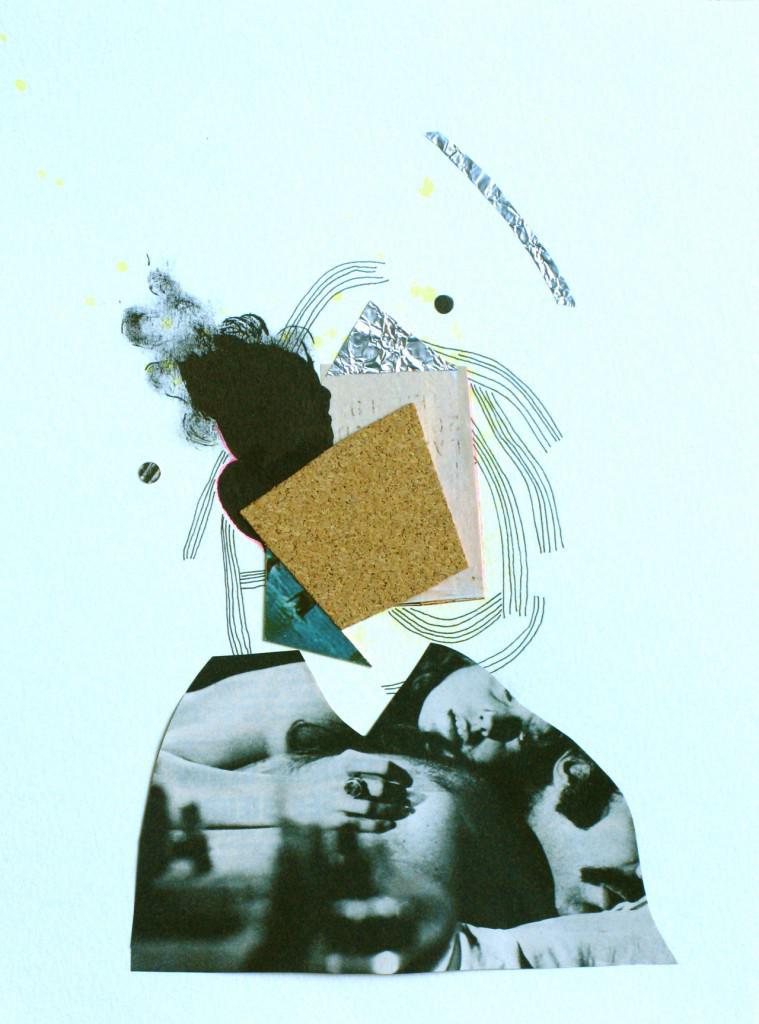 Robb Jamieson and Other Artists at Laroche/Joncas's Booth
One of my favourite walls at Papier14 is at Laroche/Joncas. Works by Joanne Hui, Colleen Heslin, Robb Jamieson, Christian Messier and Eliza Griffiths all play off each other in a kind of bacchanal of bodies and shapes. This constellation is rounded out by a one-off Marlene Dumas watercolour from 2000, an exquisite depiction of an asshole entitled L'anus solaire.–DB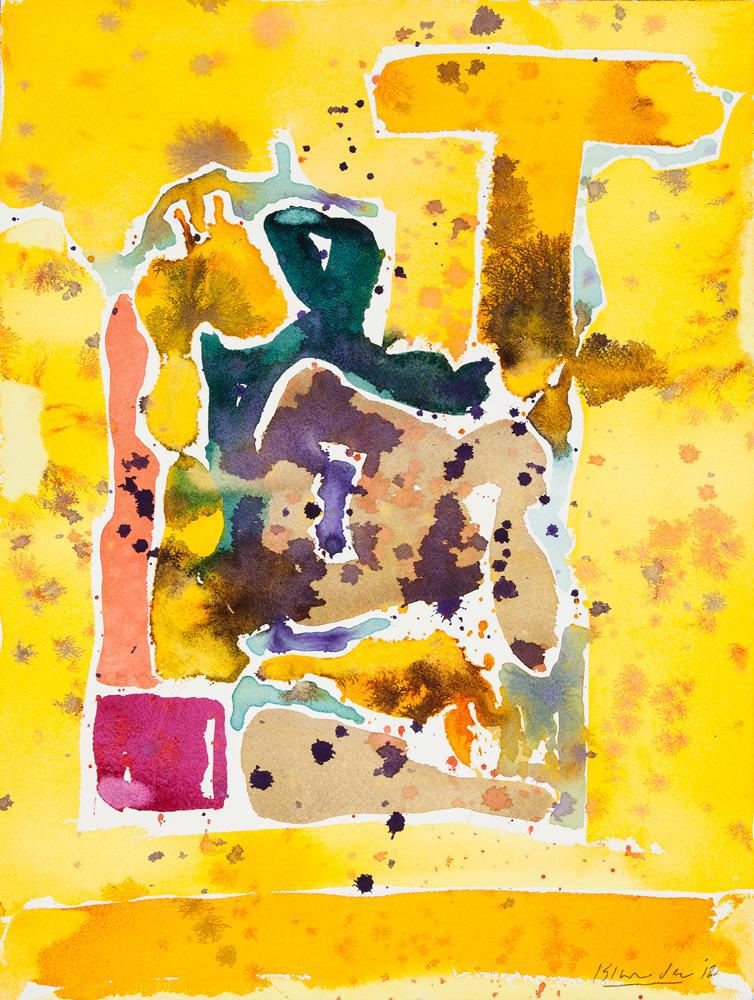 Harold Klunder at Galerie Michel Guimont's Booth
Harold Klunder's massive abstract oil paintings are always a marvel—expressive of both the moment of making and, it seems, a lifetime of looking and making. That grandeur is available in smaller scale in recent watercolours at Papier. There can often be that aspect with works on paper where one loves the work because of larger or more significant pieces by the same artist that one admires—and I certainly feel that appeal present here. Yet much of Klunder's skill is evident in these smaller pieces as well, as well as a sense of joy in colour and in life.–LS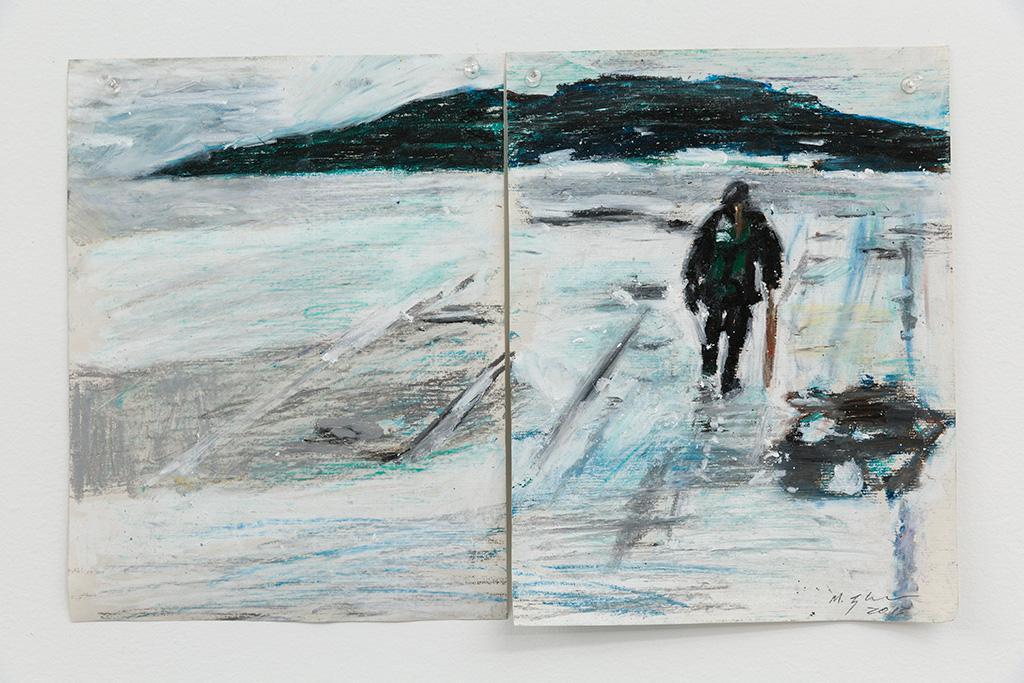 Mark Igloliorte at Galerie Donald Browne's Booth
It's been a while since we've seen new works by Mark Igloliorte, whose observational practice demonstrates a thoughtful, poetic expression of the connections between place and identity. This quartet of 2013 works in oil pastel is, in typical Igloliorte fashion, quickly rendered but conceptually haunting. And unlike his telephone-book works, they are done on acid-free paper so won't disintegrate in 10 years.–DB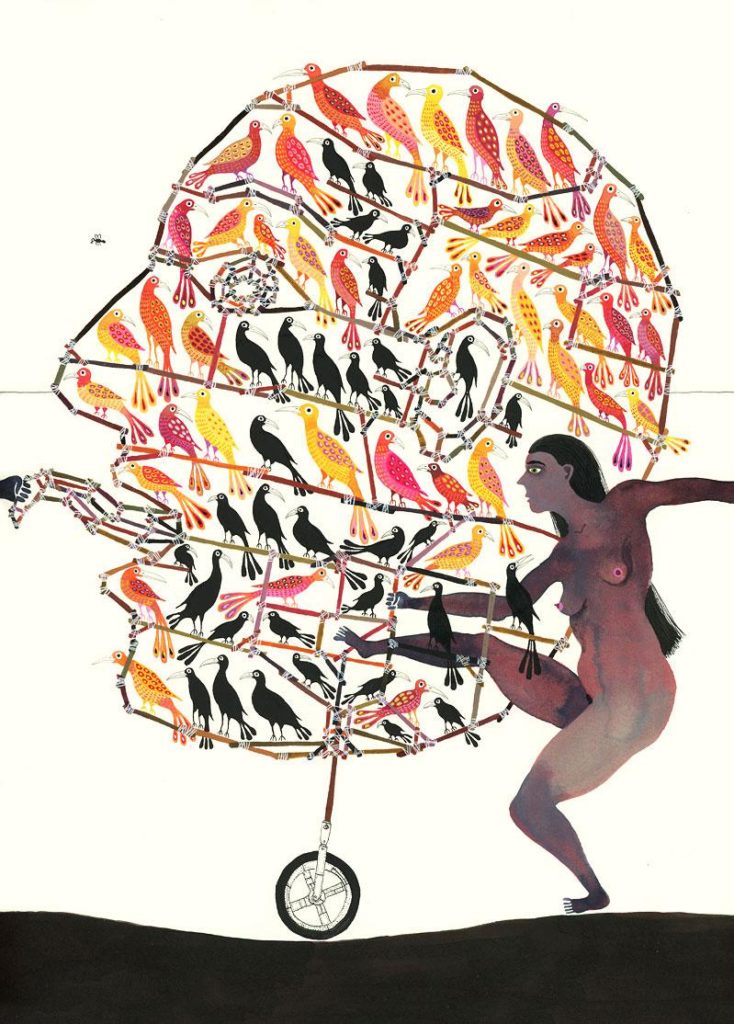 Balint Zsako at Katharine Mulherin's Booth
Recently longlisted for the Sobey Art Award, Balint Zsako is an artist known widely for his primal, yet witty, depictions of the human condition. Fans and newbies alike will enjoy a fresh presentation of his practice at Katharine Mulherin's booth, which exclusively features works by Zsako—often in a triptych or diptych style that emphasizes the dance between separation and interconnectedness so often referenced in his work. One drawing of a group of men wrapped in string is a marvel, as is another of a man's skull made up a birds.–LS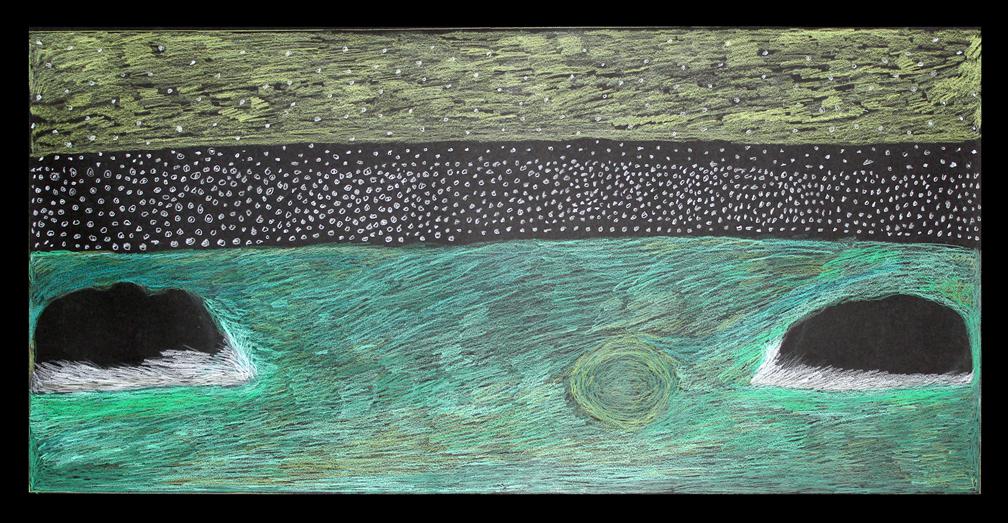 Ohotaq Mikkigak and Other Artists at Feheley Fine Arts' Booth
I've said it before but it bears repeating: the best contemporary drawing in Canada is coming out of Cape Dorset. Feheley's booth at Papier14 is stuffed with large-format work by Ohotaq Mikkigak, Ningeokuluk Teevee, Shuvinai Ashoona, Jutai Toonoo and Tim Pitsiulak. If I were to ever invest in a larger work of art, this is where I would do it.–DB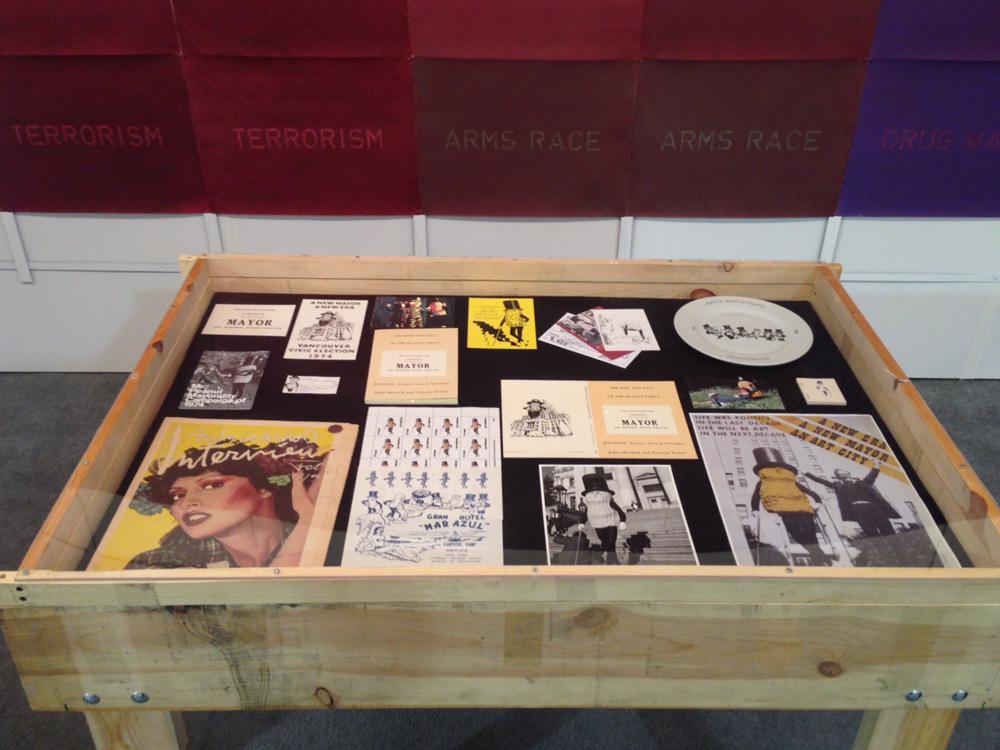 Mr. Peanut at Trench Gallery's Booth
Sometimes I feel like if I had grown up on the West Coast, I wouldn't be such a sucker for all things Mr. Peanut—moniker of one of Vincent Trasov's performance persona that once ran for the Vancouver mayoralty and otherwise inserted a note of absurdity and appropriation into art practice of the 1970s. But who knows? Maybe even those born and bred on BC art would love the vitrine of Mr. Peanut ephemera at Trench Gallery's booth. Lord knows, I do.–LS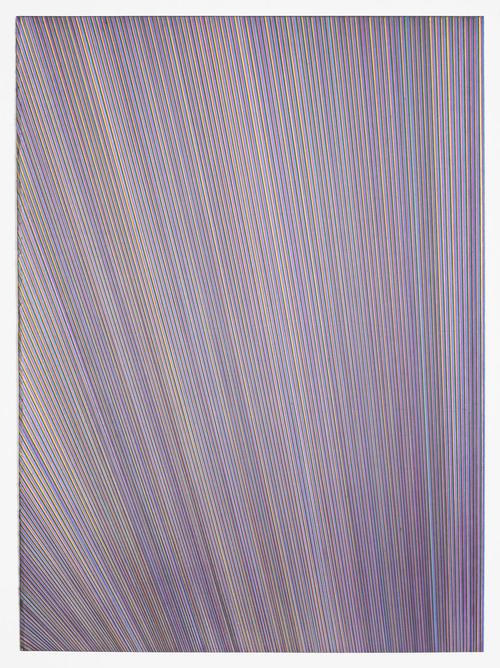 Niall McClelland at Clint Roenisch's Booth
Despite its various innovations, Papier14 remains populated by typical booth hangs: many artists, salon style. One eye-catching exception is the booth of Toronto's Clint Roenisch, which is devoted, with the exception of a conspicuous Marcel Van Eeden, to Niall McClelland's folded-paper and colour-Sharpie works. It's a big, bold statement.–DB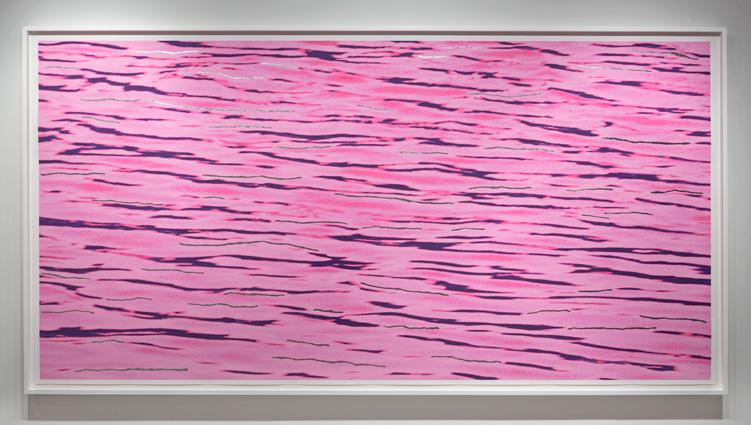 Geneviève Cadieux and Other Artists at Rene Blouin's Booth
René Blouin's booth is very well laid out, with conversations in pinkish/reddish/orangish hues ongoing between works by Geneviève Cadieux, Serge Murphy, Chris Kline and Marie-Claire Blais. The Blais is a huge piece whose play with light and depth makes it a kind of 2-D James Turrell, while Kline offers evanescent abstraction and Cadieux a luminous, surreal water scene.—LS
For more of Canadian Art's daily posts about Papier14, visit canadianart.ca/papier14.