It was a sunny morning when I connected with Ociciwan Contemporary Art Collective core members Tiffany Shaw-Collinge, Erin Sutherland and Becca Taylor. Their faces were flush with a feeling I know well: the rosy glow created when surrounded by iskwewak (Indigenous women) who support you, lift you up and know how to make you laugh. They were feasting, on food and drink and the growing love between them. It's a scenario that Métis artist and scholar Sherry Farrell Racette might recognize: Our Lady of Laughter is the title of one the paintings in her 2018 series Our Lady of Seven Strengths, and it shows three iskwewak standing and laughing together.
Many Indigenous artists, curators, writers and academics have formed Ociciwan's collective and core members over the several years since its inception. All have successful individual careers, and those of Shaw-Collinge, Sutherland and Taylor are no exception. Taylor, already a celebrated and prolific contemporary Indigenous curator, will become the first director of Ociciwan's new art centre, opening in Edmonton in fall 2019. With their work, Ociciwan want to reimagine what an arts space can be—can an art collective also offer needed services? How can they best serve the primarily low-income communities that reside around 96 Street and 101a Avenue, where the centre will open? The values propelling the creation of Ociciwan's art centre—values that centre family, collaboration and collectivity—disrupt ideas of what an art gallery should be. The centre is not a commercial gallery; it will not exploit Indigenous artists through resale, and no work will be available for sale. There will be no entrance or membership fees. Instead, the centre will be home to an archive, a resource library and a kitchen, where Ociciwan will prepare and serve food for their community.
As I continued talking with Ociciwan's core members, it became apparent to me that Ociciwan doesn't fit into the formula of what currently exists in Canada's art industries. That's because, before anything else, Ociciwan is a values-driven organization. In fact, the structure of Ociciwan, before there were plans to open its centre in Edmonton, had long been nomadic and fluid. Sutherland reflected, "We wouldn't [open the centre] if the community wasn't ready. We were waiting to get a handle on what the environment was like, figure out what was going on and where we could fit best." Taylor finds strength in the nomadicity of Ociciwan's core members: "Sometimes [we meet] at a cabin or in the tiny bedroom of an apartment in Montreal. We only have a few hours together every month, so it's really incredible to come to the table with ideas and talk things through to make sure we're on the same page."
When I asked Taylor about fellow core member Sutherland and her role in mentoring Taylor early in her career, the two embraced. Taylor said that, more than anything, mentorship within the collective manifests as nonhierarchical care for one another. Sutherland was similarly modest, almost rebuking any mention of her influence. But make no mistake, if Ociciwan is indeed a current ("ociciwan" is the Plains Cree word for "the current comes from there"), that steady flow of integrity and heart is surely Sutherland embodied. Yes, Sutherland already has an impressive repertoire of professorships, publications, community-engaged Indigenous art organizing and curatorial projects under her ribbon skirt, but the ethics she brings to her work are apparent from the moment you meet her, when she envelops you in the complete warmth and welcome of her aura. Shaw-Collinge, an interdisciplinary artist, curator and intern architect whose work has garnered international attention, remarked on Ociciwan's way of working as a collective: "We want to make space to pursue individual practices. How are we building these meaningful relationships so [the work] doesn't feel competitive and isolated to those individual practices? We're involved in each other's lives. We're responsive to each other and we feel responsible to each other." Shaw-Collinge is also a new mother—a role that Ociciwan clearly views as an asset, because women are ever the backbone and lifeblood of Indigenous communities. Sutherland can often be found at Edmonton art openings and events running around with Shaw-Collinge's son, while Shaw-Collinge's partner endearingly shuffles about looking at the art. An Ociciwan affair is always a family affair.
"We want to make space to pursue individual practices. We're involved in each other's lives. We're responsive to each other and we feel responsible to each other."
When I first met Taylor during a residency, I remember her talking about nomadicity, and connecting contemporary Indigenous nomadicity to our ancestors, who were always in motion—and in collaboration—on prairie lands. I connected with her immediately, but especially after she whipped her car around the parking lot to pick me up and drive us all the way from Banff to Edmonton for Ociciwan's opening of Dayna Danger's 2017 exhibition "Big 'Uns." The whole way, we were driving just ahead of an impending prairie thunderstorm. I was so impressed—all these nomadic prairie car grrls. Garth Brooks's "The Thunder Rolls" should have been playing the whole ride, with us as outlaws on the run. Fluidity and movement have always been at the heart of Ociciwan's curatorial work. Just like the current of a river, always in motion, Ociciwan isn't quick to define what or who contemporary Indigenous art is. Ociciwan instead endeavours to show artists who are creating thoughtful and interesting Indigenous artwork, right now. Their curatorial work comes out of conversations among the collective about issues important to their lives, in this moment. Early projects were made in response to how many Indigenous artists have to leave Edmonton to gain support for their careers. Reflected Taylor, "[The creation of Ociciwan] felt crucial [to me] as an emerging curator and arts writer. It didn't seem like there was any support, or that I belonged. I didn't feel like any of my questions were being answered." She describes an experience I know well, having lived in Edmonton. Perhaps the fluidity of the collective is representative of the transient nature of an Indigenous art community in a city that has long struggled to make space for Indigenous artists. Faced with an art community that was predominantly white and largely anti-Indigenous, I fled east, as many Indigenous people do. In no uncertain terms, I left Edmonton to escape what felt like a panopticon of arts and queer drama.
Ociciwan felt the tense climate of the Edmonton arts scene when they started their work too. Taylor observed that the city's art scene was "desperate for change and transparency." Just prior to Ociciwan's formation and early organizing, a commercial Indigenous art gallery in Edmonton, Sun and Moon Visionaries, closed. And Ociciwan soon felt the backlash of being a newly visible Indigenous collective during a time when Indigenous art in the city was shifting. The climate of lateral violence in the Edmonton art scene wasn't focused solely on the collective, either. Shortly after I left Edmonton, I learned that two Indigenous women were not welcomed by other attendees of colour at a gathering of the Brown, Black, and Fierce Collective because they were perceived as white, and the fallout affected the whole community. Too many Black folks, Indigenous peoples and people of colour have survived the carceral affect of the Edmonton arts scene. As with any family affair, there can always be conflict—but this is exactly why Ociciwan feels their work is important. "Especially living in communities where there is so much lateral violence… when we're talking to younger artists, I want them to feel cared for and listened to," said Shaw-Collinge.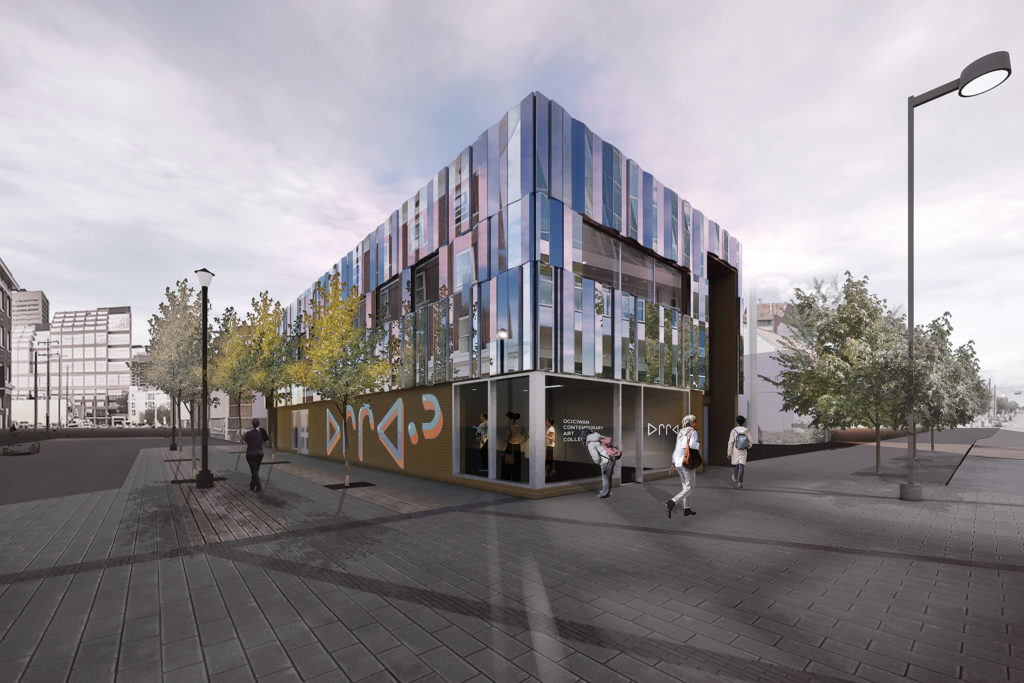 Ociciwan Contemporary Art Centre (rendering), opening in Edmonton in fall 2019. Courtesy RPK Architects Ltd.
Taking their lead from mentors and trailblazers ahead of them, including Sun and Moon Visionaries, Ociciwan took time to build themselves up around the values they wanted to impart with their work, to create something truly beautiful for the Indigenous art community in Edmonton, and in a way that is only achievable when working as a collective, as Taylor put it. Shaw-Collinge echoed this sentiment: "We can't be something for everyone. We prefer to insulate our values rather than isolate others from them. [Our mandate] has always been to create collectivity with the long-term goal of having a place to support [Indigenous art in Edmonton]. The circular model that we have really helps us move through difficulty." Between all the core members, Ociciwan holds emotional wisdom that could match that of their most senior colleagues in the field. Their work marks a generational shift in the institutional politics that have defined art in Canada, including Indigenous art. For instance, as a values-driven organization, Ociciwan doesn't fear criticism, instead seeing it as an opportunity for transparency and growth. "We fuck up, we have flaws. We make space for us to make really big fuck-ups," said Shaw-Collinge. Radical transparency is key in this family. And Ociciwan is quick to assert that their work is not in the slightest a monopoly over Indigenous art in Alberta. Indigenous art shouldn't be seen as a field of scarce resources and competition, but rather as a space for collaboration. Said Taylor, "We just need more and more…visibility for all these amazing projects." Finally, Ociciwan asserts well-formulated boundaries in a way that I've seldom seen achievable within art communities. Taylor spoke about the growing pains of Ociciwan and the desire to be accessible and supportive to the community, but also the importance of balancing community responsibilities with a space to heal and protect oneself. Ociciwan's work is an essential reminder that there are real people at the centre of art politics, people deserving of empathy and care. "It's impossible to do this work solo. You need that support," said Taylor. "You need people to rally behind you when you're struggling."
Ociciwan's work has always remained rooted in their love for Edmonton. Perhaps it's important, for the sake of transparency, to mention that it was actually Kristy Trinier, a settler curator, who planted the seeds that would form Ociciwan, and that Trinier remains involved in the collective as a core member. Trinier began by sending an email to individuals from the Indigenous art community: "Is it time for an artist-run Indigenous centre in the city?" After many dinners and rotating members, all of which informed the shape Ociciwan would take, the collective slowly formed. If Ociciwan is a family, then the art centre is a child that will need to be cared for by this community. Shaw-Collinge reflected on this during our conversation: "[Talking about opening the centre] feels a bit like the processing I have done at my moms' group. You want to resist raising this amazing project by yourself in a lonely house." This is why Ociciwan has been so grateful for all the early support they have received from other centres in Alberta.
There is still work to be done in Alberta, and across Turtle Island, to make art institutions more ethical toward the Indigenous communities on whose territories they reside. And yet, despite this, Ociciwan has, for the last four years, been a constant shield for me in the often fluctuating, often dramatic politics of the Alberta art scene. It was Ociciwan's fluid and forward-thinking curatorial projects that were a beacon to me, and let me know that this was indeed a space for me. But if you ask Ociciwan if they are responsible for any of the Indigenous art policy changes in Edmonton, they are quick to deny it (once more with their characteristic modesty). We all laughed when Taylor said, "I think we have really good timing. We were just there at the right time." Shaw-Collinge agreed, saying that Edmonton's new art community is now "more collaborative and supportive. Directors are coming out more, engaging more, instead of isolating themselves. Edmonton is thinking big picture. We are stronger together than apart."