In the twilight of a late-spring evening, the seaside view from the second floor of NSCAD University's Port Campus is postcard perfect. The Woodside Ferry inks a line through Halifax Harbour's choppy high tide. The lighthouse on Georges Island blinks as one has done most every night for 140 years.
Inside, past and present faculty, along with arts community members and former students, offer another view of Halifax. It's a gathering to celebrate two retiring faculty members. One of them, Alvin Comiter, is the last faculty member who was teaching at the school in 1976 when Joseph Beuys—in standard double-breasted flannel suit, fedora-crowned, gripping chalk in his hand like a cigarette—gave a now infamous talk, articulating his thoughts in scribbles and diagrams on a blackboard. "(Beuys) notes, art is a learning and teaching process; it must be shared with others in order to move forward," reported Peggy Gale of Beuys's talk in Artists Talk, 1969–1977. "Creativity is a sign of freedom. 'Everybody is an artist, in principle.'" Beuys's blackboard has been gone from the school for years, but what of the ideas it froze in time?
Beuys was one of the all-star cast of enigmatic Conceptual art figures upon whom NSCAD built an international reputation as a hub of experimental art and teaching. That was 40 years ago. NSCAD has since weathered years of financial turmoil, austerity, government scrutiny, rising tuition and flatlining enrolment. In 2018, its unions go back to the bargaining table after six years of compromise. If enrolment goals aren't met by then, "areas of program weakness" will be identified, according to a more ominous passage of the school's latest academic plan. Comiter's retirement comes at a key juncture. As another tether is untied to those formative years, the school, like its home city, is in the midst of trying to find the key for success today.
Joseph Beuys, Blackboard, 1976. Chalk on slate. 1.2 x 2.4 m. © Estate of Joseph Beuys/SODRAC (2016) Collection Art Gallery of Ontario. Purchased with funds donated by AGO Members, 1991.
Some faculty at the school are calling this crucial phase the "next art school." It's a play on luminary president Garry Neill Kennedy's 2012 history of his early years at NSCAD, The Last Art College, but also defines what is happening at art schools across the country. Forced to grapple with their role, purpose and affordability as publicly funded institutions, art schools are undergoing profound change. Whether this will work to turn the tide and keep schools and departments open depends, in Halifax, on if NSCAD can connect with the stereotype outside its windows. If it works, art education may be unrecognizable. If it doesn't, it could all disappear.
Times have been tough at NSCAD. Most everyone interviewed was nervous about this article, concerned over what another piece of possibly bad publicity could do. Recent salacious headlines of a lab tech convicted for child pornography and another prominent associate professor convicted for voyeurism at a Halifax gallery were salt in the wound of the school's public image. While staff was in court, 18 administration and custodial staff—some of whom had worked at the school for decades—were laid off. In fall 2015, students threatened to drop classes over a "tuition reset" that means they'll pay more than $8,000 for five courses in 2018, almost four times what their parents' generation likely paid. Undergraduate enrolment dropped 15.5 per cent—about equal to the student body losing a leg.
The scandals follow years of government audits and reports triggered when NSCAD opened its Port Campus a decade ago. Renovated and leased as part of a new waterfront development, federal funding fell through, and the school raised only half of its expected share. An almost $10-million loan was needed to make up the difference. In the end, enrolment hasn't met the potential the new campus space allows. Annual deficits and multi-million-dollar bailouts caused the provincial government to question the existence of the school, or posit a merger with another university. "NSCAD," declared a December 2011 provincial report, "needs to examine every aspect of its operation, and be prepared to accept change if it intends to survive."
One of Dianne Taylor-Gearing's first acts as NSCAD's new president, after arriving in spring 2014, was assembling a senior leadership team. At their first meeting, the group sat, dead serious, in silence. The cold reception relayed the toll recent years had on NSCAD. Some compared the environment to being on trial or working under a gun. Taylor-Gearing responded to the group with a facetious, "Now, we do want to work together, don't we?" The laughter loosened things up.
Mathew Reichertz, a graduate of NSCAD's MFA program who now heads the fine-arts division and is faculty union president, rolls his eyes when Taylor-Gearing says the school has turned a corner. But that doesn't mean he doesn't buy it. He wants it to be true. If Taylor-Gearing's plans can make it so, he's on board—for now. "We already do a really good job, and we'd do an even better one if we didn't have to always convince the government that we're doing a good job," says Reichertz.
Trained in fashion, Taylor-Gearing describes herself as decisive, a finisher. Instead of patterns, she now works by a Gantt chart, tracking her many projects. At the Alberta College of Art and Design, she helped achieve academic accreditations that the school had been discussing for a decade. Before that, she established the first MBA for creative industries in the UK. In 2011, she augmented her credentials at the Harvard Business School General Management Program.
With Taylor-Gearing, NSCAD finds itself in step with Canada's three other independent art and design universities—OCAD University, ACAD and Emily Carr University of Art and Design—and the vocabulary of buzzwords that have come to define art education in the 21st century: Business, Innovation, Entrepreneurship, Commercialization, Technology, Research. Gone (well, overshadowed for now) are artist studios, replaced by "labs" and "hubs." Even the words art and artists are disappearing. These schools are places for creatives, emphasizing "soft skills" and specializing in creativity.
The Association of Independent Colleges of Art and Design supports such smashing of ivory towers (and it's worth noting Taylor-Gearing was named treasurer for the association board this spring). In a blog post in April 2016, the association's president, Deborah Obalil, lauded examples such as business incubators and mandatory business courses and internships. The Maryland Institute College of Art's Up/Start Venture Program, a college-wide start-up initiative, gave a podcast and trailer-based microgreen business each $30,000. In a tweet in March 2016, the Kansas City Art Institute, once the home of two of NSCAD's cherished late faculty members, Gerald Ferguson and David Askevold, lauded an alumna starting a health-food snack company.
As for NSCAD's financial troubles, Taylor-Gearing says they've overcome that situation. But sustainability remains an issue. Even with tuition restructuring, in a best-case scenario, projected student revenues for 2018 will fall far short of salary costs in 2015. To reduce expenses, the plan is to sell off the school's long-time home in the historic Fountain Campus, either collaborating with the Art Gallery of Nova Scotia on a new build, or retrofitting and expanding its Academy Building. The move is to be planned by 2019. Taylor-Gearing says if she doesn't have the passion and pocketbooks of the political elite by then, it would be a disappointment.
Still, is this embrace of the creative economy in education a natural development of shifting realities, or a by-product of bullying governments? The government slashed NSCAD's funding by nearly $900,000 between 2011 and 2014. Is it coincidence that NSCAD's new approach coincides with a new provincial mandate that asks universities to "create climate for private sector and social enterprise economic growth to support [government] economic goals"?
OCAD University has proven it pays to align with political priorities. This year, Ontario gave the school $27 million for its Creative City Campus. The school trumpets that the "project aligns fully with the Government of Ontario's commitment to investing in people, building modern infrastructure and supporting a dynamic and innovative business climate." Other schools are using near-identical language. Taylor-Gearing's old boss at ACAD, Dr. Daniel Doz, has been busy scrutinizing reports, studies and market analyses to direct its growth. "You can try screaming about the value of art and design till you're blue in the face," Doz says, "but, in the end, you have to find a way to connect what you're doing to what they're doing in the province."
This shift in education is new, and the effect isn't yet known. Employers still rarely actively recruit liberal-arts majors. And where does this leave "traditional" art students? In May 2015, the entire 2016 graduating class at USC Roski School of Art and Design's MFA program dropped out in protest over pedagogical changes at the school. Only one student enrolled for the 2017 class, and she has since dropped out also. The MFA program was changed after a $70-million gift from Beats Electronics co-founders Jimmy Iovine and Dr. Dre established a new USC program designed to integrate art, design and computer science, as well as business and venture management. The grad students felt the studio-art MFA was being marginalized as the school shifted priorities.
Such tension is imaginable at NSCAD. Kennedy wanted a school that reshaped contemporary art. That desire remains today. It's a point of pride, even for Taylor-Gearing. She says there's a "currency of being edgy." Yet the new academic plan, which is designed to reinforce the school's role in the province's creative economy, is hardly "edgy." One introductory bullet point emphasizes: "NSCAD is a university. By charter, statute, and association, NSCAD is not a guild of artists. While the affection for the institution is enviable and admirable, the community must now recognize that the passion that sustains the guild can also sustain a university where undergraduate and graduate teaching, service, research, and creative practice are the principal activities."
This means tough decisions will be made, especially if NSCAD doesn't add 175 full-time equivalent students, to reach an 850 minimum, in the next few years. Even if enrolment increases, the school's current structure can only continue, as the academic plan states, if "linked to innovative pedagogy, curricula, and delivery." Even NSCAD's lauded Foundation program may be restructured. The department may be integrated into the rest of the undergraduate program, with rotating full-time staff teaching incoming students. Faculty research may be directed toward more grant-friendly interests. Research grants can be revenue generating, especially when it comes to subsidized faculty chairs and federal funds that give a percentage to the institution. At Emily Carr, where the word "research" is worming its way alongside art and design, the tagline is, "Research drives the knowledge economy."
Susan McEachern spent 35 years at NSCAD, retiring in 2013. When she first started, the school was a place where students could come to a pass-or-fail graded class, smoking a cigarette and finishing a beer they just bought at the cafeteria. Recruiting new students consisted of going through that year's applications, choosing the cream of the crop and tossing the rest. Faculty were judged on their art practice. Since then, she's found rules, real-world pressures and, most importantly, bottom-line finances and the greater economy have shaped NSCAD. Lost, says McEachern, is the belief of what an art college should be. "There's no one factor that's dictated where NSCAD has been or where NSCAD is going," says McEachern. "It's a perfect storm of a number of different factors that made it difficult for a small art college to survive."
John Murchie, who went on to run Struts Gallery in Sackville, New Brunswick, worked with McEachern at NSCAD for more than a decade. Kennedy hired him as the school's librarian in 1972, and he stayed until Kennedy left in 1990. He has no faith in the university model.
"It's a lack of imagination with administration and faculty not to figure out some other model," he says. "Just like the university's lack of imagination for anything other than the business model." What made NSCAD a success, the way Murchie sees it, was that Kennedy didn't run it like a university. "I don't think you can be successful there playing the expected game." But this caused tensions over idiosyncratic wages, hiring practices, gender discrimination and other administration concerns that led to unionization in 1985 and a three-week strike in 1986.
Murchie still wonders what might have happened if Kennedy had found a solution to those troubles 30 years ago. Instead, he says, as NSCAD became more like a university, this triggered "huge backsliding changes of making it just another school, as opposed to something that was perhaps closer to actually educating people in creative activities." For Murchie, the school he loved has become "just another place to pay some money to get a degree."
The hope for NSCAD's future can, for now at least, be found in the wood-panelled and chandelier-lit former home of many failed cafes and restaurants. This past winter, the school opened Art Bar +Projects. Operated in collaboration with NSCAD's Anna Leonowens Gallery and the Khyber Centre for the Arts, and inspired by projects by artists Vera Frenkel, Dean Baldwin and Theo Sims, the bar has been a hit with students, faculty and the city. Lines regularly snake out its doors for events. In April 2016, the school committed to keeping the space going indefinitely, allocating part of a $50,000 annual public-projects grant from TD Bank for the bar. Nova Scotia's community arts board, Arts Nova Scotia, gave it a one-time gift of $8,000 for artist residencies.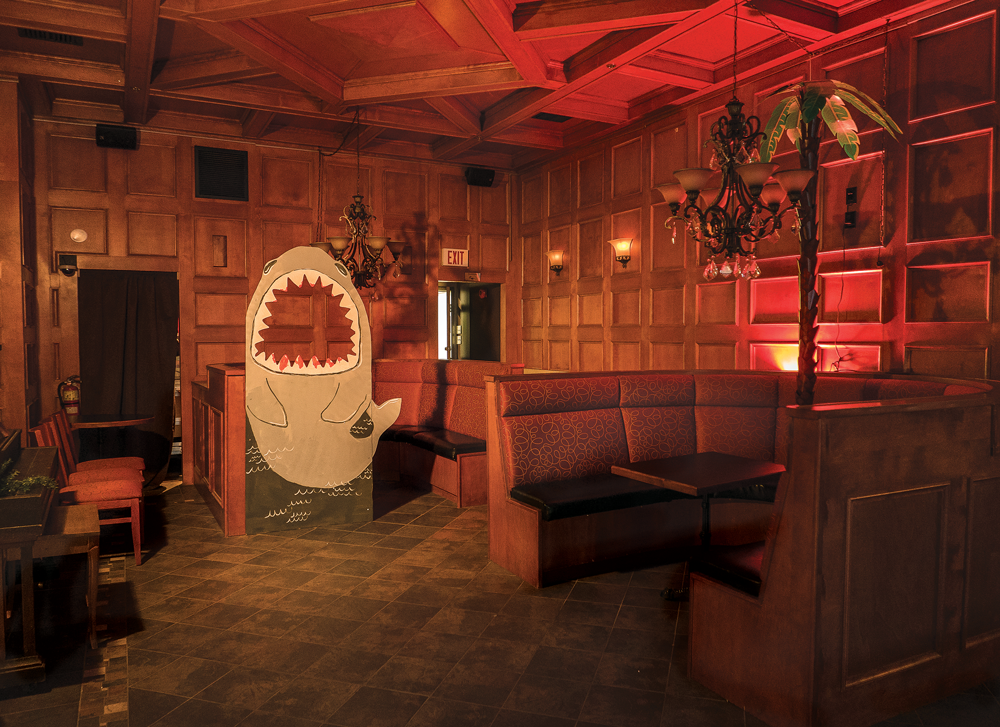 The Art Bar + Projects space in Halifax, June 2016. Photo: Pedro Lopes Ribeiro.
It may not be a lab or hub, but the success of the Art Bar is being heralded as an example of intrepid NSCAD thinking, a model of how the school can have an impact beyond the classroom. It's the type of entrepreneurial creativity Ann-Barbara Graff, vice-president at the office of academic affairs and research, had in mind when she drafted the academic plan. "Where have you been, what have you read, what do you think?" she says. "Because that's what distinguishes people, and that's what we need to cultivate. That's our role as a university. I have no concerns about any of our students being accomplished artists. What I want to do is enrich that experience as well and give them tools to participate in larger conversations."
But is an art bar what government has in mind when discussing research and entrepreneurship? And are the conversations it encourages enough to convince increasingly pragmatic students to pay $25,000 in tuition?
In May 2016, Oakland-based artist Cassie Thornton took over the space, laying sod over the floor and holding yoga classes. The only condition was that participants had to sign a petition to have Nova Scotia declared the world's first post-work province, a "cultural paradigm shift that sees the value of human time and the natural world as immeasurable by money." NSCAD professor Max Haiven, whose focus lies in the conflict of art and money as well as creativity, says Thornton's idea could work for the school, too.
"What makes NSCAD, what makes me really love working there, is that there's often a resistance to the idea that art should have these outcomes," says Haiven. He wonders if there were to be a plebiscite on NSCAD's future, would it beat the ballot box? It's a question the entire country should be asking itself, he says: "Many of us feel the question called for is: Does Nova Scotia want to support a world-class, weirdo art college that can do incredible things and make contributions to society? If not, they should come out and say it, and we should die."
Is it possible for this attitude to mesh with the university model now being shaped at art schools across North America? Will NSCAD be able to shake off Kennedy's legacy and embrace the creative-economy future? Is this for the best? Only time will tell. Perhaps, for now, it's enough to remember what Kennedy wrote in 1982 in response to a survey about museums in Canada: "I have no interest in the private galleries, because when commerce and art meet, art always loses."
This article is adapted from the Fall 2016 issue of Canadian Art.