The New Brunswick College of Craft and Design has more students this year than at any other time in its nearly 80-year history, and its growth trajectory shows no sign of sagging.
"It's not an anomaly," says Karina Wong Chong, the school's strategic enrolment manager, of the record numbers, which topped 300 in September. But even she was surprised at this year's figures, with 170 first-year students, almost double the average of 90 in years past. "History is just showing that every year we're doing better," Wong Chong says.
A mix of factors drive the increase, she says. In 2010, NBCCD split off from New Brunswick's community college system to report directly to the provincial government's Department of Post-Secondary Education, Training and Labour. The break allowed the college to brand itself as a distinct entity.
"We've been here for 35 years, but nobody knew about us," Wong Chong says of the college's current location. "I strongly believe that we just weren't known before." For years, locals regularly referred to it simply as "the craft college."
"I think a lot of people know us for the pottery, jewelry, textiles, our traditional fine-craft studios," Wong Chong says. While these studios are still offered, and popular, the college's marketing team has upended the old homespun image with a more contemporary and sophisticated one, emphasizing the central—and growing—place of technology, digital media and design in its offerings.
The school has also foregrounded its Aboriginal Visual Arts program, which is unique in Canada given its focus on traditional and contemporary crafts of the Mi'kmaq, Wolastoqiyik and Passamaquoddy peoples. So another growing demographic is Aboriginal students who want to learn about these crafts in an in-depth way.
Just this week, the Aboriginal Visual Arts program debuted its intricately beaded re-creation of traditional Wolastoqey regalia—a re-creation which took four years. "You see a lot of western influences at our pow-wows," program director Charles Gaffney, who is from Tobique First Nation, tells the CBC. "And I want to get us back to… what did the Wolastoqey look like, how are they separate from the Mi'kmaq?"
The school's lively and popular social media feeds, and its increasing media profile, also showcase successful students, faculty and alums, emphasizing there can be a living to be had in craft and design.
"We didn't want to be the hidden gem anymore," says Trudy Gallagher, recruitment/marketing coordinator. "We needed to be out there, we needed to be involved, we needed to be seen. We've done that on all fronts."
For 12 weeks of the year, Gallagher—also a well-known Fredericton jewelry designer and instructor—is on the road, recruiting for NBCCD at nearly 200 high schools in Atlantic Canada. At fairs, where other institutions have brochures, she has a display of unique artworks made by students. In classroom presentations in high schools, she passes works around, talks about their makers and the kinds of jobs they have.
She also offers to high schools Art and Design in the Classroom, a one-hour, hands-on class based on the college's eight studio subject areas. "They can see there is a place for them to go that's hands-on, not just totally academic," she says.
(Gallagher's presentation is so compelling, she once inadvertently recruited a high school teacher, who would have joined a growing cohort of mature or "second-career" students at the school.)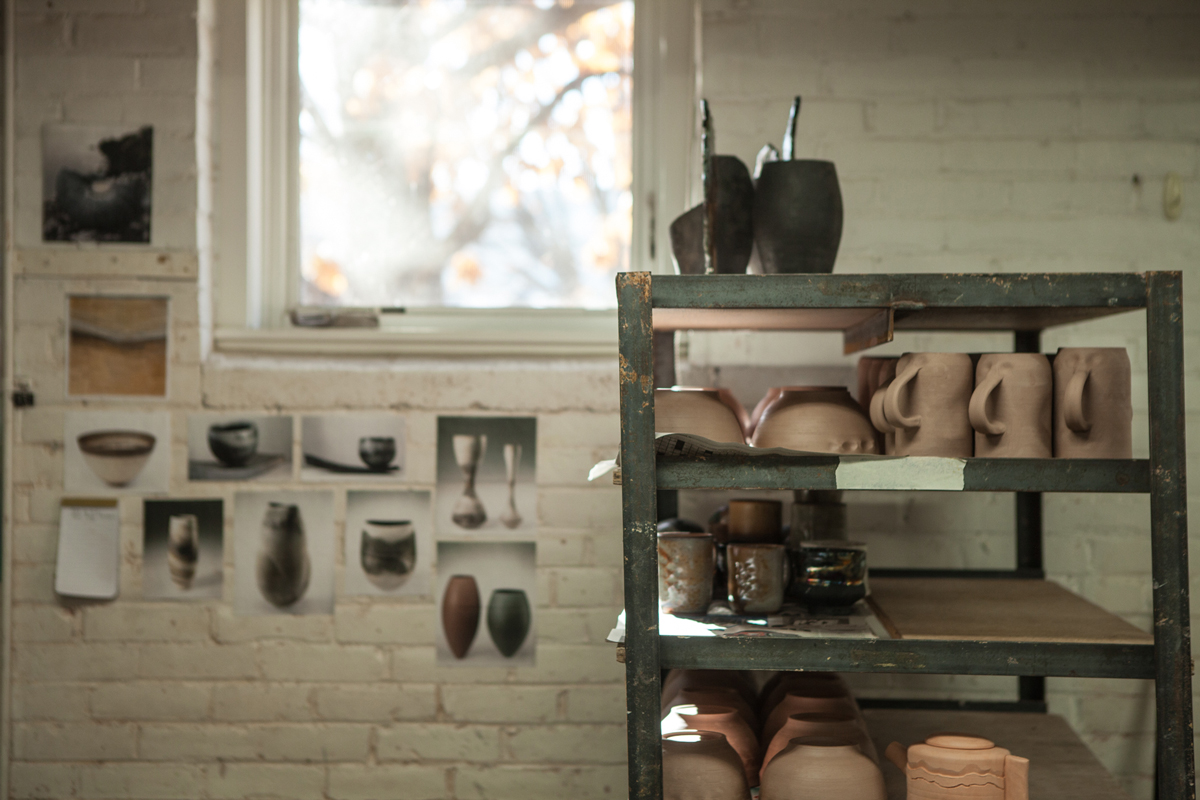 A view of the ceramics studio at the New Brunswick College of Craft and Design. Photo: NBCCD.
Meanwhile, in the years since it split from the community college system, NBCCD has focused inward, updating programs and policies and improving student services. "When we separated, we didn't have all the tools an institution that had been around for 70-some years would have," Wong Chong says.
The school currently receives provincial government funding for 282 seats. While it is more than 10 per cent over that, there's a limit to how far its finances can stretch, how many more students it can take on. It is at the max physically, in terms of fire code, personal comfort and classroom experience. Some programs, such as jewelry, hit a natural cap, as each student needs a bench of their own.
"We're so hands-on, we have to spread out," Wong Chong says. The college has juggled classroom and other space in its two buildings, taking a lease on another, across the street, where it may move its library and establish more entrepreneurial studio space alongside the student and alumni craft shop established in June.
"We would love to acquire a new building," Wong Chong says, but it's on the wish list for now.
And the college isn't just attracting more students, it's keeping almost all the ones it has. As of December, all but one of the 314 students who started in September were still enrolled.
"I've been in this business in a long time, and I've never heard of 98, 99 per cent retention rates," says NBCCD president Marc Braithwaite. "It's one thing to get them here, it's another thing to keep them."
He credits the faculty and staff for their commitment and resourcefulness. "It's lean," he says. "I think it helps a lot to have a very creative environment. They are trained to find creative solutions. It's part of the DNA."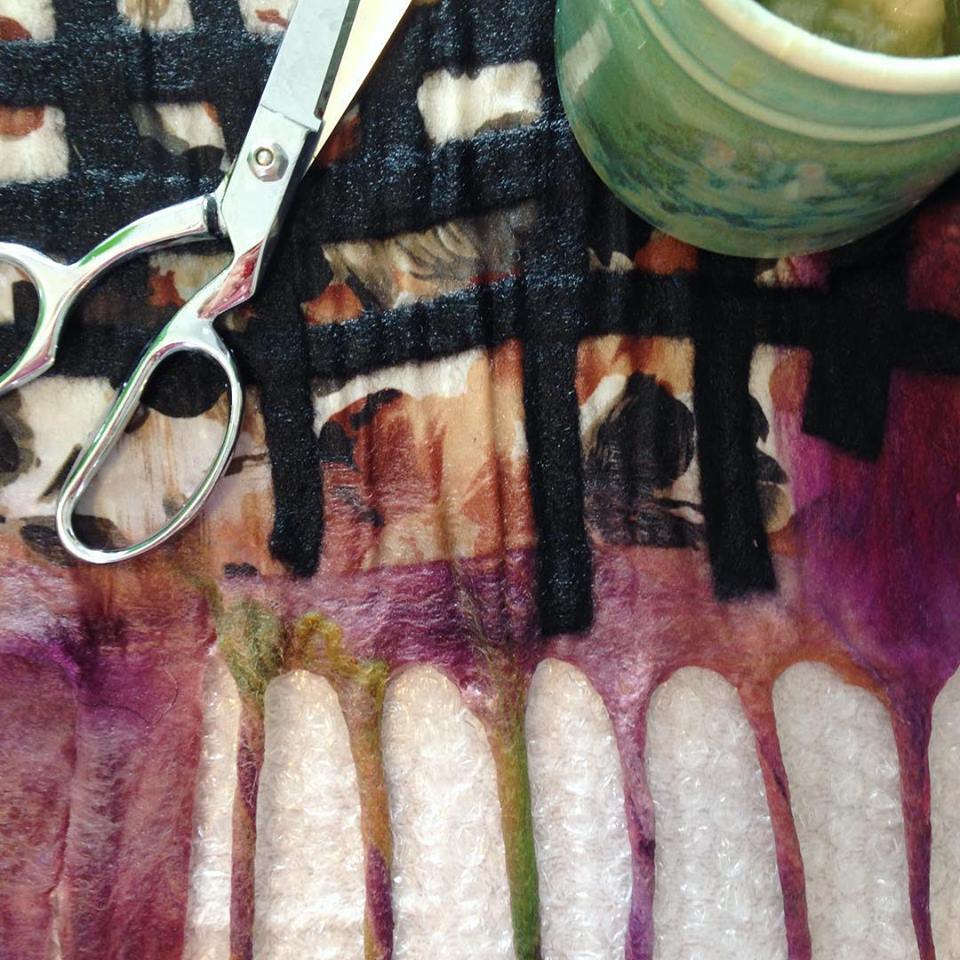 A view from the studio at the New Brunswick College of Craft and Design. Photo: Courtesy Anna Mathis.
But growth isn't driving the agenda. The school is clear-eyed on its mission—and the beauty of being small. "We're exceptional. We're not for everybody," Gallagher says. "We attract the kind of student who is unique and special themselves. They are hands-on learners. They are so passionate and so interested in art and culture and they haven't found their home."
Kirsten Stackhouse had gone to university and found it a lonely, disconnected experience. "I learned about myself that I'm a small-class person," the graphic design student says. When she arrived at NBCCD, she knew she'd found her place. She loved the camaraderie, the small classes, the sense of connection.
"We're warm, we're intimate," Gallagher says. "We know most of our students' names, most of our students know our names. Our management team are so good at walking around the school and sticking their heads in and stopping people and saying, 'Hi, how's it going today?' That makes such a difference."
Stackhouse says, as a student, the networking opportunities "are fantastic." She values the community connection, from instructors who help students land work, to local businesses that offer internships and placements, to festivals that invite student involvement, to the Beaverbrook Art Gallery, which exhibits the grad show.
Read's, a local newsstand where Stackhouse often has coffee, stocks her illustrated book Raccoons of Odell Park ("children's-looking with adult concepts," she describes it), made as a class project, for free. "Which is amazing," Stackhouse says. "I just find Fredericton's really great like that. People are reaching out to you. It's very easy to network and stay here."
She concludes: "It's the perfect size."
Kate Wallace is an award-winning arts writer in Saint John. She is the founder of Pigeon, a creative communications company.