Preface
This fall, Toronto-based artist Nadia Belerique participates in two major international group exhibitions. Coming off a solo exhibition at Daniel Faria Gallery in Toronto as well as a collaborative exhibition at Topless in Rockaway Beach, New York, with her frequent collaborators Lili Huston-Herterich and Laurie Kang, Belerique is one of the artists selected in Maria Lind's curatorial vision of the 11th edition of the Gwangju Biennale in South Korea. Framed as one of the "Image People" in Lind's mindscape, Belerique will be re-configuring Have You Seen This Man, a work which formally rips off/apart Henry Moore and Michael Snow and re-addresses representation from the point of a question, for the third time.
Following Gwangju, Belerique will be presenting a brand new work as part of this year's highly anticipated Biennale de Montréal, Le Grand Balcon [The Grand Balcony], curated by Philippe Pirotte. Continuing on the trajectory of Bed Island, Belerique's most recent solo exhibition at Daniel Faria Gallery featuring a new body of bodies tilting/falling out of the image plane, the latest incarnation re-presents flattened "images" from below the perspective of upside-down, eight-foot-high scanner beds/frames. Showing the thing instead of naming the thing through a photograph, the sculptural configurations of things (bottles, paper) invite viewers to enter the image production.
Writer and Images Festival artistic director Amy Fung sits down with Belerique to discuss her work, Elena Ferrante, and staying in Toronto, among other things. The text, like the discussion, morphs and melds as the night wears on.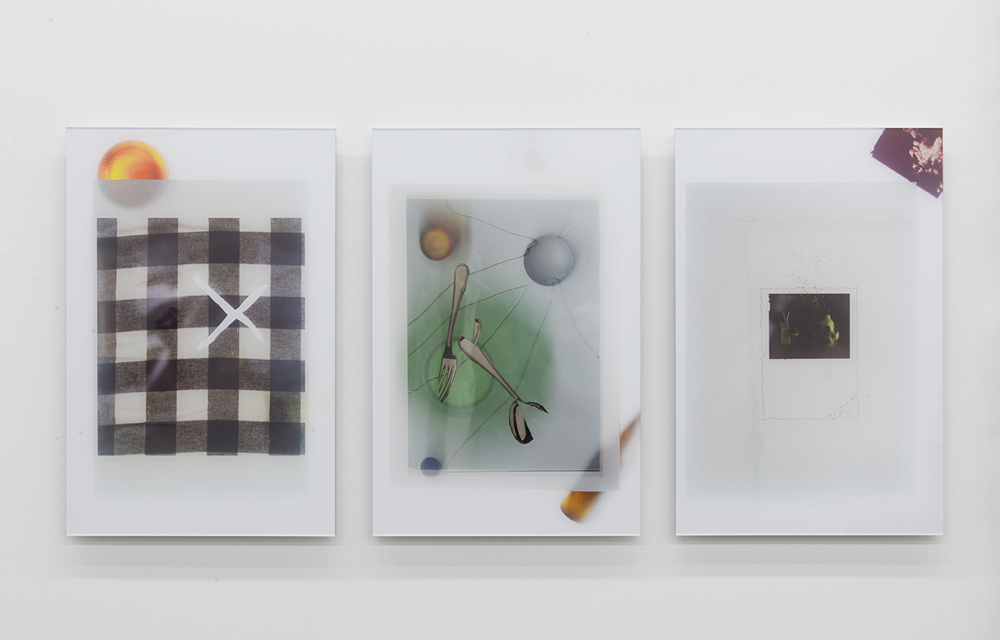 Nadia Belerique, Bed Island (installation view), 2016. Courtesy Daniel Faria Gallery.
Part I.
Scrolling through the photos of her show on my phone, I'm waiting for Nadia to arrive.
Bed Island flattened onto my phone screen looks and feels completely different from how I remember moving through the gallery space.
The angles don't do the positioning justice
If justice can be given to a position.
I am waiting in the back patio of Bairrada.
I am early and she is late.
When she arrives
I can tell she is nervous because her jokes are not yet funny.
Fluttered, not flailing, are we just talking at each other
I am never sure what is genuine, what is not.
Our conversation moves along in tangents
Sidling in layers, building with no foundation.
Associative staggering and the odd observation from left field.
Speaking is not unlike looking and talking is thinking aloud together.
An interview mirrors your words back to you.
But this is not an interview.
The premise of this text unsettles her, but a few sangrias in and we're babbling.
The art of the tangent is to listen in a conversation.
The art of the tangent in to look beyond representation.
One thing leads to something else, and then something else.
That is called momentum.
I met Nadia as a person through Stephanie Comilang and
I know Nadia as an artist through Tiziana La Melia.
What is the difference in being a person and being an artist?
Nadia and Tiziana went to Guelph together for their Masters and a formal similarity surfaces.
I do like poetry, Nadia shares.
I specifically like Tiz's writing, partly due to the fact I know her personality.
I like how associative and open her writing sounds.
That her words are visual with shapes
Because I am a visual person.
Sticky fingers and body grease is how Lind describes the Pictures Generation.
The physical traces of humanness imprinted onto the image.
We soil our seats with summer sweat.
We are making our own image representation.
Nadia asks me what I thought of her show.
I look up for a moment recalling what I thought of her show and an interview begins:
Part II.
Amy Fung: (putting on her serious voice) I liked how if I stood in one place I saw one thing and when I moved I would see something entirely different. Each "image" and its shadow was different depending on where I was physically standing so that was interesting. I also wasn't sure if I was looking at large empty picture frames mounted on the walls or if they were actually bed frames and then I was thinking why does that difference matter? I felt the textiles unresolved though, but I liked that they were there.
Nadia Belerique: (nods and blinks) I can hear that they are unresolved, but it was something I needed to try. Did you know that the free-standing bed frames were initially going to make a courtroom?
(Food arrives. Two plates of roasted chicken, one with potatoes, one without. A moment later, Nadia circles back to the textiles, explains that they are a 1:1 ratio standing in for people, because bodies remain important. Movement is implied and therefore remains a possibility. The textiles are items from her own closet, used first in transporting each piece of work, wrapping their softness before staying on, imbuing each piece of fabricated steel.)
AF: (finishing all of the olives so that one plate can be cleared) So why imply movement?
NB: (pauses and looks upward) Because I'm interested in bodies.
(Another pitcher of sangria is ordered. Nadia and Amy talk about Elena Ferrante's books because EVERYBODY is talking about Elena Ferrante's books. An interview with Ferrante was the last interview Nadia almost finished reading, but she can't remember where it appeared and who interviewed her, because those details don't really matter.)
NB: I'm genuinely surprised by how popular these books are, because they are literally about a girl's feelings. (Jaw drop look of awe like can you believe it?) Are you into it?
AF: I only read the first one, and it wasn't really what I expected. I read it on holiday. It was okay, kind of reminded me of Anne of Green Gables, but Italian. I don't think I'm invested enough to buy the second one.
(Amy almost flips the table when Nadia says she's never read or seen Anne of Green Gables.)
NB: (sensing it's about to get tense) Well, I have the second copy. You can borrow it if you like. Tiziana is reading the books in Italian.
AF: I think she's trying to read them in Italian, with her mom.
NB: Oh yeah, that's pretty sweet.
(A sharing of sorts occurs about families and siblings. Both are also suburban raised and flatness makes sense to them. An affinity on being the youngest child by a stretch is discovered, as well as being a child to immigrant parents. Born and raised in Mississauga, Nadia repeatedly tells Amy that she grew up moody. Not eccentric, but a gothy-in-thought-not-appearance-nerd-tomboy-in-Gap-jackets-who-went-to-Catholic-school moody. Amy notes how "Catholic" is whispered when uttered aloud. Nadia goes on to reveal that early on at York University, she was a painter who painted photographs. The sun is starting setting over the trees.)
NB: (draining her glass) So get this: the first day of my first year of undergrad was 9/11. Optimism: smashed. Panic and terror sunk in. I was in class and I'll never forget what the instructor said. She said, "This day will be a very important day for images." Like, whaaa?
I also had an instructor who spent all morning editing the news footage of the towers falling into a montage for our afternoon lecture. He was later fired for doing something else, but the TA for the class was Daniel Faria.
(Years later, Daniel would become Nadia's gallerist. Between then and now, Nadia has also worked at Gallery TPW as well as Clint Roenisch Gallery. Her life as an artist in Toronto currently sits stretched over half a block on St. Helens Ave.)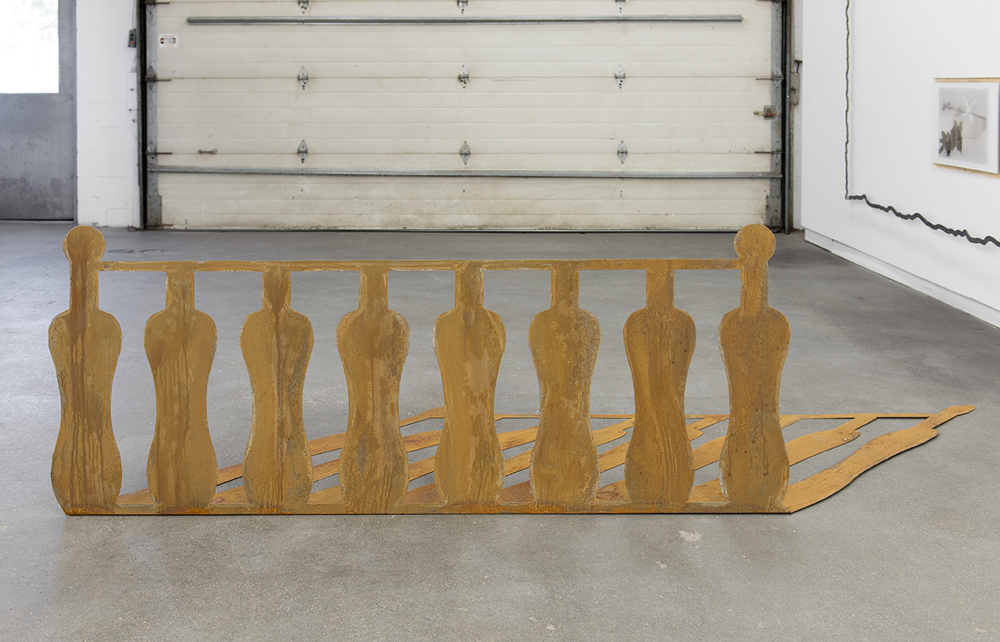 Nadia Belerique, Day (installation view), 2016. Courtesy Daniel Faria Gallery.
Part III.
Amy and Nadia discuss the Pictures or what is probably by now the post-Pictures generation. Amy can't put her finger on what artists are doing today besides being lost and greedy. Nadia proposes that we are at the tail end of a lost generation, or between two generations. They continue talking into the night like a flood.
Like a middle child generation we saw the mistakes of our older brother who desperately sought dad's approval and the ingénue of our little sisters who can start a gallery in a basement that isn't government approved and who can see a way to make money that I couldn't think of we're caught between these two generations there's undeniably a shift in say artist run culture like ten years ago the then next generation were people who saw the internet they are friends with NY people and can get a show elsewhere so who cares about Toronto and what Toronto thinks the bubble has burst I think there was something lost and I can only call it queerness you mean who like Nina Levitt Deirdre Logue Will Munro what has been lost and what has been gained I agree institutional context is the biggest hurdle the thought of showing new work a second time in the same space was way harder emotionally than it should have been as a non verbal artist it's hard to name things okay I wish I was a writer then I went to grad school I had the choice between Guelph and Glasgow and I chose Guelph you chose Guelph it was a good decision but I secretly think I'm Irish I'm pretty sure I'm part Scottish I liked being closer to home changing locations didn't mean anything I was still figuring out what I was doing I'm obviously interested in context but less so in authorship that might have something to do with being a woman images are game in my opinion, to be used by whomever I often mine my own work the tension between detachment and feelings is what I find to be generative I can't deny I'm a woman but sometimes language isn't enough your work conjures up notions of the Feminine psyche a feminine condition but I can't name what that means anymore I am interested in non-language-based identities I am simply interested more in women making art because it's relatable to me and I do think it's more important at this time I'm not interested in dad-approved patriarchal definitions I do believe a woman saying things is more interesting than a man saying things because of the saturation prior to this moment of expression the pendulum is swinging like that movie Boyhood I just don't identify in the problem of a boy going through the struggles of discovering the limits of his own masculinity at this moment I don't find it relevant or I've heard enough I've been homeless as a woman that's scary but I chose not to live at home which didn't feel like a real option at the time right after grad school so it was a harsh entry back into Toronto I ended up living above Clint's gallery for a few months before I got a short-term contract at the Toronto Star as a photo editor I loved that job I love editing what stays what goes it goes back to information of what's real and not real Drag is Real I am protesting against productivity against notions of false genius this is possibly due to immigrant parents who are so responsible they are so sad that I can't even afford a wall in my loft apartment you know Bed Island is about making art from my bed thinking is still making writing is not writing it's okay to not be always make things after York I was lost for about 5 years about how or whether I wanted to create or make things maybe I didn't need to be the one making things to express my life maybe I could curate I was also in a relationship where if I wasn't working constantly I felt like a bad artist and that was really terrible there's some deflection going on I also dislike being told what to think and I hope my work makes you think but it's never finite that's why I like trilogies like give me a break it's not finished no prequels always next gen I am always interested in the future.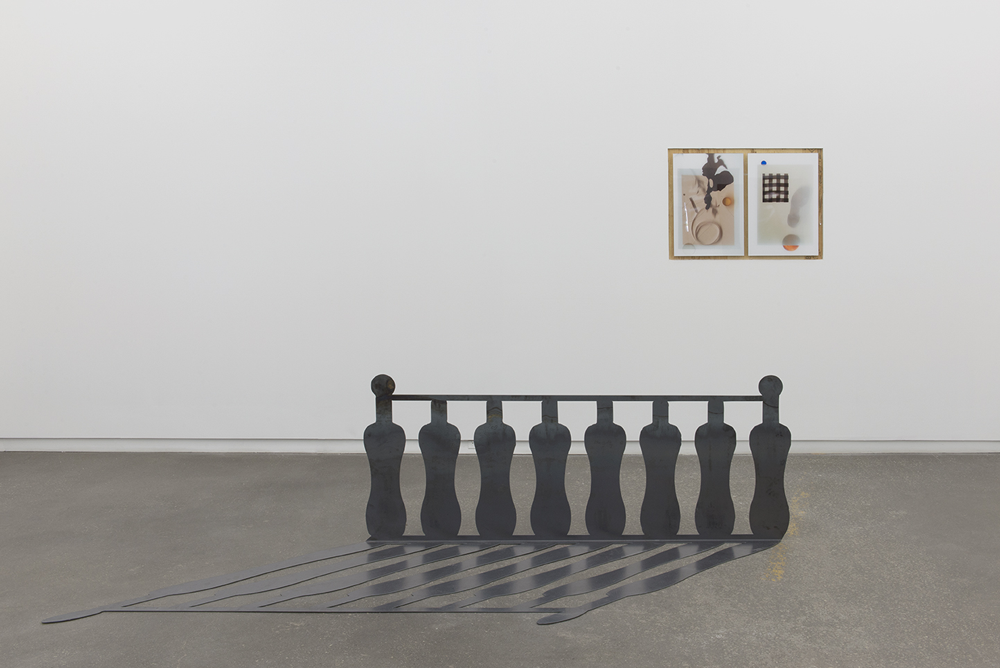 Nadia Belerique, Bed Island, Night and Buoys (installation view), 2016. Courtesy Daniel Faria Gallery.