For the past six years, I've been making steel sculptures related to the First World War and the Second World War. I really wanted to engage the history of this material—if we had never learned to produce steel in the late 1800s, I sometimes think we never would have learned to create tanks, bombs and airplanes.
Then, I thought I should expand and look at how steel interfaced with the Cold War era.
So I applied to be artist in residence at the Diefenbunker—a four-storey, 300-room, 100,000-square-foot underground bunker that was built secretly just outside Ottawa between 1959 and 1961. It was meant to house 535 Canadian government officials and military officers in the event of a nuclear war. Now, it's a museum.
In February, I learned I got the residency at the Diefenbunker, and that I would have full access to it for the time of my residency.
First, I went into the vault there, which has all kind of 3-D objects. Because I'm a sculptor, I thought I would gravitate more towards those. Especially bombs of the era.
But I found the documents in the archives were ultimately of more interest. I read them and I thought, "Wow, the level of preparedness that was being created at all levels of government for a nuclear disaster was almost absurd." There was such a high level of anxiety that came across.
One book in particular, 11 Steps to Survival, stuck with me. It was written by Emergency Planning Canada and distributed up until the 1980s, telling people how to build a bomb shelter in their basement or backyard, how to prepare rations, how to understand the effects of nuclear fallout, how to protect yourself from fallout.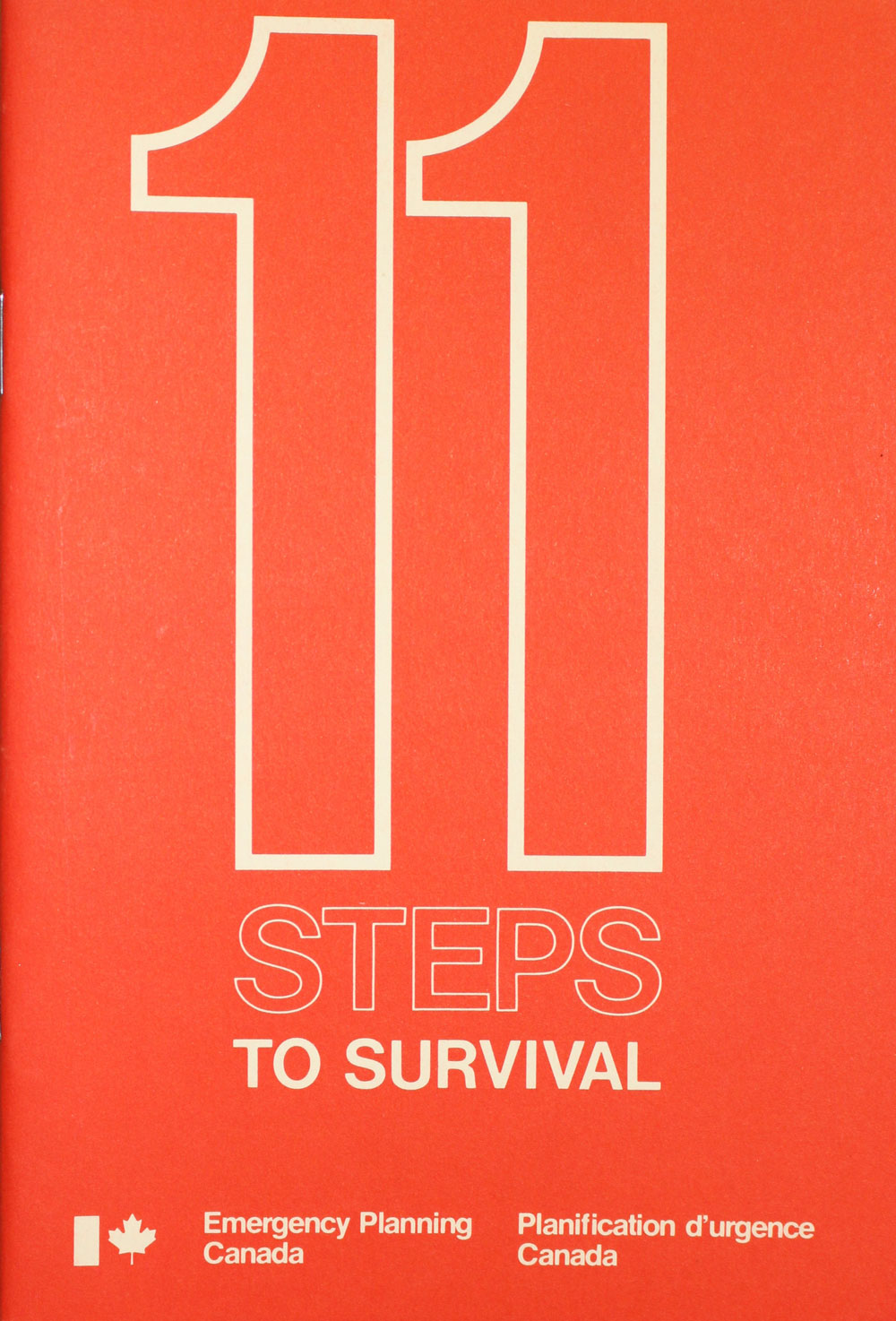 11 Steps to Survival was written by Emergency Planning Canada as a means of instructing citizens on how to withstand nuclear fallout and other disasters. Photo courtesy of the Diefenbunker.
So one thing I'm making in response to that book is a series of record players. They're all record players from the Cold War era, made out of steel. I'm also in the process of creating 11 records out of steel, and I'm going to cut each one with patterns about the 11 steps.
There is something fascinating about going into a building that was once so top secret that very few people had seen it, and even the people who worked there were not familiar with all the areas of the bunker.
One room I really like there is probably 1,000 square feet in size, full of banks of computers. I think part of it is still not fully declassified.
Another thing that surprised me is there was a CBC studio in there—that's where I saw the two record players that inspired me to make my new series of sculptures. The station was there to broadcast messages to the Canadian public following an attack.
There is also a bank vault there, built to house all of the gold that would have been shipped over from the Bank of Canada in downtown Ottawa. It's a super-huge concrete box, but there's a really narrow hallway around its perimeter. I have never walked through a Richard Serra sculpture, but I can imagine that's what it would feel like, because it's these huge walls going up 10 to 12 feet in a very narrow passageway.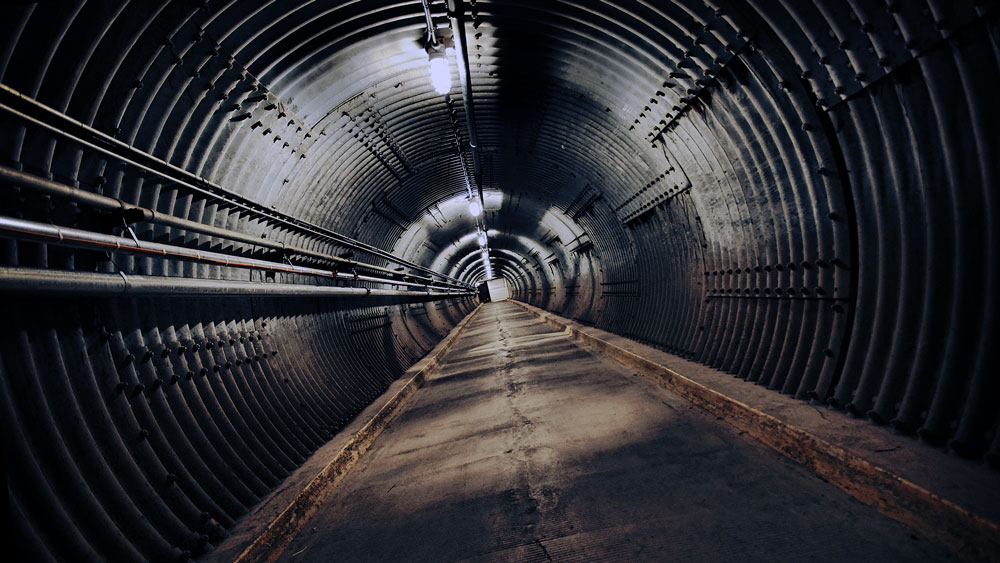 The 118-metre-long blast tunnel at the Diefenbunker was designed to protect residents of the main bunker from the force of nuclear blasts. Photo courtesy of the Diefenbunker.
This fall, when my show opens, one of my works is going to be exhibited in the Diefenbunker's teletypewriter repair shop. The teletypewriters were these big machines where script or text would be encrypted.
For the work in that room, I found a letter that has some secret code words in it, and I'm going to re-create that letter out of steel. And I've created my own version of one of those teletypewriter machines.
Part of what is interesting about this project is the opportunity to install pieces in places that already have a history, and already have a lot of things in them.
In that respect, it's been a bit of a challenge actually to find places to install the work—even though the place is huge, there are other activities in the building right now, like an escape game company that is hugely popular.
Another work I'm making is my version of air-raid sirens. Those will be in the escape-hatch room. That room is actually empty, for the most part. If someone had actually escaped out of there, then they would have had to pull some kind of switch that would have brought about 1,000 pounds of gravel to close up the shaft.
The final place I will install works is a very office-like space designed to house all of the government services so that they could continue when the bomb dropped. The offices look very ordinary.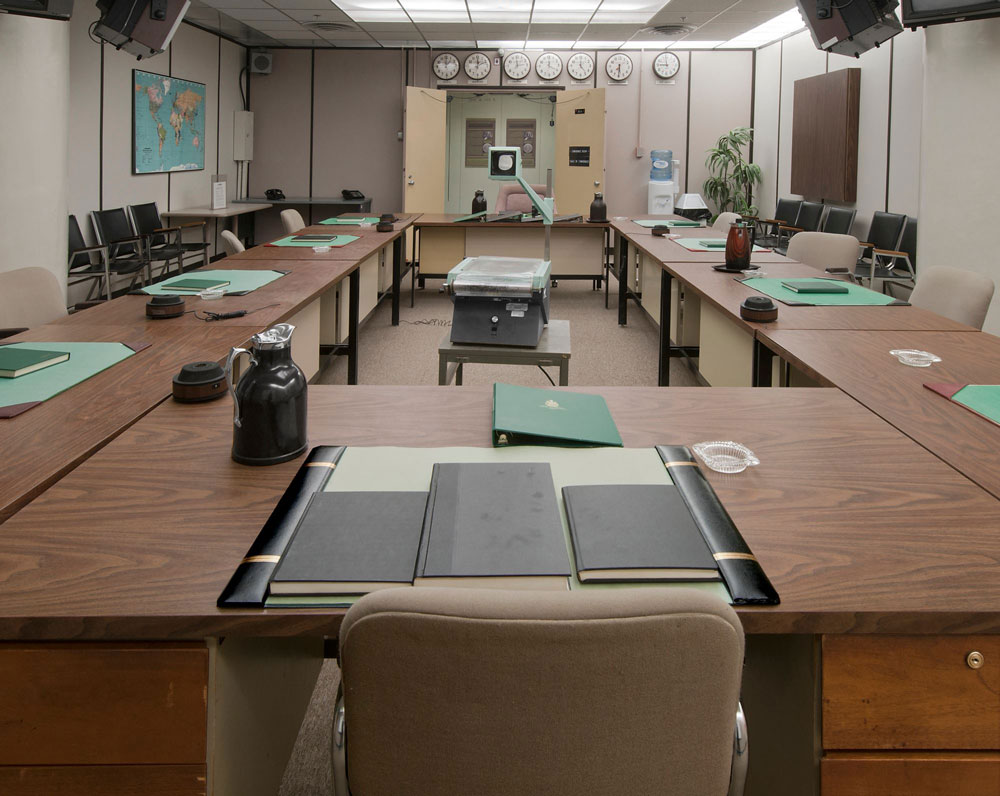 The war cabinet room at the Diefenbunker, where surviving members of the Canadian government were to meet, deep underground, in the event of a nuclear disaster. Photo: Facebook.
There, I will install a work I made in response to another book I found in the archives: The Value of Life. Also written by Emergency Planning Canada, the book offers a formula for calculating the value of every person's life—not the value of the spirit of a person, which is priceless, but the value of a person relative to the Gross National Product.
The piece I'm making in response to The Value of Life is a balance; on one side, I'm creating a version of an atomic bomb, and on the other side, there are going to be numbers in groups of five with little lines just piled up and up and up.
This residency is only one year long, but I feel I could do it for so many more. When I'm doing production offsite, I really miss being at the bunker, and want to get back in there.
I remember speaking to one of the guides at the bunker early on, and he said, "We're all a little bit weird here; you have to be weird to work in a place like this." And I thought, "Oh, so that's why I fit in."
As told to Leah Sandals. Anna Frlan's Project "The Age of Atomic Anxiety" opens September 18 at the Diefenbunker in Carp, Ontario. It continues there until January 31, 2017. Information about the Diefenbunker Artist-in-Residence program can be found at diefenbunker.ca.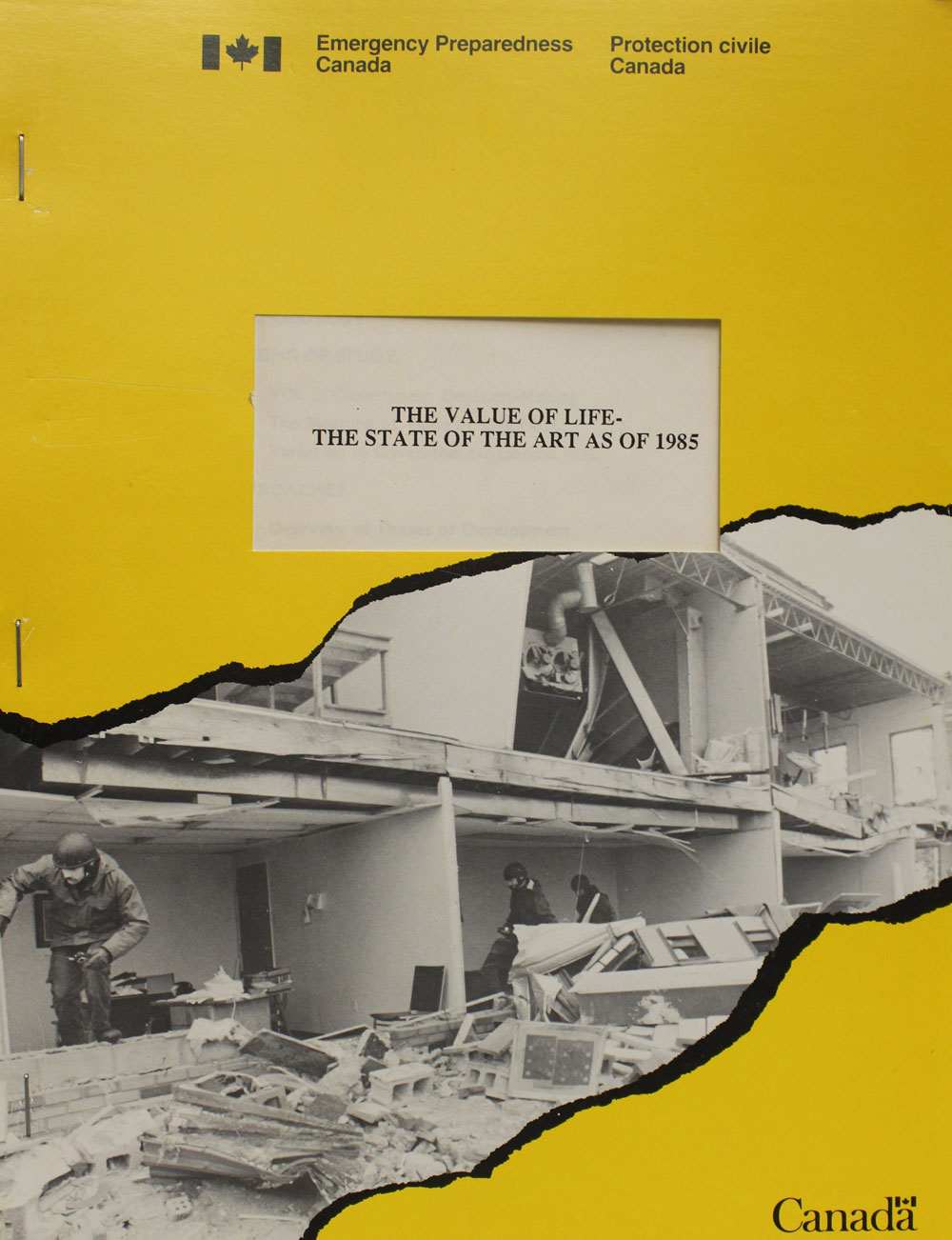 Documents in the Diefenbunker archive inspired a few of the artworks created by Anna Frlan. One such document is The Value of Life, which evaluates the Gross National Product value of each human life. It was intended to aid in decision-making in the case of a national nuclear disaster. Photo courtesy of the Diefenbunker.