In December 2015, the Canadian art scene was abuzz with the news that globally renowned Vancouver artist Geoffrey Farmer would be exhibiting in the Canada Pavilion at the next Venice Biennale.
Farmer seemed like a natural fit to many observers—he has already shown at other major international art events such as Documenta, he is represented by a New York dealer, and his art has been collected by the National Gallery of Canada.
But there is another Vancouver-based artist due to exhibit at the next Venice Biennale, too.
His name is Mike Bourscheid. And while he has flown largely under the radar to date, his profile is due to rise.
That's because Luxembourg—where Bourscheid was born and raised, and still maintains a studio—recently picked the gender-bending artist to do a solo show for its official Venice presentation.
"I'm going to build a bunch of costumes and prop-based sculptures," Bourscheid says over the phone from his studio on the east side of Vancouver. "And then, during the course of the biennale, I will make some performances there."
The artist hopes to capitalize on the fact that Luxembourg rents what is essentially a large apartment for its Venice project every year. Rather than trying to make the space masquerade as a white cube, he hopes to accentuate its domestic, intimate qualities.
"Even during performances, people can experience these rooms like those in an apartment," Bourscheid says. "There will be tinted windows in some, and very special carpet in another."
Such luxe high-art environs are a far cry, some might say, from the contexts in which Bourscheid has been exhibiting of late.
Earlier this year, from February to May, Bourscheid was doing a residency at Quebec City artist-run centre l'Oeil de Poisson. The residency culminated in a costume and performance called The Goldbird Variations that will be included in Bourscheid's Venice show.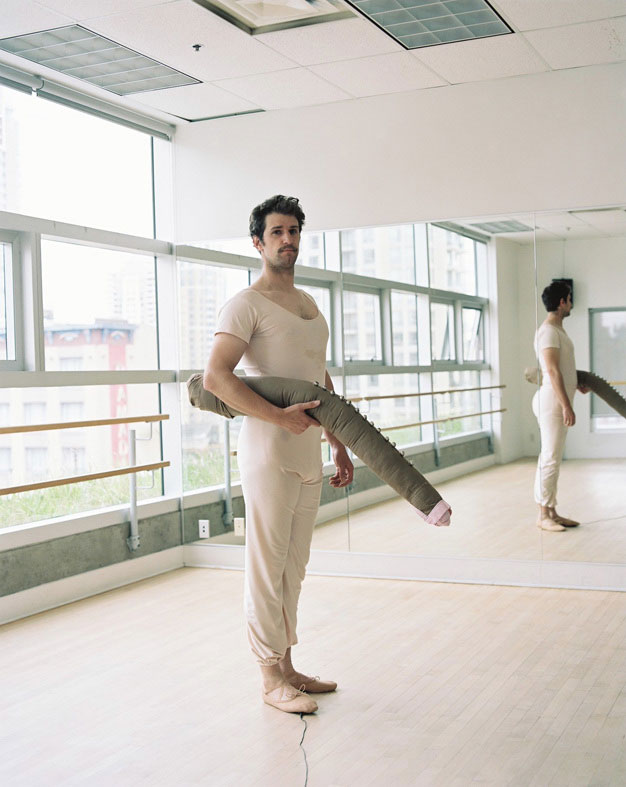 To create You inherited that from your father! We dance our name (2015), Mike Bourscheid donned ballet slippers and danced with assorted soft-sculpture props. Image courtesy the artist.
And in April, Bourscheid opened a photo show at a Vancouver volunteer-run artist space called Gallery 295. Titled "You inherited that from your father! We dance our name," that exhibition featured photographs of Bourscheid attempting ballet with soft, phallic sculptures, among other works.
"All of the works are really personal," Bourscheid says. "My mom is a seamstress and my dad is a welder. I grew up in the south of Luxembourg, which was then very industrial, and usually the men went to work, and the women stayed at home."
The hands-on work of Bourscheid's Luxembourg ancestors also influences his artistic approach.
"It's a long process, because I do everything myself, from costume to pattern-making to sculptures, like bronze or aluminum pours," Bourscheid says. "So [my practice] has a lot to do with learning skills, and that reflects in the artworks."
Last year, Bourscheid exhibited at what was his largest Canadian institutional show to date: the group exhibition "Spirit Gum" at the Nanaimo Art Gallery.
"I'm particularly interested in the ways that Bourscheid activates his sculptural forms," writes Nanaimo Art Gallery curator Jesse Birch in an email. "His costume-objects are imbued with narratives and identities created by the artist, and they function as both ritualistic semaphores and as theatrical props. They speak their own languages in the contexts of exhibitions, installations and performances, and are already expressing themselves before the performer comes along."
Interestingly, the artist's costumes can become actors in their own right.
"When Bourscheid inhabits a costume it is almost as if the wearable thing is the lead and the artist plays the supporting role," Birch writes. "And yet his performances are precise and highly engaging. His works often reference cultural phenomena of Luxembourg, and absurdities of masculine expression, while evoking the kind of abject humour I enjoy."
Birch isn't the only curator who admires Bourscheid's art. He was selected for Luxembourg's Venice project through an open call, with a jury that included Palais de Tokyo curator Daria de Beauvais, Frankfurter Kunstverein director Franziska Nori, and Casino Luxembourg director Kevin Muhlen, among others.
To meet the promise others see in him, though, Bourscheid says he will likely refrain from exhibiting in the coming months, and focus on production for Venice.
Bourscheid moved to Vancouver four and a half years ago to be with his wife, Canadian artist Vanessa Brown, who he met when they were both studying art in Berlin.
"Vancouver is an awesome city to produce artwork, especially as a sculptor, because you can get all kinds of material," he says. "For costume designing especially it's great, because you have amazing fabrics that come in here. It's a port city."
Vancouver is "small, but big enough to get a certain critical point of view on things," Bourscheid says of its production advantages. "There are lots of fields that work with each other, like film and dance. And it keeps my head free. I need some time these days when I can go for a little hike."
Mike Bourscheid's project for the 57th Venice Biennale opens in May 2017 at Ca'del Duca in Venice.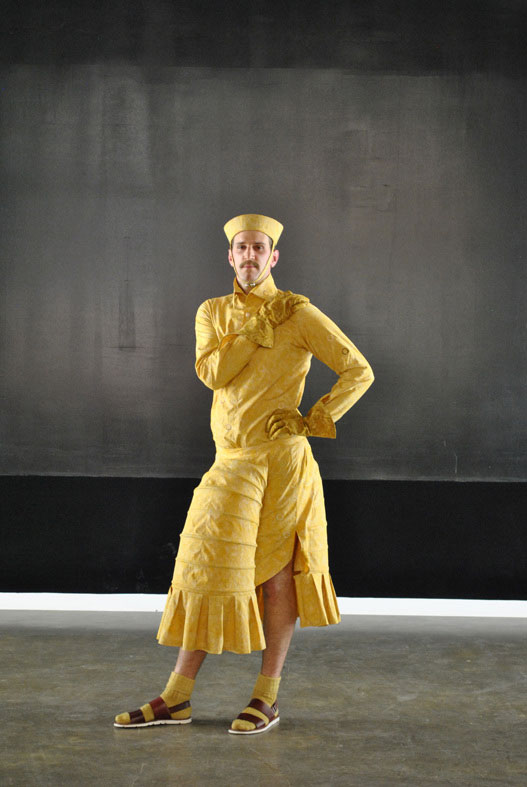 The costume and performance for Mick Bourscheid's The Goldbird Variations, originally developed during a 2016 residency at l'Oeil de Poisson in Quebec City, will also be used during his presentation at the Luxembourg Pavilion of the 2017 Venice Biennale. Image courtesy of the artist.