Urban fashion expression for Indigenous peoples is a way for us to talk to each other without speaking—a visual representation of who we are, but also of where we are from. Indigenous peoples show pride and demonstrate ancestry in the face of complex historical traumas through clothing, adornments, tattoos and piercings. We are still here and we are reclaiming our identities—all the while looking damn fine.
Indigenous peoples live in close relationship to the land, and maintain strong kinship ties that bind sophisticated social, political, spiritual, material and cultural systems. With our fashion trends, textiles, weavings, furs and other material and cultural traditions, Indigenous peoples have played important roles in the development of the modern world, which have in large part gone unrecognized.
Sage Paul—Dene artist, designer and co–artistic director/co-founder of the Setsuné Indigenous Fashion Incubator—argues that Indigenous peoples have created an urban anti-fashion. Indigenous street style is a transgressive act of non-erasure, non-conformity, and punk rock, which demonstrates kinship to the land, to our traditions and to each other. Indigenous street wear is a defiant act of resistance, a fuck you to assimilation and a statement of both individuality and belonging. Featured here are six Indigenous mixed-raced artists. Each shares their unique statements of fashion sovereignty and expression of their Indigenous identities through dress.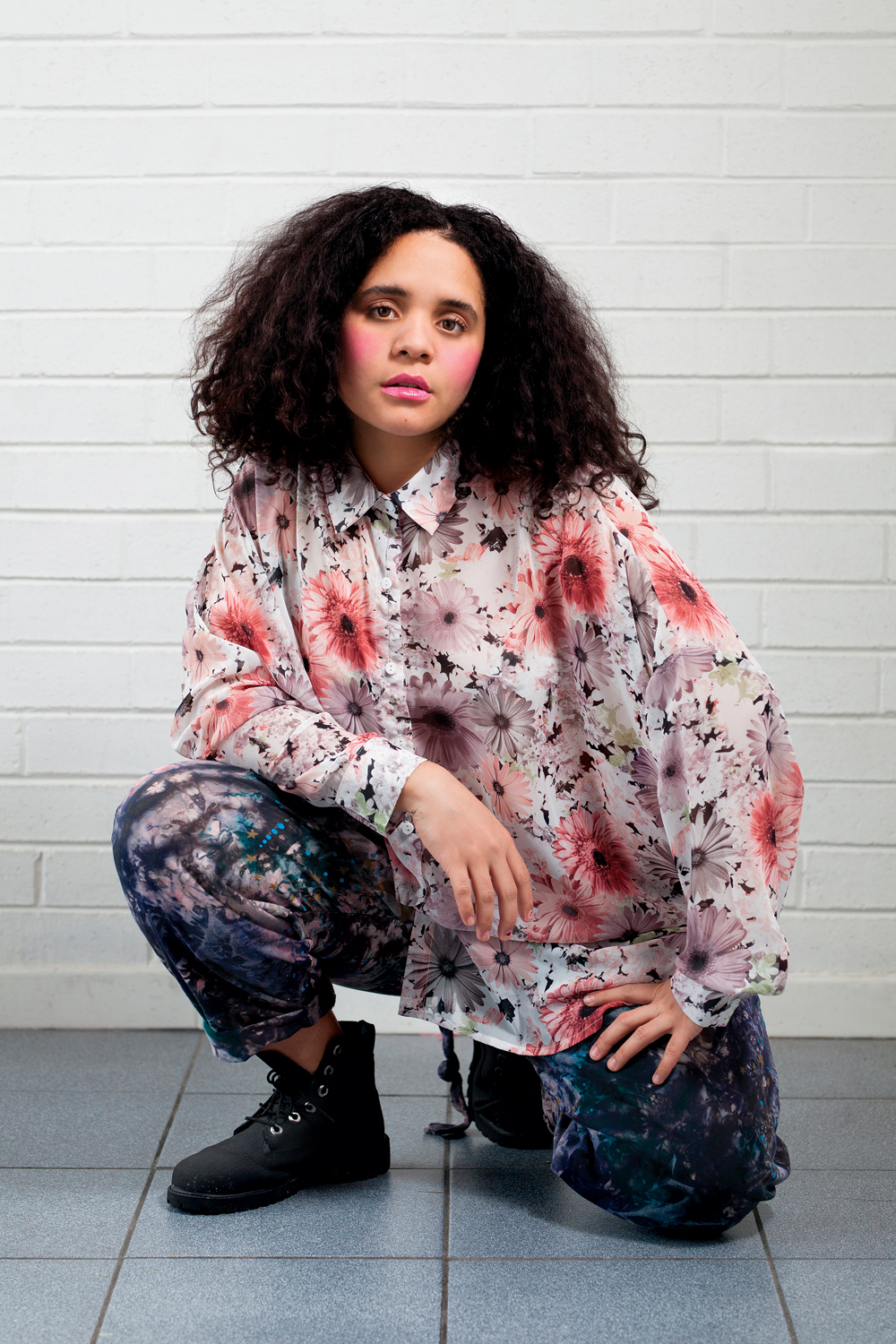 Lido Pimienta. Photo: John Paillé.
Lido Pimienta
Lido Pimienta, a Colombia-born, Afro-Indigenous Wayuu interdisciplinary artist, curator and musician, is based in Toronto and London, Ontario. Her colourful style is a reflection of her personality and wit. She will never be caught wearing a T-shirt and jeans, which she considers to be "the world's most boring uniform." Some of her fashion go-tos are traditional Wayuu mantas (dress) or accessories, the Toronto-based design house SUNSUN, NorBlack NorWhite gowns and Hailey Elsaesser overalls.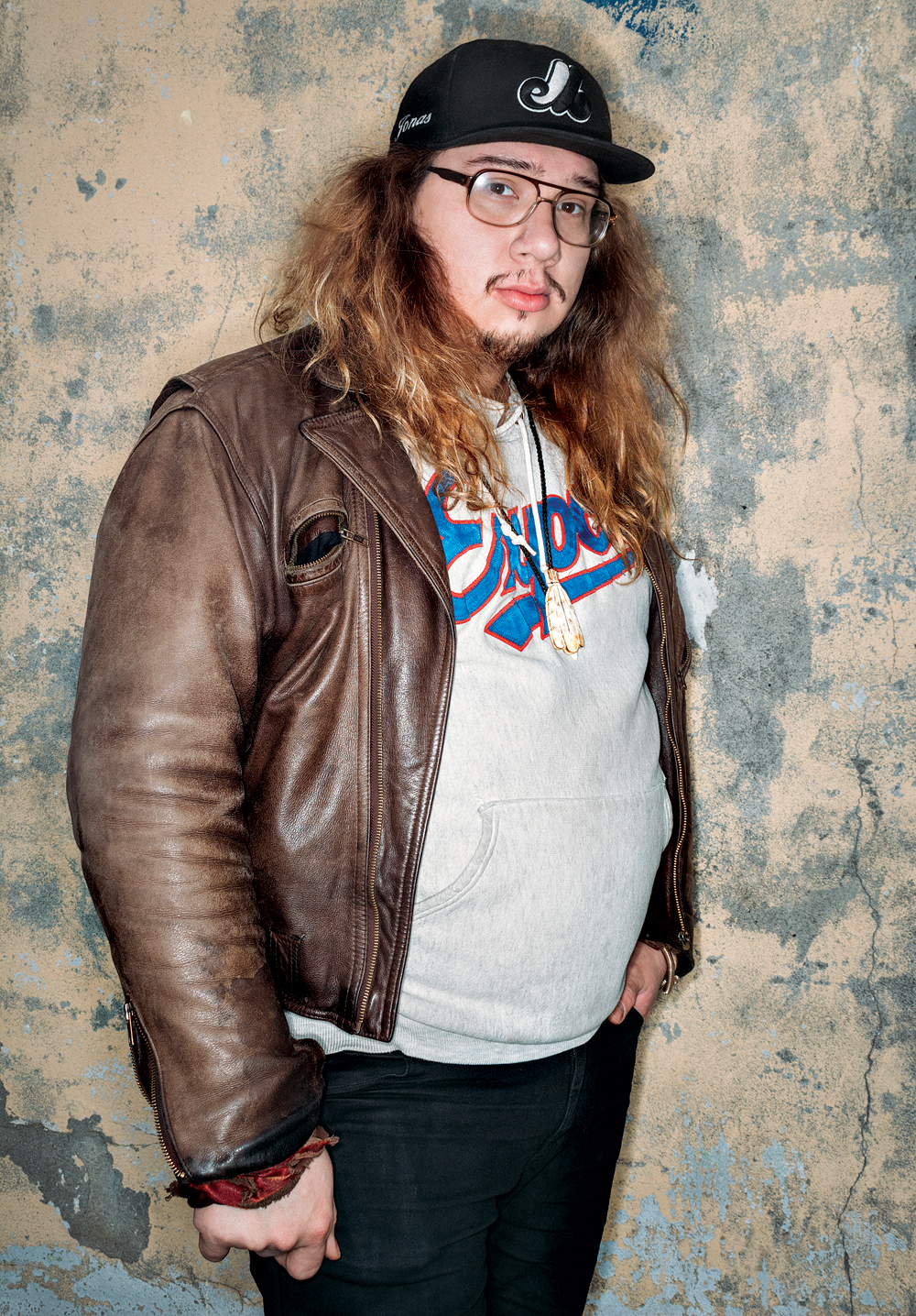 Jonas Arahkwenté Gilbert. Photo: Stacy Lee.
Jonas Arahkwenté Gilbert
Jonas Arahkwenté Gilbert is Mohawk from Kahnawake and currently resides in Montreal. He is a hair stylist and a member of the ReCollection Kahnawake art collective. Gilbert often reps Montreal with his street style, donning an Expos jersey, or an embossed Expos cap with his name embroidered onto it. Gilbert is wearing a bolo tie made of bone, and a leather jacket custom-made for his father. Hair is a central aspect of Gilbert's style—and arguably an important facet of Indigenous identity.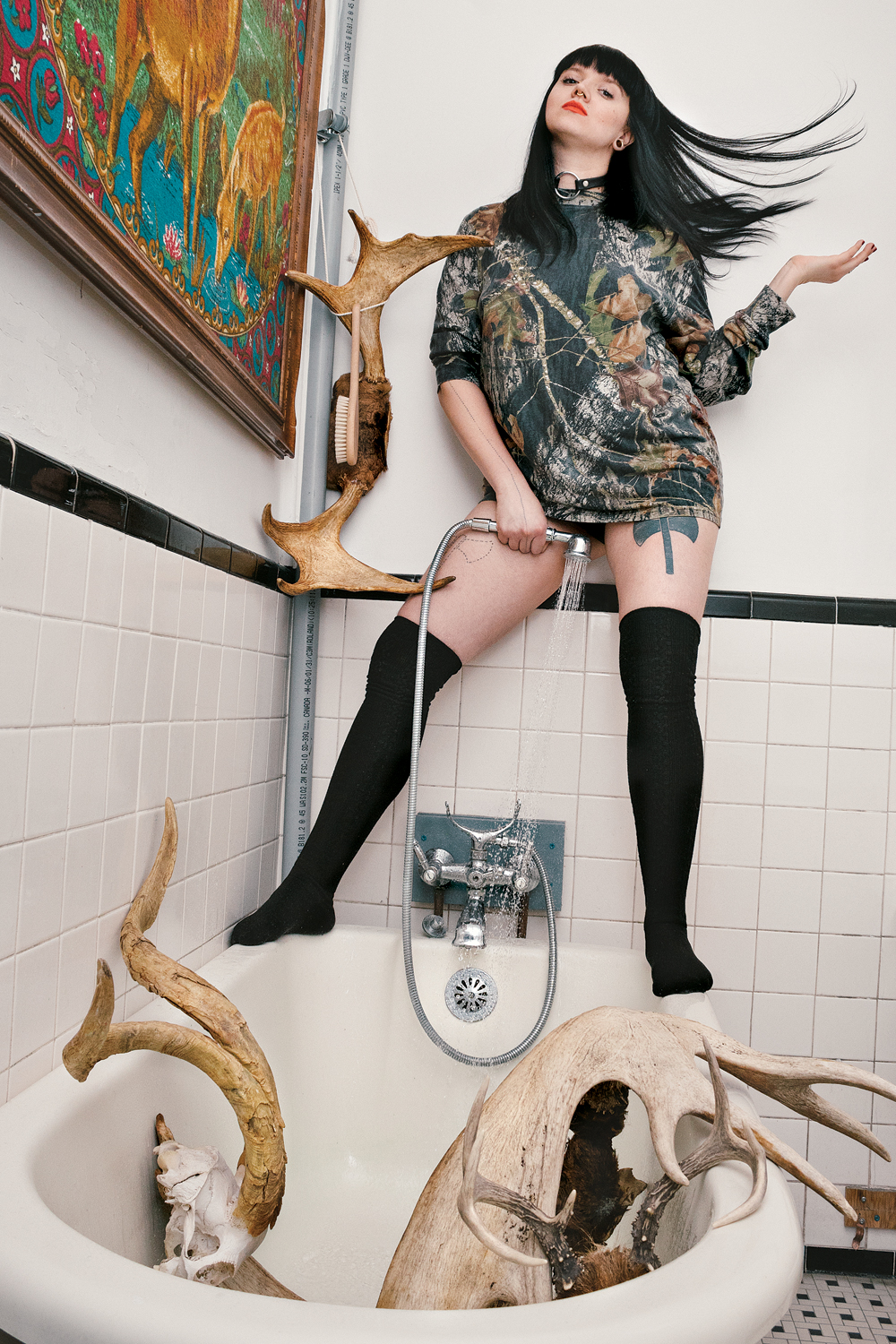 Dayna Danger. Photo: Stacy Lee.
Dayna Danger
Dayna Danger is a Saulteaux-Métis photographer from Winnipeg who is currently based in Montreal. She is obsessed with racks. In her own words, "the bigger the better." Danger purchased her shirt from a gas station during a road trip. Though not apparent in the photo, Danger is wearing safety-orange beaded earrings, combining visuals to create a hunting motif within her look. Her neck piece is a nod to BDSM subculture, congruent with the consensual and sensuous nature of her work.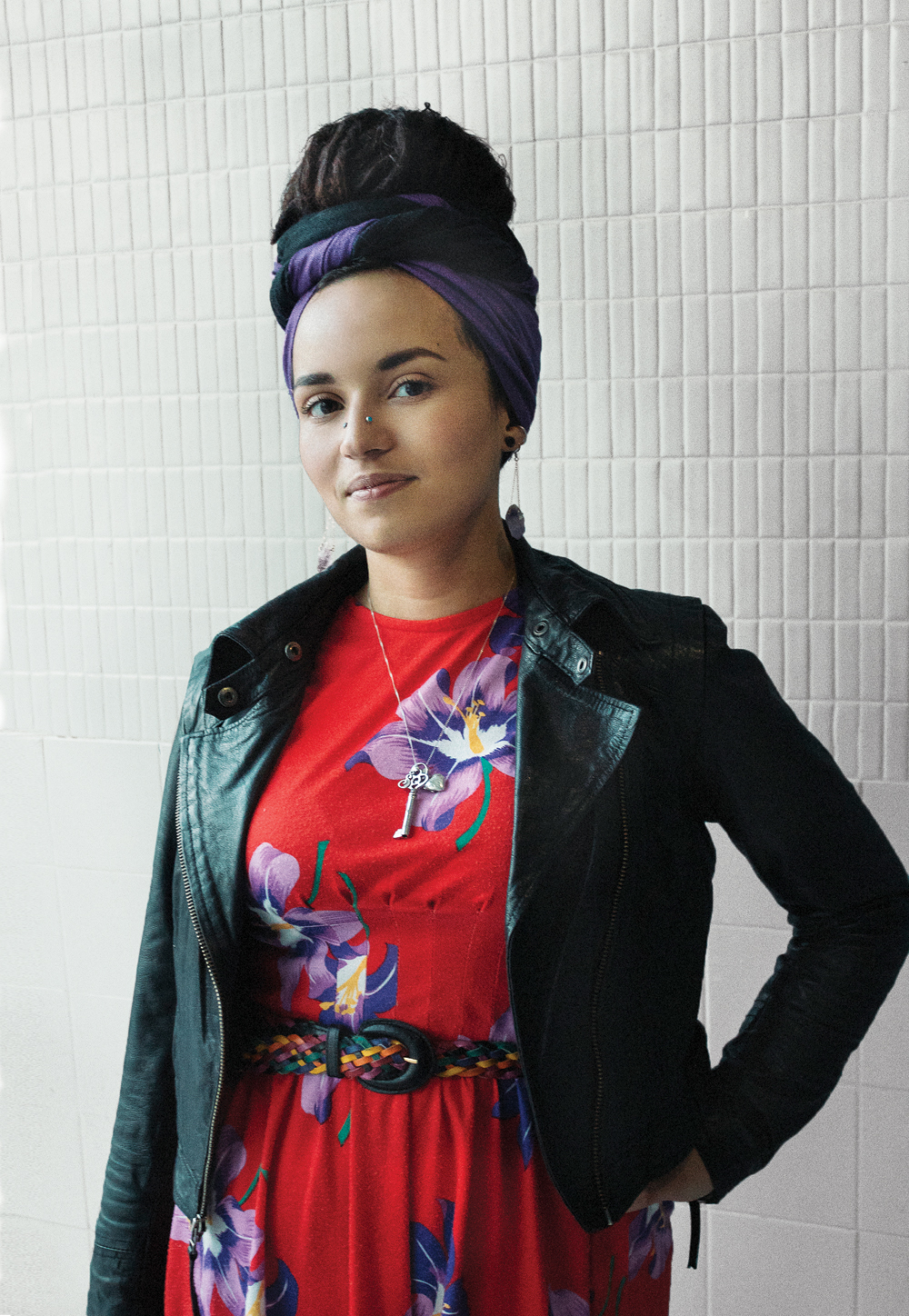 Sasha Simmons. Photo: Stacy Lee.
Sasha Simmons
Sasha Simmons is Black-Métis from Treaty Six territory (Edmonton) and lives in Montreal. She is a graduate of fashion design school, and is inspired by networks of care among communities of women in her family—"women's work." Simmons often wears vintage fashions to explore the hybridity of her Black and Indigenous identities. Her earrings are by Cedar-Eve Creations. She wears a ring and locket from her parents on her necklace every day.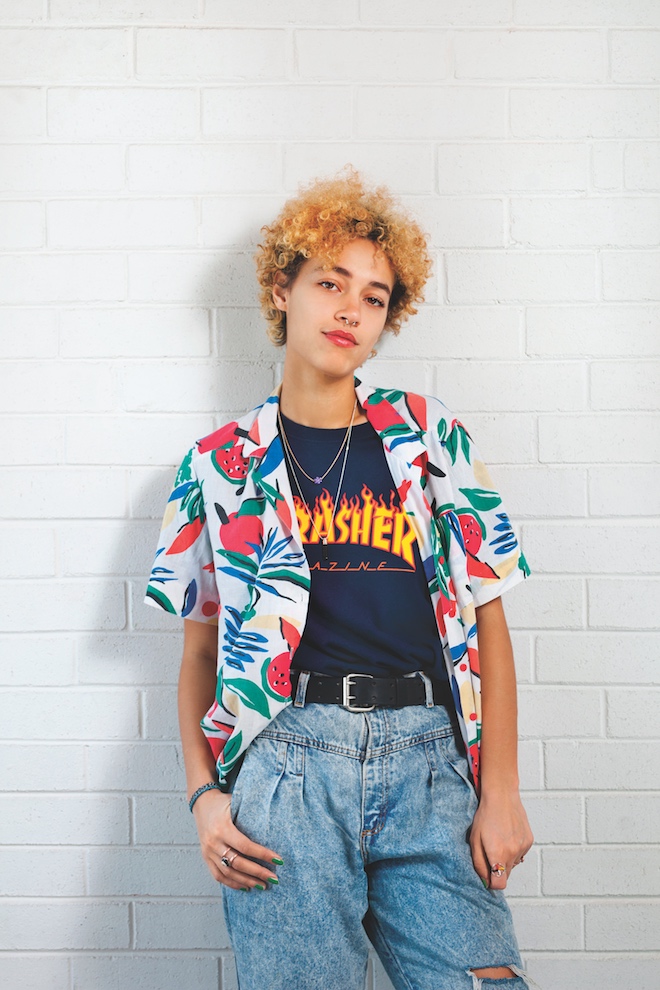 Kaya Joan. Photo: John Paillé.
Kaya Joan
Kaya Joan is a mixed Black-Indigenous multidisciplinary artist based in Toronto, and is currently completing a bachelor of design degree at OCAD University. For her visual work, Joan draws inspiration from nature, hip hop and fantasy. She prefers to wear clothes that speak to her eclectic background and that she feels comfortable in. She often mixes and matches prints and materials, and believes thrifting is key to curating a look.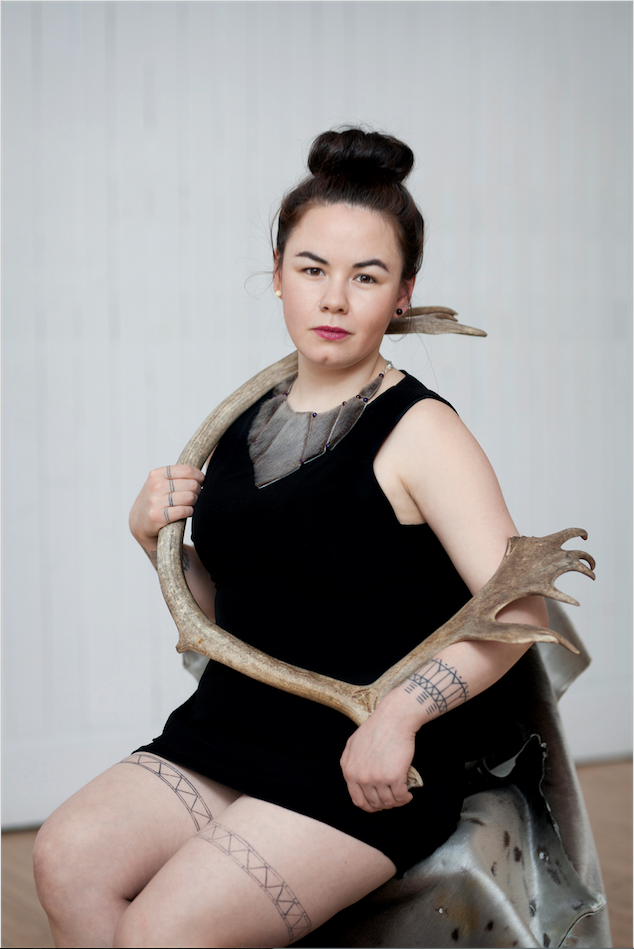 Iva. Photo: John Paillé.
Iva
Iva is an Inuit throat singer, poet and collaborative artist from Rankin Inlet whose music celebrates her Inuit and Irish roots. Iva honours the North and the hunting culture she comes from with her style. On any given day, you'll find her dressed in black paired with Hinaani Design, Victoria's Arctic Fashion or Bibi Chemnitz clothing. Iva often wears sealskin, ivory and musk-ox jewellery and accessories. Her favourite designers include Ugly Fish, Inuk Chic, ENB Artisan and Jame Look Jewellery.
Erika A. Iserhoff is a multi-disciplinary artist of Omushkego/Eeyou Cree ancestry. She is the artistic producer for Native Women in the Arts, is a founding member of the Chocolate Woman Collective, and is the co-artistic director for the Setsuné Indigenous Fashion Incubator Collective.
This post is adapted from an article of the same title in the Summer 2017 issue of Canadian Art. To get each issue of our magazine delivered to you before it hits newsstands, visit canadianart.ca/subscribe.