Born in 1943 in Cincinnati, Ohio, with Down syndrome, Judith Scott spent much of her life in a state institution. At 42 years old, her fraternal twin sister, Joyce, became her guardian, and Judith was enrolled at the Creative Growth Center in Oakland, California, where she discovered fibre art and became a sculptor. Over the last 17 years of her life, before her death in 2005, she developed an impressive body of work, wrapping, binding and tying together ordinary objects, such as chairs, magazines and bicycle wheels, with colourful fabric scraps.
Scott's first Canadian survey exhibition runs at Oakville Galleries at Centennial Square until December 30. For the Preview section of our Fall 2016 issue, we published a condensed version of Montreal artist Luanne Martineau's personal thoughts on how Scott has influenced her practice. Here, we run an expanded version of Martineau's reflections.
Initially, I didn't know Judith Scott's backstory. But I tend not to dig into that area with artists I'm interested in. The more I looked into her, the more that whole question of biography became problematic for me, in terms of her categorization as an "outsider" artist. I looked at her in a trajectory of a type of work that I've been involved with or have been following for a long time, and this came from a shifting of the educational model in terms of art school. I've talked about de-skilling before, the place of fibre, of unmonumental materiality—I obviously saw that in her work. And I fit it in in a conversation in my own head with artists I have been influenced by, and have been touchstones in many ways in terms of understanding, for me, how meaning comes from materiality—how you find meaning in material and material in meaning.
I group Scott with people like Eric Cameron—the way he would swath forms in layers of white gesso and paint, and how they'd evolve to be these psychological, process-based forms. In the 1970s, Alberta artist Mary Scott (no relation) did these syringe paintings that, for me, connected with Judith Scott. Mary Scott took these Lacanian texts and traced them out in acrylic paint with a syringe—tracing them over and over until they became these physical things and collapsed on themselves. That act is absolutely rooted in communication through material. And then of course Liz Magor is always present in my mind. I put Scott in with her in terms of that wrapping, that obsession with forms in wrapping. For me, I made all these connections when I saw Scott's work, in terms of the people who really put me in certain directions as a younger artist and then, as I matured, stayed with me in terms of demonstrating what it meant to find forms through a process rather than pre-indicated forms for construction.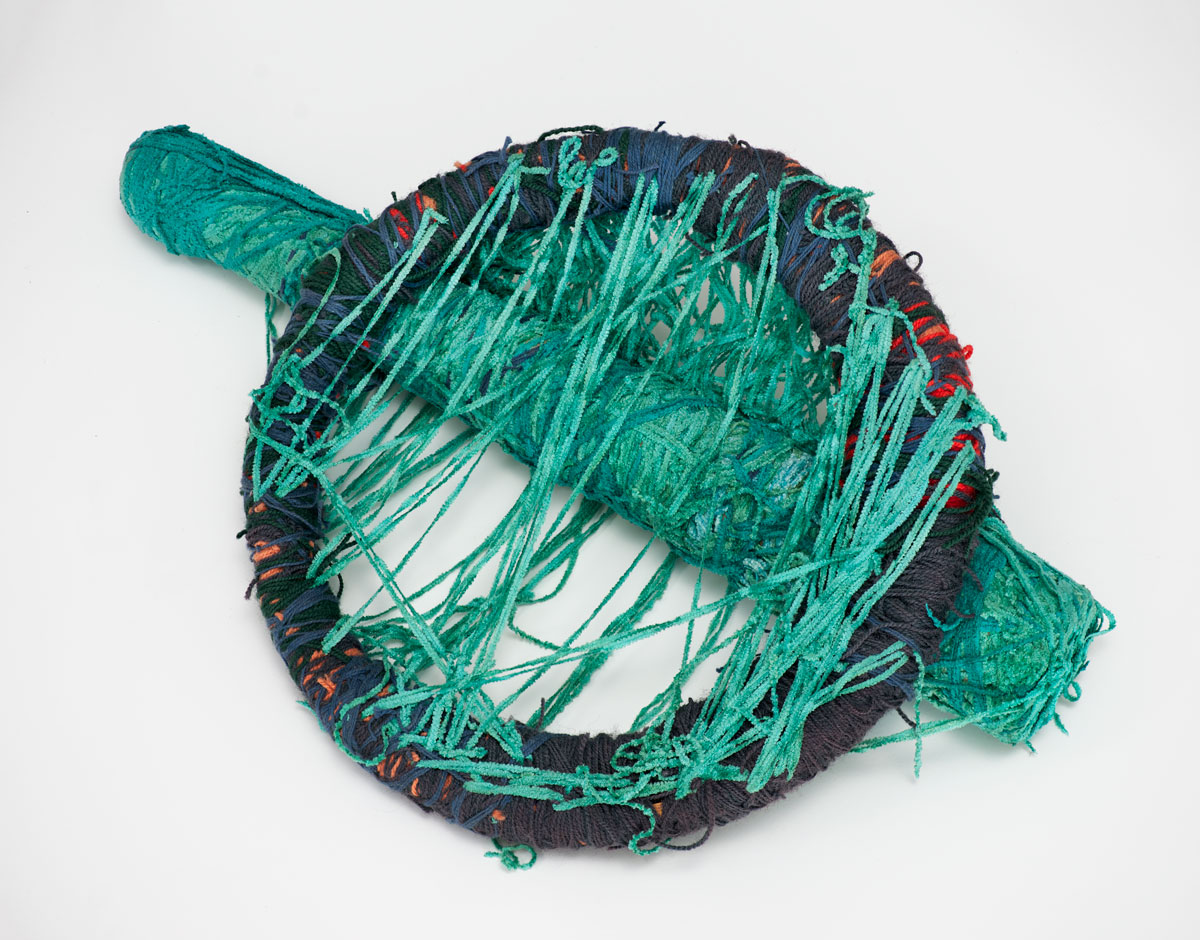 A work by late American artist Judith Scott. Courtesy Creative Growth Center, Oakland.
I approach Scott formally, materially. I still don't go very far into her biography. I don't necessarily see conversations of her life within her work. I understand why people see that or want to see that. But the works are so minimalist in so many ways, so absolutely present and non-narrative that that's their strength for me. They have a type of refusal to them. Much like the best minimalist work, they stop you—from storytelling. You have to focus on what's there. You have to walk around it, see this type of materiality. What I appreciate even more about Scott's work is just the complexity of how she looped and formed these things together. They way she enmeshed them. So strongly physical, so intricate, so not fluffy.
And then there's the colour palette she used. It's very open—you don't get the feeling that there's a design aspect to the work. For me, they trigger very particular ideas of paintings and colour theory and how things sit and how colour talks to itself—when things are discordant and when they slide together nicely.
It's a thin edge of the wedge, how we categorize someone as an "insider" or "outsider" artist. Absolutely with Judith, she doesn't fit. In terms of her time with the Creative Growth Center in Oakland, she wasn't isolated. In fact, she had incredible access to materials and people. She was given a show within her first two years of her activity there, even though initially she wasn't making work. She was very self-possessed, very aware of herself. If we're just talking about a mental difference, in terms of her Down syndrome, I think that that's a fairly useless definition. We all function differently, and while I'm not saying that this levels everything, it's not a useful way to start parsing means of production and artists. Because there are different ways of knowing.
Luanne Martineau is a Montreal-based artist and an associate professor of painting and drawing at Concordia University. She co-curated the exhibition "Aujourd'hui Encore," on view to October 22 at TrépanierBaer Gallery in Calgary, and is included in "All Membranes Are Porous" at Kamloops Art Gallery, which runs to December 31.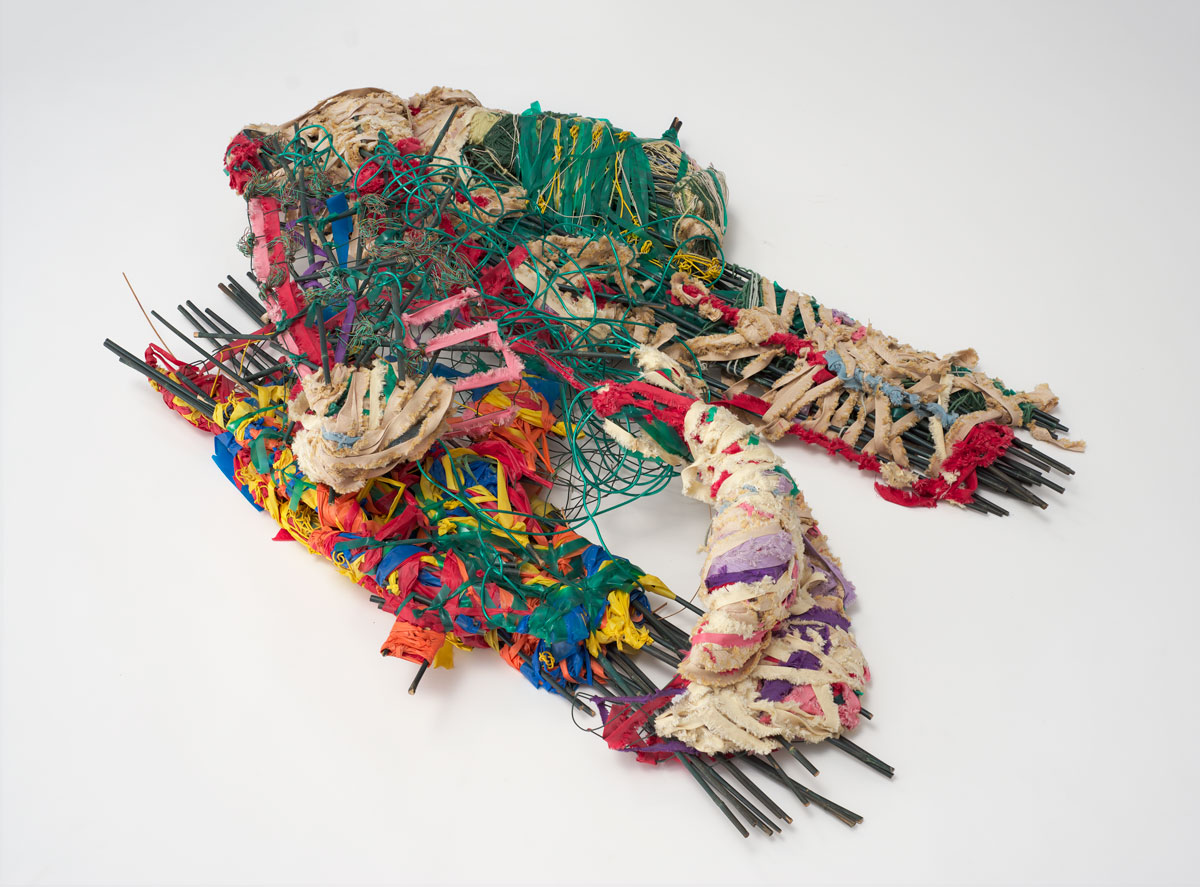 Judith Scott, Untitled 1988. Courtesy Creative Growth Center, Oakland.