Like My Little Ponies updated for the Internet age, each candy-coloured ceramic creature by Kaley Flowers has its own unique personality.
When I first saw Flowers's work this summer at the Toronto Outdoor Art Exhibition, her tables strewn with a menagerie of small, blobby-bodied creatures, I immediately wanted to examine them and choose the one whose personality best suited mine. I felt an instant affinity for a cereal milk–coloured critter with a body like a melted marshmallow who seemed to have stumbled into a bowl of sugar-coated Shreddies.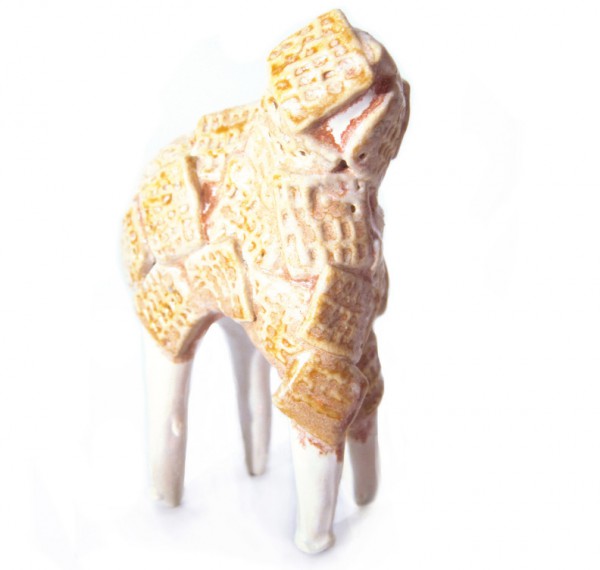 Kaley Flowers, SHR3DDI3S, from the series Gen 0.1, 2016.
In Flowers's new mythology, the underworld is replaced by the Deep Web or the Dark Net. The larger-scale ceramic idols that make up Flowers' project Intercosm represent various stations on the plane where the physical and digital collide.
"Each of my statues has an accompanying ritualistic aspect," Flowers says. The Idol of Economy is best appeased through making online purchases, and the Idol of Entertainment is best celebrated by wasting time online playing games or binge-watching videos. The Idol of Surveillance protects against bots, adware, malware and those "who look to incriminate us." Rub the head of the Wifi Sprite, and you'll be rewarded by having your network protected against wifi theft.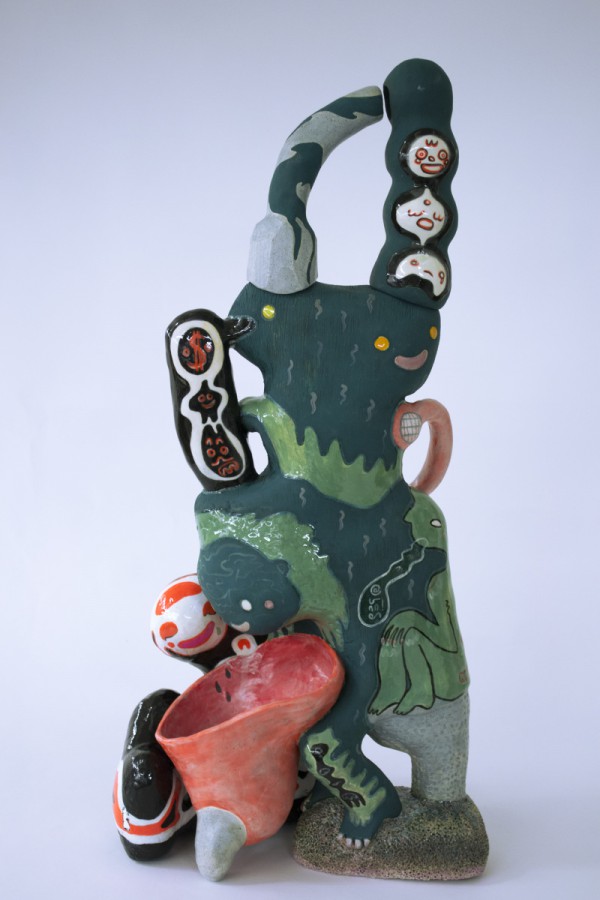 Kaley Flowers, Idol of Economy, from the series Intercosm, 2016.
In just a short time, Flowers has become a skilled ceramicist. After beginning her fine-arts education at OCAD U in sculpture, Toronto-based Flowers temporarily focused her degree in fibres and textiles before a third-year class on surface techniques in clay captivated her interest. Since then, there's been another year of self-directed study.
Whether large or small, simple or elaborate, each of her pieces is sculpted, glazed and tinted with deftness and ingenuity. Her considered aesthetic lends harmony to a variety of series and one-of-a-kind objects, effective both as discrete works as well as when gathered in a cluster.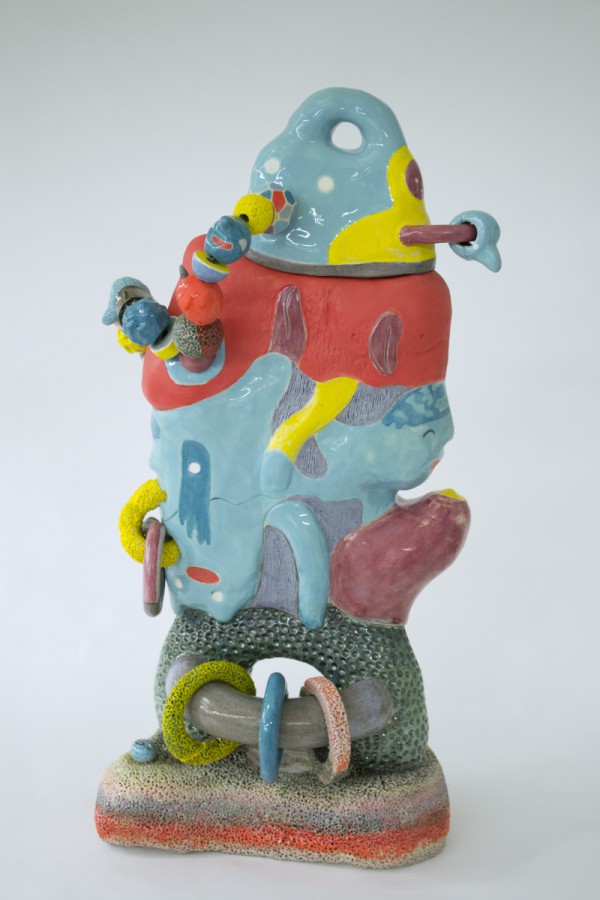 Kaley Flowers, Idol of Entertainment, from the series Intercosm, 2016.
There is conceptual rigour to Flowers's practice, too. Her sculptures are kawaii-cute, but they also cleverly speak to contemporary concerns of how identity is constructed and refracted in the digital era. Each piece is emblazoned with decals familiar to those who make up the so-called millennial generation, who are growing up online, building communities based on "friends" and "followers" and accumulating social currency through the development of "personal brands."
"All of the icons and symbols I use are ones I personally remember from using computers and early Internet (early in terms of general public use) when I was younger," says Flowers. "I've been researching the symbols of the '90s and '00s Internet and have been rediscovering things that I've forgotten about—such as Bonzi Buddy and particular types of viruses, malware and pop-ups."
"These images are very nostalgic to me," she continues, "and I really feel there is a purpose to documenting and preserving these icons and imagery."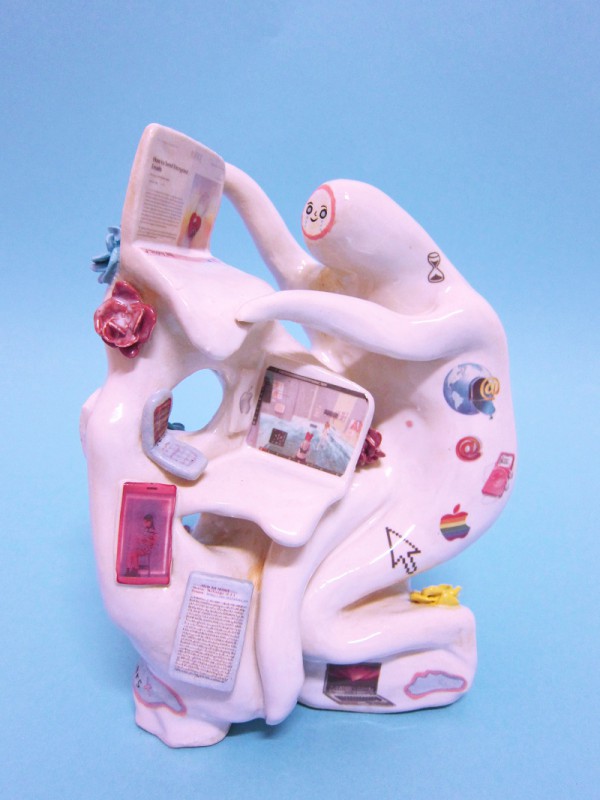 Kaley Flowers, Ambar Navarro, from the series L1nk Up.
Ambar Navarro is one work from Flowers's ongoing series L1nk Up, based on interactions with online friends. It shows a creature pawing a droopy laptop whose screen is open to a page titled "How to Send Encrypted Emails." On top of worrying about their little brothers reading their diaries, or their crushes finding out they pad their bras with tissues, now young girls also have to worry about being hacked and doxxed. Many of the next generation of women, who are coming into maturity fluently versed in basic code, will be amateur computer programmers by default.
The artist's graphic language mashes Internet epochs—present-day meme characters and emojis are placed alongside Windows '95–era cursors and icons—demonstrating how rapidly technology adapts to stay relevant to a consumer audience, and making manifest the attendant anxiety of regularly refreshing to stay connected and up to date while caught up in the foamy maelstrom of informational overload.
"A lot of what I create has been influenced by what I consume online," Flowers says, "and in terms of entertainment, I pretty much exclusively watch anime, so definitely see that influence in what I make."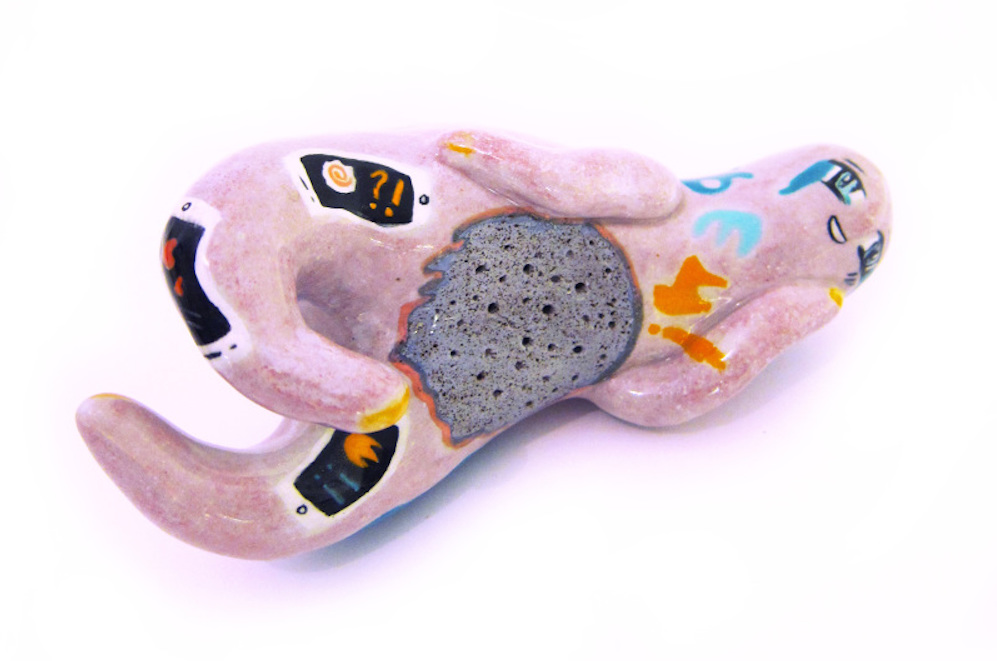 Kaley Flowers, Digital Therapy, from the series Emoji Shakers, 2015.
I especially liked Flowers's Emoji Shakers. When picked up, they make a pleasant musical sound, like Baoding balls, because the artist has filled them with hand-rolled clay beads. They have a talismanic quality, which amplifies their mythological attributes. Any of Flowers's creatures could be taken as present-day embodiments of monsters or spirits from ancient cultures. I can imagine them as customers at Yubaba's bathhouse in Hayao Miyazaki's Spirited Away.
Flowers's works address the present cultural condition that she and her peers—many of whom she has only ever interacted with online—are emerging from. Her sculptures can be seen as tools, somewhat like religious idols, that assist in navigating and communing with the worlds she and her friends and followers occupy.
Kaley Flowers, Grace Miceli from the L1nk Up series.
"I am pro-Net," says Flowers, "but am also aware of its negative effects, because I experience these effects myself! Internet addiction is a big one."
Her next project, which she is working on for the Toronto Design Offsite Festival later this month, examines the effects that the Internet and technology have had on social relationships.
"I made Internet-influenced dishes and domestic objects that are meant to help 'remedy' those who feel detached when offline or too involved in real-life activities," Flowers explains. "It's meant to be a bit satirical, but I think there is some truth in it, too!"