The first time I met Duane Linklater was moments before the announcement of his 2013 Sobey Art Award win with Tautology, a series of five identical neon birds referencing Norval Morrisseau's "Androgyny" (1983).
The second time was through a Skype conversation window, where we discussed the discrepancy between performing allyship IRL and URL, and whether our skepticism of ally pageantry extends to political meme-makers. He showed me @clarifiedhateration, a meme account that rags on insidious art-world dynamics, and I showed him Food Network memes. He told me about his negotiations with the terms of his inclusion in Indigenous group exhibitions and the severe underrepresentation of Indigenous women in them.
The third time, he gave me a preview tour, with curator Georgina Jackson, of "From Our Hands" at Mercer Union, his exhibition with his grandmother, Ethel Linklater, and his son, Tobias Linklater, which opened on September 9.
The result of two years' work, "From Our Hands" site-specifically inserts—and asserts—intergenerational Indigenous exhibition-making apropos to the institutional history of Mercer Union and the colonial history of Toronto, Indigenous sovereignty in legislation, and the unexpected poetry that can be uncovered in it.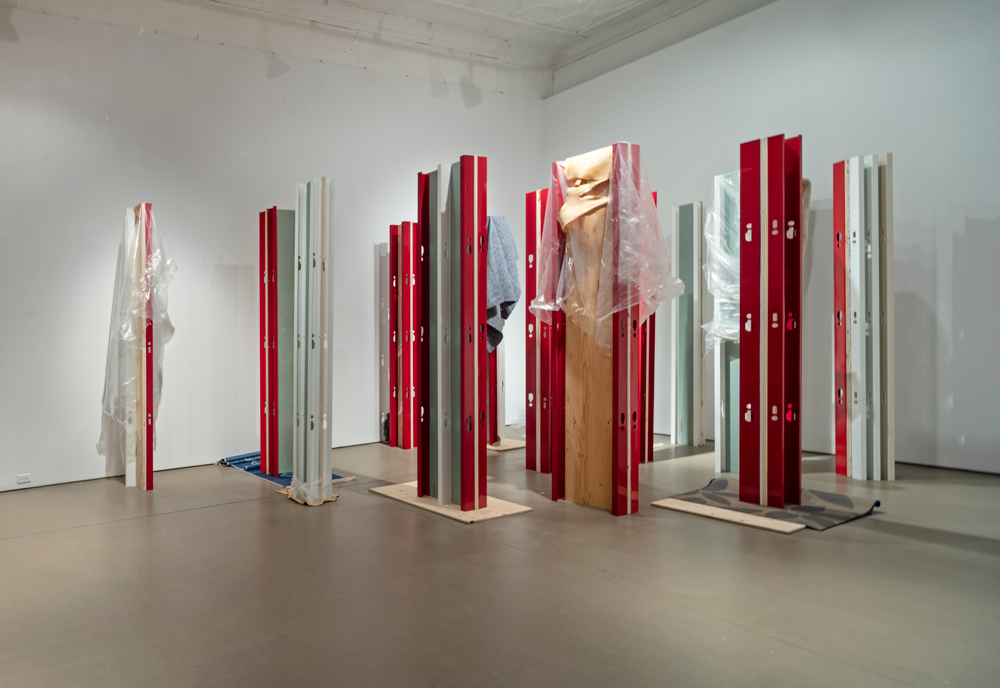 Linklater fabricated Untitled Problem in his North Bay studio, then introduced found materials during installation. Photo courtesy the artist and Mercer Union. Photo: Toni Hafkenscheid.
Linklater taught himself how to make the 16 columns of Untitled Problem, which are scaled to his height with his arms extended above his head, in his North Bay studio. They were powder-coated in two shades of red and two shades of white paint, with materials purchased from Home Depot to echo the construction materials of art institutions—steel beams, plywood, drywall, all ubiquitous materials first in construction, then appropriated by artists in their sculptural language. Although he fabricated the columns prior to his arrival in Toronto, found materials—such as the clear plastic, the grey felt blanket, the faux fur scarf or the bison rawhide with which he partially draped some of the columns, or the mats, one checkered, one ornamental, that some of them sit atop—presented themselves on-site over the course of the installation process. He's informed by the gallery's history and its neighbourhood, Bloordale—"Where to buy flowers, where to buy cigarettes, or where to buy blankets, or plastic," he tells me. In 2008, Mercer was the first of a wave of galleries priced out of their more central locations to move into what was until recently one of the poorest areas in Ontario, with the highest proportion of new immigrants per capita in Canada.
Jackson and Linklater show me traces of Mercer's past iteration as a theatre: where the screen and orchestra pit used to be, where the floor's incline used to accommodate rows of seats. Linklater adds that this exposure counters urban erasure where "particularly Indigenous history gets pushed down or pushed out into the extreme peripheries. Those histories, specifically here in Toronto, are important to me and I want it to be important to other people."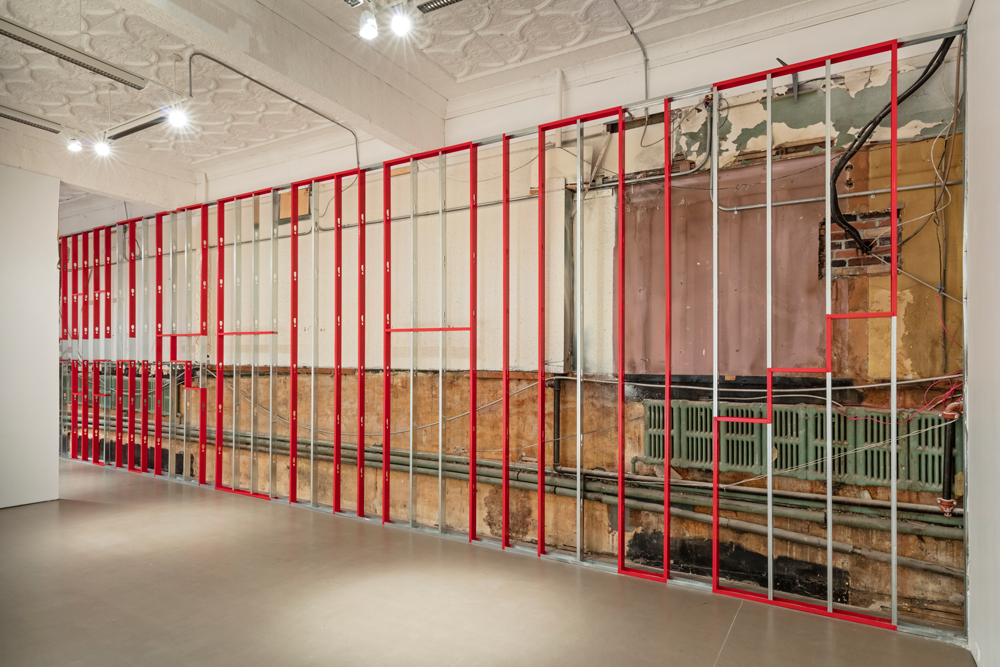 What then remains. Disassembled wall, powder-coated steel, steel screws. Photo courtesy the artist and Mercer Union. Photo: Toni Hafkenscheid.
Linklater stripped layers off Mercer's longest wall and strategically powder-coated strips of the skeletal steel studs to spell out "WHAT THEN REMAINZ" in red. The Z, which mirrors the R in "REMAIN," cites how we speak to each other on the Internet. "Often in my Twitter I use Z instead of S," he tells me. He seeks poetry in materials and places that aren't poetic, or inscribes it in the case of its crushing absence. In this work, it's in Justice Sonia Sotomayor's closing remarks—particularly the line, "What then remains of the sovereignty of the Indians?"—in the United States Supreme Court case Dollar General v. Mississippi Band of Choctaw Indians, which debated the implications of the assault of a 13 year-old Choctaw citizen by a non-Indigenous employee of Dollar General, a non-Indigenous corporation, on Indigenous soil. Said to be one of the most pivotal "Indian law cases" before the high court in half a century, these court proceedings negotiated whether tribal courts have the criminal jurisdiction sovereignty to punish non-Indigenous people for crimes committed on Indigenous land, and to determine the liability of non-Indigenous individuals and corporations on Indigenous territory.
Linklater lays bare the insidious: where a Democratic member of the supreme court, a woman of colour with whom he says people are enamoured, sets the conditions and parameters for Indigenous sovereignty, "who and what and how Indians live and operate in the US. It's pure colonialism—nothing but colonialism—but there's still poetry in legislative language."
I ask when this happened. He says 2014. I'm surprised.
"It's happening every day. It's alive and active," he reminds me.
Immediately I recognize that my incredulity about this case's recentness is symptomatic of a deeply flawed kind of thinking in self-congratulatory Canadian discourse that overlooks current, ongoing colonial violence until a white publishing body like Maclean's posts sensational, sometimes problematic pieces like "Welcome to Winnipeg: Where Canada's racism problem is at its worst," "Canada's race problem? It's even worse than America's" and "What the tragedy of Colten Boushie says about racism in Canada." I should know better.
What then remains will persist within Mercer's structural foundation after the exhibition concludes, beneath the new drywall.
I'm apprehensive to draw a white-art-history connection here, but I ask him about similar gestures in Michael Asher's institutional critique, which underlined what would otherwise remain seamlessly hidden—namely, the piece in which he removed the wall separating Claire Copley Gallery's exhibition space from the gallery's office space, or a work where he reconstructed all the temporary partitions of the Santa Monica Museum of Art, a non-collecting museum, with a maze of metal studs. Linklater, however, doesn't just lay bare the institution's structure, but also speaks to the territory that it occupies. He tells me that he "didn't react" to these Asher works when he first came across them, that Conceptual artists played games in a vacuum that they were invited into and developed a lexicon with a set of strategies that may be vacant or self-indulgent, yet that some of these strategies can still be used to deploy material that is political, even when not a gesture of institutional critique. "Because I'm not a 40- or 50-year-old white man, I'm an Indigenous person, I have to think about context and history."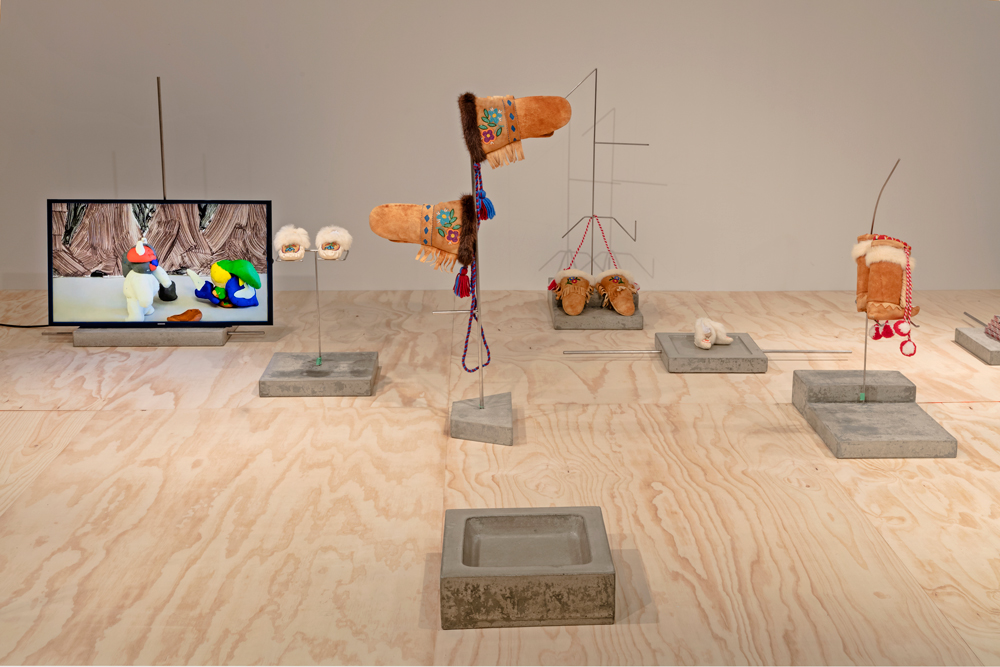 A view of Origin of the Hero, a stop-motion video by Tobias Linklater, with his great grandmother Ethel Linklater's work. Duane borrowed these pieces that she showed in "From Our Hands: an exhibition of native hand crafts," which toured across Ontario between 1982 and 1985. He created the concrete and steel pieces, Speculative Apparatus, based on dimensions and images he received from Thunder Bay Art Gallery, the loaning institution, before ever seeing the work in person. Image courtesy the artist and Mercer Union. Photo: Toni Hafkenscheid.
Ethel Linklater's five pieces—mitts, slippers and mukluks in home-tanned moosehide with rabbit-fur trim, floral beadwork and tassels—were first shown in "From Our Hands: an exhibition of native hand crafts," which took place in Toronto and toured across Ontario between 1982 and 1985.
Linklater didn't know that they existed and his family had forgotten until the Thunder Bay Art Gallery cold-called him, seeking permission to photograph and digitize the five pieces. Because I'm Egyptian, I ask him what it's like to borrow something that is of you, that belongs to you, from an institution that acquired it and possesses it in its holdings. But he sees this as an opportunity for him to be a sort of inter-institutional conduit, to exercise his agency within the system and negotiate with it to suit his objectives, mobilizing it or orchestrating its mechanisms—collecting, loaning, displaying, archiving—that are already in place. "It's me saying, 'Labour this way,' and then they do. But the kind of labour that I'm requesting is something they're used to doing. I get to employ the conventions of the institution and its labour. To get [my grandmother's work] here is labour. I requested that labour. This too"—he points to the wall—"they did this. I designed it, and they laboured it. And they're gonna labour to make the wall back, but [What then remains] will always stay."
Ethel Linklater's pieces are held up by Speculative Apparatus, stainless-steel prongs on concrete bases, designed to mimic museum armatures that hold artifacts. Duane designed them based only on the photographs and dimensions of the work that he'd received. I note that this cites the language of museum display beyond a micro level, that the concrete invokes memorials and memorialization. "Sorry to take it so literally," I say. "But it's there," he says. "It's funny when artists pretend that those kinds of materials don't hold those kinds of meanings." I speculate that artists with white privilege can employ any cultural materials and posit them as neutral gestures (think about the difference between, for example, a white artist using a Persian rug and a Persian artist using a Persian rug). "There's no such thing as neutrality," he interrupts. "That's a lie a lot of white artists have told themselves and believe, that they operate as neutral artists in neutral space."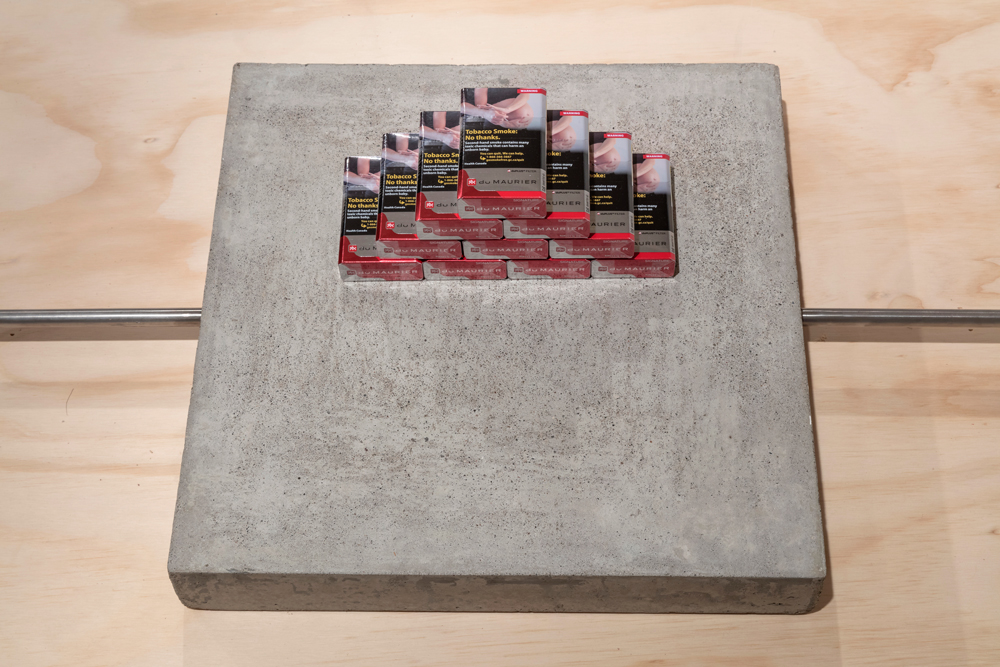 Speculative apparatus 6 for the work of nohkompan. Concrete, stainless steel, tobacco. Image courtesy the artist and Mercer Union. Photo: Toni Hafkenscheid.
Duane's son Tobias was born in 2004, the same year Duane's grandmother died. Tobias's claymation video piece Origin of the Hero (2016) enacts a narrative featuring Link, the main protagonist of "Legend of Zelda," to a soundtrack he composed himself. To Duane, his son's inclusion projects the potentiality of indigenous futures, "when I'm not here and my children will outlast me," he says.
Like a call-and-response, when Duane positions the work of his grandmother and his son across from a wall piece that is legible to the viewer only with distance from it, that both inquires and states "WHAT THEN REMAINZ" in the same breath, he perpetuates the Linklater family trajectory.
I'm reminded again of our earlier Skype conversation when he called out the insufficient inclusion of Indigenous women in exhibition spaces. I posit his inclusion of his grandmother's work as an earnest antidote to that.
When I first see "From Our Hands" it's still in progress. It was awaiting a few finishing touches, but he didn't know what they were yet. He points to a pyramid of cigarettes stacked on one of the concrete platforms, amidst his grandmother's works. "I just bought those cigarettes an hour ago. It's almost there. I would say 70…75 per cent," Duane said. Tobacco is one of four sacred Cree medicines, offered only to those who are revered.
I posit the only two textual clues in the show, "WHAT THEN REMAINZ" and "From Our Hands," in two poems.
WHAT THEN REMAINZ
From Our Hands;
Or
From Our Hands
WHAT THEN REMAINZ?