There are few art-book publishers (let alone book publishers, period) who can say that putting together a baby album led to their biggest title ever.
But Harley Smart of Montreal's Anteism publishing house is different that way, I guess.
When I ask Smart to recount how his tiny enterprise located near the corner of Van Horne and Park Avenue came to publish the art book accompanying Solange's massive A Seat at the Table album last year, he fills me in.
"Several years ago, I was in New York, and I had done a book for an artist that was friends with Solange," Smart explains. "And she, at the time, was looking for a person to make two copies of a book for her sister Beyoncé when they had their first-born on the way. She contacted me to make a baby book."
So Smart made one copy of the book for Beyoncé and another for Jay-Z, and he thought that was it.
"I didn't hear from her for years," Smart says. "Then, last summer, she asked if I could do a rush book for the release of her album. We had three weeks to do the book design, printing and binding of an advance 150 copies for press."
Anteism hit that tight deadline, and has since done a couple of print runs of A Seat at the Table, which it sells in hardcover and softcover on its website. Further interest in the book flowered in April and May 2017, in the wake of Solange's performances at New York's Guggenheim, San Francisco's MoMA and Vancouver's Rennie Collection.
It's a great story, to be sure.
But perhaps what I am most struck by in talking with Harley Smart about Anteism is the way this small art-book publisher's success has been multifaceted, and hard-won.
Sure, Smart talks about the celebrity factor when I specifically ask him to. But in telling the overall story of Anteism, he focuses a lot on the support of the Canada Council and his enthusiasm for more emerging artists, too.
"We [Ryan Thompson and myself] started doing catalogues for exhibitions we were doing in Victoria from 2003 to 2006, at which time I left to do a degree at Concordia," Smart explains. "Then I applied to the Canada Council for the emerging publisher program, and we continued making books for four years. Then, I followed up with the [Canada Council] Flying Squad, and that allowed me to travel to New York," where Smart ended up interning at avant-garde dealer the Hole.
Eventually, Anteism became the official publishing partner of the Hole, "and that led to working with a more international base of artists," Smart says, including Kembra Pfahler, Devendra Banhart and Hiro Kurata.
Anteism's latest book Portrait of an Artist is by emerging New York-based artist Hugo Huerta Marin. In it, Marin interviews and offers portraits of seven iconic female artists: Marina Abramović, Tania Bruguera, Tracey Emin, Shirin Neshat, ORLAN, Yoko Ono, and Kiki Smith.
"We hope to publish more Canadian work and focus more on Canadian and local content" too, Smart says.
For example, one of the Canadian artists Anteism has published of late is Montrealer Frances Adair Mckenzie. Mckenzie is an interdisciplinary artist, and each page of her book Glossed Over & Tucked Up has an augmented reality option.
Other Canadians on the roster include Cynthia Girard, Scorpion Dagger (whose books also have augmented reality, an important aspect given Dagger's GIF fame) and Aamna Muzaffar.
Though print is a centuries-old technology, ways of speaking to and through today's devices—like Mckenzie's augmented reality pages—are also of interest to Harley Smart.
A book of machine-authored texts titled Machines on Every Flower, is a project Anteism is currently working on, with a related Kickstarter to be launched soon.
And Smart says that one of his favourite Anteism titles (currently sold out) is Deep Learning Describes, in which Google's "deep learning" AI describes famous abstract paintings. (In one spread, a Mondrian detail is described as "A view of a window with a window in the background. Upside down picture of a building surrounded by birds.")
Yet Smart's grounding in practical matters, and not just poetic or aesthetic ones, is part of what keeps Anteism on track.
In addition to running Anteism, Smart also runs a separate enterprise called BookArt. BookArt is a business that offers small-run printing and binding services on a contract basis—"old finishing techniques that are mostly not available in the print-on-demand industry, like foil edging and sewn binding," he says.
And for Anteism, Smart does small print runs so that he doesn't have to deal with the cost of warehousing extra copies. Anteism also sells all books direct through its own website—or at events like the New York Art Book Fair—because dealing with analog distribution networks and retailers can be cost-prohibitive.
"We are our own booksellers," Smart says.
Given Anteism's success, I can't let Smart off the phone without asking him about advice for other folks interested in getting into the increasingly busy international art-book scene.
"A lot of old print gear is being sold for scrap metal prices" right now, Smart says. "So for smaller startups I encourage people to go find some equipment."
He adds: "I would also encourage anyone starting out to look at direct sales and social media and their own production capabilities. Never print more than what is required."
And as for artists looking to be published, rather than looking to publish themselves?
"We do take submissions to Anteism," Smart confirms. "And they are ongoing."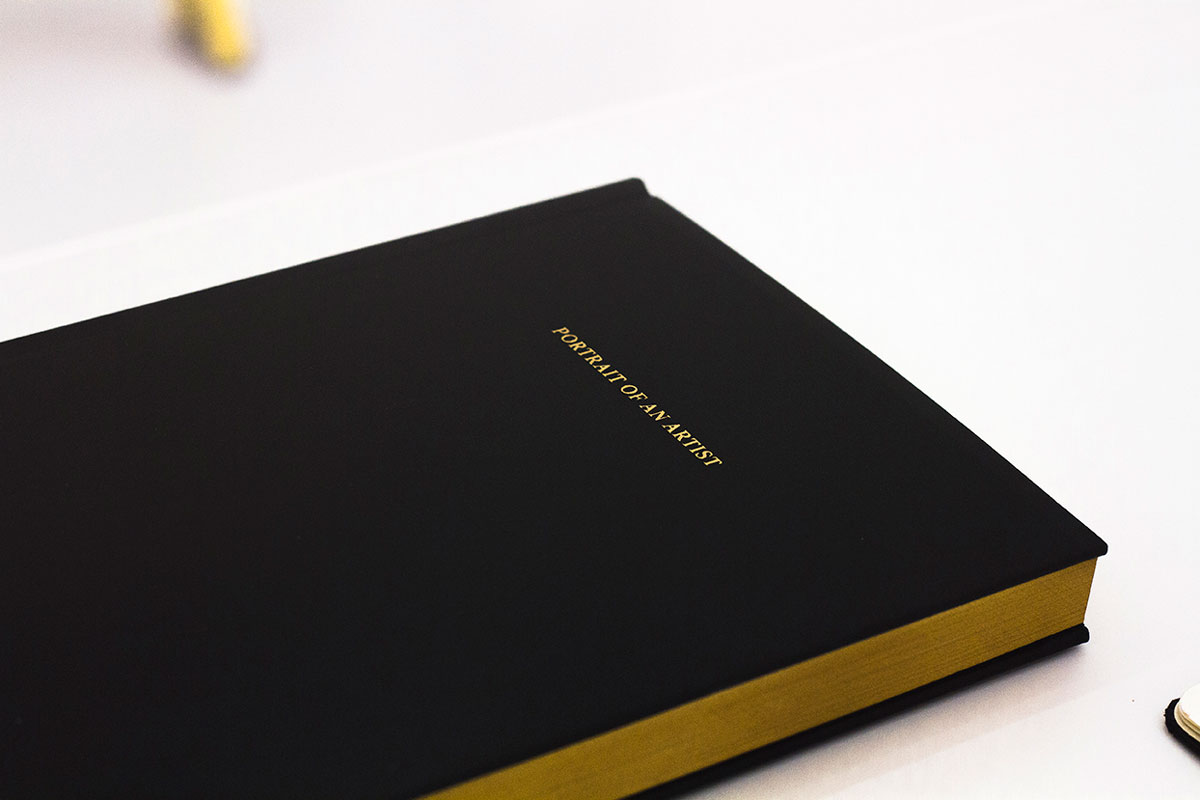 Anteism's latest release is Portrait of an Artist by Hugo Huerta Marin. The book offers interviews with and portraits of Marina Abramovic, Tania Bruguera, Tracey Emin, Shirin Neshat, Orlan, Yoko Ono and Kiki Smith. Photo: Anteism Books.