Philip Cheung began capturing images, like many nascent photographers, with a disposable camera in his early twenties. The process he undertook was standard—the context, by contrast, was extraordinary. Rather than shooting images of his shoes or artfully arranged objects, Cheung started photographing the scenes he encountered as a member of the Canadian military during a NATO peacekeeping mission in Bosnia and Herzegovina in 2001.
"When I was young I joined the military. I think I was about 16 or 17 at the time and I actually needed my parents' permission to sign up," Cheung told me over the phone this month from Los Angeles, where he's working on a new body of work. "I was out on these patrols every day and I can't explain it, but I knew that I had to tell the story and the experience of being there. I'd be talking with my parents or friends back home and nobody knew what we were doing over there. There was very little news coverage of what the military actually does." This lacuna became starker when, in the wake of 9/11, the humanitarian mission grew tense: soldiers donned full gear and carried loaded weapons, and, still, the general public seemed unaware that the military was even in Bosnia and Herzegovina to begin with.
Cheung started taking what were—by his own admission—terrible photographs, but the autodidact soon improved. After returning home from the military in 2007, Cheung skipped art school and went straight to work as a professional photographer.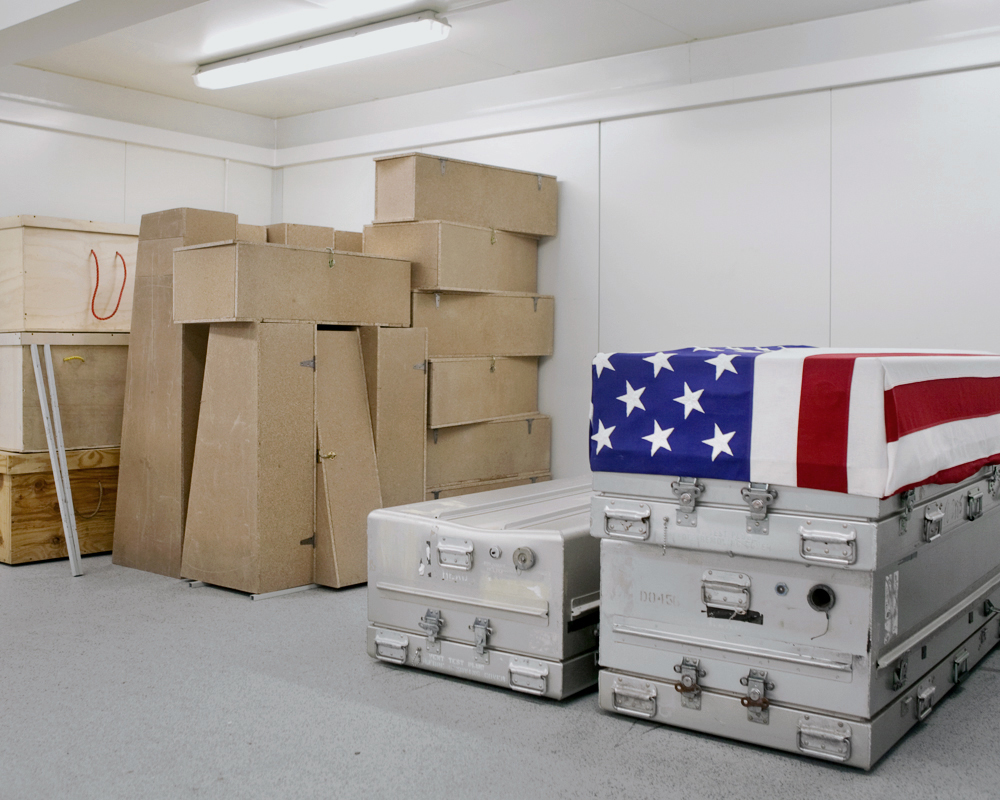 Philip Cheung, Transfer cases, Mortuary Affairs Collection Point, 2010.
Cheung was no longer employed full-time in the military, but he wasn't quite finished with it. In 2009, he arranged his own flight into Afghanistan, purchased insurance and protective gear, and embarked on the first of two month-long embeds. After arriving in Afghanistan he made his way to the Kandahar Airfield, the coalition forces' first base in the country. Built around a tubular, space-age airport constructed by American forces in the 1950s, the base sits, nestled between dusty mountains and stretches of desert, an hour north from the border with Pakistan.
Once there, Cheung reached out to the Public Affairs Officers, attached to an infantry unit and began working. He had a goal: to disregard the photojournalistic greatest-hits that pepper the news. Cheung imagined something quieter, more nuanced—an easy aspiration to claim, but a difficult one to achieve. "I kept referencing images that I saw in the news, and that bothered me. I knew there was another way to tell the story of the experience of war. There's more to it than showing someone a soldier hiding behind a wall or shooting a gun."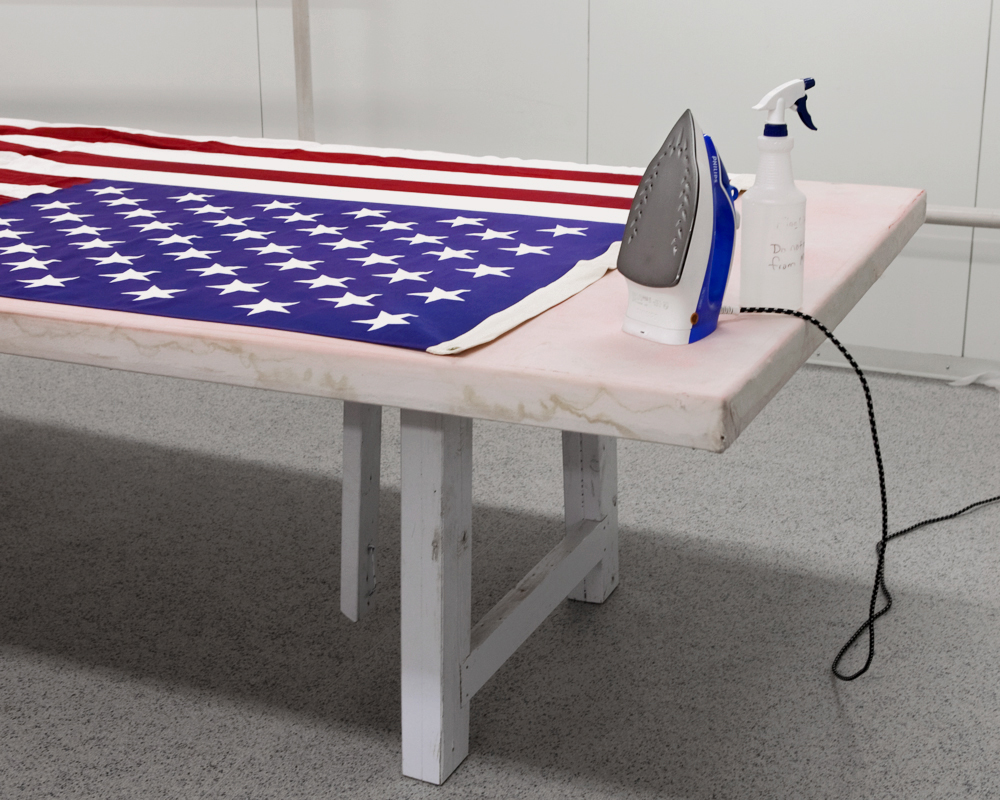 Philip Cheung, American flag and iron, Mortuary Affairs Collection Point, 2010.
His vision began to coalesce midway through the first embed after he discovered the Mortuary Affairs Unit, a group responsible for collecting fallen soldiers off of battlefields; processing, cleaning and documenting the bodies; and delivering them home. The organization of it all—the order in spite of its surrounds, the premeditation of the unthinkable—struck him.
"I realized that there was this banal, kind of daily life on base, with references to everyday life in suburban Canada or America, so I started to document that." Cheung had found his angle.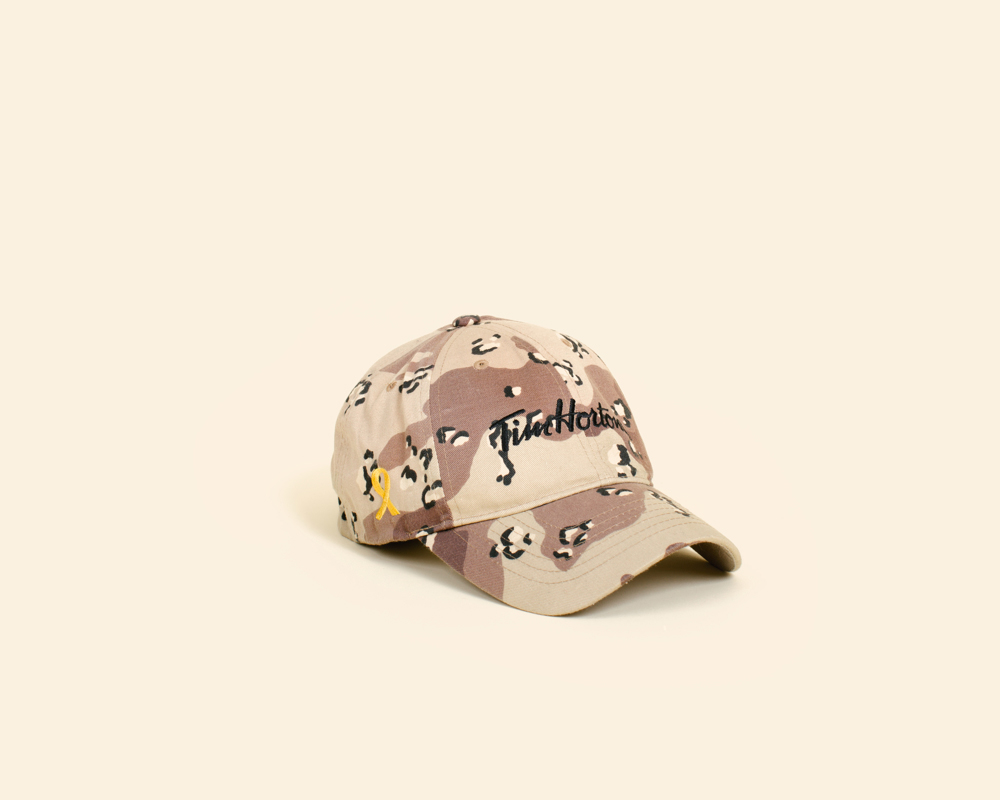 Philip Cheung, Tim Horton's cap, 2014.
The resultant body of work, The Thing About Remembering, offers three discrete series of documentation. In the first, objects that soldiers brought home from war are presented on stark, beige backgrounds. The photographs have the clinical appeal of start-up advertising campaigns, and while the objects seem mundane, their oddities emerge under scrutiny. A Tim Hortons hat eschews grey fabric for camo; a Hard Rock Cafe mug (its location listed as "Afghanistan") bears painted bullet holes.
Cheung documented both bought and found souvenirs (such as a piece of shrapnel fired by the Taliban from a rocket-propelled grenade). The images of both are striking, but the purchased objects, which merge the familiar with the war zone, feel the oddest. "Kandahar Airfield, where I spent most of my time, is a pretty surreal place—it almost feels like you're in a small town in America," explains Cheung. "There's this central location called the boardwalk which is almost like a town square, and it's lined with shops and restaurants; there was a T.G.I. Friday's there, a Tim Hortons, Green Bean, a Subway."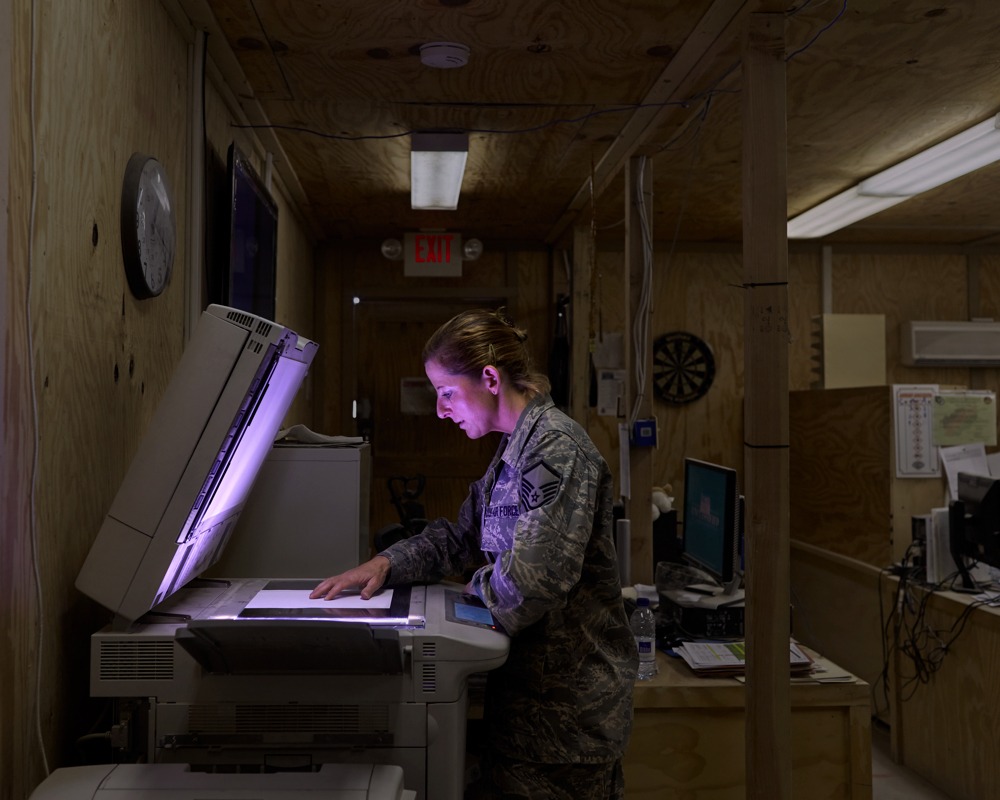 Philip Cheung, Administration, Kandahar Airfield, 2010.
While tokens of war dominate the first series, bodies—or the absence thereof—haunt the second and third. In these series, Cheung focuses on the Mortuary Affairs Unit and slivers of life on base, respectively. Flipping through the images, a New Year's Eve party in hazy red light gives way to a stack of silver cases made to transport bodies, like a half-remembered dream cut through with moments of nightmarish reality.
Cheung's images capture an ambivalence only available to the intimately familiar. They don't offer a scathing critique of war, nor do they endorse it—they concern themselves with its particulars and reflect its mundanities. In struggling to move beyond a rote photojournalistic account of war, Cheung illuminates that even the most extraordinary scenarios, and the most devastating of losses, are undergirded by an entire system of small, dull details. War consists of a structure as much as it constitutes an event.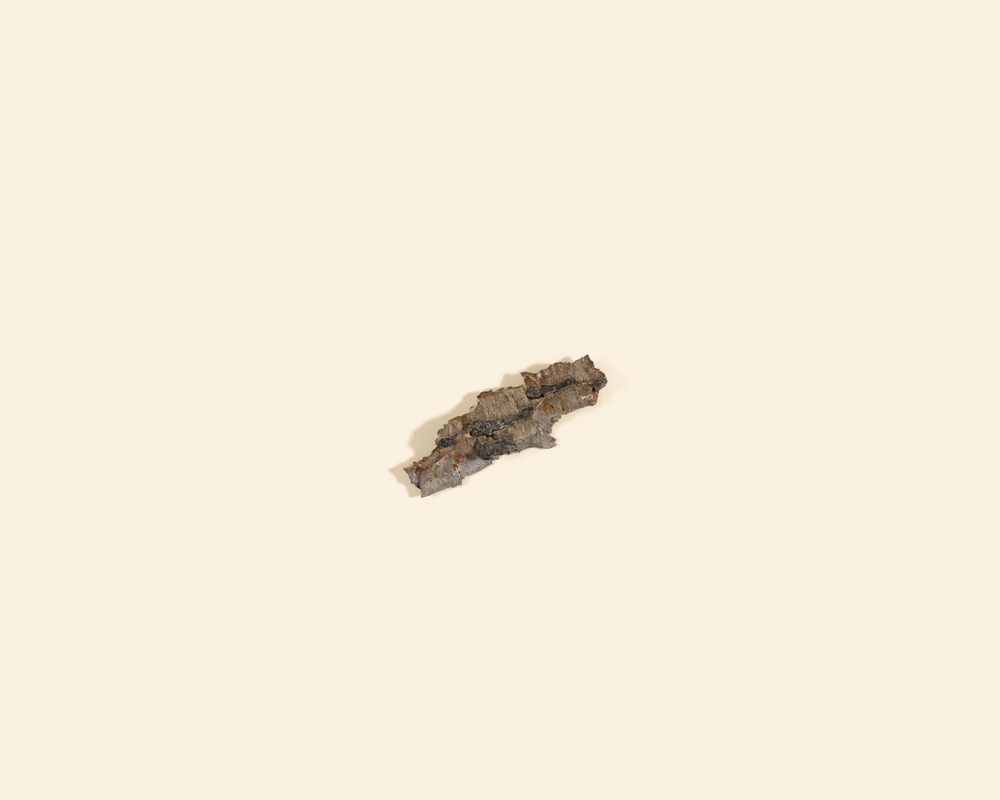 Philip Cheung, Shrapnel from a Rocket Propelled Grenade, 2014.