It's been an eventful year in New Brunswick. More than I can really account for. I've felt a strong pulse of conversation and cooperation, and have witnessed many forms of committed artistic inquiry taking shape with burgeoning irreverence for disciplinary categories. What follows are some bits and pieces of it, found scattered across the cities and provinces of Atlantic Canada.
I was excited to be in Moncton through much of the winter, working with unidentified objects in the Galerie d'art Louise-et-Reuben-Cohen's collection, as one in a series of research projects commissioned by curator Nisk Imbeault for L'Inventaire (An Inventory). As part of the same residency, Elise Anne LaPlante began researching Acadian women artists with significant works in the gallery's collection, and I'm really looking forward to the exhibition she's curating from this research, scheduled to open at the gallery next year.
A view of the Centre Imago printmaking facilities in Moncton, one hub of artistic activity in New Brunswick. Photo: via Centre Imago website.

Working on a print for Imago's annual Art en Boîte fundraiser in February gave me access to the artist-run centre's beautiful printmaking facilities in downtown Moncton. In the studio, I worked alongside artists Angel Cormier, Rémi Belliveau, Annie France Noël, Alisa Arsenault, Jacinthe Loranger, Emilie Grace Lavoie, Laura K. Watson and Imago staff Jennifer Bélanger and Carole Deveau, who were all busy making new works.
Near the start of the year, the release of the provincial budget saw the New Brunswick government all but eliminate the administrative budget of the Arts Board (artsnb), and announce that oversight of existing programs would be absorbed into a government department. There was enormous outcry in the months that followed, and for the moment artsnb's arm's length work continues despite major cuts.
Outcry included an open letter to then-Minister Bill Fraser written by artsnb's first Aboriginal Outreach Officer, Natalie Sappier (Samaqani Cocachq). Sappier advocated for the cultural importance of her position in particular. During her tenure she supported the development of New Brunswick's Indigenous artists—building relationships with people by going out and meeting them in their home communities.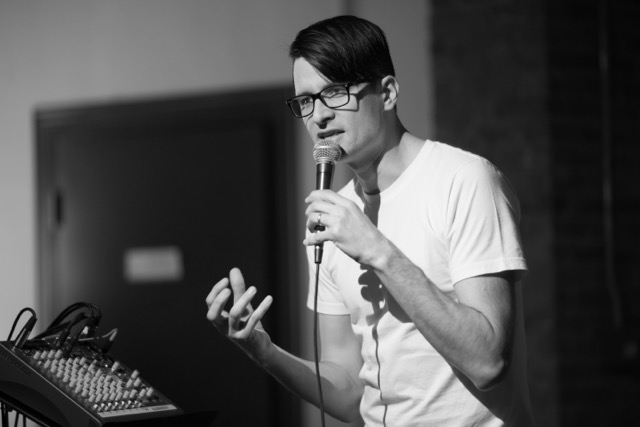 Ray Fenwick, Le Moat Juice (performance at the Galerie Sans Nom), 2016. Photo: Annie France Noël.

Also in February, I laughed and puzzled over Ray Fenwick's performance Le Moat Juice, which stopped at Galerie Sans Nom in Moncton as part of a cross-provincial tour organized by Owens Art Gallery curator Gemey Kelly. Moving from seamless comedy, through total nonsense, on into unsettling existential inquiry and painful moments of awkwardness, Fenwick's performance laid bare different archetypes of public speech, allowing each one to slowly disintegrate before our eyes.
At Moncton's Aberdeen Cultural Centre, I had a chance to hang out with Amanda Dawn Christie as she was finishing her documentary film Spectres of Shortwave. The film premiered at the Atlantic Film Festival in Halifax this fall, and is one in a long series of projects by Christie that give voice to the haunting presence of the Radio Canada International shortwave radio towers once located outside of Sackville. In another iteration of the project, Christie presented Requiem for Radio: New Dead Zones at this year's Nocturne, Halifax's one-night contemporary art festival, curated by artist Michael McCormack.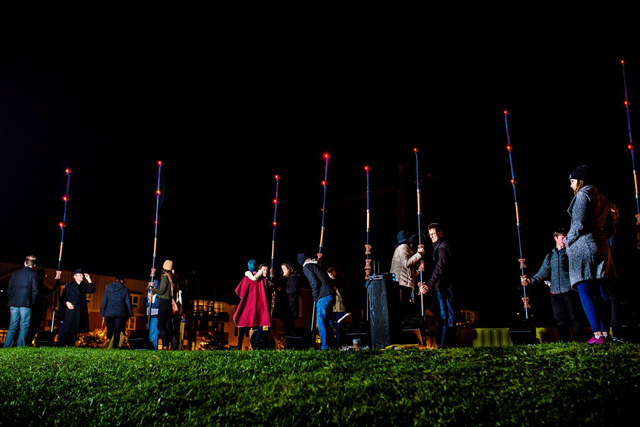 Amanda Dawn Christie, Requiem for Radio: New Dead Zones, 2016. Photo: Topher and Rae Studios.
2016 also saw McCormack begin working with PEI artist Becka Viau toward Flotilla—the upcoming national artist-run centres conference, to be hosted by the Association of Artist-Run Centres from the Atlantic (AARCA) in Charlottetown in 2017. Considering this nautical metaphor of differing vessels banded together in open water, I'm also intrigued by AARCA's interest in using domestic-space strategies to foster meaningful conversations—something Eyelevel Gallery has critically explored this year, under the directorship of artist Katie Belcher.
In March, I was surprised and deeply affected by "This Little Painting," an exhibition of Mary Pratt's paintings at the Owens Art Gallery. Co-curated by Mireille Eagan and Jonathan Shaughnessy, in a partnership between the Rooms and the National Gallery of Canada, it featured a selection of paintings by Pratt, understood within her contingent use of other media—photographs, slides and hand-drawn storyboards for films. The exhibition led me to see Pratt's paintings as political acts of careful looking, and as objects that might help to guide a slow attention for the details in domestic life.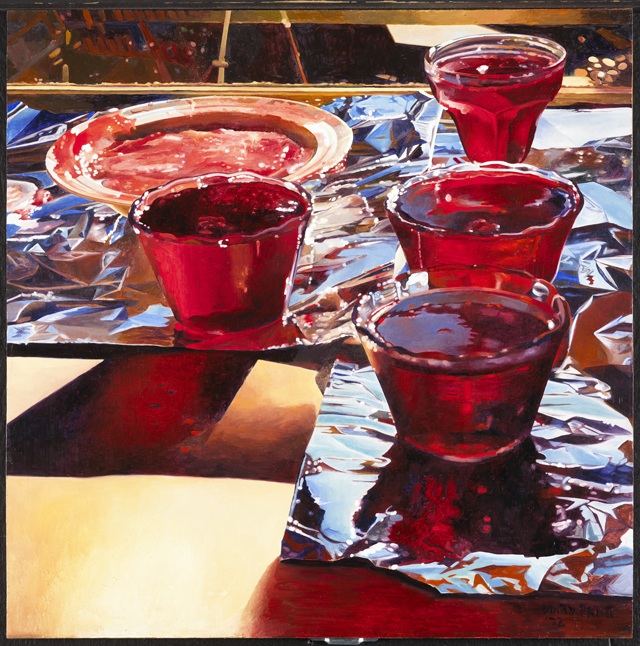 Mary Pratt, Red Currant Jelly, 1972. Oil on Masonite. 45.9 × 45.6 cm .National Gallery of Canada, Ottawa. Photo: NGC.
Around this time, artist Emily Saab took the helm as executive director of Third Space Gallery in Saint John. Going on to host the second iteration of Third Shift, a one-night contemporary-art festival which drew thousands of interested locals to engage artworks embedded in the city's downtown, 2016 also saw Saab release an album with her newly formed band Usse.
Spring brought the Flourish Festival in Fredericton, where I saw the photo series Kasie Wilcox developed in a reciprocal collaboration with Halifax songwriter Gianna Lauren, and was impressed by Patrick Allaby's performance of his graphic novel Record Hunting quietly captivating an afternoon audience as he spoke his narrative aloud, illustrated by a series of drawings on an overhead projector.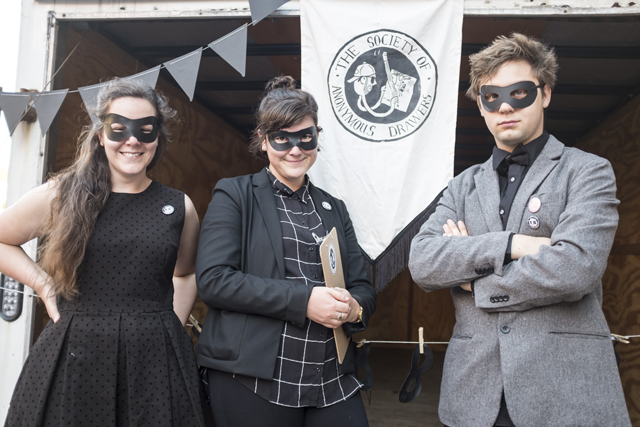 Society of Anonymous Drawers at Third Shift 2016. Photo: Mark Hemmings.
At another Fredericton festival in early August, I saw Wilcox's work again, this time a looped video she made with Saint John filmmaker Michael Mohan, An Oasis Awaits You. Textual fragments float over the dystopic quiet of parking lots, billboards, strip malls, an old man sitting, the checkout at Sobey's, long grass blowing in a breeze, a Best Western hotel, the ravine behind a big box store in a hypnotic meditation on contemporary life.
I was sorry to miss the Sonic Botanicals workshop led by artist-in-residence Leah Byrne at Struts Gallery in May, but when Byrne and I spoke the day before, she mentioned a second residency she'd be attending later in the summer for a program at Gros Morne Park in Newfoundland, facilitated by the Rooms in partnership with Parks Canada. At Gros Morne she and Toronto artist Sean Procyk would continue this line of inquiry collaboratively, listening to the landscape with contact mics, and sounding the park's plants and deadwood, rocks and stones.
June saw artsnb partnering with other provincial arts funders in Atlantic Canada to present the second iteration of Petapan: First Light Symposium for Indigenous Arts in Riverview, bringing together Indigenous artists working in various disciplines from across the region.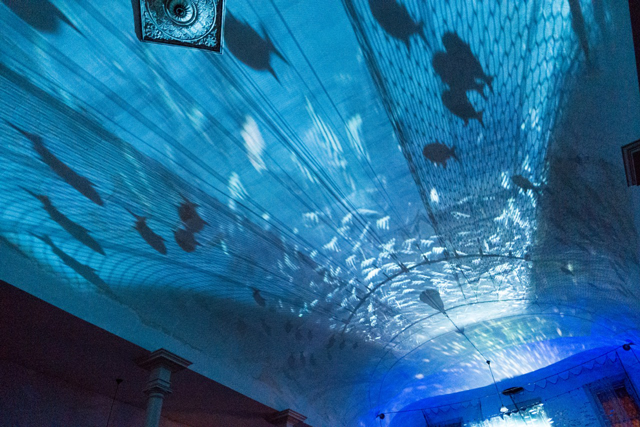 Janice Wright Cheney, Sardinia (installation view at North Church, Maine), 2016. Film editing by Ryan O'Toole and original sound composition by Charles Harding (Property//) and David Cheney.
And in July, Janice Wright-Cheney mounted Sardinia for the Tides Institute in Eastport, Maine—a sculptural installation that imagined an alternate present teeming with schools of long-disappeared sardines—dominated by video projections, and an eerie soundscape created by David Cheney and Fredericton-musician Property//.
Resonant for me at Struts Gallery and Faucet Media Arts Centre's Ok.Quoi?! festival in August was Jon Claytor's film The Animals, which speaks so eloquently to the passing of seasons through bodies and landscapes. I also heard an interpretation of Moncton-based composer André Cormier's score Liens intimes et problématiques, where the ensemble played off and around the rich and varied sounds of the Tantramar Marshes in an outdoor performance.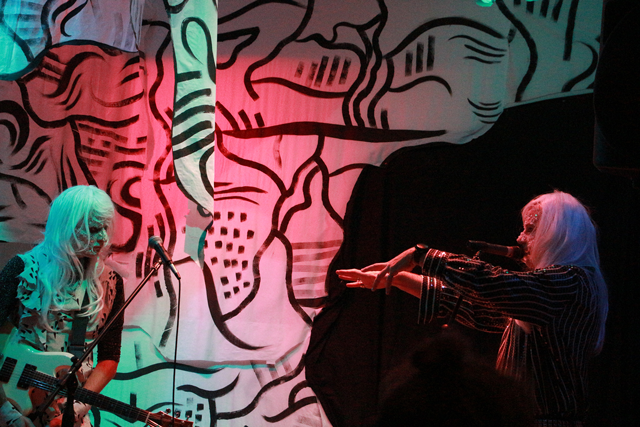 Pastoralia (Ray Fenwick and Mitchell Wiebe), Grottoesque (performance still at Grenfell Campus Art Gallery), 2016.
Collaborating with Charlotte Jones at the Grenfell Campus Art Gallery, D'Arcy Wilson curated the first edition of Saltbox, a festival of time-based artworks in Corner Brook this November. Featuring performances and presentations by six artists alongside a concurrent gallery exhibition, the festival's format explored the translation of live artworks through varied forms of documentation, including ephemera, photographs, video, audio recording, rumours and transcripts.
Sackville artist Jerry Ropson—who is currently working on a year-long project concerned with the place and culture he grew up with in Newfoundland—was our unofficial local guide during Saltbox, while artist Ingrid Mary Percy worked to ground us by hosting afternoon tea at the late Colette Urban's home at Meadows. Urban's historic house near Corner Brook figured prominently in her incredible performance practice, and visiting it was like brushing shoulders with one of my big art-heroes.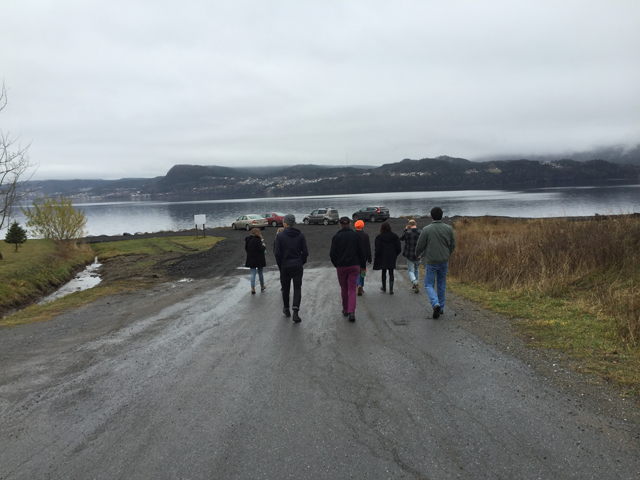 Saltbox field trip to Meadows, Newfoundland.
Throughout the year, I saw something deeply feminist thriving in this de-centralized art community, here on Canada's east coast. I felt it in all of the projects I've noted above, and in plenty of others I haven't mentioned, besides. Not feminist because of delineated connections to "craft" or "feminine labour," but because of all the attention paid to the things that exist around things—all of the forms of work and care that continue to go unseen.
sophia bartholomew is an artist based in New Brunswick who works with performance, language, and other time-based media. She co-directed Connexion Artist-Run Centre in Fredericton from 2012 to 2015 after finishing her BFA at UBC.