In 2019, my two favourite exhibitions of the year (one curated by Missy LeBlanc and another by Erin Sutherland), a visit to the collections of the Manitoba Museum and an Indigenous art intensive organized by artist and curator Tania Willard made me ask, What is Indigenous art? The term "Indigenous art" can be used to describe a set of aesthetics and materials. Cultural knowledge is transferrable, and a powerful location for survivance. But, on the Pow Wow trail, on the reservation and in the urban neighbourhoods where Indigenous peoples live, Indigenous art is art by Indigenous peoples. Then again, sometimes on the Pow Wow trail Indigenous art is an absurdly cheesy image of a wolf howling on a cliff, with the northern lights or a galaxy in the background—an NDN's camp anti-aesthetic, for sure. This type of imagery signifies the objectifying clichés and stereotypes of the imaginary Indian, a trope made by and for settlers. If aesthetics are going to be used to define Indigenous art, then those aesthetics must be deconstructed.
At the Indigenous art intensive held at UBC Okanagan, I witnessed concerns about the future of Indigenous art, literatures and aesthetics among Indigenous cultural workers. In his keynote for a day of talks and panels about Indigenous language, poet Jordan Abel used story and formal poetry to describe those who are left in the in-between spaces and absences when Indigenous thought, including art, defines itself in the political and aesthetic terms of Indigenous nationalism. Later in the day, on a panel with writer Siku Allooloo, artist Lacie Burning, filmmaker and curator Eli Hirtle and writer and artist Arielle Twist, Abel discussed Indigenous responsibility to represent how expansive and open our communities are by depicting diverse Indigenous life and a wide range of Indigenous experiences, locations and backgrounds. The panelists were responding to a question Twist posed in her Canadian Art review of Lou Sheppard's exhibition "A Strong Desire": "What happens when we try to translate something that is untranslatable, a word for which there is no equivalent in a colonial tongue?" Twist remarked that she was describing queerness in her review—the space for that which is not yet translatable—and referenced her own gender that cannot be described in the English language, because English is not equipped to acknowledge Indigenous relationships to gender. What would a queer Indigenous art look like? What about a queered Indigenous radical aesthetics by and for Indigenous peoples that disrupts the translation of outsiders and spectators (such as the forms of nationalism Abel spoke to) by which Indigenous peoples have come to know ourselves? Offering a potential pathway, Allooloo discussed a poem she published in Canadian Art's spring 2019 SPACETIME issue about trying to understand intergenerational experiences of dispossession, trauma and healing. Allooloo remarked that there must be a way to get at the intergenerational knowledges Indigenous peoples carry with them to develop a language for healing from "other sensibilities." What are the alternative, Indigenous sensibilities Allooloo described?
In her keynote during a day of presentations and panels on the topic of Indigenous internationalism, Candice Hopkins discussed being one of the curators of Documenta 14 in 2017. One of the early headlines in response to Documenta 14 was published in Süddeutsche Zeitung, the largest circulating newspaper in Germany, and read "Ethnic purity as exhibition concept" (but was originally titled "The Reindeer Dilemma"). Its writer, Kia Vahland, even went on to dismiss Hopkins as not a "real Indian," along with the Indigenous artists Hopkins curated into Documenta 14, on that basis that they were "internally acting artists … who do not define themselves by their origins." A normative aesthetics of Indigenous art mirrors European art industries that employ formalist qualifications to categorize and monetize Indigenous creative life. But, in the international art scene, a politics of Indigenous cultural sovereignty—keeping and remaking of language, customs and ceremony in the face of genocidal colonial endeavours—is already queer because, to market actors such as the critic, Indigenous art doesn't deserve a place in the Western canon. Further, like the critic's assessments show, queer Indigenous art in the international art scene can become conflated with nationalistic ethnic purity and, in Hopkins's words, "the colonial urge that underpins nationalist arguments." Hopkins argues the critic exhibited a "missed ability to see these works as about relations and shared histories."
Is a focus on relationships a potential alternative sensibility Allooloo gestured toward? What are the ethics of doing "Indigenous art" outside of the industrial mechanisms that corrode relational ways of working? Rather than methods of making Indigenous art that can be easily appropriated, objectified and stolen, incorporating methods of relationality that are encoded in Indigenous teachings (such as Cree kinship) offer one such way to deconstruct the existing aesthetic. Interestingly Erin Sutherland's and Missy LeBlanc's exhibitions are an aesthetic disruption to the "big group Indigenous exhibition," and ideas of Indigenous exceptionalism. In the post-reconciliation era of Canada, there has been a rapid increase in exhibitions of, or inclusive of, Indigenous art. It's fair to say we have superseded the exceptionalism of a few select figures—and that the idea of "Indigenous art" can no longer be contained by the Western ethos of the canon.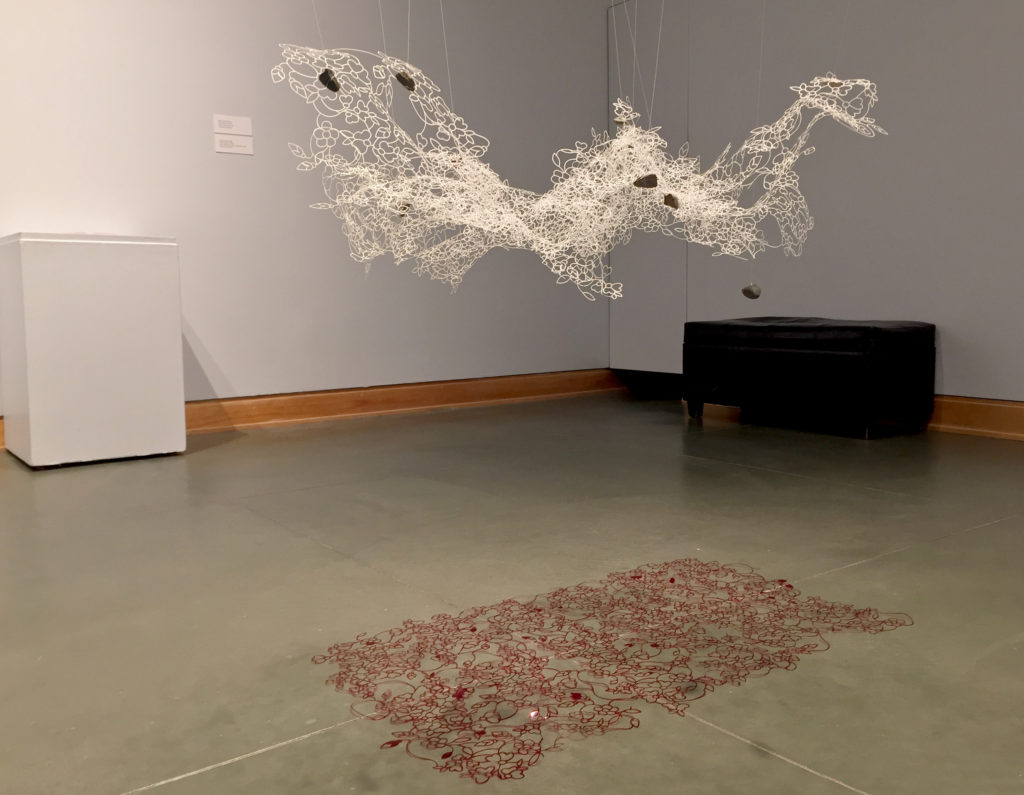 Tiffany Shaw-Collinge,
Family Patterns 3
, 2019. Mylar, fishing line, various materials, rocks. Courtesy Kelowna Art Gallery.
In "Her Body Will Remember" at the Kelowna Art Gallery, which was curated by Erin Sutherland and included artists Mariel Belanger, Ts̱ēmā Igharas and Tiffany Shaw-Collinge, I noticed a futuristic representation of the cultural knowledges embodied by Indigenous peoples in their contemporary lives. Shaw-Collinge's installation Family Patterns 2 (2017), for instance, used rubber moulds to capture the beadwork patterns of her matrilineal relations, showing the contemporary materials that Indigenous peoples use to preserve and reclaim their cultural knowledge. In Family Patterns 3 (2019), Shaw-Collinge used Mylar, fishing line, rocks and other materials to reconstruct the floral pattern work of her family. From a traditional aesthetic and material-based understanding of what Indigenous art is, Shaw-Collinge's work could be interpreted as not Indigenous. There are no obvious signifiers of Indigeneity, no immediate visual clue to identity. And yet, the echoes of Shaw-Collinge's ancestors are present in the gallery through the remaking of their pattern-work in materials that are relevant to Shaw-Collinge's life and practice right now. Shaw-Collinge is refusing the Otherness that Indigenous art is often forced to contend with when exhibited in galleries and reduced to issues of representation and "good" versus "bad" images of Indigenous peoples.
I witnessed innovative Indigenous aesthetics that confound formalistic and aesthetic definitions of Indigenous art grounded in politics of identity and representation during a 2019 visit to the archives at the Manitoba Museum with Dr. Maureen Matthews and Dr. Sherry Farrell Racette. I was moved by the innovative materials and works that existed in their collections. Our ancestors did not have sterile aesthetics. I saw quillwork belts from the 19th century that were done in neon pink and orange, a world away from the "traditional" colours of the time. A pouch with the words "Fire Back" stitched on it further showed the evolving aesthetics and spirit of Red River Indigenous peoples, a spirit that is erased when we appeal to a normative "traditional" aesthetics of Indigenous art. The ethics of doing Indigenous art and evolving Indigenous aesthetics is not scary, confronting or new, and should be considered a political aesthetic inheritance handed down to us by our grandmothers and generations of Indigenous ancestors.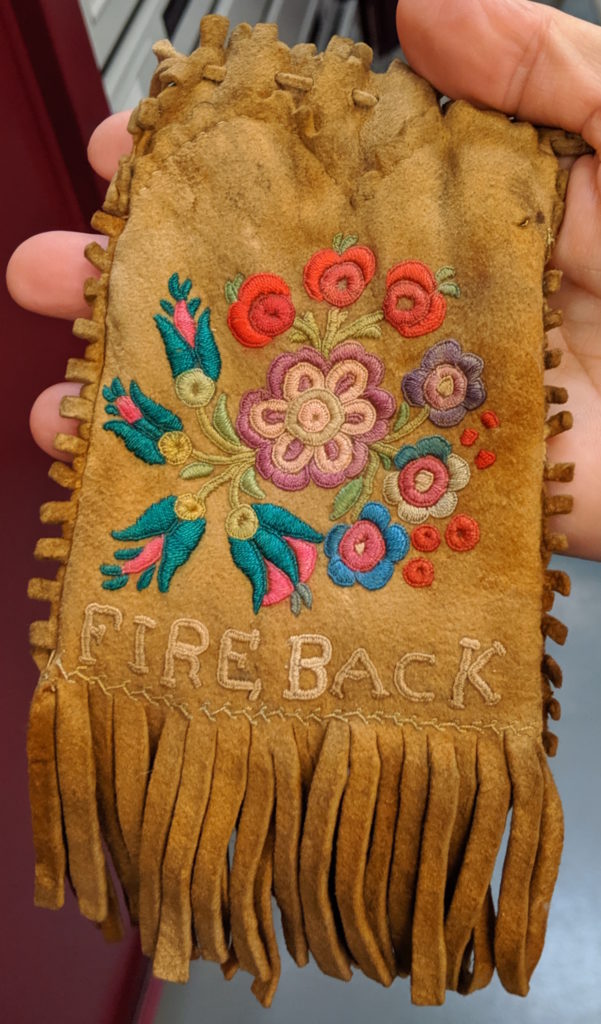 Stitching detail on a hide pouch in collections at the Manitoba Museum that reads "FIRE BACK."
In "Taskoch pipon kona kah nipa muskoseya, nepin pesim eti pimachihew | Like the winter snow kills the grass, the summer sun revives It"—which included art from Joi T. Arcand, Richelle Bear Hat, Susan Blight, Tsēmā Igharas, Michelle Sylliboy and Alberta Rose W.—curated by Missy LeBlanc for TRUCK Contemporary Art, a two-channel video titled Nitssapaatsimaahkooka (she shared with me) (2019) by Richelle Bear Hat and a hooked rug titled On the Occasion of Our Small Gatherings by Susan Blight pointed to an evolving aesthetic in Indigenous art. Bear Hat understands that Indigenous aesthetics are constantly changing and shows how technology now affects and supports Indigenous language transmission. Bear Hat and her grandmother, Alona Theoret, sent each another messages using a program that made emoji bot versions of them. Bear Hat asked her grandmother how to say certain words and phrases in Blackfoot and the bot animated Bear Hat's speech for her grandmother. The bot is a floating head on a monitor screen that faces the viewer and, somewhat creepily, often appears to be speaking to its audience. Bear Hat's grandmother's bot is also a floating head facing the viewer, on a screen directly beside Bear Hat's own bot. They never look at each other, but are always speaking to and interacting with each other. Bear Hat's grandmother then recorded herself speaking Blackfoot and, again, the bot emulated her speech. Sometimes the two broke into laughter over the funny faces each of their bots were making because of glitches in the program.
Blight's woven rug reminded me of bell hooks's call to make art ugly again. In Yearning (1990), hooks called for a remembrance of all the "counter-hegemonic cultural criticism that had been honed and developed in black living rooms, kitchens, barber shops, and beauty parlors [and that] did not surface in a different form." Likewise, Blight's work asked audiences to remember the laborious work that goes into both so-called ugly art, such as textiles often made by women, queer and trans people. Blight's rug depicted a text conversation she has with her language teacher, highlighting the technologies and methods that evolve Indigenous cultural life today.
For me, Blight's and Bear Hat's works pointed to structures of power that become naturalized within a formalist aesthetics, particularly around issues related to choice of materials and access. In 2018, I interviewed Shelly Niro on the occasion of her solo retrospective at the Ryerson Image Centre. She told me that her choice of materials was related to what she could afford financially. Even our most respected, senior Indigenous artists have struggled with access and what they could realistically create, especially early in their careers. Still, our ugly art persits. Beadwork might not always meet the standard of a formalist vision of Indigenous art, but Canadian art markets are ugly too: ugly with histories of slavery and genocide. To paraphrase hooks, I remain passionately committed to an aesthetic that recognizes the artistry in the everyday, our capacity for joy and beauty that refused the traumatic lens of identity-based Indigenous art, and especially the lives of poor, visibly racialized people; for me, this is the radical political possibility of Indigenous art.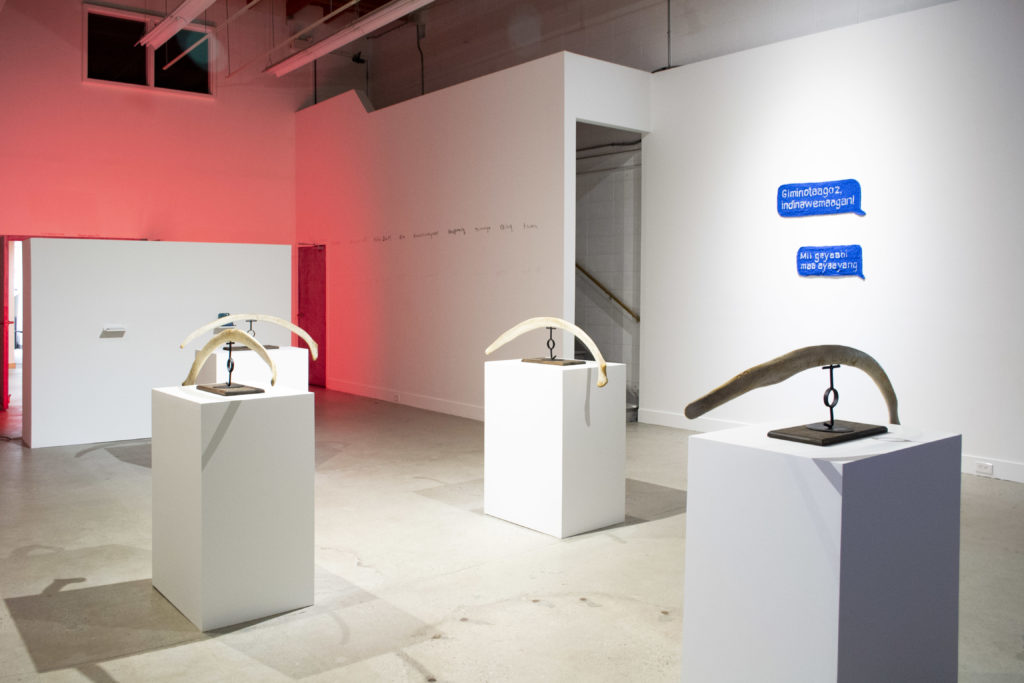 "Taskoch Pipon Kona Kah Nipa Muskoseya, Nepin Pesim Eti Pimachihew | Like The Winter Snow Kills The Grass, the Summer Sun Revives It" (installation view). Courtesy TRUCK Contemporary Art.