Summer has finally arrived in Montreal, with its carnival atmosphere of non-stop festivals intensified, this year, by the overlapping occurrence of Canada 150 celebrations, Montreal's 375th anniversary and the 50th anniversary of Expo '67.
Meanwhile, various art spaces across the city have concurrently presented compelling and sometimes troubling exhibitions of video work on anxiety-laden contemporary themes: technological mediation, structural violence, social stratification and the coherence and maintenance of the self. Naturally, I fled indoors to spend my free time watching hours of challenging video art.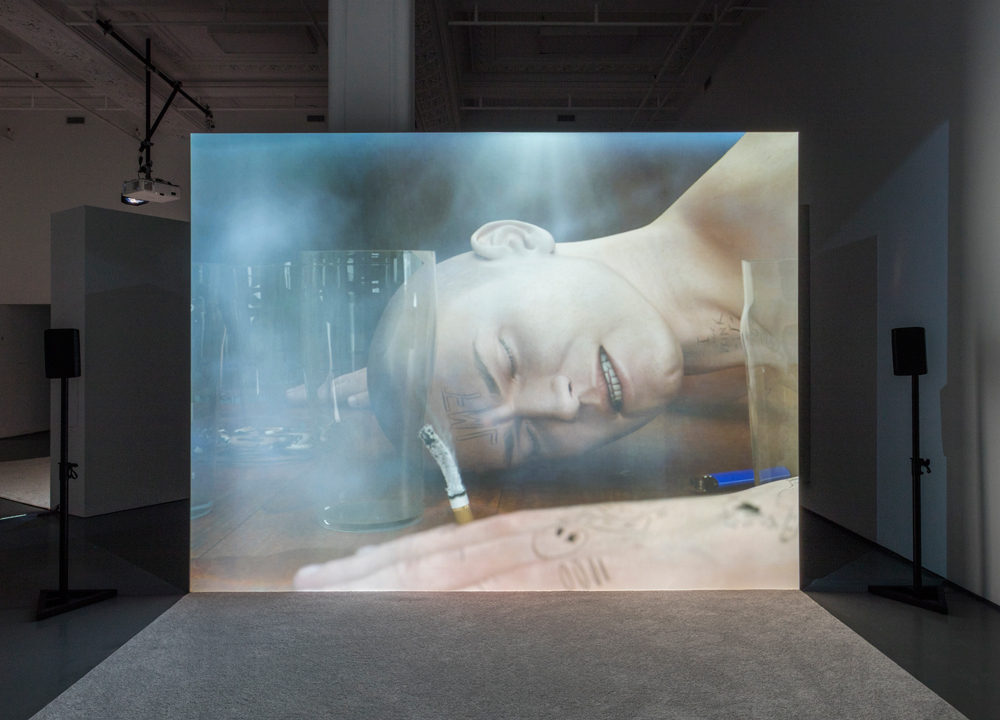 Installation view of Ed Atkins's Ribbons, 2014. Courtesy the artist/Gavin Brown's Enterprise, New York/Rome, © DHC/ART Foundation for Contemporary Art. Photo: Richard-Max Tremblay.
DHC/ART has a solo exhibition of Berlin-based, British artist Ed Atkins on view until September 3. Though still fairly young, Atkins has earned considerable acclaim for his large-scale, high-definition CGI videos: he was included in the 2013 Venice Biennale and 2015 New Museum Triennial and has had solo shows at numerous major institutions, including Tate Britain, Palais de Tokyo and MoMA PS1, among others.
The body of work in "Modern Piano Music"—essentially a mini-retrospective—is remarkably consistent. Atkins's videos almost all feature solitary protagonists (uniformly white, British adult males) in bleak, generic or undefined environments. Atkins renders fleshy details of bodies (hair, skin, pores) with a visceral verisimilitude that plays off the uncanny artificiality of computer animation. Absent of character development or narrative, his avatars communicate in jumpy, disassociated snippets of speech, song and gesture, while the videos are edited, often with overlaid or animated text, according to the conventions of movie trailers, TV news and infomercials.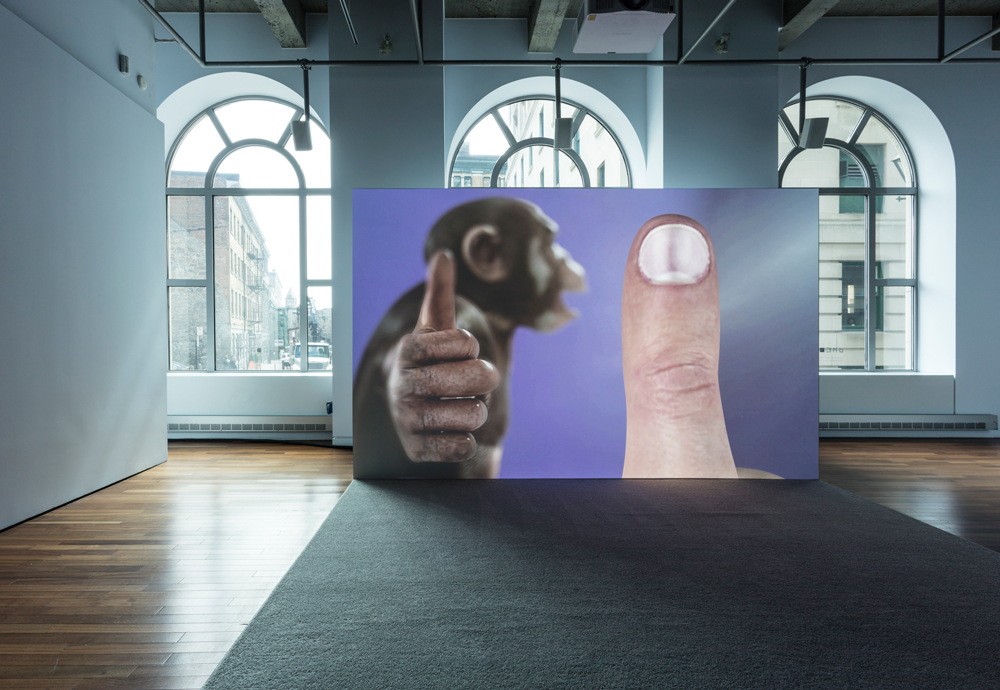 Installation view of Ed Atkins's Even Pricks, 2013. Courtesy the artist/Gavin Brown's Enterprise, New York/Rome, © DHC/ART Foundation for Contemporary Art. Photo: Richard-Max Tremblay.
Like his contemporary Jon Rafman, who has also often been discussed in terms of the post-Internet label, Atkins seems to aim at a portrait of the contemporary collective psyche as a pathological case. The alienated characters in his airless simulacra are vulnerable, often naked, stammering stock phrases—platitudes and apologies—and crooning morose snatches of popular songs in Atkins's own voice. In Hisser (2016), we spy on a man masturbating in an IKEA-furnished room before an earthquake plunges the whole set-piece into a black void. In one part of Ribbons (2014), a loutish character rests his shaved head on a bar and serenades himself, surrounded by empty drink glasses. Another segment features a decapitated head bouncing squishily down a flight of stairs.
However, where Rafman's work plunges into Internet subcultures in a prurient search for trollish deviance, Atkins maintains a more abstract frame of reference. Despite the post-Internet context in which his work is frequently set, Atkins's videos make no overt allusion to the Internet or social media. Indeed, it is worth noting that, as the currency of the post-Internet category wanes, the artists who have achieved the most institutional visibility and validation are those whose work most readily accommodates itself to recognizable formats (sculpture, performance, or, in this case, video).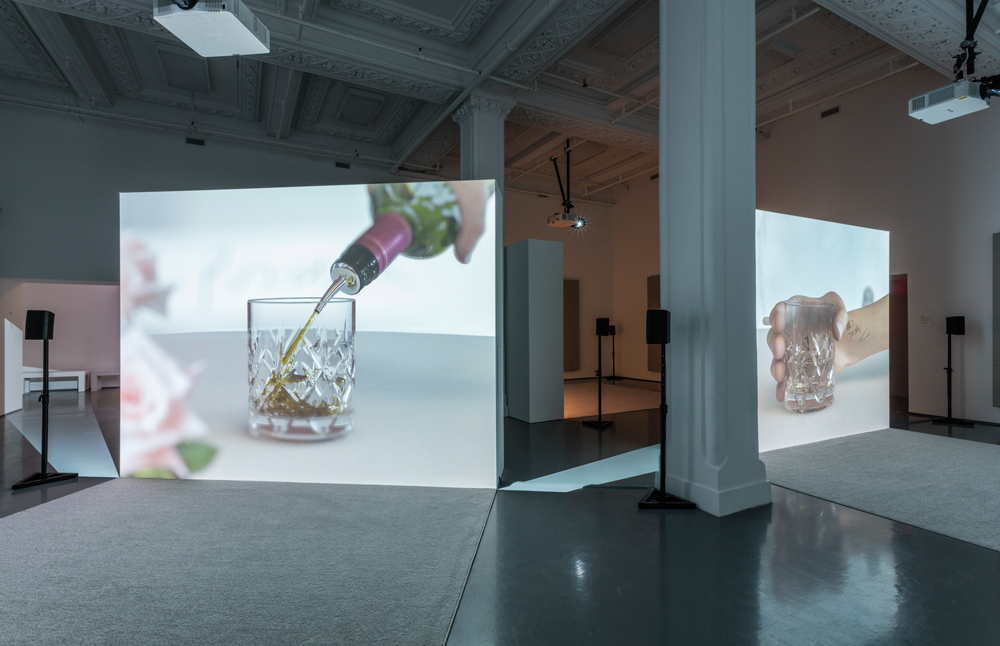 Installation view of Ed Atkins's Ribbons, 2014. Courtesy the artist/Gavin Brown's Enterprise, New York/Rome, © DHC/ART Foundation for Contemporary Art. Photo: Richard-Max Tremblay.
Atkins's misanthropic sensibility owes as much to the YBA tradition of British shock art as it does to the present social climate. In Safe Conduct (2016), a morbid parody of airport safety videos (bombastically scored with Ravel's Boléro), we see guns, moist brains, disembodied limbs and steaming roast chicken loaded messily into gray security-scanner trays. Atkins appears to gesture at the fear of terrorism and the presently fraught status of borders and policing—though, of course, the work was conceived well before Trump's travel ban.
Given the thoroughgoing absence of any non-white or non-male bodies in Atkins's videos, though, one has to question whose vulnerability we are asked to identify with, whose embodiment (or virtuality) counts, whose fragile sense of self gets to be dramatized for our consumption? Rather than a uniquely new perspective on our mediated lives and precarious selves, Atkins restages some of the 30-year-old tropes of high postmodernism, in which the declining authority of the white, Western male subject was so disorienting for some commentators that it was taken for the dissolution of objective reality itself.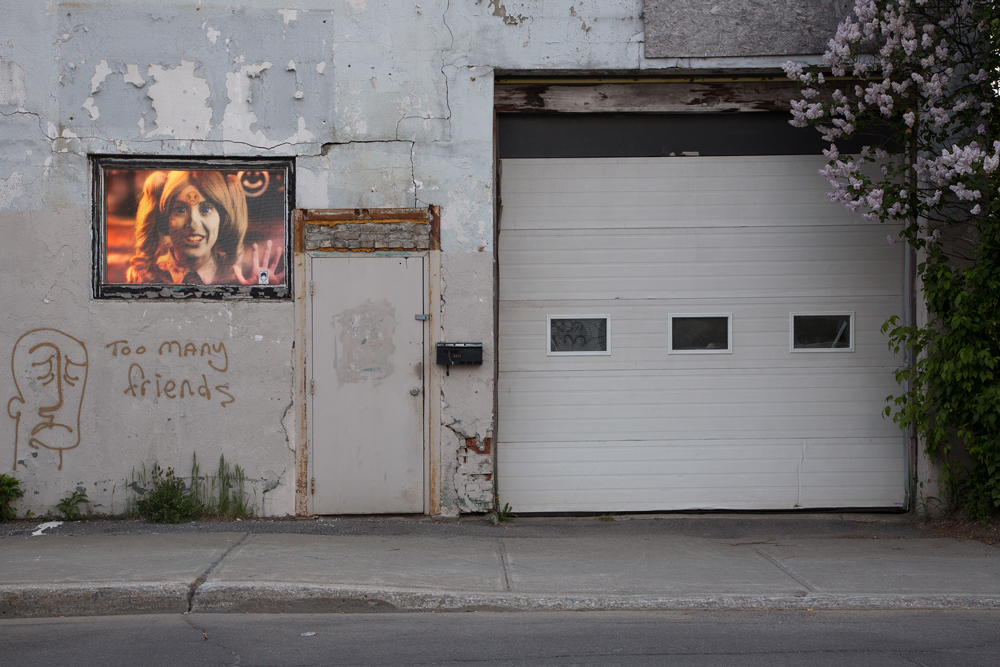 The entrance to Rachel Maclean's "The State of Happiness" at Vie d'Ange, May 2017.
At Vie d'Ange, curators Eli Kerr and Daphne Boxer recently showed Feed Me (2015), an hour-long video by Scottish artist Rachel Maclean that shares some of Atkins's aesthetic and thematic concerns. (The show, entitled "The State of Happiness," closed June 10; the current exhibition, "Guttersnipes," features Nadia Belerique and Jenine Marsh, on view until July 23).
Though Maclean also makes generous use of digital technology, generating many of her sets, backgrounds and props with green screens, CGI and editing software, Feed Me! Is considerably more tactile than Atkins's work, in part because it actually uses live actors. In fact, though she's barely recognizable beneath the layers of garish make-up and Seussian prosthetics, Maclean plays every character in the piece, often cloning her image to populate the screen with her alter egos.
Set in a candy-coloured dystopian world governed by the sinister Smile Inc. corporation, whose primary business seems to be the production of children's toys and pharmaceuticals, the nearly feature-length production is a grotesque satire that touches on a litany of issues—consumerism, corporate power, inequality, surveillance, and terrorism, to name a few—while remaining more universal than topical.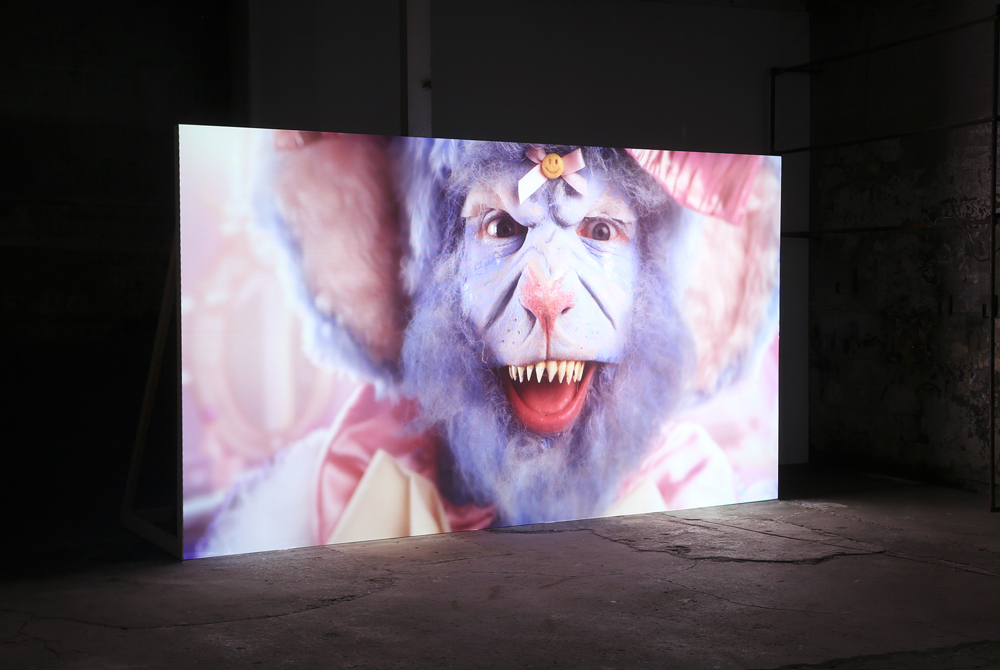 Installation view of Rachel Maclean's Feed Me, 2015. HD Video, 60 min.
Mixing the primal violence that simmers beneath Grimm's fairy tales with the sanitized and infantilized aesthetic of contemporary children's TV, Maclean depicts a queasy world in which the distance between predatory beasts, villainous adults and innocent children is less clear than it first appears: the pursuit of commodified happiness renders everyone equally monstrous. This impression of inescapability is reinforced by the fact that every face is actually Maclean's, whose performative role-swapping owes as much to Ryan Trecartin as Cindy Sherman.
Collaging reality-TV scenarios, advertising clichés, and Disneyfied sing-alongs with tropes baked much deeper into the collective unconscious, Feed Me Is disturbing to the extent that its language is uncannily familiar. Remarkably, given its technical sophistication, this video is Maclean's first production to be based on an original script, her earlier works being collages of found footage and audio. Since 2015, she's continued to expand upon Feed Me's twisted storybook sensibility; this year, she is Scotland's emissary to the Venice Biennale. That Kerr and Boxer managed to secure her work for their fly-by-night gallery, based out of a derelict auto garage, is an impressive coup.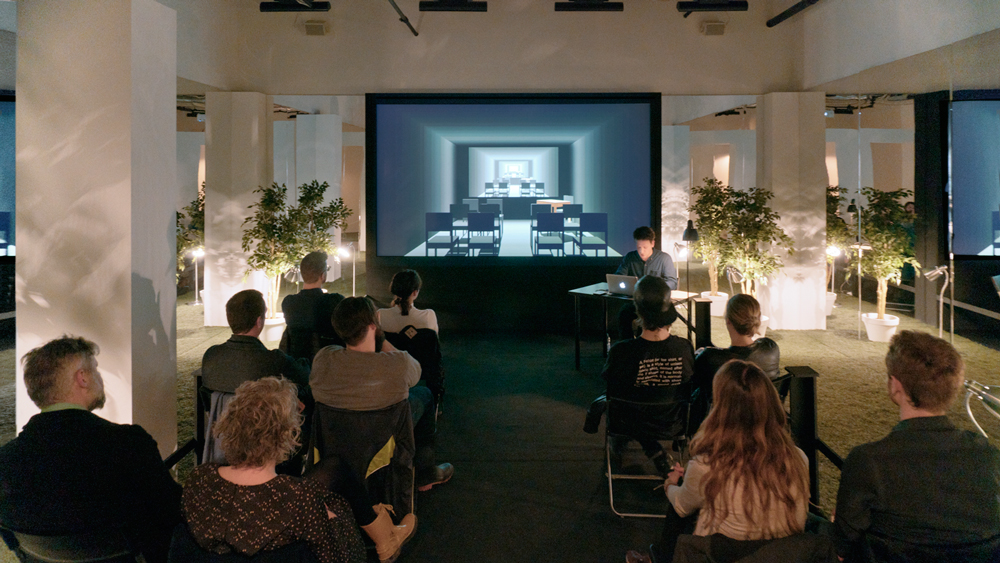 Nicolas Grenier leads a "showroom" presentation as part of his project Vertically Integrated Socialism, 2017. Courtesy Galerie Antoine Ertaskiran/Luis De Jesus, Los Angeles. Photo: Paul Litherland.
Nicolas Grenier's Vertically Integrated Socialism, presented at Centre Clark from May 18 to June 23, is also a kind of ambiguous moral fable.
Grenier's "architectural fiction," delivered as a live lecture-performance by artist with video accompaniment, takes the form of a condo pitch presentation and warps it into something vaguely dystopian. Originally conceived in the post-crash aftermath of 2009, while he was a student at CalArts with a studio in Los Angeles' Skid Row, the project is an attempt to conceive a "Machiavellian solution" (i.e., one that "solves" a problem by dispensing with ethical considerations) to the overlapping problems of homelessness, gentrification and real-estate speculation.
The concept is a habitation structure that literalizes class stratification without excluding anyone: tenants can move into the ground level for free, but are required to displace existing occupants by outbidding current rental rates in order to move up to bigger, more luxurious quarters; this cutthroat scheme is, however, offset by an income-sharing agreement in which every occupant receives a monthly stipend based on a pool of collective income, though more affluent tenants receive a larger share.
While this marginally kinder, more inclusive version of neoliberal meritocracy was meant as a kind of Swiftian "modest proposal," Grenier found that, in its first iteration—an architectural model and full-scale replica of an apartment, with video accompaniment, produced for the Bruges Triennial in 2015—too many viewers took his fiction at face value.
The current format, in which groups of visitors sign up for a private presentation in a "showroom" setting complete with plants, folding chairs and mirrored walls, is intended to give the sinister ambiguity of Grenier's project full rein. As CGI architectural renderings walk the spectator through the building, Grenier narrates a tale of social climbing in the second person, implicating the listener as the story grows increasingly uncomfortable and surreal.
Despite its basis in the specific politics of LA, however, Vertically Integrated Socialism is ultimately an abstract allegory, an outgrowth of Grenier's longstanding interest, as a painter, in the mutual relation of modernist abstraction with social relations and economic systems. As such, the concrete particulars of Vertically Integrated Socialism's proposal remain undefined. The narrative doesn't identify the structure's owners or operators and the protagonist, when they finally reach the "top," finds themselves venerated by a mysterious cult but still not in a position of control over the building's inner workings. Ultimately, and rather surprisingly, the social order is presented more in metaphysical terms than political ones.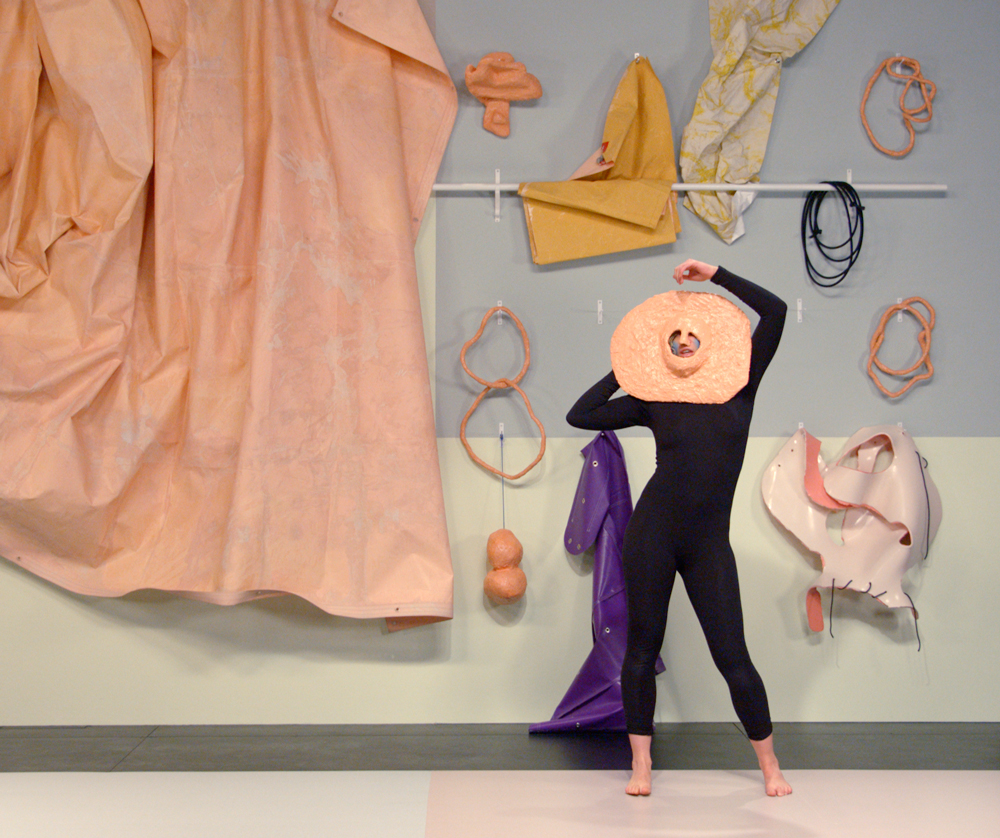 Still from Chloë Lum and Yannick Desranleau's Is It The Sun Or The Asphalt All I See Is Bright Black, 2016–17. Two-channel 4k digital video with sound; mixed-media installation.
Among these bleak visions, Chloë Lum and Yannick Desranleau's recent exhibition at Circa Art Actuel (May 13 to June 17) stood out for its apparent conviction that art can offer something meaningfully ameliorative to viewers traumatized by the conditions of contemporary life.
Formerly known for their exploits in legendary Montreal noise-rock band AIDS Wolf and for the psychedelic prints, posters, album covers and illustrations they designed as Seripop, these artists' recent collaborative work has mostly taken the form of large-scale paper sculptures and installations.
Over the last year or so, Lum and Desranleau have moved into more performative territory (or returned to it, though not as musicians), with their sculptures and installations functioning as sets and props for their collaborators. Is It the Sun or the Asphalt All I See is Bright Black (2016–17) is the most developed fruit of these experiments to date.
The piece has two main components. The first is a group of chunky sculptural elements in papier-mâché, latex, acrylic paint, vinyl, rubber and other materials that simultaneously resemble costumes, weapons, limbs and organs, equally suggestive of bondage gear and medical equipment, in "sanitary blue, scab brown, innocuous beige, medicinal mustard, timid taupe, and pepto pink," as Karie Liao evocatively puts it in her explanatory text. The second is a two-hour, two-channel video, projected on PVC screens stretched over a chrome armature, in which four different dancers with impressive sci-fi hair and make-up improvise a series of solo choreographic interactions with Lum and Desranleau's sets and objects, with sporadic narration and a soundtrack of ambient noise.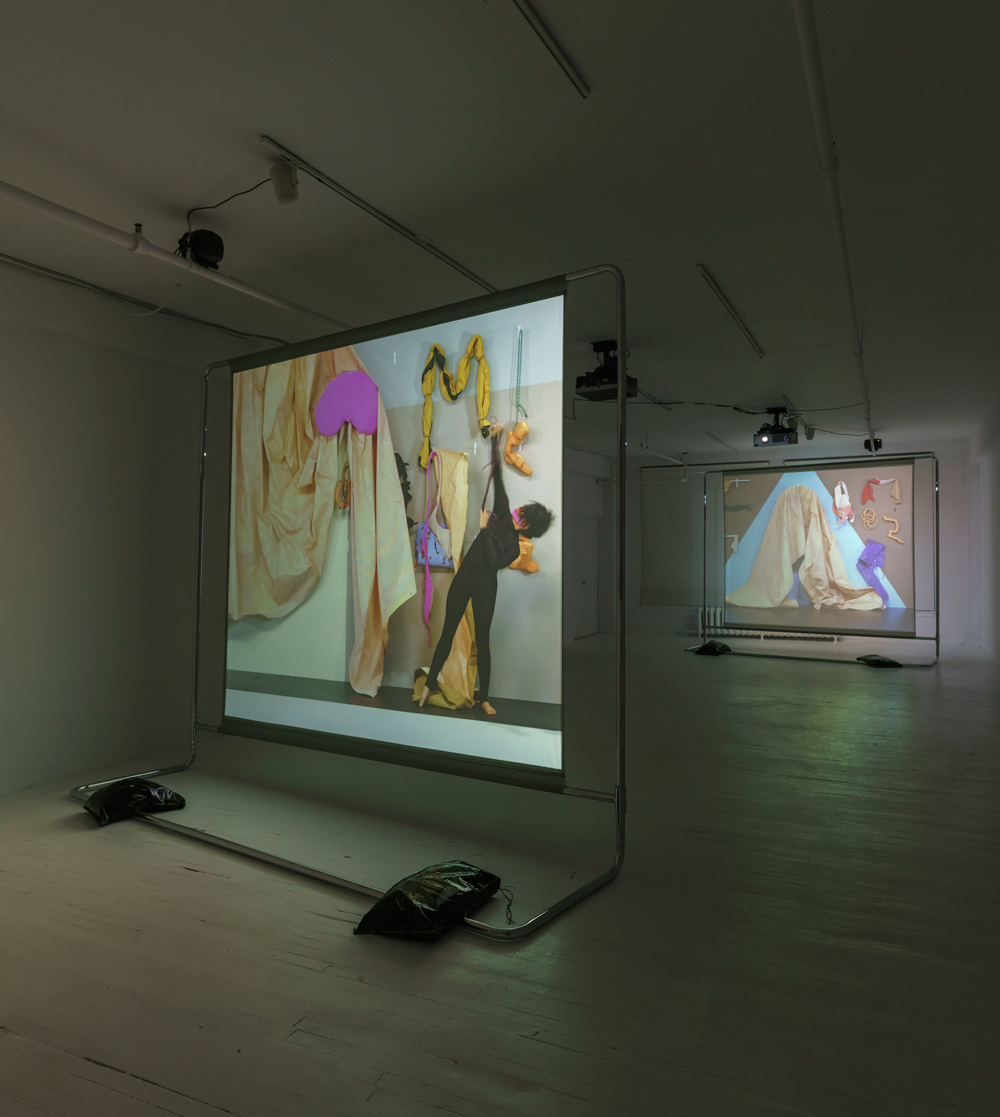 Installation view of Chloë Lum and Yannick Desranleau's Is It The Sun Or The Asphalt All I See Is Bright Black, 2016–17. Two-channel 4k digital video with sound; mixed-media installation. Photo: Guy L'Heureux.
The piece is emphatically about bodies and embodiment—specifically, about difficulties with bodies, their insufficiency (illness, pain, exhaustion, shame), their need for props, prostheses and supports. In some sequences, the dancers don their new appendages and equipment like empowering armour; in others, they struggle to find a good fit, coping with their object as a burden or retreating within it as a refuge; they caress and care for their objects, or brandish them as threats and talismans.
As the voice-over makes clear, obliquely referencing cyborg feminism, posthumanism, and disability theory, the point is to efface the distinction between self and thing, to accept the supplement as a necessary aspect of selfhood, perhaps even to the point of fully customizing a technological body.
Less extravagantly, the work solicits empathy by gesturing towards the fundamental interdependency and insufficiency of individual beings, their need for solidarity and support. One voice-over sequence expands this sentiment in a radical ecological direction while others suggest that art, ideally, operates as such a prosthesis: "the arrangement of things gives me comfort," one narrator intones. On a practical level, the trust that Lum and Desranleau invest in their collaborators embodies this empathy, as does the patience required of the viewer (watching the full two hours can, admittedly, get tedious).
Is It the Sun or the Asphalt All I See is Bright Black is the rare case of an artwork that presents itself as potentially therapeutic without minimizing the sense that we have ample cause to be anxious. Walking back out into the sunshine, I felt like I might just survive.
Saelan Twerdy is a freelance writer based in Montreal, a PhD candidate in art history at McGill University, and a contributing editor at Momus.