What can artists bring to emotionally charged debates around vaccination? How can art help grow global immunity? Why should scientists and public health experts integrate art methods into their research? And how, in the age of "alternative facts" and "fake news," might an artwork be more convincing than a scientific report?
These are some of the questions provoked by "<Immune Nations>" a Canadian-led art exhibition just opened at the UNAIDS headquarters in Geneva, Switzerland. The Geneva showing follows the exhibition's world debut in March at the 2017 Global Health ​and Vaccination Research Conference in Trondheim, Norway.
"I always knew that art could evoke emotions in people in a way that my academic papers never could," says Steven J. Hoffman, a project co-lead and the scientific director of the Canadian Institute for Health Research's Institute of Population & Public Health in Ottawa. "But what I didn't know was that the act of creating art is an act of knowledge creation."
Hoffman, whose background is in law and global health, had his views on art and its impacts change dramatically through the process of working on "<Immune Nations>" and its parent, the Vaccine Project) with Edmonton artist Sean Caulfield and University of Alberta art historian Natalie S. Loveless.
Hoffman initially reached out to Caulfield after seeing Perceptions of Promise: Biotechnology, Society and Art, an art, science and policy collaboration the artist had done with his health-law researcher brother, Timothy Caulfield. The artist then brought University of Alberta colleague Loveless on board. But the three of them had little clue what would follow—and how it would change their perspectives and practices.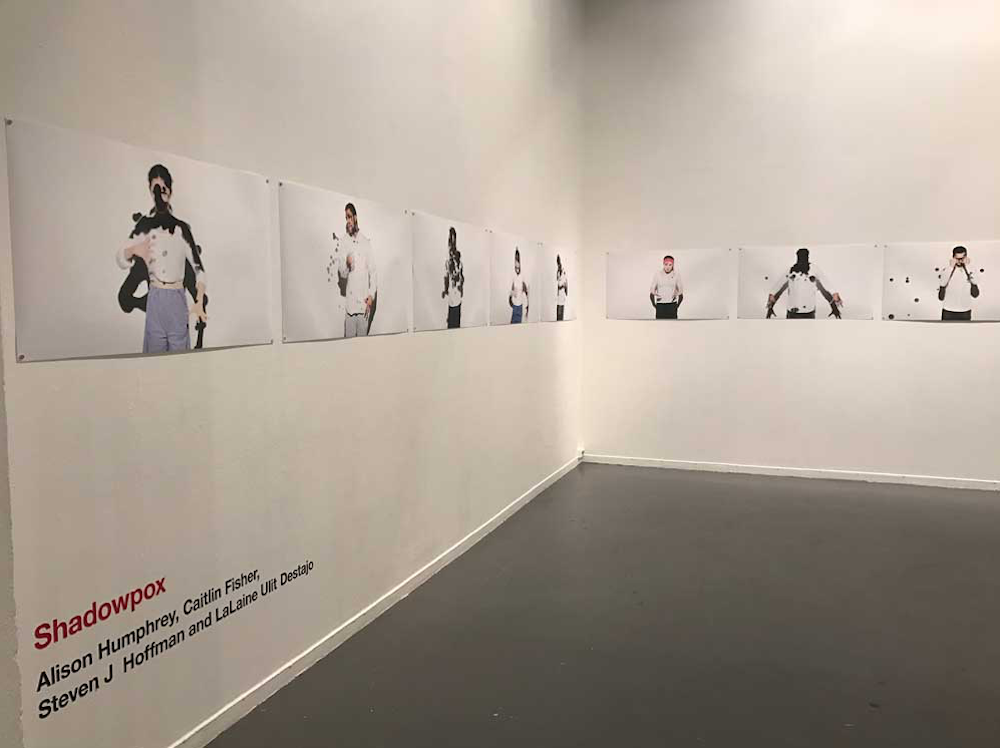 Alison Humphrey, Caitlin Fisher, Laraine Ulit-Destajo & Steven Hoffman, Shadowpox, 2017. Motion-tracked interactive projections, during the opening of "Immune Nations" at Galleri KiT. Photo: Natalie Loveless.
Bridging Science, Policy and Art
What came next, initially, were many discussions with artists and researchers, leading to a variety of collaborative projects on various aspects of vaccines—from vaccine scarcity in many poorer regions to the growth of an anti-vaxxer movement afoot in many locales around the globe. Many materials also came to the fore, from zines and artist books to films and video games.
Among the projects in the group show "<Immune Nations>" is Patrick Mahon and Annemarie Hou's tent-like Design for Dissemunization Station, which has, as Hoffman puts it, "aesthetic value as well as being a structure that could actually be practically used on the ground for vaccine delivery" in under-resourced nations. (Mahon is a London, Ontario–based artist, while Hou is chief of staff and director of the executive office for the Joint United Nations Programme on HIV/AIDS.)
Another unique artistic take on the global vaccination issue is Shadowpox: The Antibody Politic by a Canadian team: media artist Alison Humphrey, digital storyteller Caitlin Fisher and interaction designer LaLaine Ulit-Destajo, as well as Hoffman himself. This "gamification of an epidemic," as Hoffman puts it, invites visitors to try to wipe projections of various "pox" off of their bodies. The number of pox to eliminate is scaled for whatever country the visitor has chosen, and thus underlines the way that resourcing affects "risk around the world," says Hoffman.
For project co-lead and artist Sean Caulfield, one of the biggest challenges of "<Immune Nations>" was making art that could be passionate about vaccine advocacy but at the same time "speak to nuances."
"I think that is the question," Caulfield says, "How to you as an artist make a statement about advocacy while not falling back and creating propaganda?"
For his own artwork in the show, titled Anatomy Table, Caulfield was advised in part by Norwegian scientist and vaccine researcher Johan Holst. Then he decided to appropriate images of the body drawn by 16th-century "father of modern anatomy" Andreas Vesalius and overlay them with "drawings loosely based on images of viruses. I guess the idea was the contrast in these images, from the renaissance, based in empiricism, to my own images, which are based in emotion."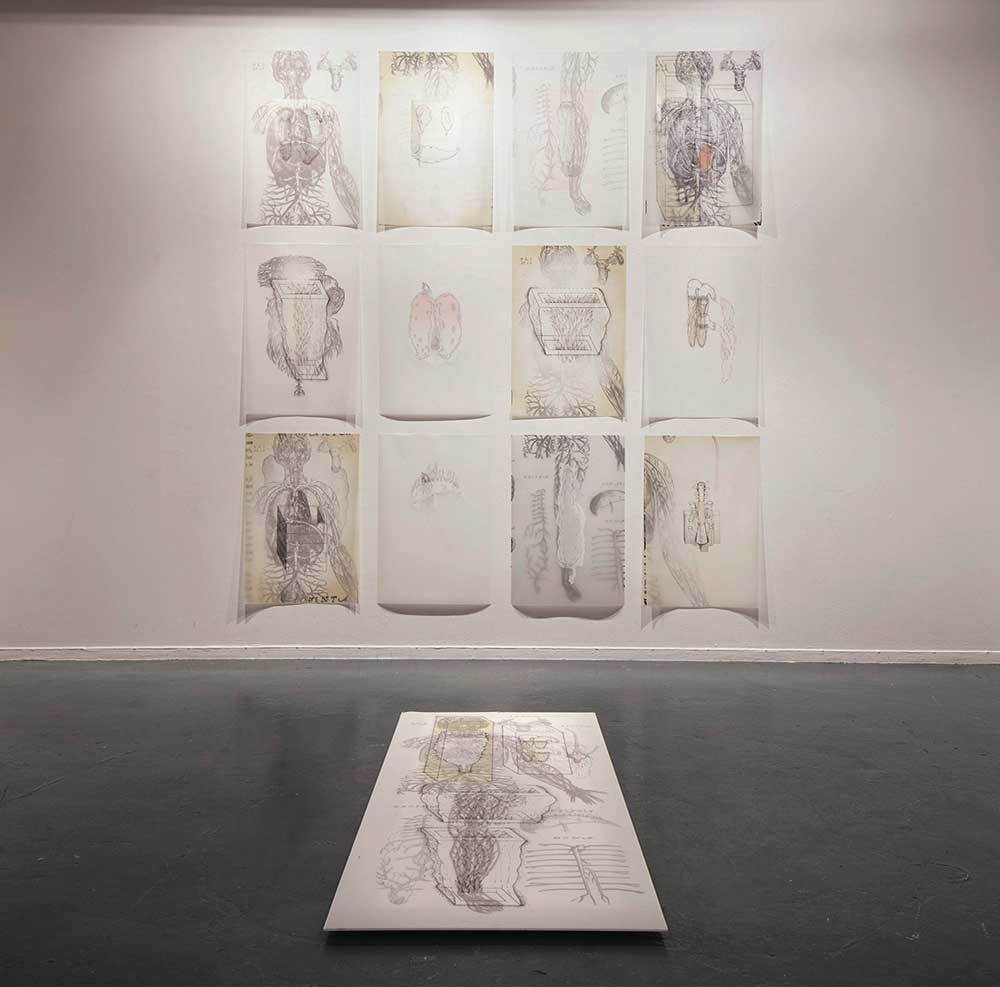 Sean Caulfield, Anatomy Table, 2017. Silkscreen and digital printing on drafting film, plexi and Photo Tex. Installation view of "Immune Nations" at Galleri KiT, Trondheim, Norway. Photo: Yanir Shani.
Using Art to Think Through Emotionally Polarizing Debates
Emotion certainly is something that runs high around vaccination debates, and one aim of "<Immune Nations>" is to find other ways of working with and through those emotions rather than just allowing the debate to become polarized.
For instance, artist Kaisu Koski, in collaboration with researcher Johan Holst, produced a video for the exhibition called Conversations with Vaccine-Critical Parents. It consists of talks with parents who are hesitant, for various reasons, to vaccinate their children.
"My hope is that it gets people to think about the challenges we face," says Hoffman of Koski's and Holst's Conversations with Vaccine-Critical Parents. "Some of the parents were expressing theories of how the body works which are not what we know from today's science. But it is helpful and empowering for public health to know about and understand these narratives, so we can address them from a place of respect, rather than treating people like they are not smart."
Understanding vaccine-critical narratives, and addressing them head-on, is especially important at a time when popular scepticism around science is growing rapidly in many parts of the globe—whether around climate change, voting technologies or, yes, vaccines.
"It is particularly timely now, given that we see around the world people questioning the role of science and alternative facts," says Hoffman. "It's really important to us that we engage across sectors and find a new language in which to ensure people can be as healthy as possible."
The exhibition also addresses a kind of emotion usually drowned out by anti- and pro-vaxxer debate—and that is the desperation of parents who don't have access to vaccines at all, and thus no opportunity to even choose them for their children in the first place.
One of the artworks in"<Immune Nations>" that addresses these inequities in vaccine access is Jesper Alvaer's Upstream the Cold Chain. This video traces the route of vaccines that must be kept refrigerated, even in hot countries and tough conditions, in order to remain effective—a narrative that is rarely surfaced during vaccine debates in more privileged contexts.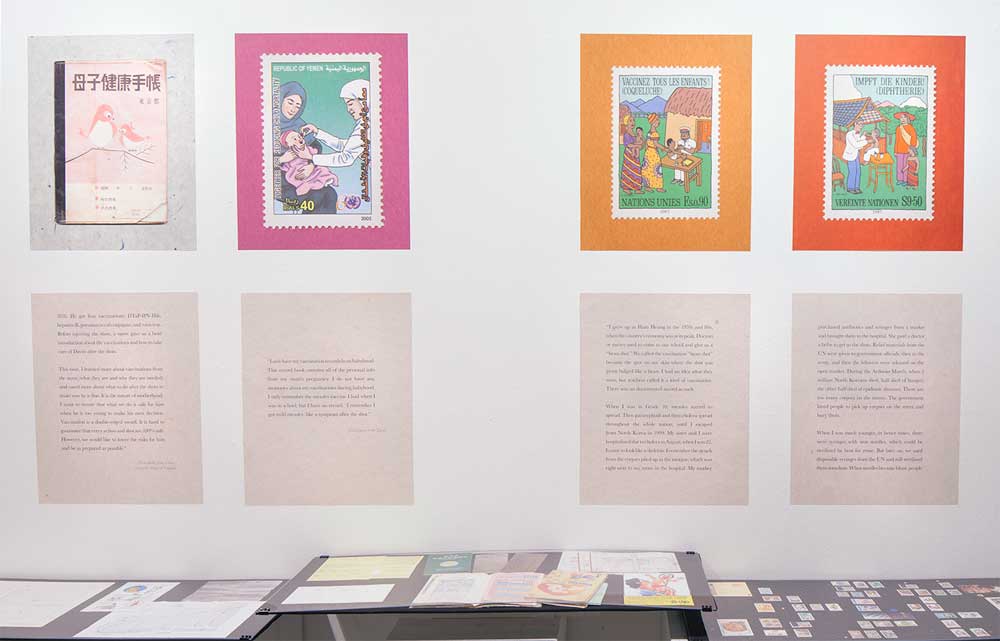 Vicki S. Kwon and Morgan Wedderspoon, Memories and Records: The Vaccine Archive, 2017. Archive collection and prints on Photo Tex. Photo: Yanir Shani.
Collaborative Projects in Art and Science Need Time to Work
"<Immune Nations>" is the result of a three-year collaboration, and project co-lead Natalie S. Loveless says that was crucial to making the project work.
"A lot of these [art-science collaboration] projects are not given that kind of time and that kind of funding," says Loveless, who is also assistant professor in the University of Alberta's department of art, design and visual culture. "Too often, we are rushing… we territorialize."
For instance, in the early days of the project, Loveless was in a meeting with "policy people on one side of the table, saying, 'We have to be on point right away, and get the message out right away,' and then on the other side of the table, we were saying, 'We are artists, we aren't brand specialists, we aren't advertising folks. The way we engage with artistic methods is a form or research, and we haven't even engaged in the research yet. It's a very open-ended, process-based approach.'"
Eventually, given the time available to have many meetings and discussions, a rapprochement developed. Even Loveless, herself and artist and curator, says that she has "developed a new relationship to terms that really come from the social science and policy side of the project, like impact and evaluation metrics—from the art side, that is kind of anathema, but I have more robust relationship to it now."
And "<Immune Nations>" is far from over. During the exhibition in Geneva, which runs until June 30, Loveless and others will be conducting research on viewers and their responses. There is also a journal of related writings due out in about a year.
"The journal volume will look at the entire three-year process," says Loveless. "What worked, what didn't work… and hopefully it can be used by other folks to pave the way for other long-term collaborations."
"<Immune Nations>" continues at the UNAIDS headquarters in Geneva until June 30.