Coming this June, LandMarks2017/Repères2017 is a network of collaborative, contemporary art projects across Canada's national parks on the 150th anniversary of Canadian Confederation in 2017.
Curated by David Diviney, Ariella Pahlke and Melinda Spooner (a.k.a. ACT), Véronique Leblanc, Natalia Lebedinskaia, Kathleen Ritter and Tania Willard, this wide-ranging endeavour, which spans from coast to coast, offers some site-specific responses to the notion of Canada 150.
"This anniversary marks an occasion to reflect on a land much older than 150 years, and to address the legacies of colonialism, the complex relationship between nationhood and cultural identity, as well as our relationship to nature in the face of present-day environmental and climatic crises," say the curators. "Using art as a catalyst for discourse and social change, LandMarks2017/Repères2017 looks forward, and provides an opportunity to imagine, to speculate and to invent our futures through the eyes of artists, art students, communities and through the spirit of the land."
Here is a brief preview of the 10 projects that will be on view from coast to coast as part of LandMarks2017/Repères2017 in June.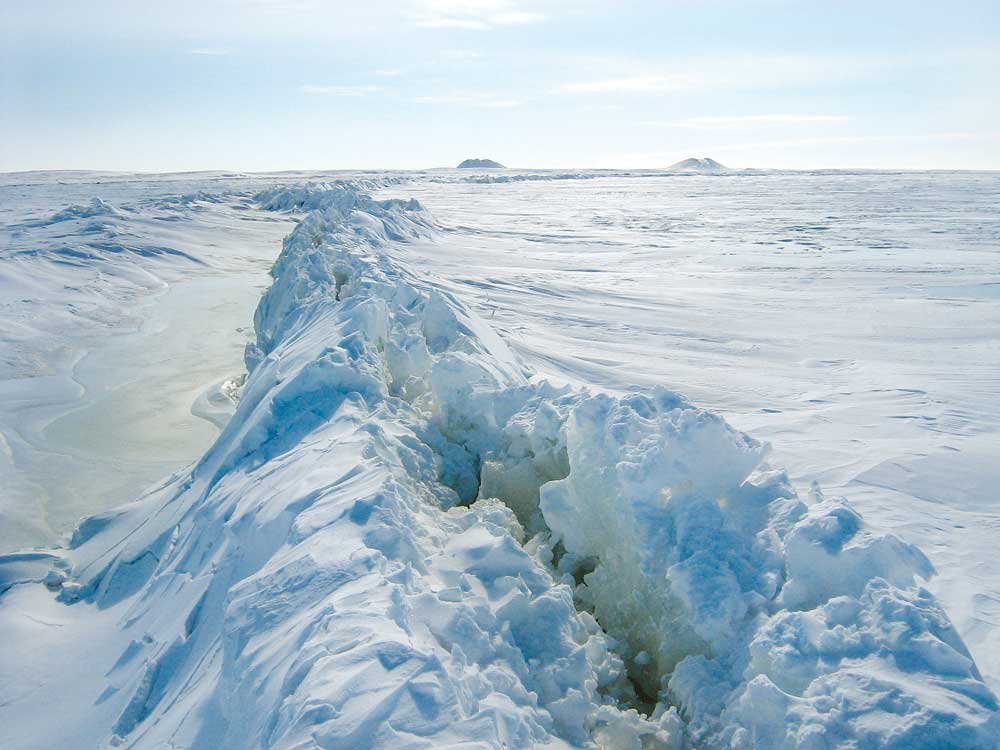 Maureen Gruben, Pressure Ridge, seasonal studies, March 2007. Photo: Maureen Gruben.
Maureen Gruben's Stitching My Landscape at Pingo Canadian Landmark in the Northwest Territories
For Victoria-based artist Maureen Gruben, the ice-dome hills of the Pingo Canadian Landmark near her home in Tuktoyaktuk, Northwest Territories, are a place of healing.
"It's a transformative space, where things become clear and okay," she says.
Imagery from memories of the Pingos—a hiking trip with a friend more than 10 years ago when Gruben gave herself a hand-stitched Inuvialuit facial tattoo, or a spring camping trip where Gruben's brother harvested a seal and unravelled its intestines—imprinted on her mind, awaiting this project. They will be reflected as she works with her community to drill more than 100 holes along the channel surrounding the Ibyuq Pingo, weaving the holes together with red broadcloth that nods to traditional drum-dancing clothing.
"It's about healing, and a celebratory process," explains Gruben. "It's like a continuation of our Inuvialuit culture, but allowing the land to speak for itself. I'm just the needle."
The project will be installed and documented the week of April 17, 2017. The final film work will be on view during the LandMarks2017 exhibition period, from June 10 to 25, 2017, and at Gruben's Grunt Gallery solo show, opening June 8 in Vancouver. Curated by Tania Willard.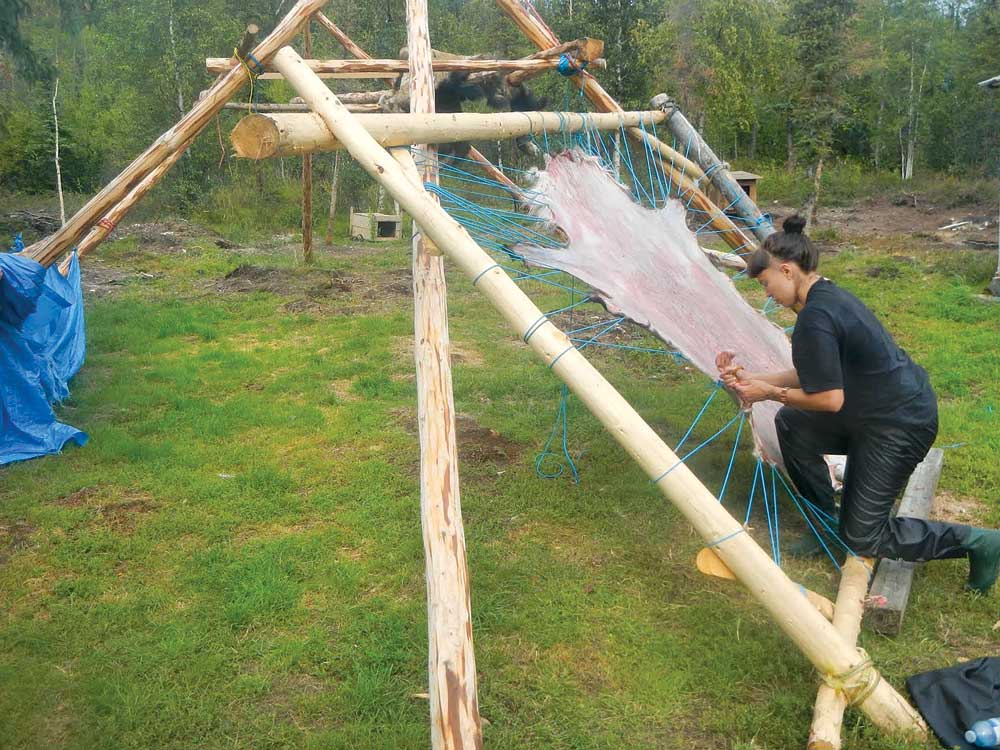 Jeneen Frei Njootli, Hide Scrape, August 2016. Photo: Stan Grafton Njootli Jr.
Jeneen Frei Njootli's Being Skidoo at Vuntut National Park in the Yukon
"It was a way for us to honour our transportation." That's how Jeneen Frei Njootli's father, who ran dogsleds in the Yukon, explained dog blankets—the ornately beaded and sewn regalia that northern First Nations have crafted for centuries.
For LandMarks2017, Frei Njootli is adapting this principle to contemporary life in her Gwich'in home territory of Old Crow, Yukon: "My end goal will be to make regalia for skidoos," she says, "because that's a main form of transportation for us now."
Vuntut National Park, close to Old Crow but far from most Canadians, offers a site that "also speaks to a lot of challenges for people living in northern communities around transportation." To be created in collaboration with Old Crow community members, and expanded through video, audio and performance, Being Skidoo "really talks about the ways in which we have a kind of mythology of the north," says curator Tania Willard.
The final film work and documentation of the dog blankets made in the community of Old Crow will be on view from June 10 to 25, 2017. Curated by Tania Willard. 
Chris Clarke and Bo Yeung. Yukon River at the Confluence at Klondike at Dawson City, April 2012. Photo: Chris Clarke.
Chris Clarke and Bo Yeung's Weaving Voices at Klondike National Historic Sites of Canada in the Yukon
Accounts of Dawson City's history usually involve saloons and false-front buildings, intrepid prospectors and can-can girls. But these stories ignore the devastating policies of colonialism that accompanied the Klondike Gold Rush, including segregation, residential schools and curfews.
Artists Chris Clarke and Bo Yeung want to redress this absence. In 2015, they organized a walk for truth and reconciliation on the anniversary of the formation of the Yukon Territory that focused on the ignored aspects of Dawson City's history. In Weaving Voices, their living-willow installations house the voices of the Tr'ondëk Hwëch'in First Nation, who discuss the effects of colonialism on their people, and on the land.
"We are inspired by the strength, resilience, grace, humour and generosity of the Tr'ondëk Hwëch'in First Nation, on whose land we are guests," say Clarke and Yeung. "As newcomers, and citizens, we ask ourselves, what kind of settlers do we want to be?"
Their project will take place on the traditional territory of Tr'ondëk Hwëchin on June 11, 2017. Curated by Kathleen Ritter.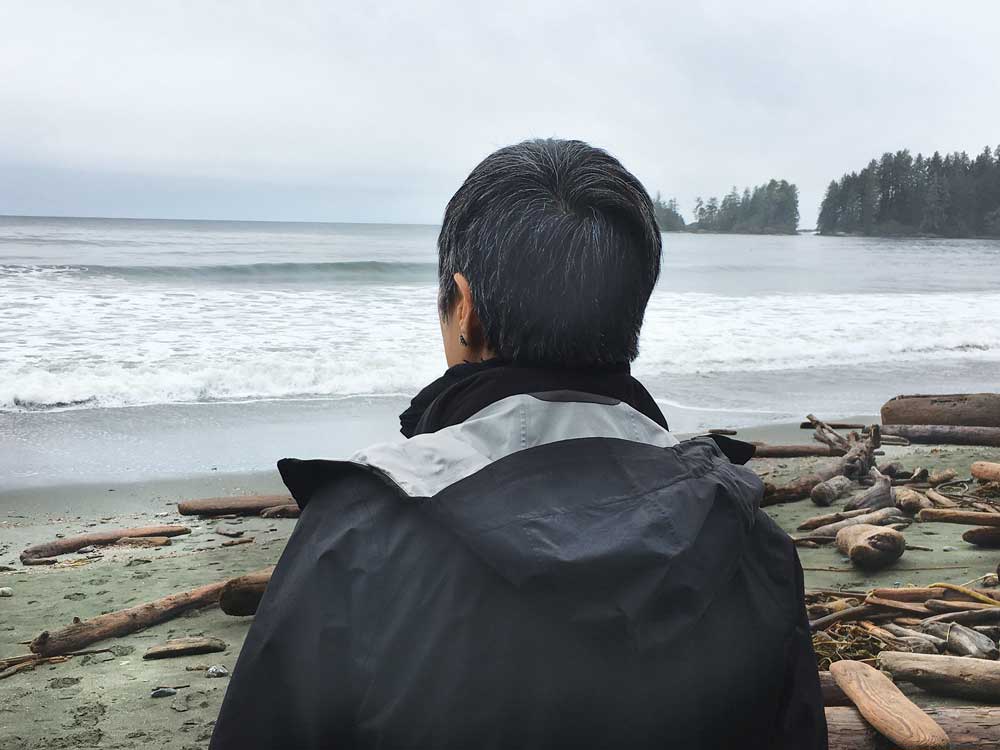 Jin-me Yoon at Florencia Beach in Pacific Rim National Park Reserve, October 2016. Photo: Jin Sun Yoon.
Jin-me Yoon's Long View at Pacific Rim National Park Reserve in British Columbia
In this series of self-portrait postcards set against the backdrop of Pacific Rim National Park, artist Jin-me Yoon considers the concept of emplacement in the context of the construction of Canadian identity.
Self, place, belonging and race have long been central themes in Yoon's work—in the 1990s, she posed in iconic tourist settings in Banff National Park to create Souvenirs of the Self. In Long View, Yoon, who emigrated from Seoul to Vancouver in 1968, gazes out across the ocean at what she terms the "invisible, entangled histories" that exist between the Pacific Rim and Asia. She focuses on the wars waged over time in the region, while keeping the foundational base of her project on the colonial histories of the Pacific Rim National Park Reserve, which is home to the Nuu-chah-nulth First Nations.
The project will be launched with a series of community engagement events on June 12, 13, 15 and 16, 2017. Curated by Kathleen Ritter. 

Rebecca Belmore on a site visit to Pukaskwa National Park, Ontario, June 2016. Photo: Kathleen Ritter.
Rebecca Belmore's Wave Sound at Banff National Park in Alberta, Pukaskwa National Park in Ontario, and Gros Morne National Park in Newfoundland
Rebecca Belmore's Speaking to Their Mother (Ayum-ee-aawach Oomama-mowan)—originally presented in the early 1990s in the wake of the Oka Crisis—is an iconic work of contemporary art. Belmore's large megaphone was originally presented in a meadow of Banff National Park, Canada's first park designated as such, and various participants spoke through the megaphone in an address to the land, which echoed back their voices.
For LandMarks2017, Belmore presents an inverse of this project: "a device," says curator Kathleen Ritter, "through which people can listen to the land rather than speak to it.
Here, in different parks across Canada, participants have the chance to hear the sound of the environment, principally the water, through a large metal cone fitted precisely on the surfaces of a series of rocks. Says Ritter: "Belmore feels that the land has more to say to us than we do to it."
The project will launch between June 10 and 25, 2017, and will be situated in the sites for the duration of the season. Curated by Kathleen Ritter.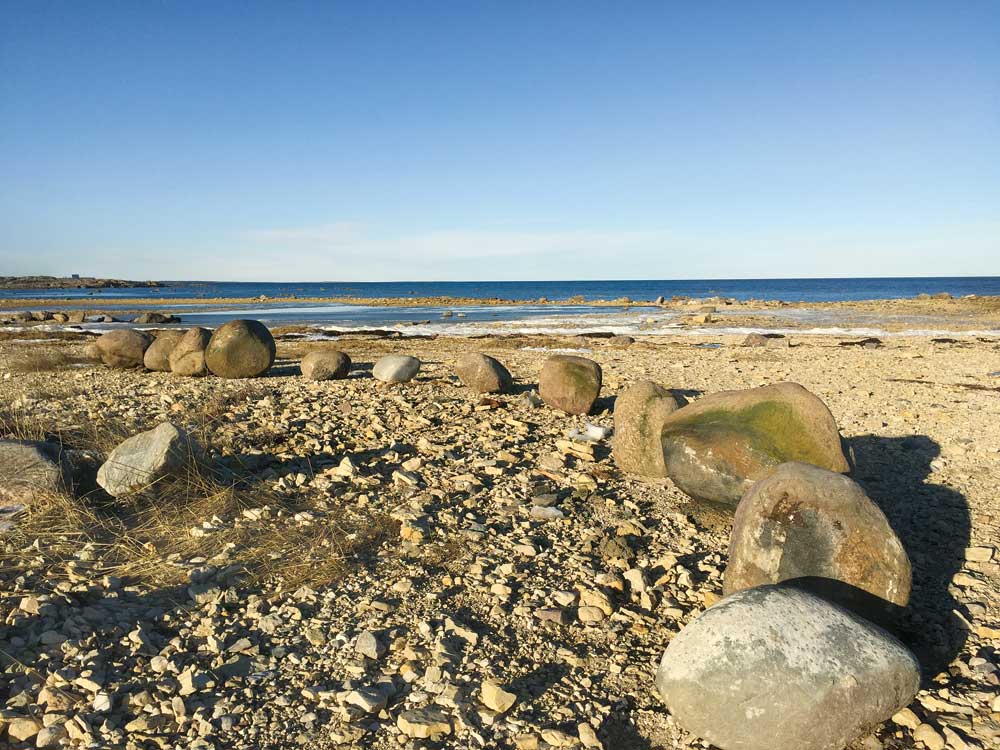 Michael Belmore, Stones assembled on the tidal flats near Churchill, Manitoba, November 2016. Photo: Natalia Lebedinskaia.
Michael Belmore's Coalescence at Cape Merry, Prince of Wales Fort National Historic Site, Riding Mountain National Park and the Forks National Historic Site in Manitoba, and Grasslands National Park in Saskatchewan
Four distant sites. One glacial history. That's the context for Ontario-based artist Michael Belmore's Coalescence, a multi-part sculptural project that begins on the shores of Hudson Bay in northern Manitoba and culminates on plains of southern Saskatchewan.
It's a sweeping territorial range that follows the boundaries of an Ice Age glacier. For Belmore, that ancient framework, and the geological evidence left behind, makes a telling metaphor for trace histories of migration, displacement and the resilience of culture and community. Carving and inlaying copper on 16 granite and bedrock boulders sourced from around Churchill, Manitoba, Belmore will create hearth-like arrays that appear to radiate heat.
Each location becomes a gathering point along a modern-day migratory trail, connecting the ebb and flow of natural and human forces in the long shadow of geological time.
Travelling from June 10 to 25, 2017, the stones will be distributed evenly across four national parks, journeying between sites and welcomed at each stop by community events and workshops. Curated by Natalia Lebedinskaia.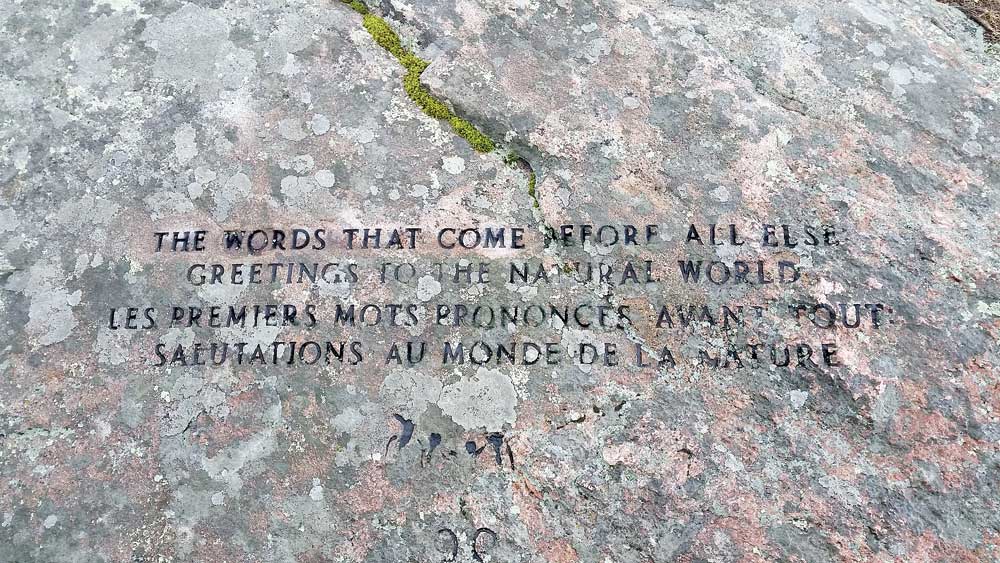 Cheryl L'Hirondelle and Camille Turner, Thousand Islands National Park, The Words That Come Before All Else, June 2016. Photo: Cheryl L'Hirondelle.
Cheryl L'Hirondelle and Camille Turner's Freedom Tours at Thousand Islands National Park and Rouge National Urban Park in Ontario
When conducting site research for their project, artists Cheryl L'Hirondelle and Camille Turner went on tours through Thousand Islands National Park. The artists' individual practices are each concerned with walking, touring, questioning archives and uncovering alternative histories, particularly in regards to black and Cree worldviews. The artists found that the tours they took were largely informed by dominant (which is to say settler) narratives of Canadian history.
For their collaborative project, they are creating space, as curator Tania Willard describes, "for more stories to be heard, and more voices to be reflected." The artists will host a boat tour through Thousand Islands National Park (the oldest park east of the Rockies) from June 16 to 18, 2017, then travel to Rouge National Urban Park (Canada's newest park), where they will conduct walking tours on June 24 and 25, 2017. Look for booking information online at landmarks2017.ca.
The audio tours will remain available after the exhibition period, continuing to exist as performative and participatory artworks each time they are activated by visitors to the parks. Curated by Tania Willard.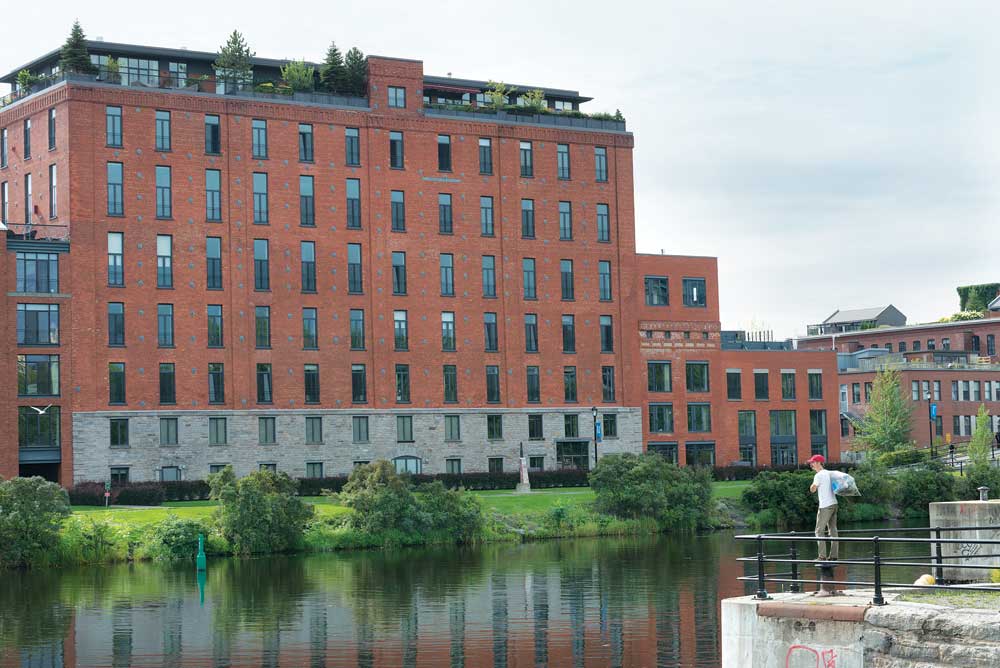 Douglas Scholes, Film shooting Wanderer:(re)Marking, summer walk, September 2016. Photo: Paul Litherland.
Douglas Scholes's Wanderer:(re)Marking at Lachine Canal National Historic Site in Quebec
"Wanderer: (re)Marking comes from my desire to recognize the Lachine Canal as an entity that is evolving over time," says Montreal artist Douglas Scholes. "There are a lot of layers in the canal." To unfold those layers, Scholes has created "The Wanderer," a character who roams the canal's 14.5-kilometre length, examining and collecting the accumulated debris of the park as both tourist attraction and vital urban corridor.
Scholes has also enlisted local collaborators to extend the canal's presence beyond conventional ideas of a national park site: writer Daniel Canty speculates on the future canal; historian Felicity Tayler dives in to the clandestine tales below its waters; musical duo Atobop compose the "voice" of the canal from lock to lock; and artist Christian Carrière conjures its hidden aura in ambient field recordings captured along the canal's course.
For Scholes, all are acts of "witnessing" the canal's ever-changing narrative life—past, present and future. The project will be presented along the Lachine Canal National Historic Site between June 10 and 25, 2017. Curated by Véronique Leblanc.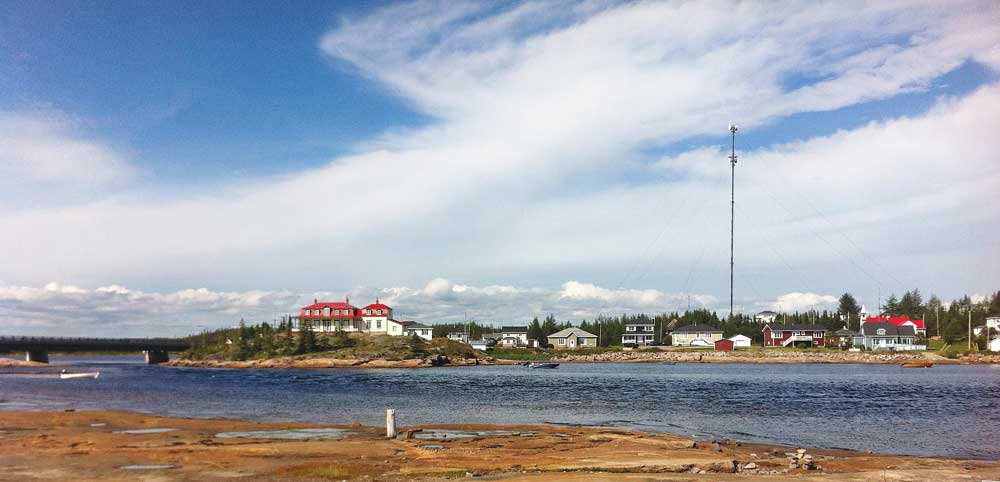 Raphaëlle de Groot, the village of Baie-Johan-Beetz, one of the communities involved in Subsistances, October 2016.
Raphaëlle de Groot's Subsistances at Mingan Archipelago National Park Reserve in Quebec
There is nowhere in Canada quite like the Mingan Archipelago. A cluster of over three dozen islands on the Gulf of St. Lawrence's north shore, Mingan is also a cultural archipelago: Indigenous and non-Indigenous communities coexist, in cooperation and, at times, tension.
"The work will not be a trip, but a journey, a portage," says artist Raphaëlle de Groot, whose project is rooted in this vast, diverse territory. Known for accumulating new and repurposed objects, and for performances in which she carries, transports and/or rearranges them, de Groot will play on what she sees as Mingan's characteristic métissage—when divergent languages and cultures meet to create new, blurred identities, tools and survival strategies.
De Groot will visit a number of islands and, in collaboration with several community groups, transport the "fruits" of her interactions from place to place. "It's about relationships," she says—"between actions, people, and the land." The project will move from one community to another in May and June 2017, from Longue-Pointe-de-Mingan to Nutashkuan. The schedule is available online at landmarks2017.ca. Curated by Véronique Leblanc.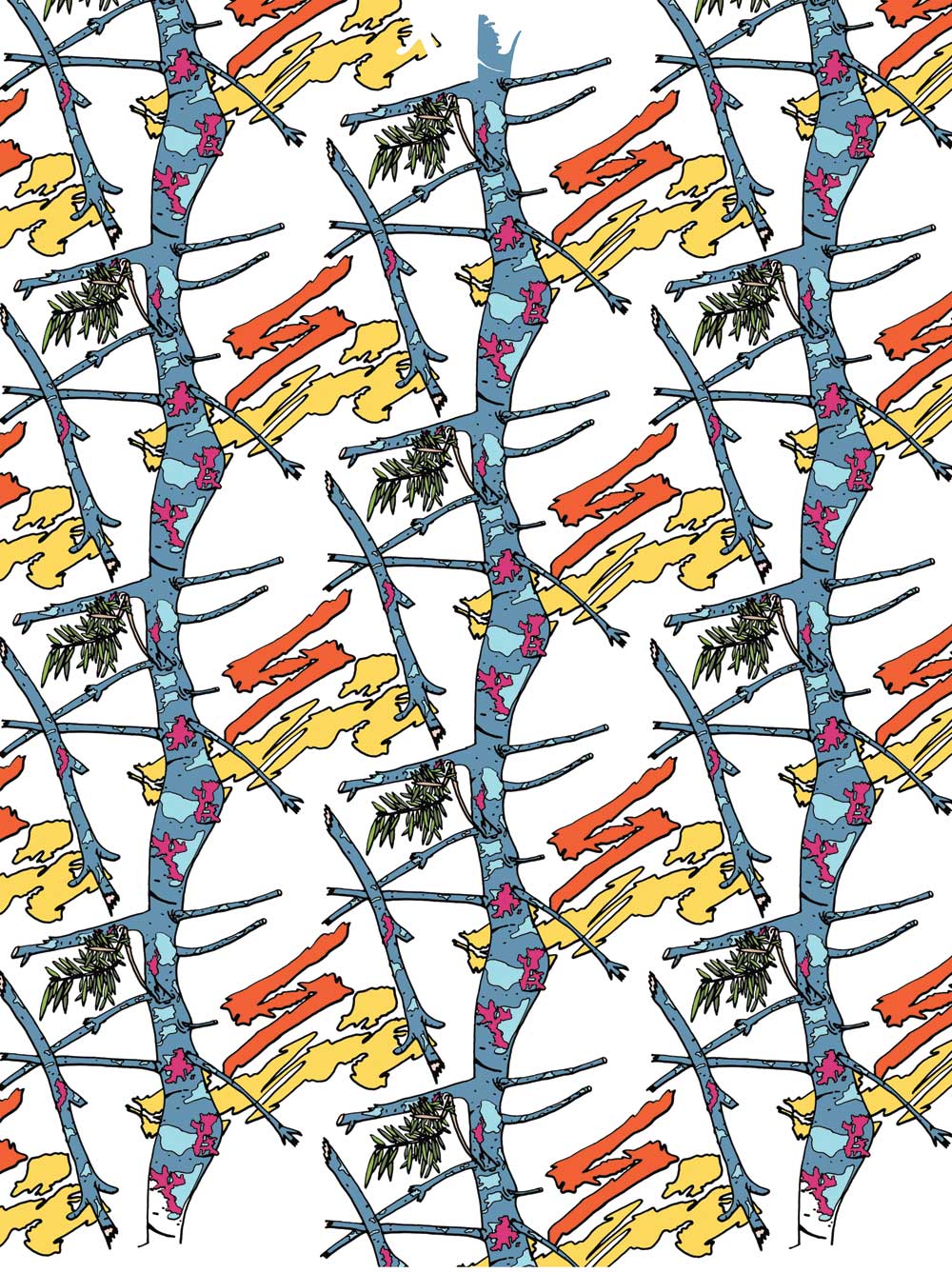 Ursula Johnson, (re)al-location repeat print, December 2016.
Ursula Johnson's (re)al-location at Cape Breton Highlands National Park in Nova Scotia
What is sustainable? Who gets blamed for overconsumption? Can humans steward nature?
Such questions emerge in Ursula Johnson's project at Cape Breton Highlands National Park, where moose have been blamed for destroying boreal forest.
"The animal is consuming the forest, but we are also consuming products that are available commercially, and we are consuming culture," Johnson, who is of Mi'kmaw descent, points out. Having done several projects on memory, she'll be "looking at the memory that this forest carries of interaction between species, and interaction between people." Apparel, including activewear, aprons and oven mitts, will be printed in a foliage design reflecting Cape Breton's ecosystem.
"It's really important to share food together if you are trying to build a community," Johnson says. "Food and conversation and music are key."
She will engage the local communities surrounding Cape Breton Highlands National Park for discussion, storytelling and creation, and also by hosting a festival of stewards with a feast on June 24, 2017. Curated by David Diviney, Ariella Pahlke and Melinda Spooner (ACT).
This post is adapted from an insert in the Spring 2017 issue of Canadian Art, as part of the LandMarks2017/Repères2017 project created by Partners in Art.