Canada's history of experimental spaces and artist-run centres is long, rich and complex. Some were founded to create homes for media art; others, for printmaking; and others still, for unconventional practices and marginalized communities.
In the last few years, a new generation of project spaces dedicated to supporting emerging artists has cropped up in Toronto—in basements, commercial buildings and, in one case, an old air-conditioner repair shop.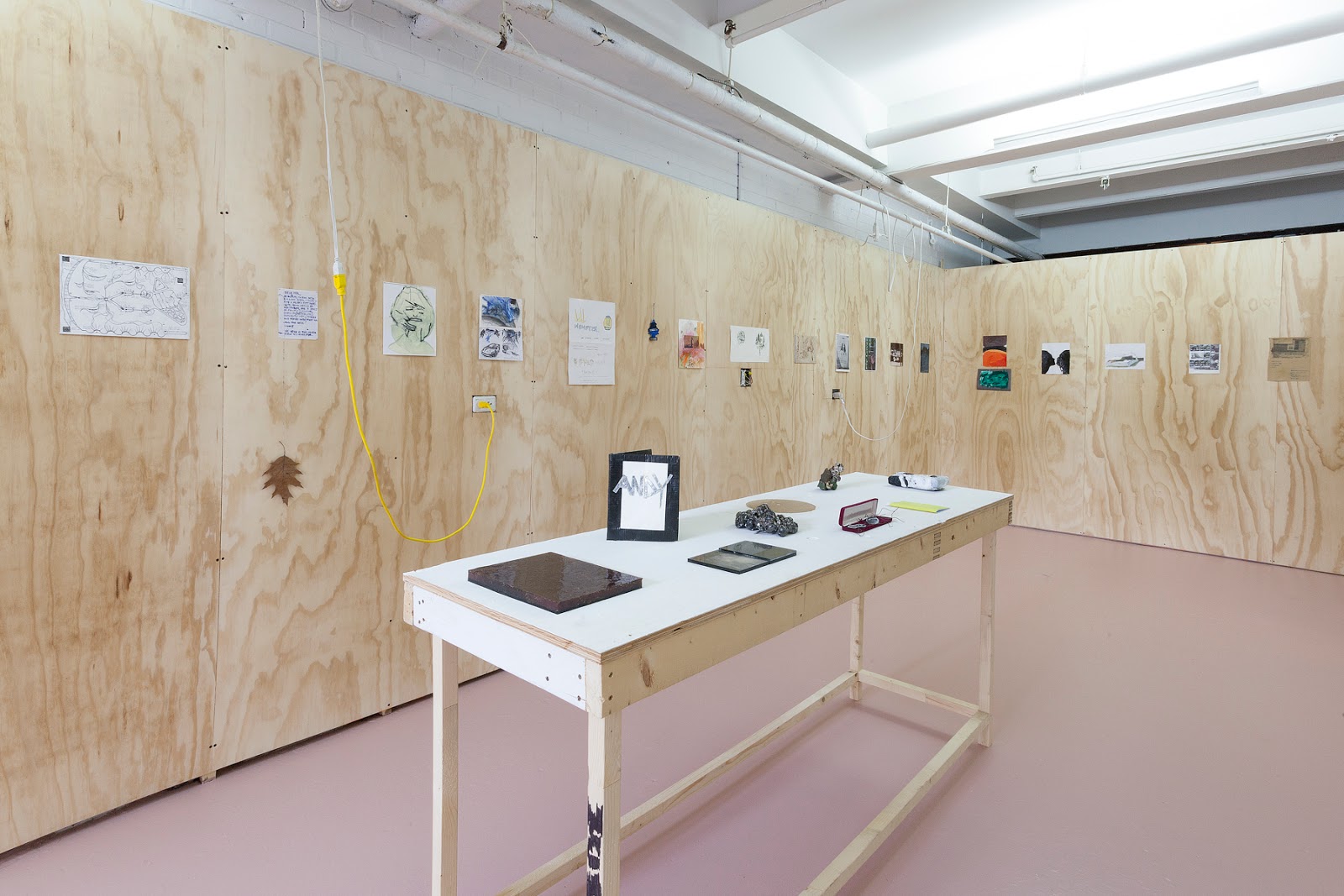 "The Humane Society" at the Loon. Courtesy the Loon.
Opened in 2015 by artists Liam Crockard and Aleksander Hardashnakov, the Loon is tucked away in Hardashnakov's studio on Sterling Road, holding down the fort in the multi-purpose building, which historically housed many artist studios, until, in Hardashnakov's words, its "inevitable collapse"—rent has been hiked by 80 per cent in some cases, causing many artists to move out. Hardashnakov co-founded Tomorrow Gallery, now based in New York, which previously occupied space in a nearby building.
The Loon has a homey feel: floors are painted salmon-pink instead of stark white, and visitors are offered cups of broth instead of glasses of wine. Their inaugural exhibition set the tone for a non-hierarchical curatorial format: postcard-sized artworks by more than 30 artists of all ages, media and origins. The Loon functions not as an entrepreneurial exercise but as an extension of the duo's artistic practice.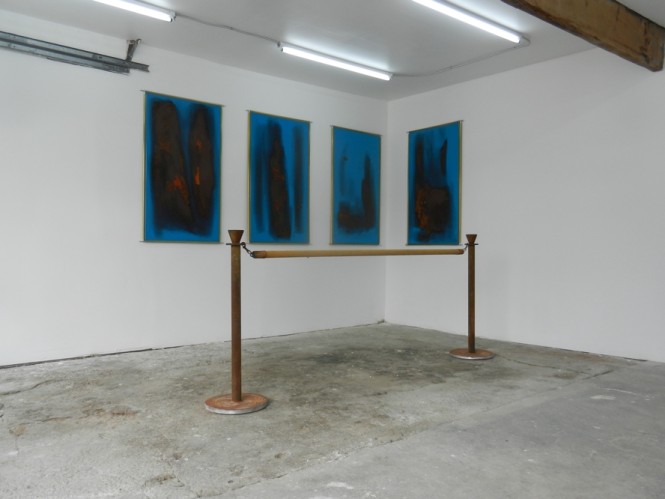 Works by Kristie Muller. Courtesy AC Repair Co.
In an unsuspecting, mint-green, 18-by-18-foot garage on Dupont Street—previously, as the name suggests, an air-conditioner repair shop—there is a new "container for art," as co-founders Emma Clough and Jess Carroll call it, dedicated to granting visibility to underrepresented local artists. Since opening in March 2016, they've presented exhibitions by emerging artists Kristie Muller, Lili Huston-Herterich and Jeff Bierk, among others.
Rent is cheap, but that has its trade-offs: floors are uneven, and there's no bathroom. Details such as these might halt others from seeing a space as viable for use, but Clough and Carroll see them as opportunities for experimentation. Artists are invited to incorporate cracks in the walls, hanging beams and exposed brickwork into their installations.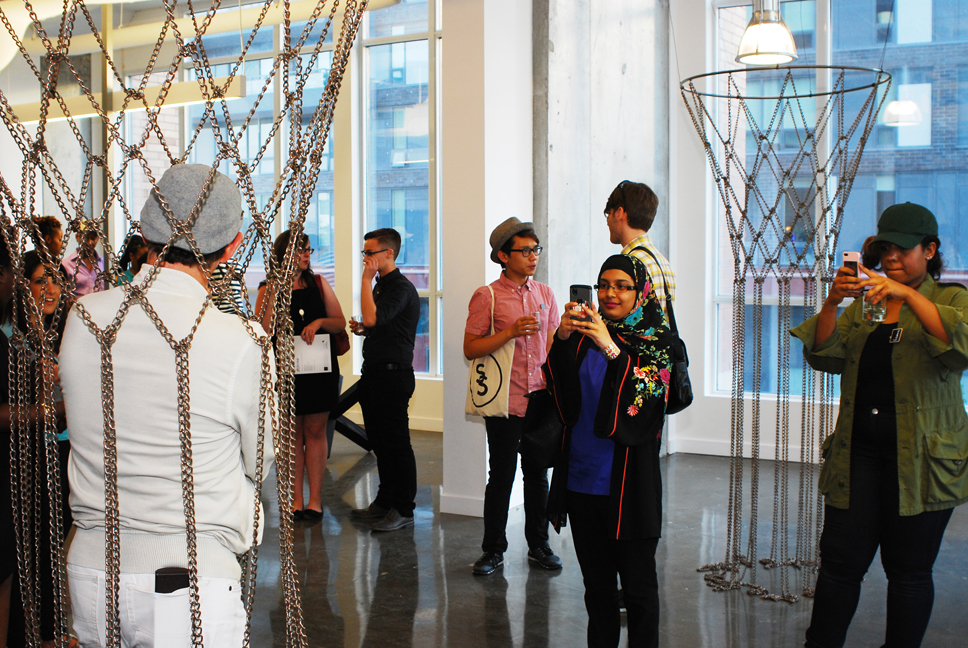 Visitors at the opening of Younger Than Beyoncé, including work by Esma Mohamoud.
Younger Than Beyoncé is run primarily by MFA graduates from OCAD University, with a mandate is to showcase work by diverse artists under the age of 33 (Beyoncé's age when the gallery opened in 2015). The name is a reference to "Younger Than Jesus," the 2009 triennial at New York's New Museum, which set the same age restriction for participating artists.
Currently based in Regent Park, YTB is co-directed by Humboldt Magnussen and Marjan Verstappen, with board members Genevieve Wallen, Brette Gabel, Marsya Maharani, Sebastian Benitez, Anjuli Rahaman and Joan Lillian Wilson. The group works collectively to show art that promotes queer, feminist, anti-oppressive social politics. Verstappen and Magnussen say that YTB is "tired of our generation being characterized by what we consume," and instead want to "focus on what our generation creates."
Unlike many other galleries on this list, YTB occupies a large space: a 3,800-square-foot office with floor-to-ceiling windows and a projection room. The community-based venture has major sponsors in the Daniels Corporation, the Toronto Arts Council and Toronto Community Housing, and their aim is to redevelop the underprivileged Regent Park neighbourhood into an art hub. YTB has collaborated with like-minded organizations, such as UforChange, Regent Park Film Festival, the Ada Slate Youth Art Mentorship program and Square Circle, to explore how art can drive change and promote conversation.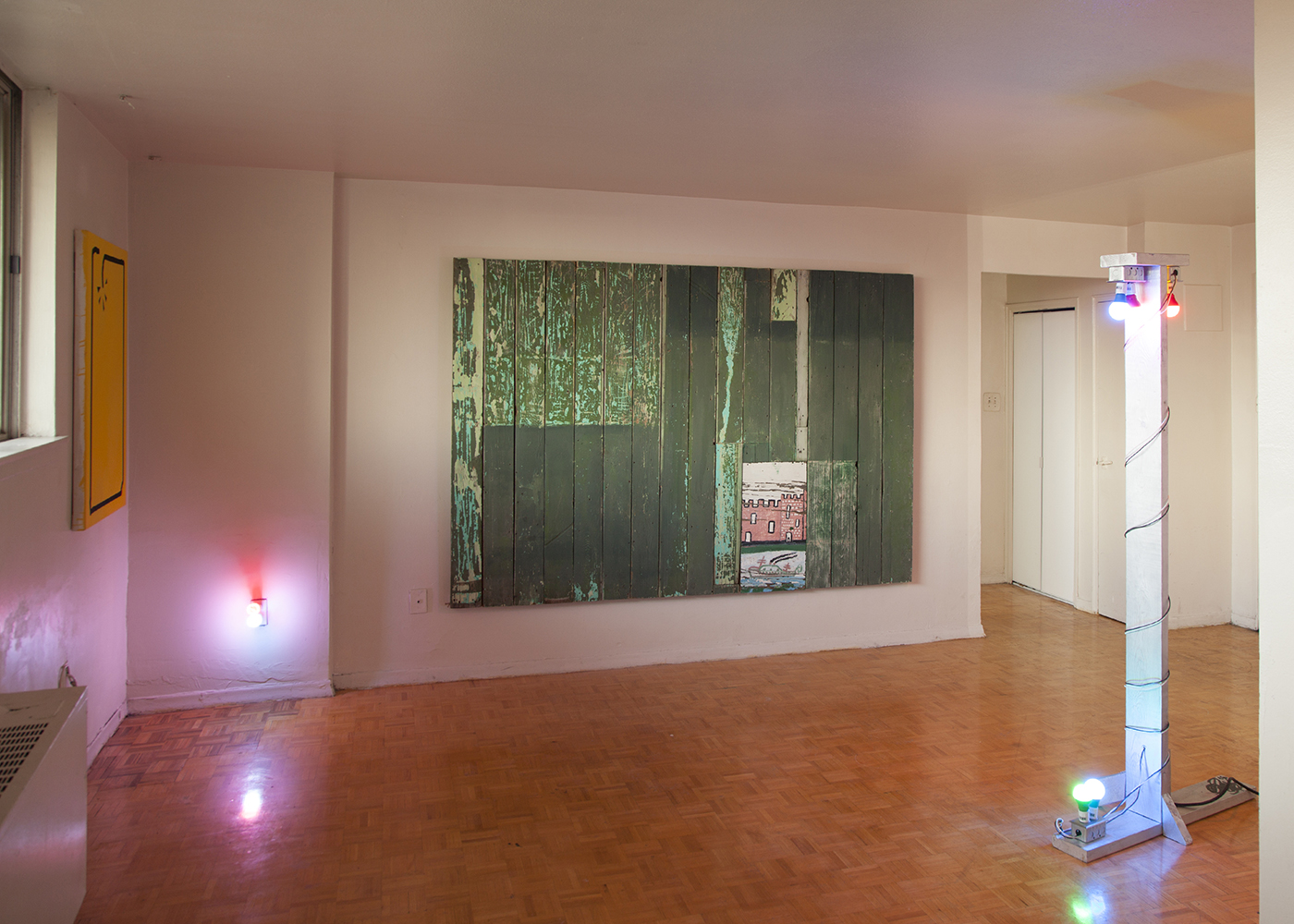 Works by (from left) Dana Slijboom, Oliver Roberts and François A. Côté. Courtesy Carrier Arts.
Carrier Arts, founded by artists Stephanie Hier, Sarah Rose Turner and Matt Sperdakos in 2014, and now run by Michael Freeman Badour and Emily Waknine, is a nomadic curatorial project that aims to re-contextualize art through experimental programming. Inspired by other ephemeral "pop-up" exhibitions, such as "Saint Lawrence Ice," a day-long exhibition curated by artist Ben Schumacher in 2011 that took place on a frozen river, Carrier Arts have experimented with a variety of private and public spaces, such as empty apartments and parking lots.
Because their shows are so short-lived, the project's online presence serves as a satellite viewing space and archive. The business of running a gallery is transformed into a social practice, wherein the curator acts as the mediator among a network of artists, property managers, landlords, brokers, neighbours, security guards and spectators, and the practice of viewing art becomes something like a scavenger hunt.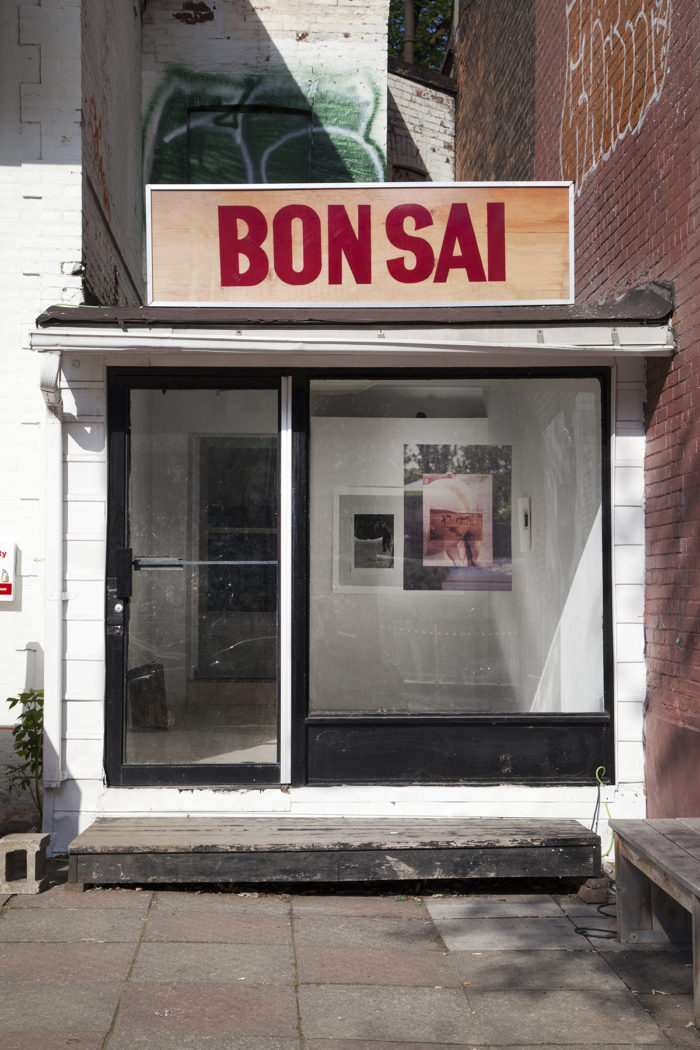 Exterior of 8-11, with work by Davida Nemeroff (interior). Courtesy 8-11.
8-11's unassuming storefront gallery in Chinatown initially featured artist Elle Kurancid's lightbox installation Heaven and Hell, which riffed on 7-11's signage. Established in 2014, it is presently run by Erin Reznick, Ivana Dizdar, Xenia Benivolski, Simon Schlesinger, Stephanie Fielding, Aaron Densmore, Sarah Kilpack and Fan Wu (they also have an advisory board), as a gallery, sculpture garden, event space, publication platform and music venue.
One of 8-11's goals is to commission international artwork to make up at least 50 per cent of its programming, in hopes of nurturing and diversifying existing markets as well as cultivating new audiences. In order to be sustainable yet autonomous, they have sought out alternative funding sources to supplement assistance from the government. For example, they sell publications and multiples and offer partnerships and memberships. Though their physical space is modest, they invest in professional documentation and have a pervasive online presence. Benivolski believes that as their network grows, "the friendlier and more supportive the scene [becomes]."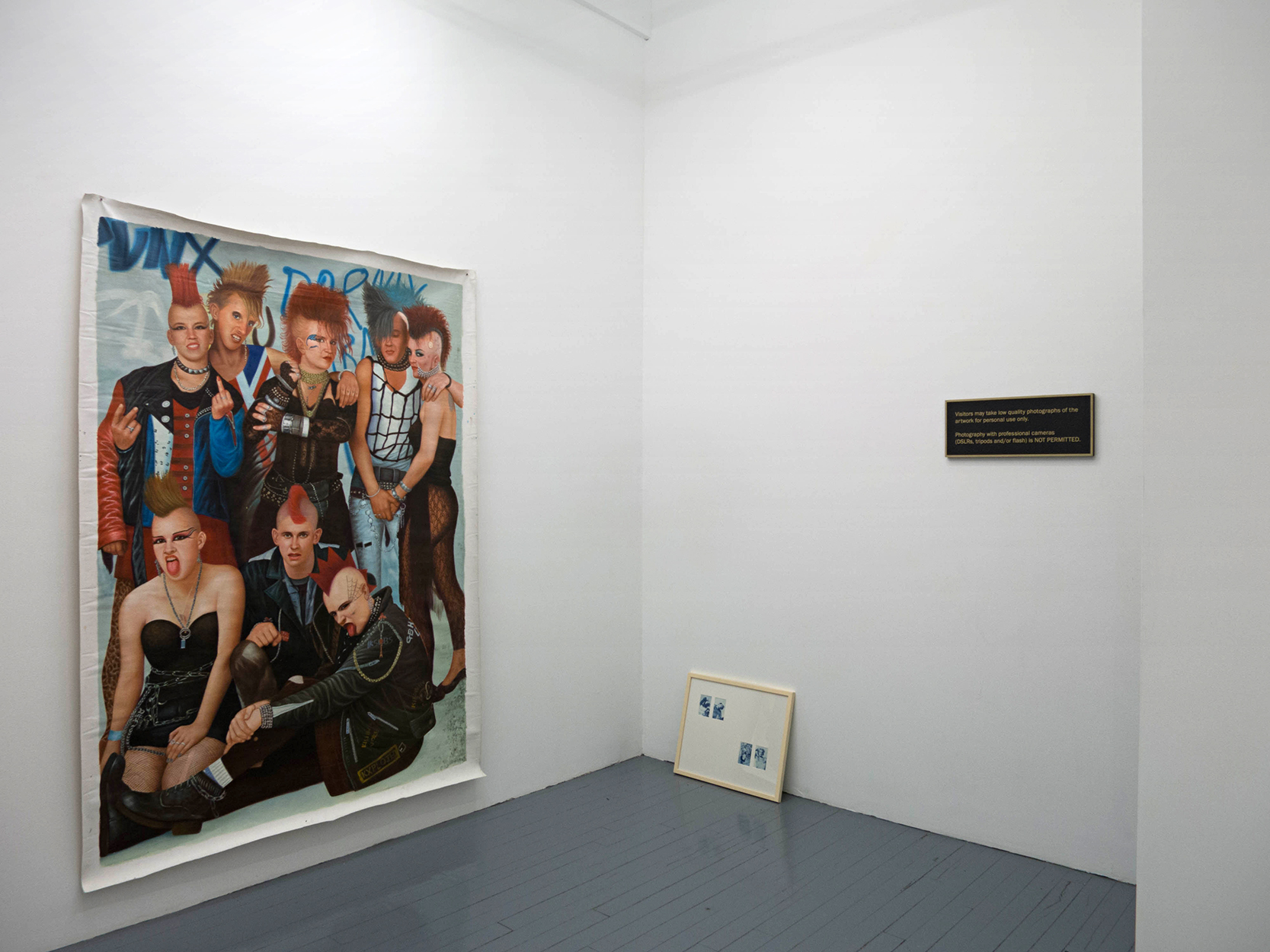 Works by (left and middle) Jesse Harris and (right) Jimmy Limit. Courtesy Roberta Pelan.
Roberta Pelan is artist Manden Murphy's second curatorial venture, and named after his mother. The first was Jr. Projects, a storefront-window space on Dundas Street West, which he opened in 2013 and closed in 2015. There, he showed projects by emerging artists such as Marvin Luvualu Antonio and Abby McGuane.
Los Angeles–based artist Hanna Hur had the inaugural exhibition for this artist-run commercial gallery, located in a tiny suite in a commercial loft building, and Murphy also brought her work to NADA New York in May 2016. "Shangri-Lost," featuring Jesse Harris, Shawn Kuruneru and Jimmy Limit and organized by Cooper Cole, and a solo show by Division Gallery's Jillian Kay Ross, followed. Murphy believes there's always room for something new: "People want more art, more venues and more opinions."
Jessica Kirsh is a writer and curator based in Montreal. She holds a master's degree in art history from Concordia University and has been co-directing CK2 Gallery since 2014.