When machines take over we will be like dogs: free from work, living drowsily in a world that operates beyond our comprehension. For now, we toil in an impossible system—selling our time to live, living to work, and hurtling towards an uncertain future.
Marcela Borquez and Raul Aguilar's "The State of Our Employability" questions, dismantles and reorders what it means to work today. The show's seven modestly-sized paintings and prints accompany a manifesto-like document, copies of which hang— free to take—from the wall near the entrance. Housed at TAP, a new art space occupying a vacant garage between an apartment complex courtyard and a back alley, the exhibition feels like a cascading late-night conversation, covering everything from neo-Marxist theory to futurist science fiction, translated into a series of fragmented instructional materials.
One diagrammatic painting weighs the differences between the worker and the international artist, needling at the disparity between the perceived jet-setting luxury of art jobs and the underpaid and overworked reality of the sector; the work's focal point is a reproduction of a hammer and sickle-tipped boot featured in Gucci's Fall 2017 collection. Another painting, Untitled 04 (2018), also pays homage to the liquidation of meaning from political ideologies by way of pop culture and fashion. Set against sharply pigmented primary colours reminiscent of street posters and brand-oriented graphic design is a loosely-plotted diagram connecting "YOU" with your "Infinite Debt" and your "Perpetual Guilt." The solution, scrawled at the top of the painting in jagged Metallica font, reads "Maximize Employability."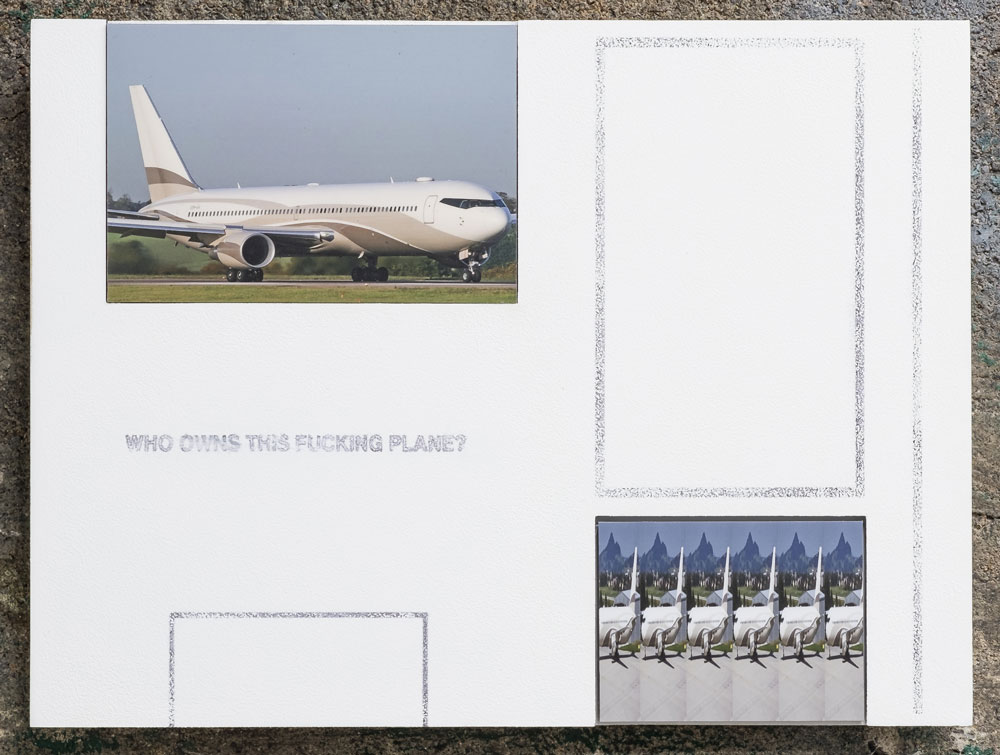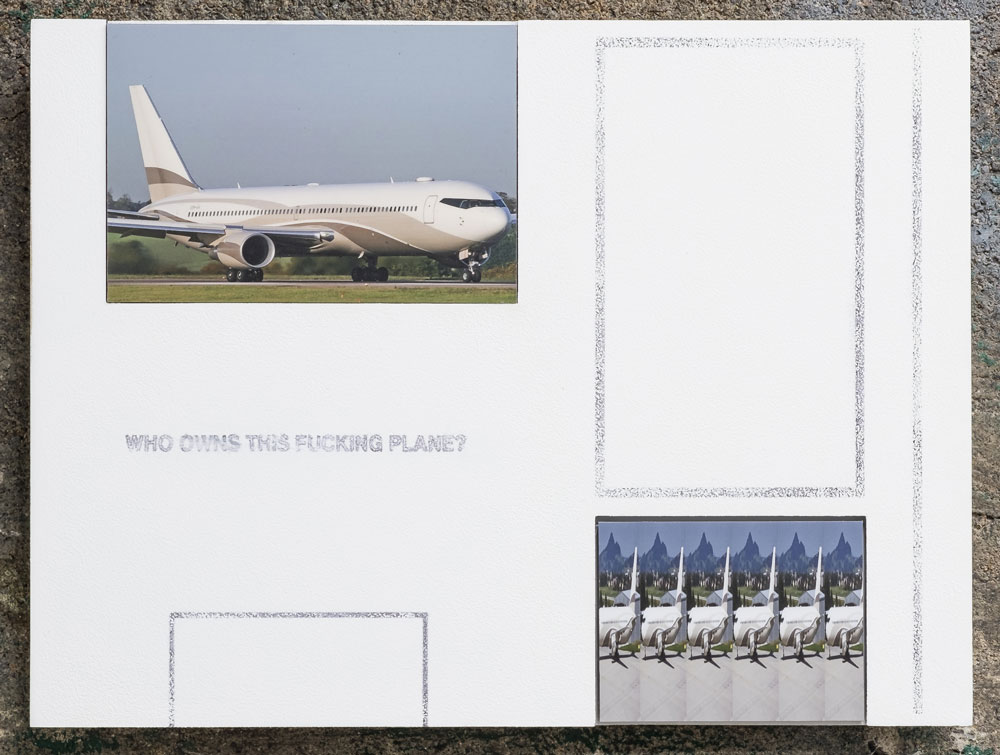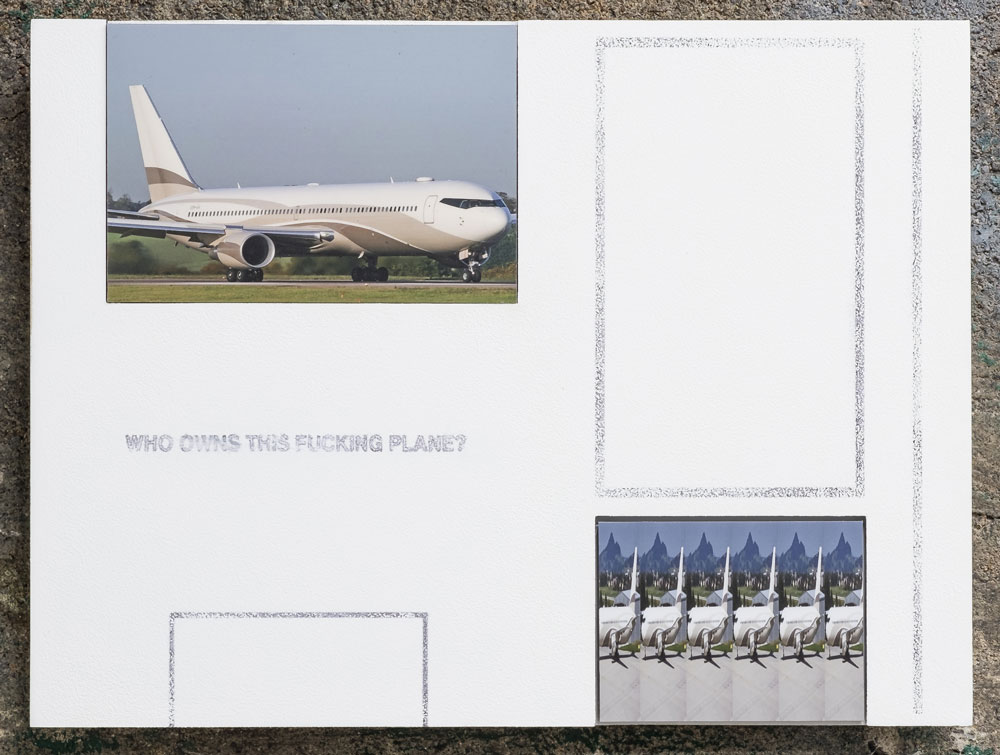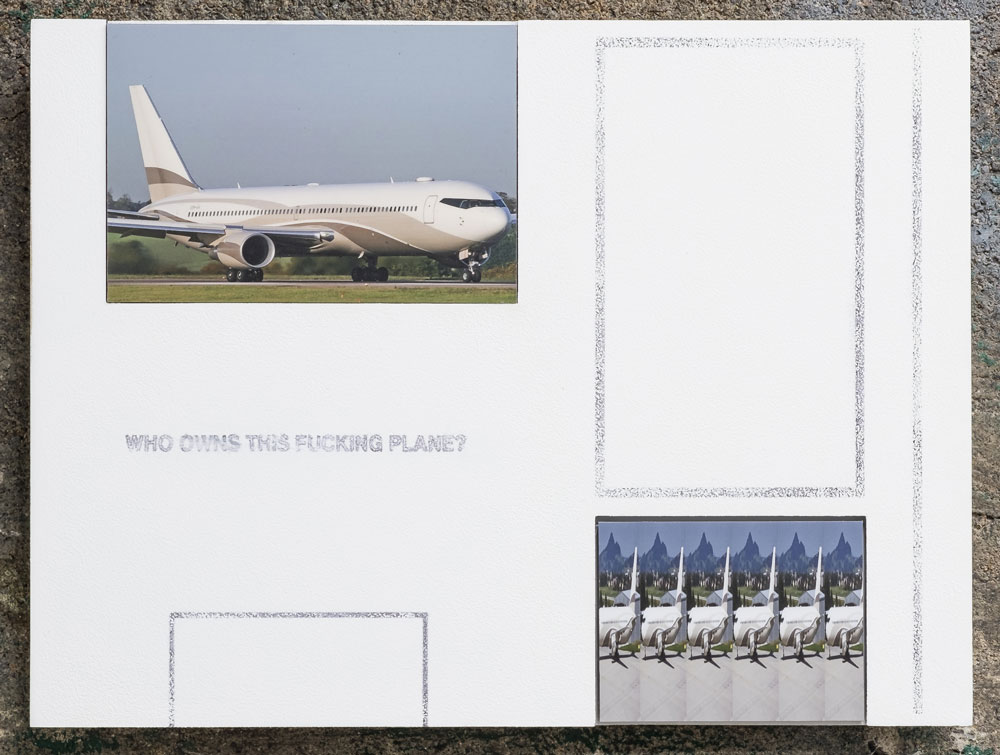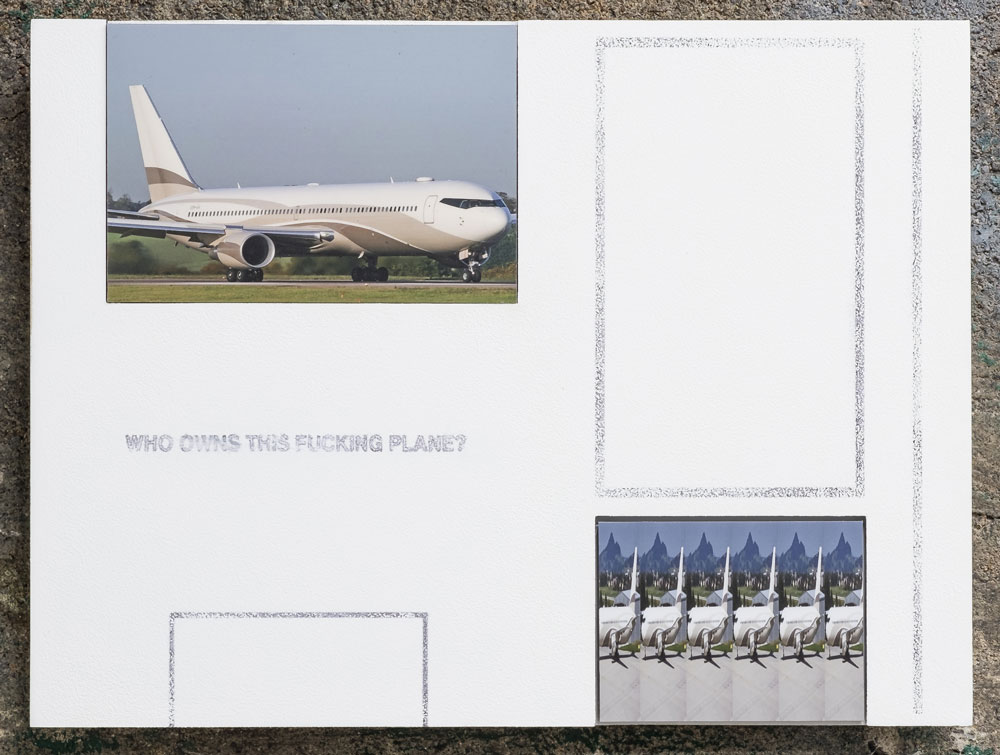 Both from Mexico and living in Montreal, the employability of Borquez and Aguilar is determined by their immigrant status, as they are categorized as skilled workers and students, classifications that are further limited by the umbrella of cultural work. Driven by a shared desire to clearly articulate and visualize the absurdities and contradictions facing the working subject, their collaboration evolved from a series of rough notes and mind-maps developed by Borquez and painted by Aguilar. The result is a search that is at peace with its inconclusiveness, an airy questioning: What would happen if intellectual and physical labour became obsolete? Should work be identity-forming? Can you be both ethical and successful? Who owns this fucking plane?
"The State of Our Employability" is at once a critical stab and a laugh. The artists attempt to organize the economic uncertainties ahead of them while ridiculing the idea that making sense of the chaos is possible or productive. Ultimately, the show sidesteps distanced irony and embraces the feeling of a living workshop: it proves to be a collaborative parsing of the accepted conditions of living, working and lounging under late capitalism.