Every summer during her Harlem girlhood, June Clark would visit her grandparents, either north, in her mother's native Massachusetts, or south, on the large North Carolina farm where her father grew up. No one spoke about how her grandfather came to be on that land, and work the farm. Only later did she wonder who in her family might have been sharecroppers, and what circumstances had led them to farming. "I'm old enough to have had people who were slaves in the family, but that wasn't talked about," Clark says, and it wasn't taught at school, either. In fact, Clark grew up with wonderful memories of the south, uninflected by histories of racial violence. It was when she left the cocoon of her segregated neighbourhood as a teenager and started going downtown to Manhattan that she discovered people were afraid of where she came from. Then, in 1955, she saw images of Emmett Till's open-casket funeral and her illusion of an idyllic America was shocked away. Till and Clark were the same age. Her belief in the rhetoric of nationalism started falling apart, and a lifelong questioning of patriotism and the American Dream began.
Clark's style, like her career, is slow and steady. She is not pressed; she has learned to wait until a work is done.
Clark's new exhibition, "Unrequited Love," collects flag-pieces that she has been making for over twenty years, and exhibits them together as a single body of work for the first time. The different configurations of the red, white and blue stars and stripes of the American flag each mark a moment in the dissolution of Clark's relationship to the ideas of universal rights and freedoms it represents. Most of the flags she bought at flea markets or made herself. In Clark's hands the U.S. flag, and what it stands for, is broken into pieces. These deconstructions are the artist's way of working through feelings of ambivalence about American patriotism.
Each piece has its own iterative process of collection and assembly. It took several years to create My Precious 1946 – 28 August 1955 (2017), a small cloth flag–the first she collected– laid out on velvet and encased in a glass display. …Alas (2006) is a canvas painting of fuzzy stars and stripes coloured with wine and tea. "I had a really tiny apartment in Paris. There was someone selling canvases cheap and I bought them. All I had at the time–I drank wine and drank tea. So …Alas is [painted with] wine and tea." From Harlem, an American flag pulled apart at the seams and laid out on the gallery floor, was first shown in an exhibition at the Studio Museum in Harlem in 1997. A Family Secret presents another flag stuffed into a small black, wooden box. It was first shown at The Power Plant in 1991 as the centerpiece of a series of box works entitled Family Secrets. The next piece Clark made for "Unrequited Love," constructed while she had a studio in Toronto's Distillery District, was Dirge (2003) a flag made of different sized rusted, metal muffler pieces she had collected over the course of many years. "I cut out all of those stars myself from old mufflers," she says. "I would stop my car on the 401 and pick up pieces of rust from the road."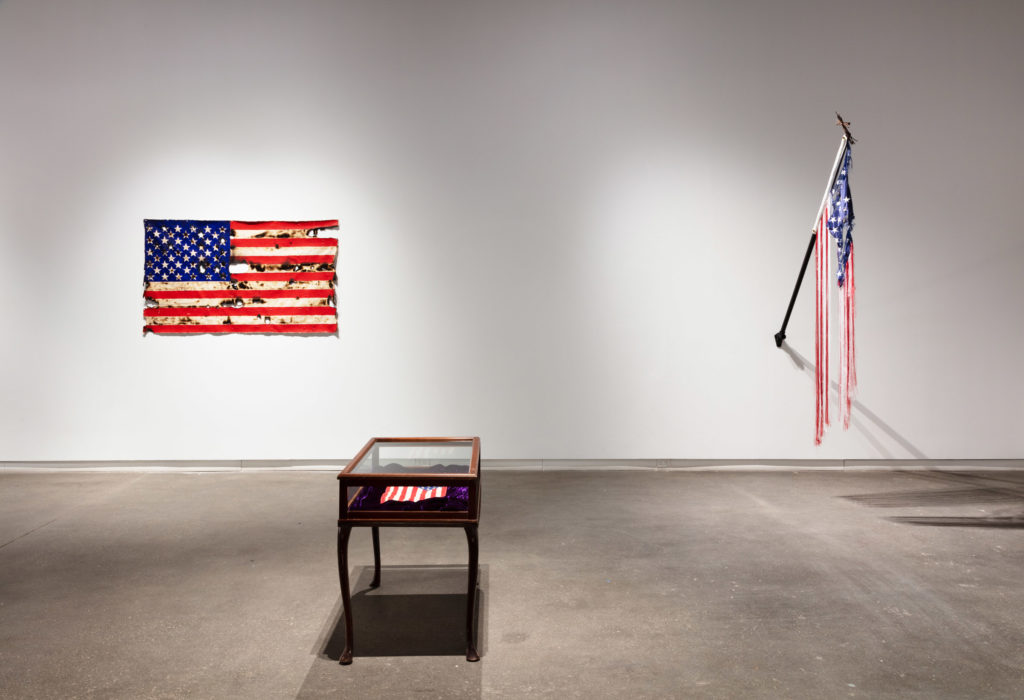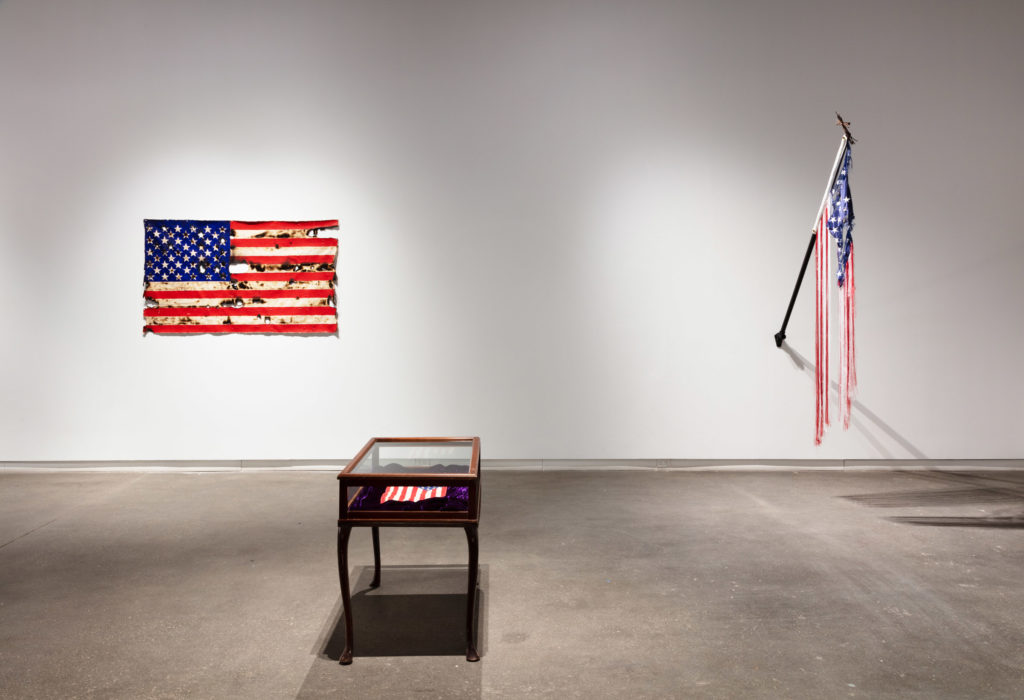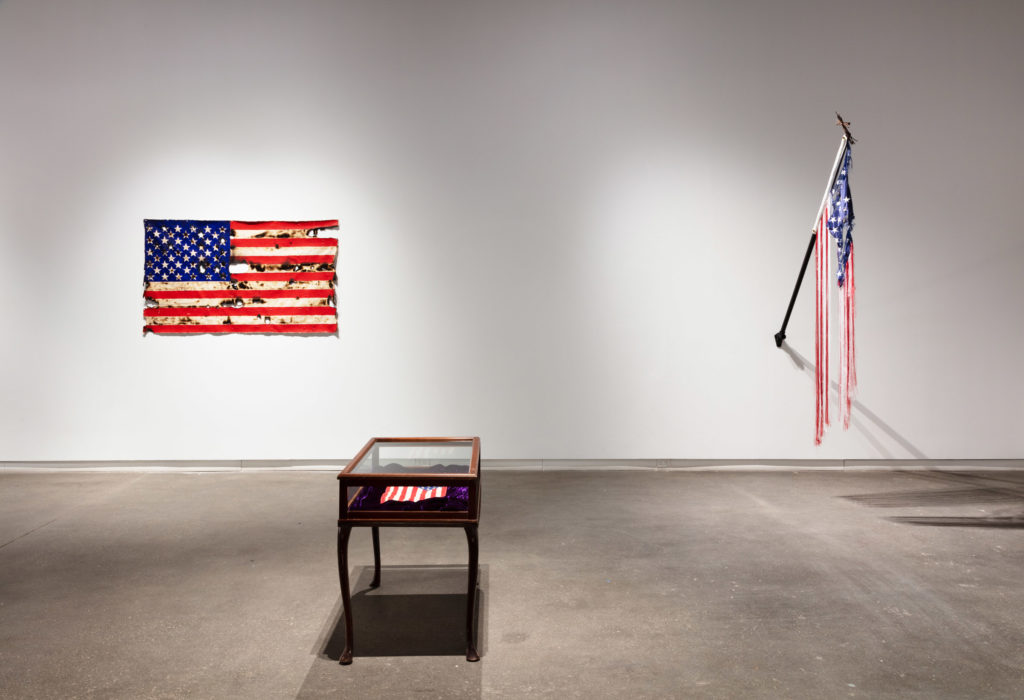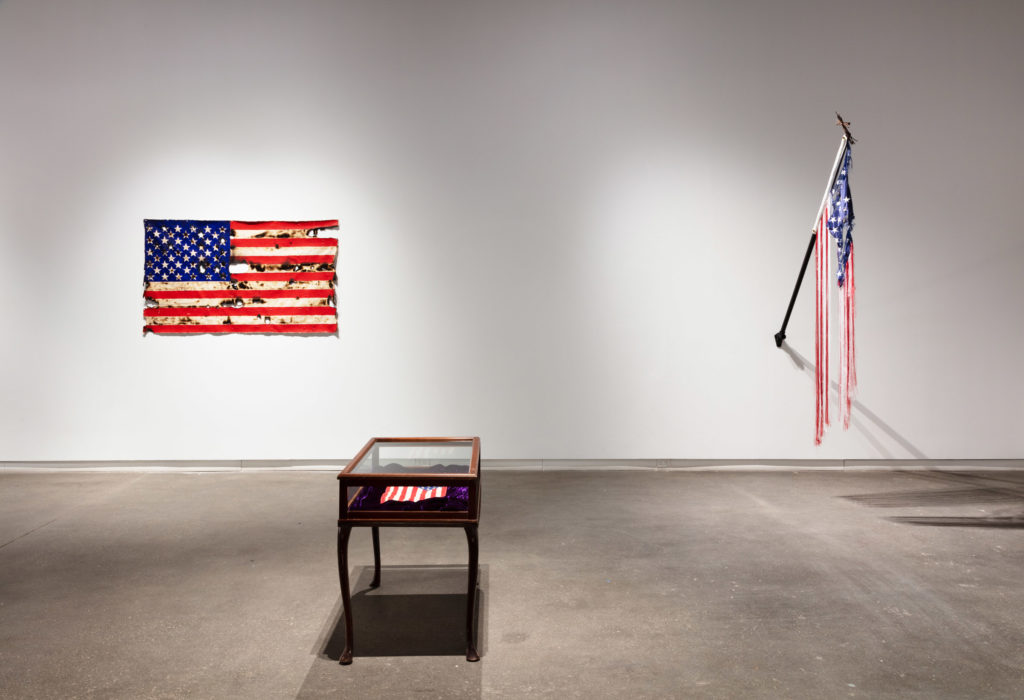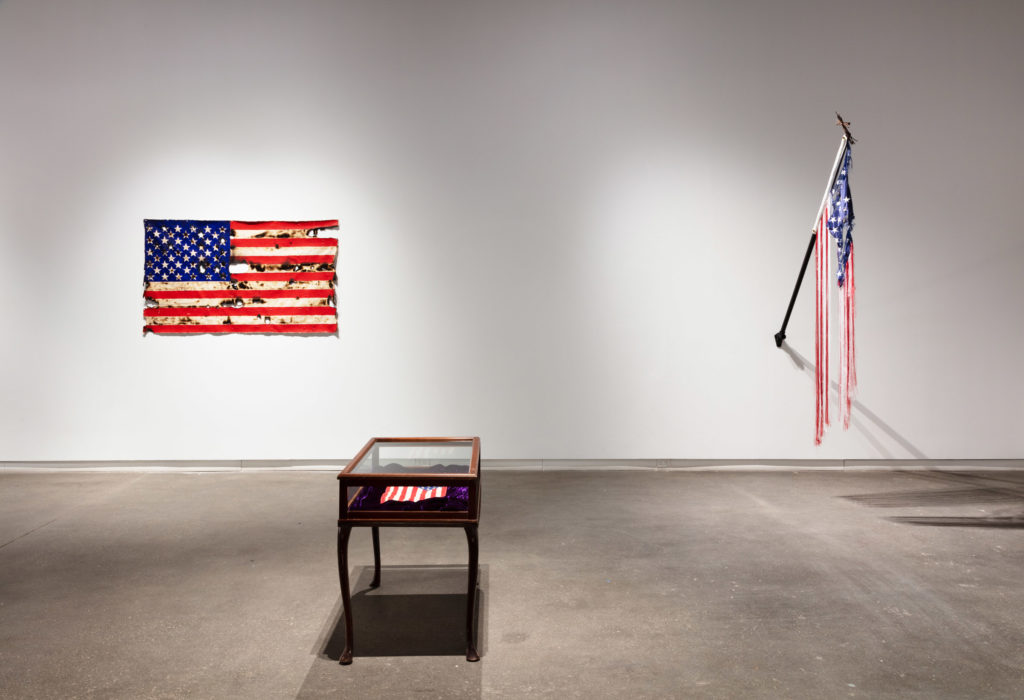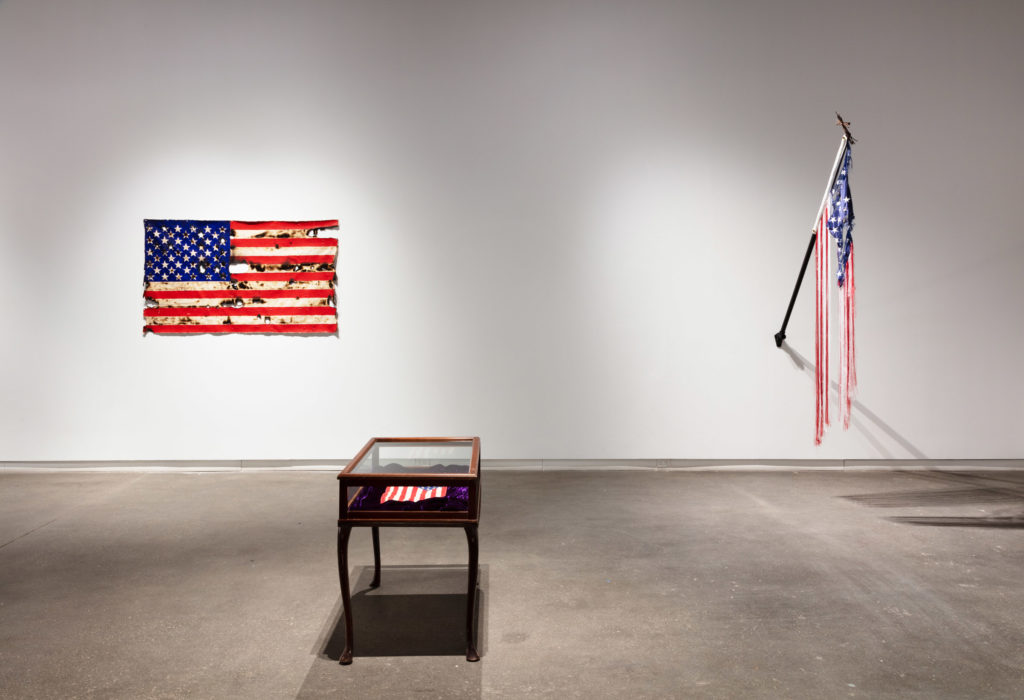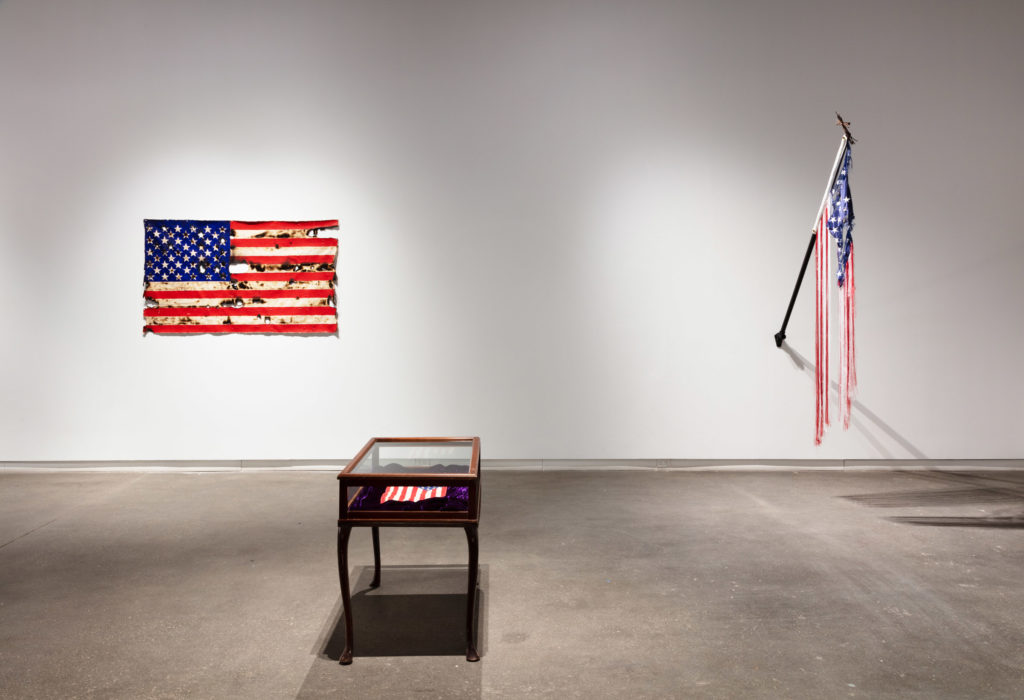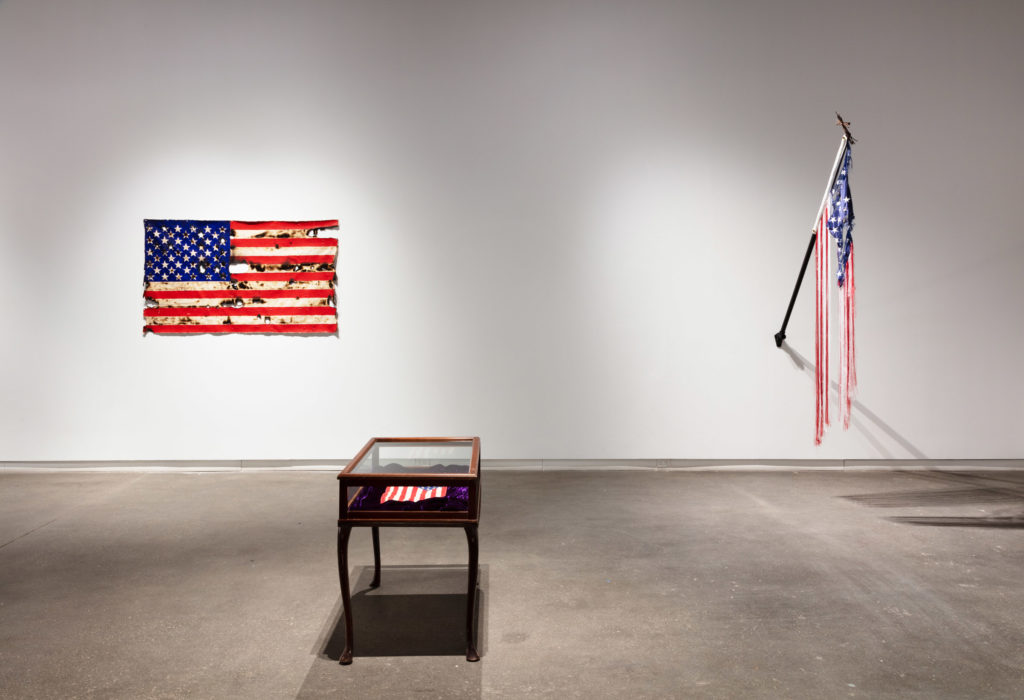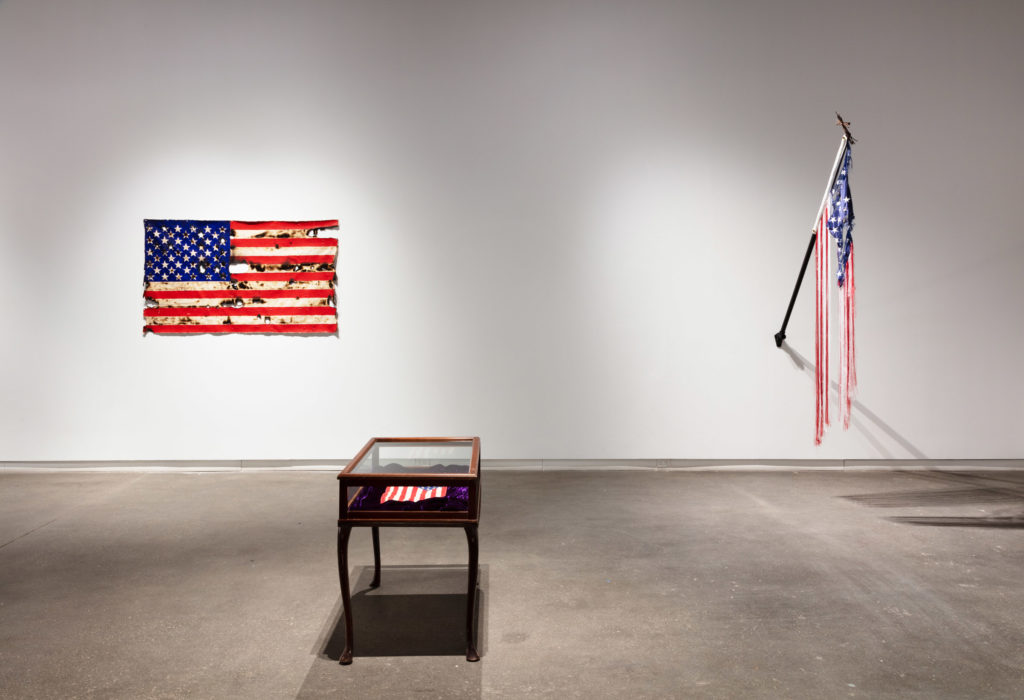 As a professional artist, Clark does things her own way and takes her time to do them. She started taking photographs when she moved to Canada in the 1970s. At the time, women were excluded from the world of photography. She found a community at the Baldwin Street Gallery, and joined several of the women she met there to found the Women's Photography Cooperative. They used Laura Jones's darkroom in the basement of the gallery, where they taught themselves the history of photography and how to take and print photos. "We made a safe place for women to come in to learn, [and] to see photographs of other women." The Women's Photo Coop also organized exhibitions of women's photography, and travelled them across the country. "The photography co-op was [about] learning how to support and be supported, and trusting those around you and learning how to trust yourself." Later, during her graduate studies at York University, Clark's practice expanded when she was introduced to new techniques and materials.
Over the past three decades, Clark's photographs, installations and sculptures have been shown at galleries and museums in Canada, the United States and Europe, including the Art Gallery of Ontario, the Studio Museum in Harlem, galerie du jour-agnès b and the National Gallery of Canada. Clark's approach to making work was deeply influenced by the peers she met throughout her career. She lived and worked in Paris and had a residency at the Studio Museum in the 1990s. It was in New York that she met David Hammons. "He basically told me: 'Don't take the art world too seriously. Don't look to see who's selling or who's writing, just go into your studio and do what's in here [taps chest]." She followed Hammons's example, as well as that of other artists she respected and admired. Just as she had been influenced by the work of her peers in the Women's Photography Coop, she brought that ethos to her practice. Homage Boxes are a series of eight box works dedicated to practitioners who Clark feels liberated her to be her own artist. There is one for Robert Rauschenberg, David Hammons, Louise Bourgeois, Romare Bearden, Anselm Kiefer, Vincent van Gogh, Joseph Cornell and Kurt Schwitters; each gave her permission to be who she was. "I channel them," she says, "and basically they're saying: 'Do what you feel. Do exactly how you feel.'"
Clark's style, like her career, is slow and steady. There are many gaps in her C.V. She raised a family, she taught, she travelled, she experimented. Clark is not pressed. She has learned to wait until a work is done. She processes a lot in the studio, and that might mean just sitting there, and not doing anything. "Sometimes I will go into the studio and I'll have to just sit and be quiet," she says. "Sometimes you're manipulating materials and they don't work and they let you know, 'I'm not going to work,' or 'you need to do something else,' or 'you need another colour." She lets ideas come to her. Materials come to her. Her satisfaction comes from the art itself, when it works. "I get my reinforcement from inside and not from outside, not from what something costs." The most challenging thing to do over time is to believe in oneself. In order to have this kind of process, Clark has figured out how to find validation outside of a regular rewards-system art world. "It's so hard. It's so hard because the whole way we live has to do with hierarchy: [it's a] who's good who's bad contest. Art can't be about contests." For Clark, the completeness of the work itself then becomes the reward—the source of validation. "Nothing satisfies me more than being in the studio and having one little element placed and it clicks, it's there, and you don't have to do any more." By going at her own pace, Clark finds the freedom to make art on her own terms.
This exhibition is striking and powerful due to Clark's slow, meditative approach. Each piece shows her thinking process, collected in material fragments and developed over time. When Daniel Faria approached her to create an exhibition for the gallery, she knew the works were ready to be shown together for the first time. Asked if the series is done forever, she says she doesn't know. "You never know. You can never say I'll never do it again. But at the moment I feel purged."