"Although the announcement has not yet provided an exact date, our extinction is a quantifiable certainty," declares the narrator in Jeremy Shaw's Liminals (2017). The sci-fi mockumentary, which debuted at the 57th Venice Biennale, depicts a group of attractive 25- to 60-year-olds—Liminals—in what appears to be a movement workshop, doing a form of exercise that promises to soften the ego and encourage communion. The only prerequisite is sincerity.
Shaw's group of Liminals engage in "irregular breathing, repetitive motion with voice, continuous rocking, earth and air gestures, summoning, hysteria, stasis and infinite loops"—not unlike what happens to children when music is played loudly. The Liminals are a "periphery-altruist culture" on the fringes of society, living in a future set after the "quantification" of humankind, or the point where value in humans is not seen at all beyond their capitalist function. "Rapture, and all of its variables, died with quantification," the narrator deadpans.
In this scenario, behaviours excessive to such use-value die off and stay dead—unless one joins a peripheral culture that injects the brain with a chemical to reactivate these behaviours. Intravenous DNA reactivates the part of the dancers' brains responsible for feelings of faith. This "faith cell," these subjects believe, is key to "inducing evolution"—deemed important in the face of species annihilation. Thus, Liminals' ants-in-your-pants dancers, whose gestures borrow from yoga, whirling dervishes and trust exercises from the 1980s workplace.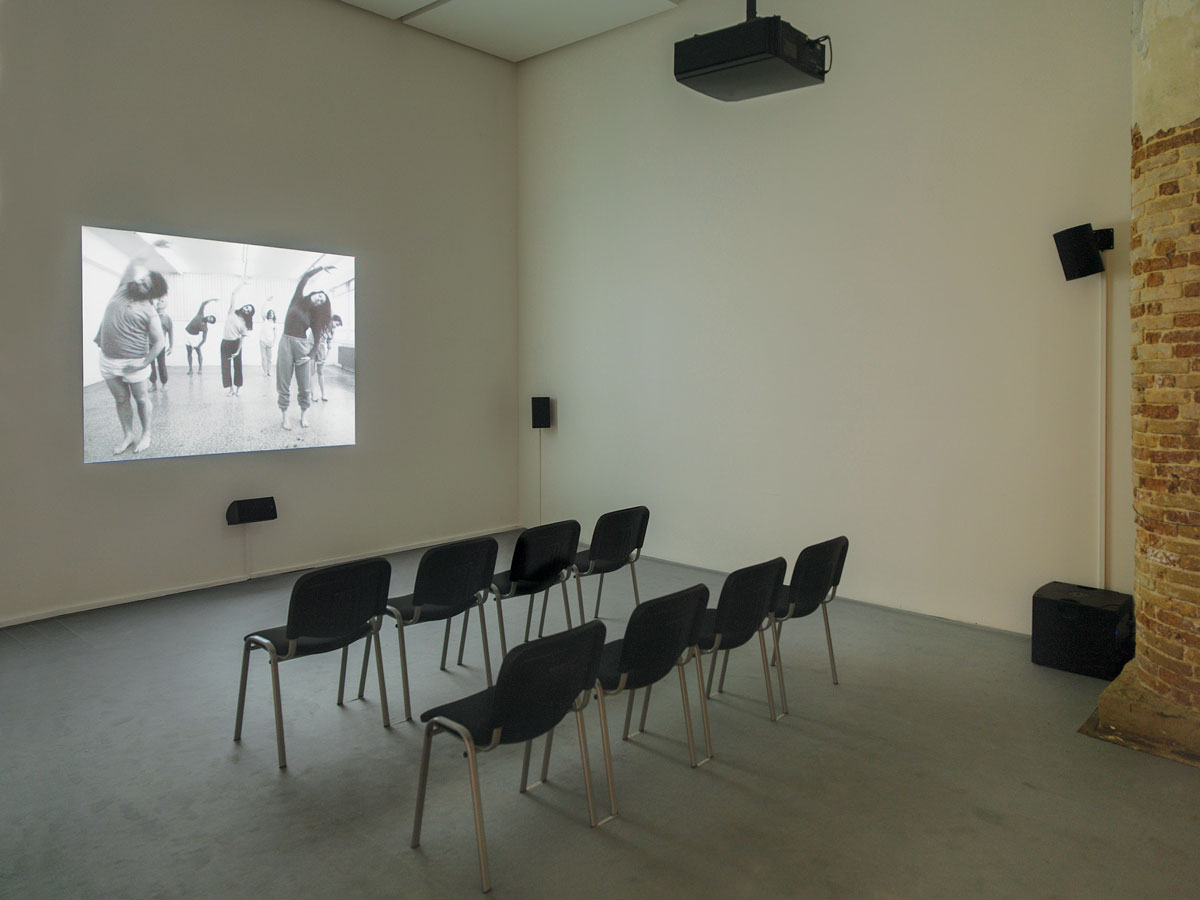 Installation view of Jeremy Shaw's Liminals (2017) at the Venice Biennale. HD video installation. Courtesy König Gallery, Berlin.
Shaw's work has long used linguistic forms, sometimes invented, to communicate states of consciousness whose very natures appear to resist language. His 2014 film Quickeners was an evolutionary move in a practice long committed to representing transcendence as a clever, stylized document. Quickeners was different because it wondered about, and entangled itself within, the idea of motivation in transcendence-seeking, linking its subject to a dark, accelerated future. As Ursula K. Le Guin writes in her introduction to The Left Hand of Darkness, "the purpose of a thought-experiment…is not to predict the future…but to describe reality, the present world."
Liminals repeats Quickeners' key formal and conceptual traits: use of 16 mm and a BBC-sounding narrator to make a speculative future appear anthropological, archival, historical; use of a group of faith practitioners seeking some kind of "rapture"; use of glossolalia—in Shaw's case, a deliberate distortion of the speakers' speech, enabling him to construe narrative entirely through subtitles; use of an ending in which the subjects achieve ecstasy. Liminals playfully jabs at trends of embodiment and, more broadly, at piecemeal, post-religious methodologies that might alternately be called spirituality, bodywork, self-help or, more cynically, escapism. Interestingly, mid-20th-century transcendence tonics such as drugs and music inform Shaw's film, but only peripherally.
In the main exhibition at the Venice Biennale's Arsenale, Liminals held a rare mirror up to the projects surrounding it, which more straightforwardly satisfied curator Christine Macel's lazy tenet: spiritualism as whimsical trend and ideological free-for-all. The installations, in their forced unity, appeared parodied by the oblivious characters of Shaw's fiction, described as "in no way puritanical in their appropriations of spiritual ritual." A contemporary approach to spirituality dislocates sacredness from any one thing. Sincerity is the new sacred, and people cite it like it's an all-access pass to appropriation.
Shaw's critique is low-key and entertaining, detailing one of many possible conditions that could prompt a spiritual search, but its speculations about our collective fate linger.
This post is adapted from a review in the Winter 2018 issue of Canadian Art, which is themed on Care and Wellness.