Architecture and horror may seem like an unlikely pair, but every haunting tale—real or fictional—requires a setting. From the crumbling mansion in Edgar Allan Poe's The Fall of the House of Usher (1839) to the hidden chambers within the Armitage residence in Jordan Peele's Get Out (2017), architecture not only provides the framework for terror; often it is an active participant. However, the horrors tied up with real material structures are not passive and intangible, qualities often associated with ghostly antagonists of the genre. Rather, they are physical and often violent.
Four recent and ongoing exhibitions in Toronto and Vancouver question the role architecture has played, and continues to play, as both a witness and accomplice to violence. These exhibitions suggest that while the social, economic, cultural and political scaffoldings that support these physical structures may fade, architecture—immortalized in archival documents, plaques and monuments—remains the clearest evidence of a long history of horrors at home and abroad.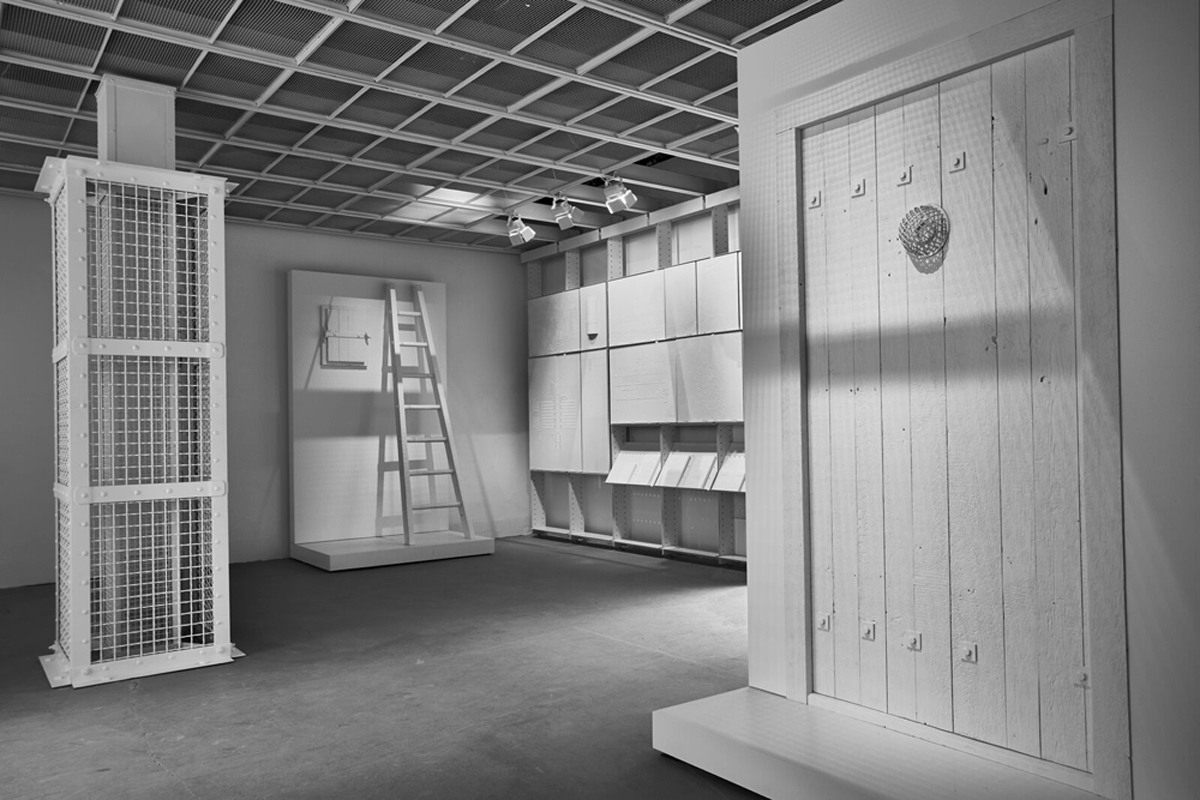 Interior perspective of "The Evidence Room" with models of Auschwitz gas column and gas-tight hatch, plaster casts, and model of gas-tight door. Photo: Fred Hunsberger, University of Waterloo School of Architecture.
"The Evidence Room," which made its Toronto debut this summer at the Royal Ontario Museum after stops last year at the Venice Biennale and the Canadian Centre for Architecture, explores how seemingly banal choices—specifications for hardware, the swing of a door and the design of a peephole—reveal a structure designed specifically for systematic eradication.
The exhibition traces the architectural transformation of Crematorium 3—one of the many factory-like buildings included within the Auschwitz-Birkenau Concentration Camp—from a series of morgues to a complex of gas chambers deliberately engineered for mass execution. Though the devices used to execute prisoners were destroyed by the Camp's operators as Allied forces approached—an attempt to hide the incriminating architectural evidence—the exhibition conjures them from the past through archival materials, as well as objects and architectural elements remade in plaster, wood and painted steel.
Plaster casts of photographs, letters and architectural drawings comprise two walls of the exhibition, offering a kind of parable for collective memory permeated across decades. Yet these plasters obscure as much as they reveal. Though these interventions make the past tactile, something that can be traced and read, they complicate the very same images of the horrors they summon.
Like the blurred, distorted images gracing the pages of W.G. Sebald's The Rings of Saturn (1995) or Austerlitz (2001)—who, too, was concerned with the permutated memory of the Holocaust when physical evidence dissolves—these "abhorrent subjects" represented in sectional models, site plans and cast drawings remain seductive and terrifying due to our inability to transform the shapes and forms on their surfaces into complete images.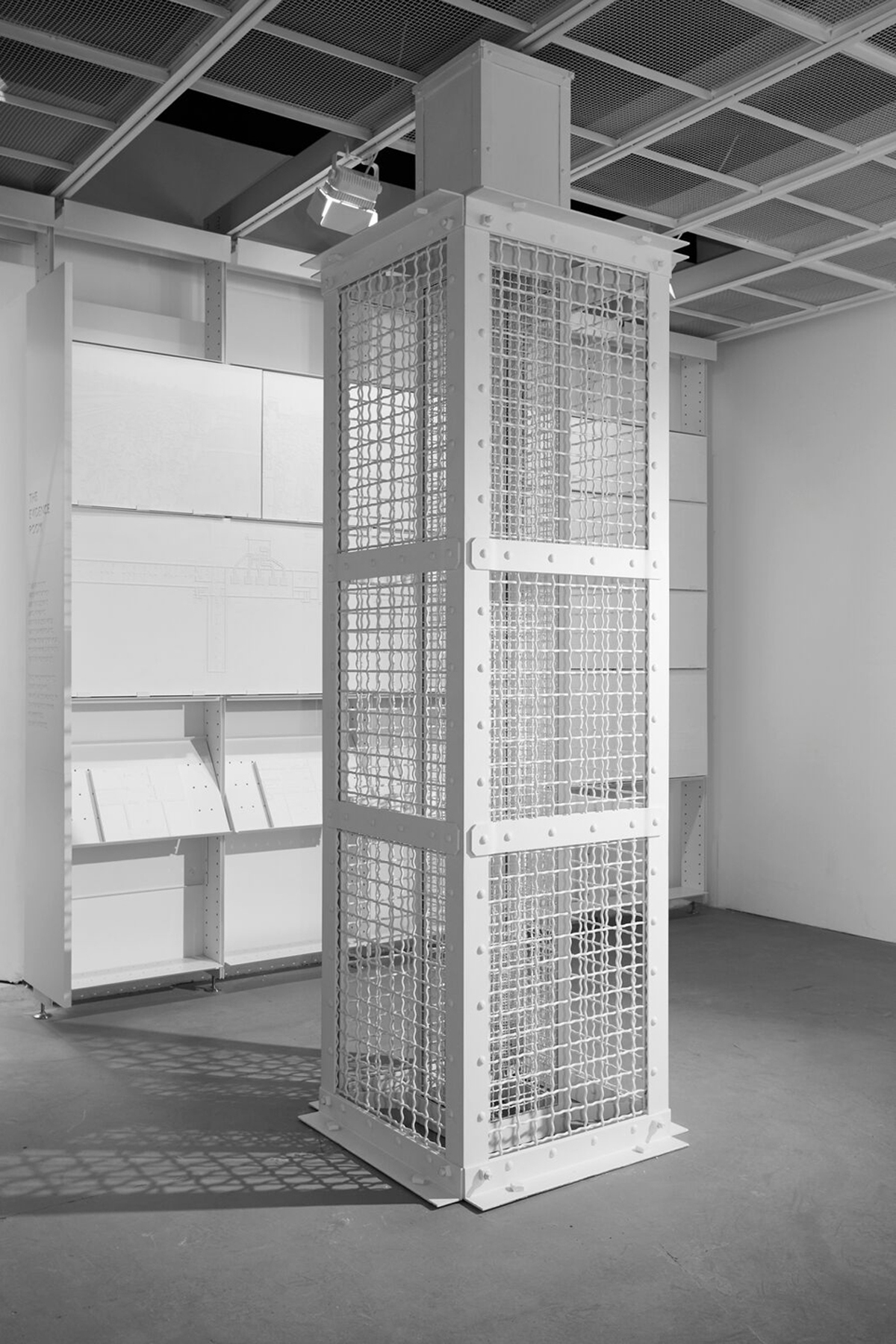 Model of Auschwitz gas column in "The Evidence Room." Photo: Fred Hunsberger, University of Waterloo School of Architecture.
Flanked by the plaster casts, a rebuilt gas column and hatch—arguably the two most horrific architectural features included—stand as anti-monuments to what the curators describe as "the greatest crime committed by architects."
The replicated gas column is based on one of four such columns that were housed in each of the two chambers of Crematorium 3. Each column was composed of an external shell and an interior mesh column to support poisonous Zyklon B pellets. These pellets were deposited by SS officers using an innocuous hatch, also replicated in full beside a small wooden ladder with rungs placed just high enough for access.
Given that this iteration of "The Evidence Room" is inserted into the ROM's European galleries and is surrounded by artifacts tracing the history of that continent through domestic furnishings, these replica devices are a haunting reminder of—to borrow from Hannah Arendt—the banalities of cultural and architectural evil.
Yet the hauntings of architectural violence are not limited to international locales.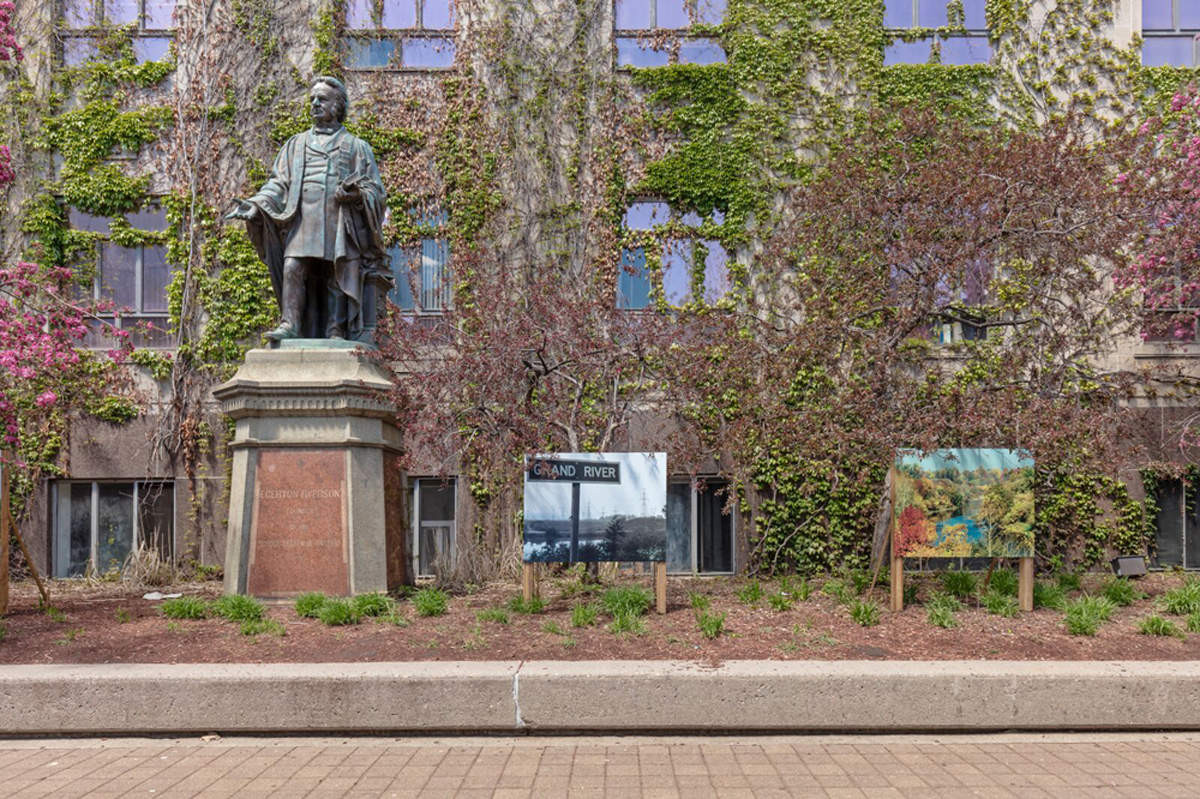 Shelley Niro, Battlefields of my Ancestors (installation view at Ryerson Image Centre), 2017. Photo: Toni Hafkenscheid.
In a recent public installation at Ryerson University, Mohawk artist Shelley Niro exorcised ghosts surrounding the university's monument to Egerton Ryerson—a man credited with laying the foundation for Ontario's education system in general, as well as, specifically, the residential school system that, as Ryerson University's Aboriginal Education Council concluded in 2010, had a "devastating impact on First Nations, Metis and Inuit people across Canada." The legacy of Ryerson and his statue is currently being challenged by Ryerson's Indigenous Student Union.
As part of this year's Contact Photography Festival, selections from Niro's ongoing series Battlefields of my Ancestors (1987-present) were mounted on billboard-like supports surrounding the monument to the Egerton Ryerson on Ryerson University's Gould Street as well as at the Fork York National Historic Site in Toronto.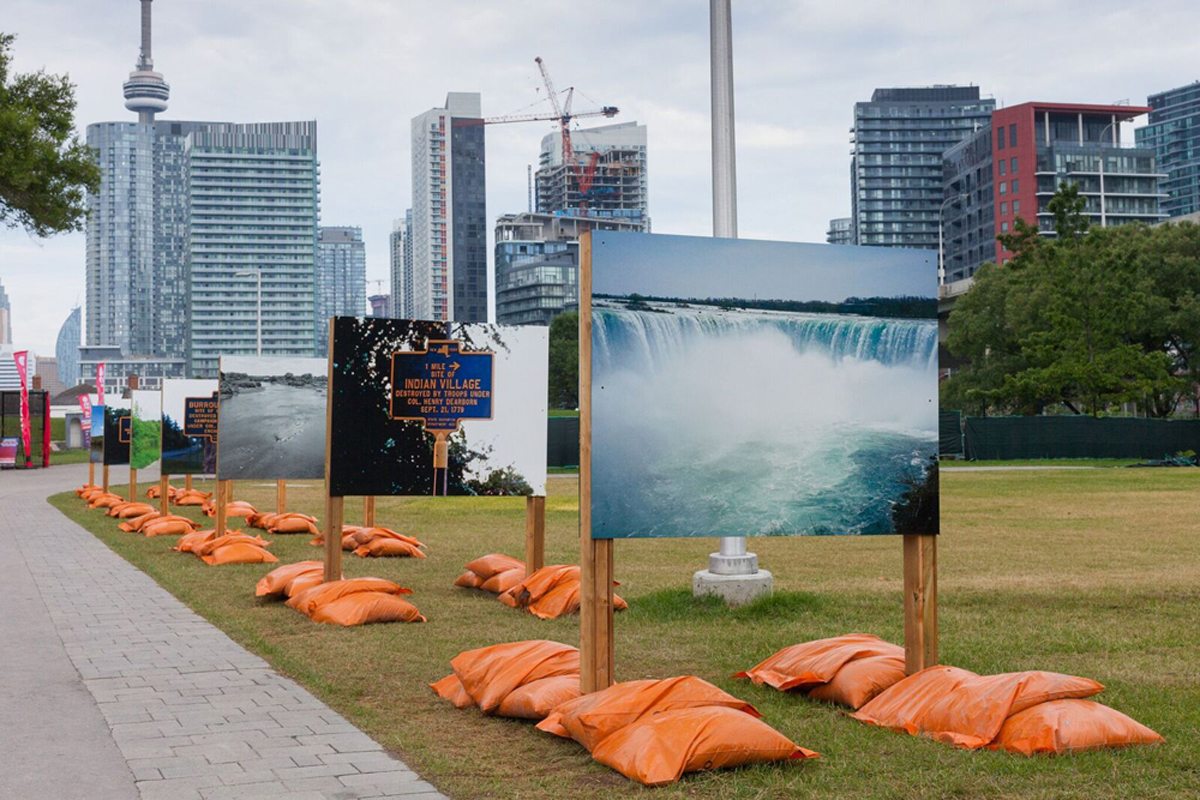 Shelley Niro, Battlefields of my Ancestors (installation view at Fort York National Historic Site), 2017. Photo: Toni Hafkenscheid.
Niro's images from this series depict markers and plaques commemorating colonial battles and ancestral villages reduced to rubble during the American Revolutionary War (1775–83). Naturally, the narratives summoned by the embossed metal letters—almost incantations—deliberately contrast with the celebratory plaques on and surrounding the Egerton Ryerson monument. They can also, in light of recent events, be read as a troubling precedent to the real violence perpetrated by white supremacists surrounding a confederate monument in Charlottesville.
As the last remaining vestiges of both social and physical structures—communities like the Cayuga villages burned to the ground as part of the "scorched earth policy" of military expeditions like the Sullivan Campaign—Niro's images of commemorative plaques conjure ghosts of the past to question the accuracy of memory, history and colonial fabrication.
In Cayuga Lake (2014), a small metal plaque mounted on a large rock reads: "Site of 'Very Pretty Indian Town of Ten Houses' Burned September 21, 1779." There is a parallel architectural destruction depicted in Sullivan Campaign (2014), where the pictured plaque notes: "Site of Indian Village Gar-Non-De-Yo Destroyed During the Sullivan Campaign Sept. 21, 1779."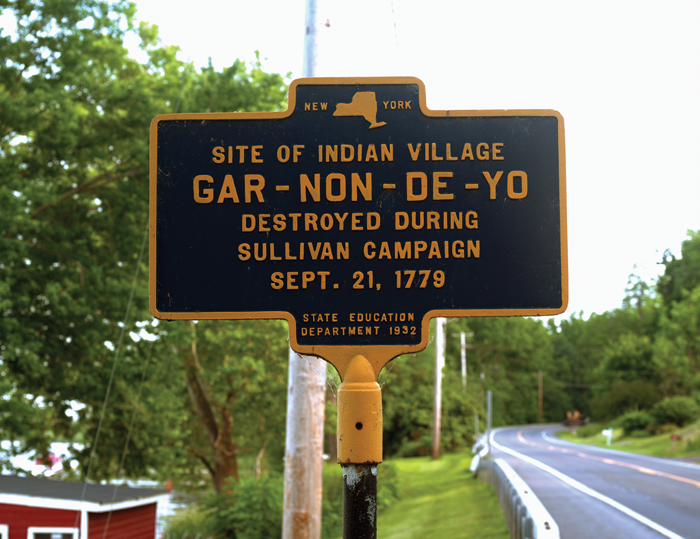 Shelley Niro, Sullivan Campaign, 2014.
The kinds of architectural violence and erasure Niro's images depict complicate memory and the lines between evidence, artificial narratives and revisionist histories. And they are products of an infrastructure of assimilation similar to that of the residential school system—an architectural project intended to negate, destroy and remove not only the metaphoric connection between Indigenous culture, knowledge and architecture, but material, place-bound connections, too.
For example, in 1876 Nicholas Flood Davin, the English journalist enlisted by the Canadian Government to investigate American educational systems of "aggressive civilization," applied an imperialistic, colonial architectural metaphor for cultural violence and assimilation. In his highly racist submission to then Prime Minister Sir John A. MacDonald, Report on Industrial Schools for Indians and Half-Breeds (1879), Davin wrote, "the influence of the wigwam was stronger than the influence of the school."
This architectural parallel between a supposed European social civility and European material structures is echoed much later by Indian Agents who would describe social assimilation—the adopting of European culture—as being akin to their infrastructure of assimilation, especially to the "clean" and "ordered" interiors of residential school dormitories.
Niro's work suggests that institutional and physical structures are not only witnesses to cultural genocide and violence; they are also accomplices in the same genocide and violence. "They are reminders of the past, but are also reminders of the present," states the didactic panel underneath Sullivan Campaign.
While architecture may be the last material trace (or evidence) of structural violence, building can also provide a powerful form of resistance.
Stephanie Comilang's film Lumapit Sa Akin, Paraiso (Come to me, Paradise) (2016)—included in the recent exhibition "What does one do with such a clairvoyant image?" at Gallery 44 and Trinity Square Video in Toronto—chronicles the lives of migrant Filipina domestic helpers living in Hong Kong who resist the violence inflicted on them within the city's landscape of residential towers. Where the isolation of the small, cramped and often secondary spaces such domestic helpers inhabit inside their employers' homes are both physically and socially confining, on Sunday (their only day off) many of these women congregate in large groups in public spaces outside of oppressive domestic environments—dancing, conversing, recording and sharing food.
On Sunday, no longer confined to pre-made domestic spaces, these women carve out enclaves using temporary cardboard structures that reference their collective environments back home. Within these temporary nomadic communities, entire economies and social grouping emerge—factors which are in direct opposition to the isolated domestic interiors that have subjected these women to very real violence. Such instances of violence include the 2014 case of Erwiana Sulistyaningsih, an Indonesian migrant worker who was almost beaten to death by her employer, and many other documented cases of abuse, forced labour and human trafficking.
In her film, Comilang uses tropes from both speculative fiction and documentary filmmaking to show how collective dancing, congregating and building—both physically and digitally—are powerful forms of resistance. The real women Comilang intimately portrays are reclaiming physical and metaphoric space to counteract the structural oppression all domestic architecture frames, if not supports.
"I love the buildings the women make," confesses the film's unseen drone narrator Paradise, voiced by Comilang's mother, over panning shots of cardboard communities on streets, public plazas and in tunnels. "They're for them and them alone."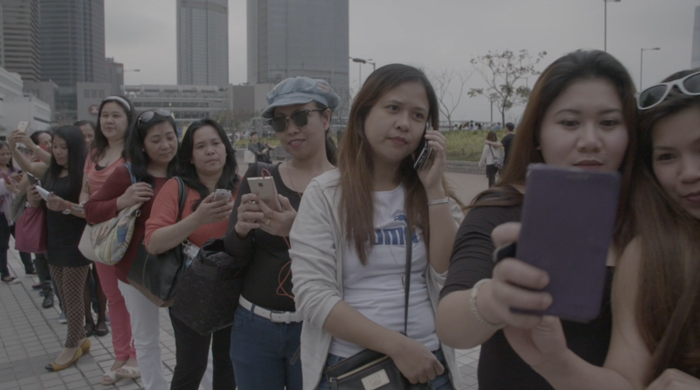 Stephanie Comilang, Lumapit Sa Akin, Paraiso (Come to me, Paradise) (still), 2016.
Comilang's Yesterday in the Years 1886 and 2017 (2017), the two-channel prologue and epilogue to Lumapit Sa Akin, Paraiso, was also recently on view at Artspeak in Vancouver. In the work, the tales of two protagonists—the archivist Lourdes Lareza Müller, who migrated to Berlin in the late 1960s, and a German monument to José Rizal, the ophthalmologist, writer and Filipino nationalist who spent time in Berlin—entangle. These interwoven narratives suggest that bodies not only function as archives of trauma spread across centuries, but also can hold space as well as any structure. 
In the end, the film's two protagonists each occupy one channel of the video—the monument of José Rizal softening, gaining fleshy form, and Lourdes Lareza Müller gaining stoic power as her skin turns to armour. "They were trying to hold us," explains the film's narrator, "shape us to be like them." Together they are evidence that living bodies can become monuments, reclaiming the space that architecture has occupied while resisting the binaries imposed by its form.
Stephanie Comilang, Yesterday in the Years 1886 & 2017, 2017. Two-channel video installation.
Like the spectres exorcised by Niro's engagement with a colonial monument, drawn from the past into the present, the ghosts Comilang convenes are living embodiments of ongoing violence, displacement and loss.
As Aaron Betsky has noted, it's a common trope of the horror genre—from Stephen King's novel Pet Sematary (1983) to AMC's The Walking Dead (2010-Present)—that when individuals return from the dead, they do not return as their former selves. Instead, their resurrected bodies are dark, violent shells of their former selves.
Likewise, when structures from the past—devices from Auschwitz-Birkenau, plaques commemorating genocide, apartment complexes where invisible labour toils, monuments to colonial oppressors—return to us, they do not re-appear as friends. Instead, they are haunting reminders of our complacency in everyday horrors, and as well as reminders of the violent erasures on collective memory that architecture can enact.
But unlike the characters resurrected in horror films and novels, it appears that these latter structures—objects and architectures of massacre—always were shells for violence.
Evan Pavka is a Toronto-based writer and educator. His writing has appeared in the Site Magazine, Arts Everywhere and Canadian Art, among others.