Marie-Michelle Deschamps's recent solo exhibition "Instances" allowed you to appreciate the sense of intimacy emanating from the works on view, and to enter the space they formed as an imagined home office—a room in which domesticity and labour unfold simultaneously. This duality between life and work is a particularly feminine concern, and Deschamps's contribution to this conversation was subtle yet perceptive, hinting at how she embraces an ever-changing everyday as an artist and new mother. The exhibition alluded to a sizeable work table: oversized binders holding crumpled sheets of vitreous enamel; and enlarged lined notebooks, splattered with abstract watercolours diffused through sandblasted glass. Studio mishaps became motifs: hastily removed tape strips, spills and incorrect folds and cuts have been preserved and exalted in these enigmatic engravings. Together they formed a figurative record of what were once irrelevant actions. This attentive reconsideration and inclusion of unintended gestures enhanced a production profoundly reliant on industrial methods, allowing you to feel the artist's hand and appreciate her decision-making process. A takeaway watercolour journal, printed on the Financial Times's iconic peach newsprint, cheekily short-circuited the codes of mass production.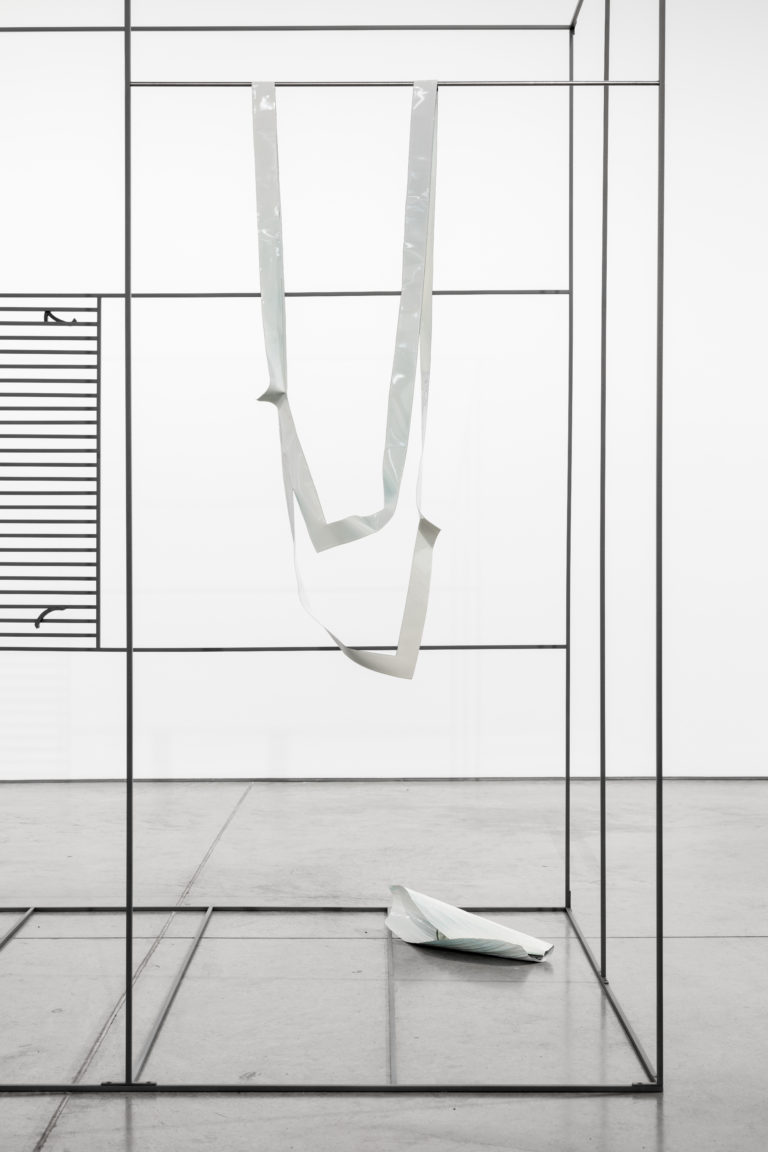 Marie-Michelle Deschamps,
Stanza
, 2018. Powdercoated steel, oxidized vitreous enamel on copper scraps, ceramic magnets, glass bottle, 185.4 x 218.4 x 132 cm. Courtesy Parisian Laundry. Photo: Maxime Brouillet.
Other residues of production were also put to use, exhibiting new possibilities for the refined material lexicon in which Deschamps operates. In Writer's Block (2018), small scraps of hammered copper are dispersed among manufactured elements reminiscent of office supplies, such as document holders and loose-leaf rings, which again obliquely reference a meticulous work environment shaped by inadvertent interferences and quotidian discoveries. Stanza (2018), comparable to a room without walls, holds a long contorted ribbon of salvaged enamelled copper. Precariously draped, it divulges the unfamiliar fragility of its material to great effect; its draping evokes banal yet sublime happenstances. A piece of tableware, hiding in Stanza, as well as the playful Telephone (2018) nearby, acted as subtle nods to an everyday reinvented and speak of the significance the artist gives its surprising peculiarities.While it retains the formal refinement Deschamps has accustomed us to in past work, this flirting with more commonplace objects introduces a welcomed familiarity to her latest body of work.
Lacking none of Deschamps's intellectual rigour, this exhibition constituted a significant departure in tone. Infused with the poetics of everyday life, it revealed a more subjective articulation of her fascination with the architecture of language. Like the titles of the pieces shown—taken from times of day, domestic objects and references to books—"Instances" unfolded like a chronicle of daily occurrences, exposing an intriguing and nuanced personal space.