On an overcast and exceptionally windy day in St. John's, Lucas Morneau, performing as the queer mummer, led a Richard Simmons–style exercise class under the gazebo at Bannerman Park. Morneau's ensemble included a bubblegum-pink balaclava with yellow trim around the eye and mouth holes that showed elaborately made-up eyes and fuschia lips, and a matching knitted crop top, shorts, leg warmers and wrist bands. A shaggy wig made of yellow yarn cascaded out of the top of the balaclava, with the front cut into a style of bangs known as the Mount Pearl Curl, so named after a subdivision just outside St. John's. Wind whipped the wig around glamorously as Morneau danced to Rough Trade, yelling instructions and encouragement to the small crowd dancing along in the grass outside the gazebo.
This performance, Werk Out, was presented at the annual Hold Fast Contemporary Arts Festival in September, and is part of a larger series of works by Morneau called The Queer Mummer, a project comprising drag characters inspired by the intersections of Newfoundland culture and queer pop culture. On the cover of the festival's program, Morneau is shown draped in a black crocheted costume that covers his head, concealing his face. He reaches toward the camera with a set of pointed black nails, crocheted fringes dangling from his sleeves. In this shot, he embodies the Fag Hag, a character who combines a Stevie Knicks–esque fashion sense with the Old Hag—a ghostly figure from Newfoundland folklore known for climbing on sleeping people's chests, paralyzing them and howling in their faces.
Lucas Morneau,
Werk Out
, HOLD FAST Contemporary Arts Festival, 2019. Courtesy Eastern Edge Gallery. Photo Jenne Nolan.
Morneau's interpretation of mummering builds on the practice's history of using disguise and humour to address simmering social tensions.The first documented instances of mummering in Newfoundland are from the early 1800s, and its early iterations are often understood as having emerged to address class-related tensions in small communities. Fishermen would disguise themselves, covering their faces and dressing in borrowed clothes (often women's clothes) and visit merchant houses in packs demanding to be invited in, occasionally becoming violent. In 1862, the practice was banned in Newfoundland after a group of mummers commited a murder. However, in recent years the tradition has been sanitized and commercialized, as exemplified with the founding of the Mummers Festival in 2009, and with gift shops and gas stations selling mummering-themed mugs and ornaments to tourists. These celebrations of the practice focus on the more contemporary and less political understanding of mummering as a social ritual of visiting neighbours, friends and family in costume, and sharing drinks while trying to guess each others' identities. By queering mummering, Morneau excavates the tradition's subversive roots to address homophobia.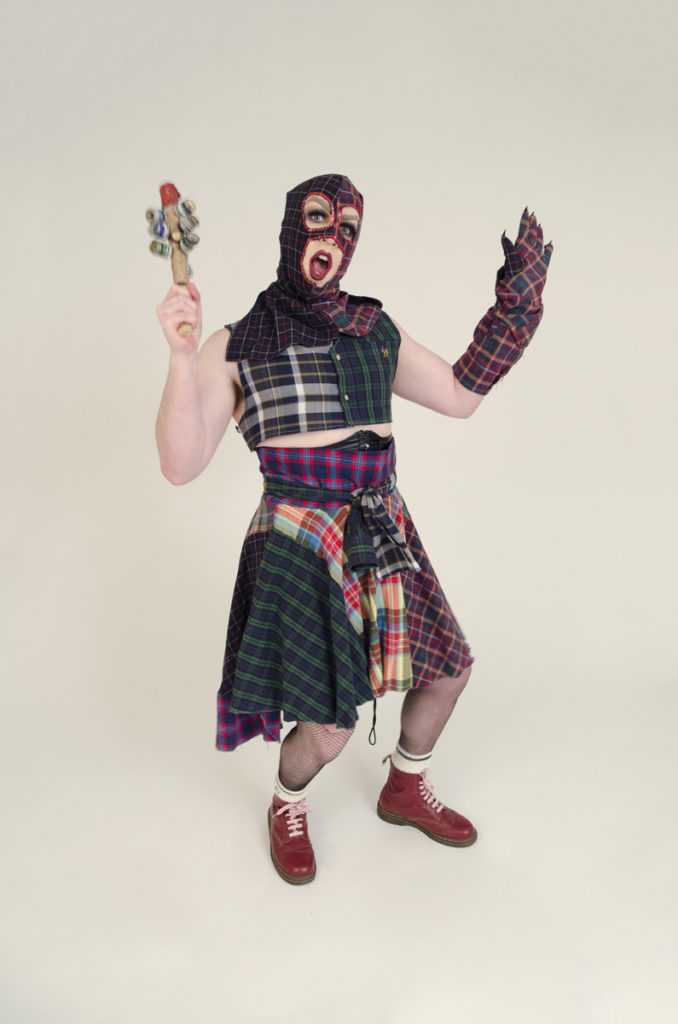 Lucas Morneau,
Lumber Jackoff
, 2018. Digital photograph. Courtesy the artist.
During his artist talk the day prior to Werk Out, Morneau mentioned that while growing up in Newfoundland, he found many people would claim they didn't have a problem with queerness as long as it wasn't visible. It's a sentiment that made national headlines last year when the small community of Springdale's town council rejected the Indian River High School Gender-Sexuality Alliance's request for a rainbow crosswalk, saying it would create division instead of inclusion in the community.
For Morneau an important part of The Queer Mummer is queering public spaces through drag performances. During Werk Out, it was powerful to see some young boys who happened to be hanging around the gazebo joyfully join the crowd dancing along with Morneau. The Queer Mummer is a flagrant refusal to be quietly queer, and it is a rowdy celebration of both Newfoundland culture and contemporary queerness.