The centrepiece of Cindy Baker's solo exhibition "Crash Pad" is a durational performance in which the artist—alone or accompanied by another performer—rests on a sculptural object resembling a blister-packed pill on the floor of the gallery space. With its indented metal frame and mattress-sized cushion, this pill-pack bed evokes the inherent tension between the much-needed respite and debilitating symptoms that medication provides for the chronic health problems that Baker and many others endure. As the performer shifts their body on the uneven surface, the mattress rocks and turns: it is precarious. In instances where Baker has shared space with other invited artists or dancers, the second performer adds a significant relational level to the work through empathetic acts of witnessing and responding to the artist as she seeks comfort on the sculptural object.
This idea of rest as the antithesis of productivity is key to the exhibition. Given our deep cultural socialization to celebrate productive "able" bodies and to police "failing" unproductive ones, Baker's resting body on display is a rejection of those norms. "I've tried to design a performance that allows me to do what my body needs to but—just as important—I've designed a performance in which that kindness and resistance to self-torture is meant to be visible," Baker explains in an interview accompanying the exhibition. "So even when I'm working really hard, hopefully people can see both that I'm working and I'm resting. I want people to recognise that I'm not just laying there, I'm not just sleeping, but I'm resting."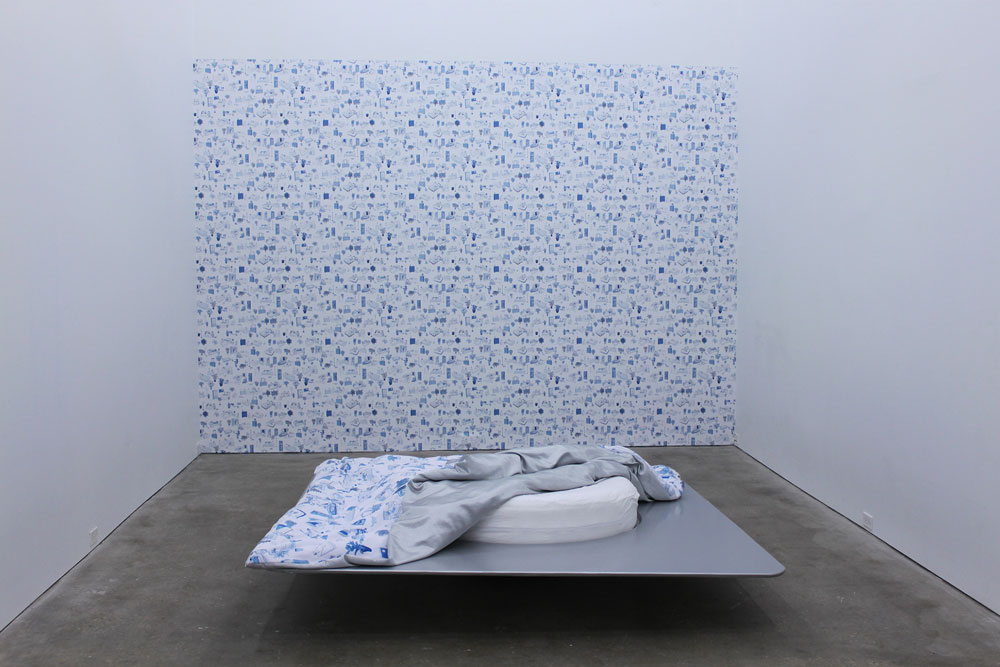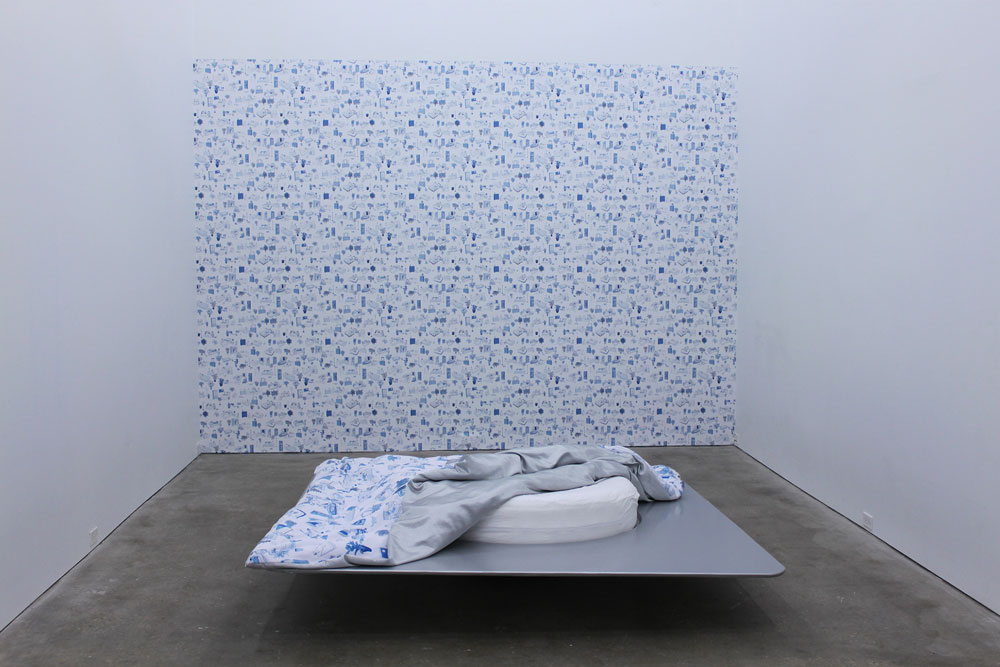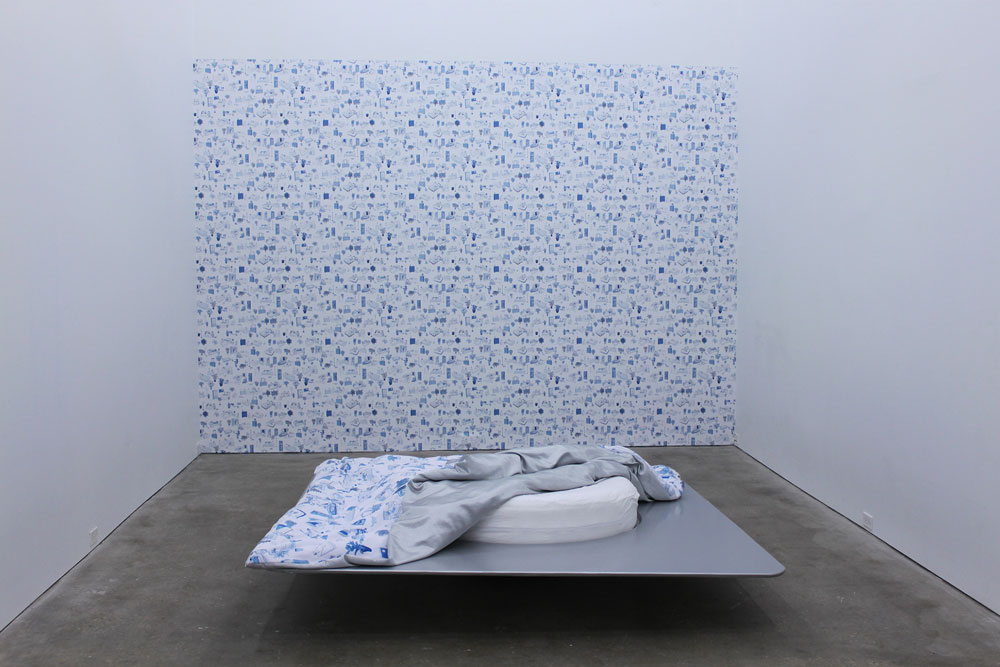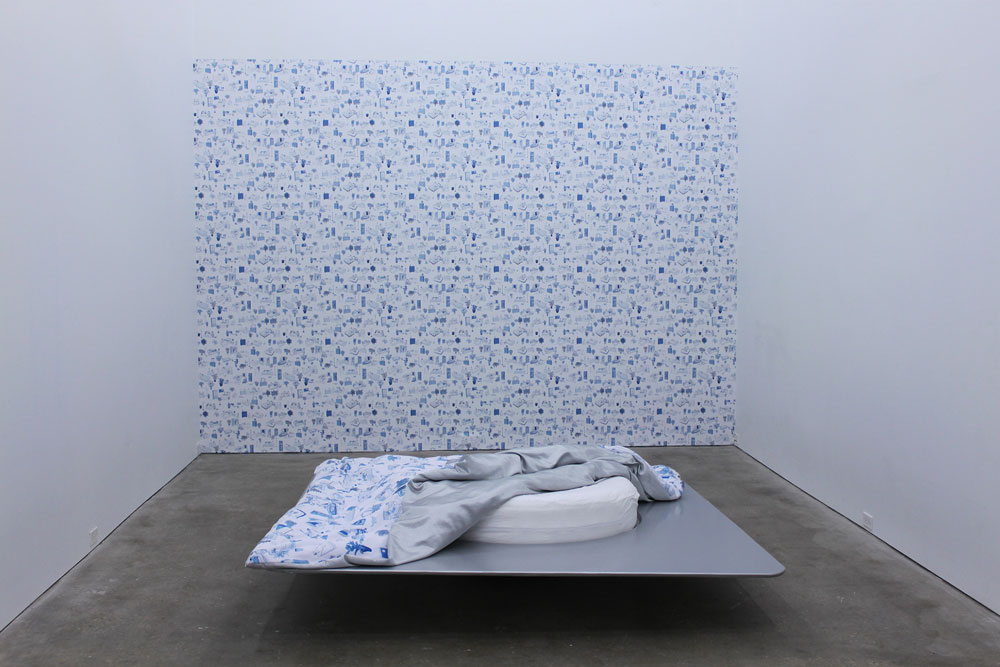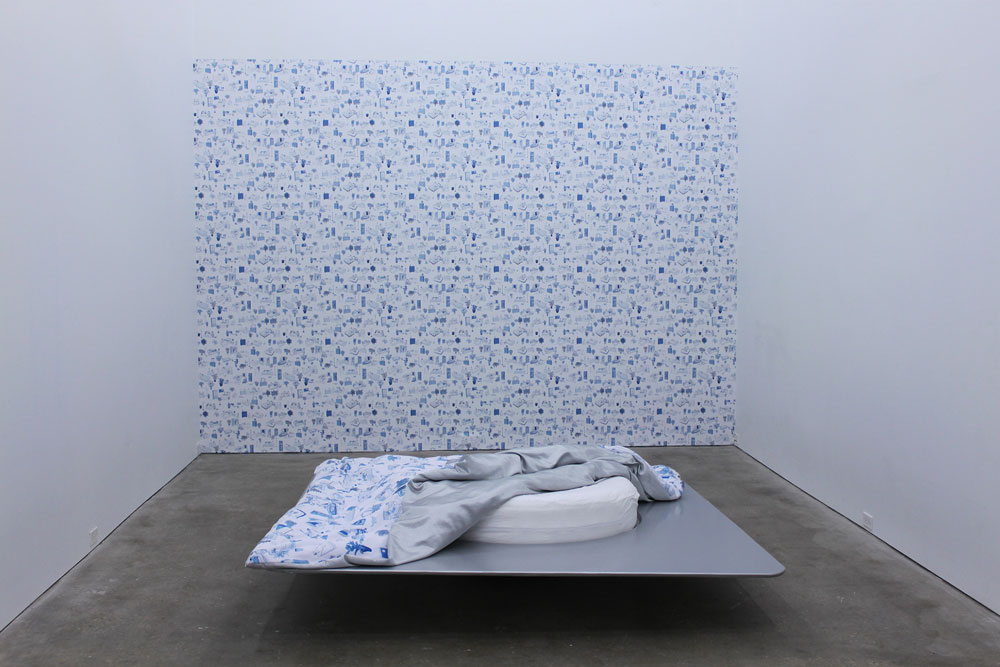 On a wall opposite to the sculpture is a series of eight tidy, blue monochromatic drawings. Each depicts women at leisure, talking nude on unmade beds, removing artificial limbs and taking pills. Baker plays with modes of normalization in these drawings to make visible the loving intimacy of women with curves and folds, chronic health issues and disabilities. The artist has often discussed her own body and the way it "fails." The blue drawings, however, show no indication of physical challenges being any impediment to deep, everyday connection between the women pictured.
Baker incorporates these intimate moments into patterned wallpaper that forms a backdrop to the performance, and on fabric, which serves as a duvet cover for performers on the large sculptural object. By evoking an image tradition designed for visually pleasing genre scene patterns for 18th century domestic spaces, Baker positions these women's "failing" bodies as unexceptionally pleasing, not abject. Viewing the wallpaper, the predictable rhythm through the images of prosthetic removal, pill ingestion and conversation among bedfellows reinforces the everydayness of these beautiful and vulnerable homosocial intimacies, which are often shared but rarely seen in visual culture.
When I visited the gallery, the singular intimacy of women drew me into the space through laughter. I followed giggles and whispers into the exhibition space, where I found the artist performing with her sister, Alana Gueutal, their bodies nestled together under the duvet. The surface on which they lie might be awkward, but their connection clearly is not. The strength and grace in which Baker presents intimate women, and the persistence of their connection, regardless of embodied realities, was distilled in the sisters' whispers about the next day's breakfast plans while in an embrace on the oversized pill pack.