There are up to nine holes in a mammal's body. Almost none of them are visible here. Walking through Chris Curreri's latest exhibition, "The Ventriloquist," viewers may feel inclined to conjure the missing folds, flaps and orifices as a way to enter the work. As a site of exit and entry, these holes let in as much as they let out.
A small leather harness lies listlessly on a platform slab of fuchsia carpeting in the centre of the front gallery. The harness leather looks new and non-distressed. Lain chains seem to writhe out from the harness to large, disembodied human feet and hands. Their grey pallor suggests a hint of death, but the sleek shine of the harness suggests a life not yet lived. Would it be more grotesque if this body without a body lived or died?
Surrounding the harness is a suite of four photographs titled Insomniac (2019) capturing the bleeding, breathing innards of a sheep, pig and cow. Their outer selves are not readily recognizable. Small clues from the size of severed joints to the scale of overflowing entrails reveal little. Photographed in an unnamed abattoir in Southern Ontario, there is an inherent dynamic elasticity in these bodies without organs. In one photo, your eyes are drawn toward the bounce of fresh blood droplets. In another, dark cascades along the liver glow. And in a third, bulbous sprouts of tissue and lining mushroom out. In light and composition, these unaltered photographs are reminiscent of the Flemish Masters' preoccupation with excess in still life. Except these offerings are not served on silver platters staining finely sewn tablecloths. The artist keeps us on the killing floor, hairs away from hooks, barrels and all.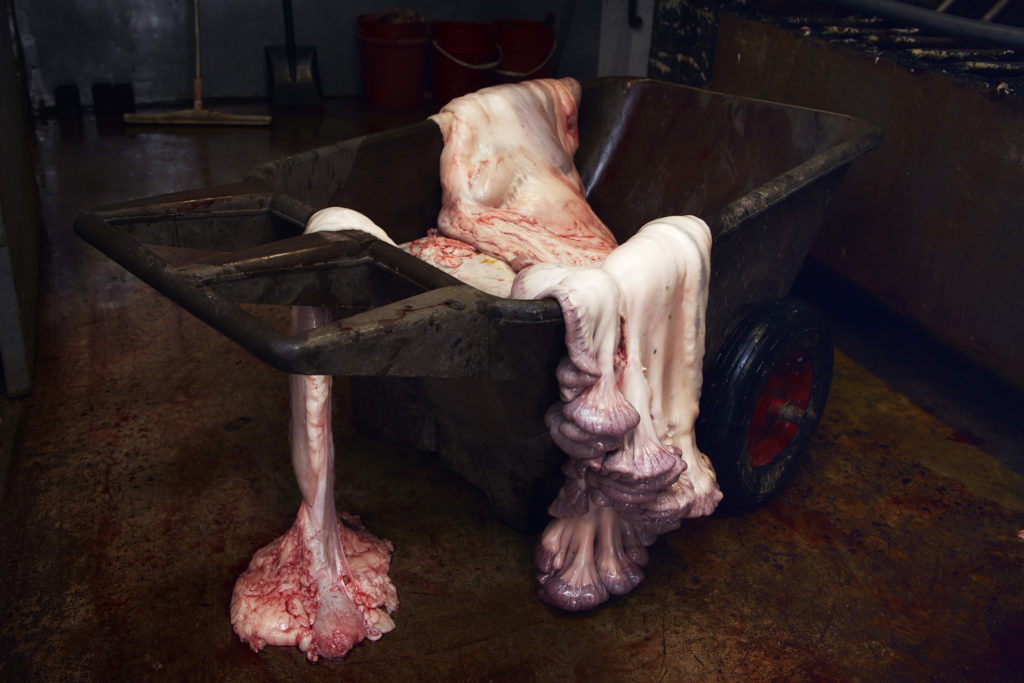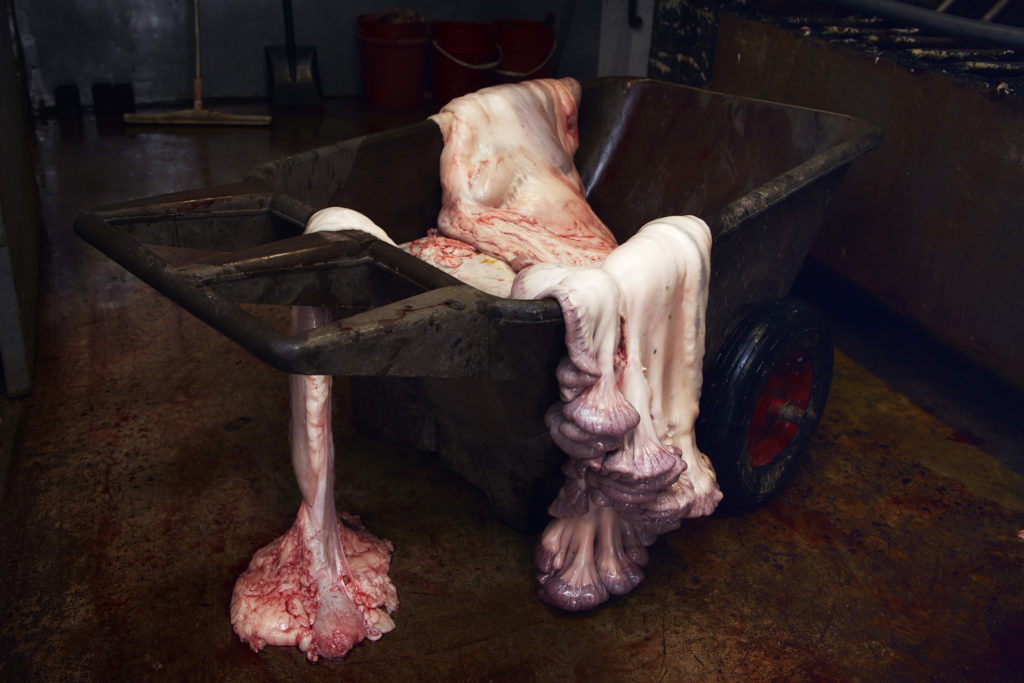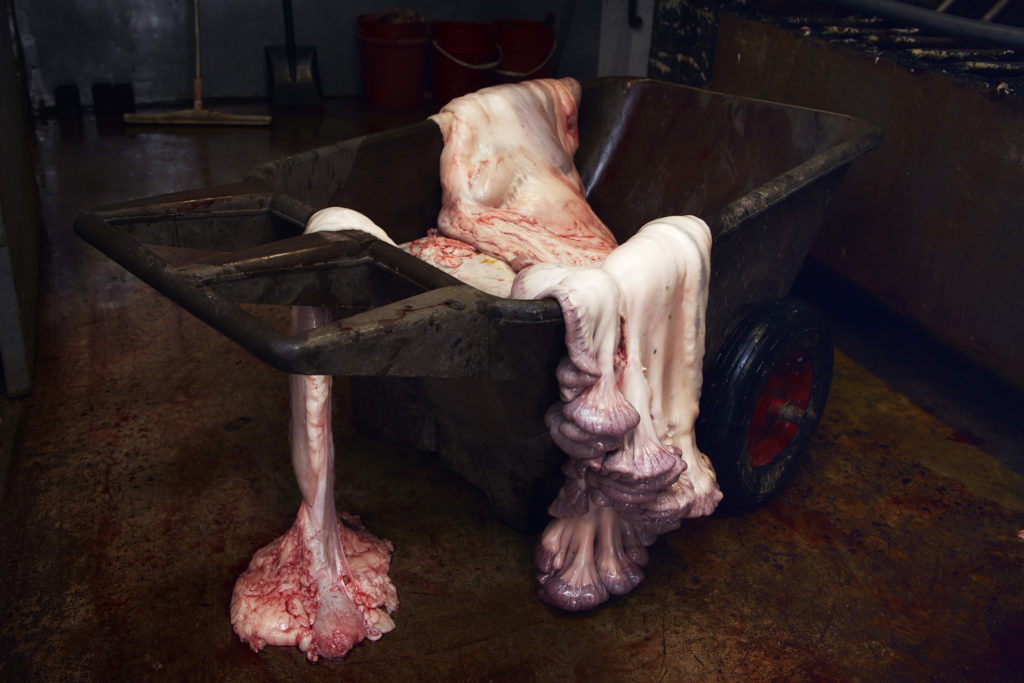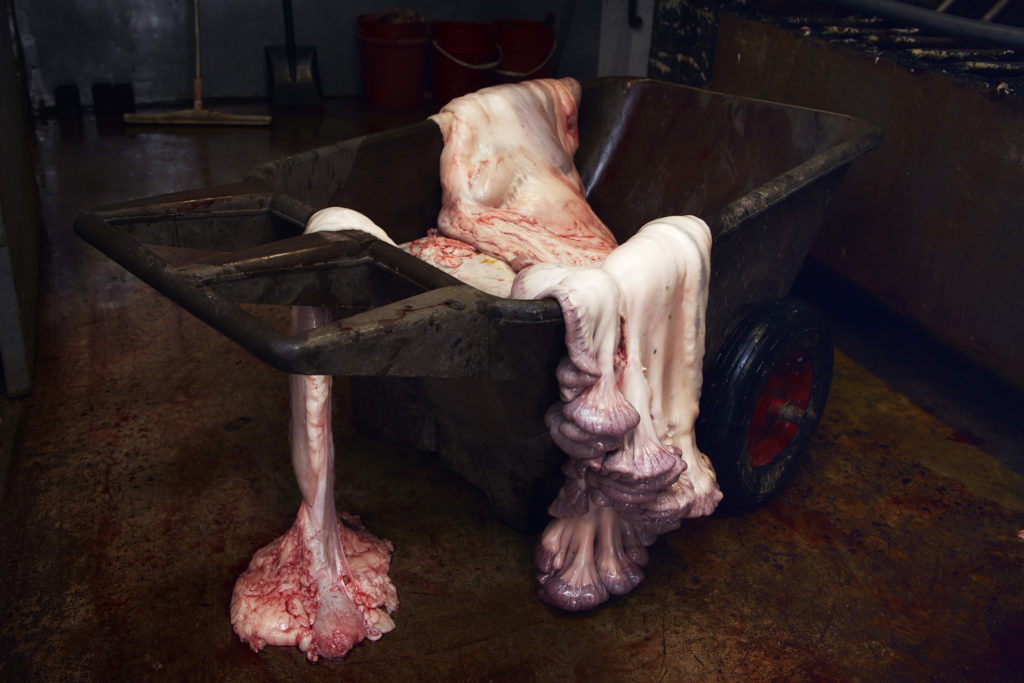 These inanimate portraits do not feel static, because they were not static. Slain carcasses will continue to beat and tremor for up to an hour after death, their wet warmth declines as their motion slows. Keeping this in mind as you enter the back galleries, your eye at first adjusts to the same fuschia spreading across the floor. A lone black-and-white silver gelatin print of a bearded man, gleefully titled Bloom (2019), welcomes you in and sees you out of the room. His visage is masked by a giant popped balloon of bubble gum, its traces stretched and smeared around the puckered opening of another orifice. Christopher (2019), a slightly larger-than-life size puppet of the artist stands propped in the far corner of the gallery with his back turned to us. Coming closer to the figure, it becomes apparent there is only a collapsed space in place of a body. Where a orifice should be, a much larger hole brims with riveted fabric lining that pours out from the puppet. Do we enter the puppet as we enter his exhibition and make him speak what we desire to hear?
In the smaller back gallery, another life-size figure sits draped in a packing blanket, waiting. His grey feet and legs are all that are visible. This is The Ventriloquist (2019). The absent body. Bodies splayed open and turned inside out. The waiting body. Taken together as a sum of its parts, you are left wondering what it means to be a body that is both absent and penetrable all at once.