As an Indigenous woman, spending any amount of time in Canada's capital city can invoke a flurry of complicated emotions. Ottawa's streets are clean and well-maintained but littered with Canada 150 signs, constantly reminding us that we are swallowed into the epicentre of national pride.
I was fortunate enough to have a second set of eyes with me on my venture to the National Gallery of Canada (NGC): my dear friend Dayna Danger. There, I was able to investigate the gallery's revamped Indigenous art section with a trusted perspective. And with who better than her? Dayna is a prominent early career photographic artist; she had my naked body proudly holding a set of caribou antlers on camera for the cover of Canadian Art's summer edition. She has always been a support system for me; we both carry awareness of the neo-colonial society that we exist in.
As we walked up to the gallery, our musings and humour subsided and we grew quiet. Our moods changed as the National Gallery sign came into our vision, with "Canada 150" sitting proudly on top of the words "ART." It's intimidating for any artist to walk into a major art institution, let alone two Indigenous women artists hailing from Treaty One territory.
My studies at Concordia University in Montreal are focused on Indigenous art history; more specifically, my interests lie in examining methods of decolonizing the art gallery and art world. Major art institutions are often considered problematic in terms of improper representation of Indigenous culture, and furthermore, the discourse around museum ownership of "artifacts" versus Indigenous cultural heritage (sometimes called "belongings") becomes a conflicting notion. Don't these objects belong to their communities? Are these establishments capitalizing on our loss of culture? Are those artworks our ancestors trapped in a gallery setting?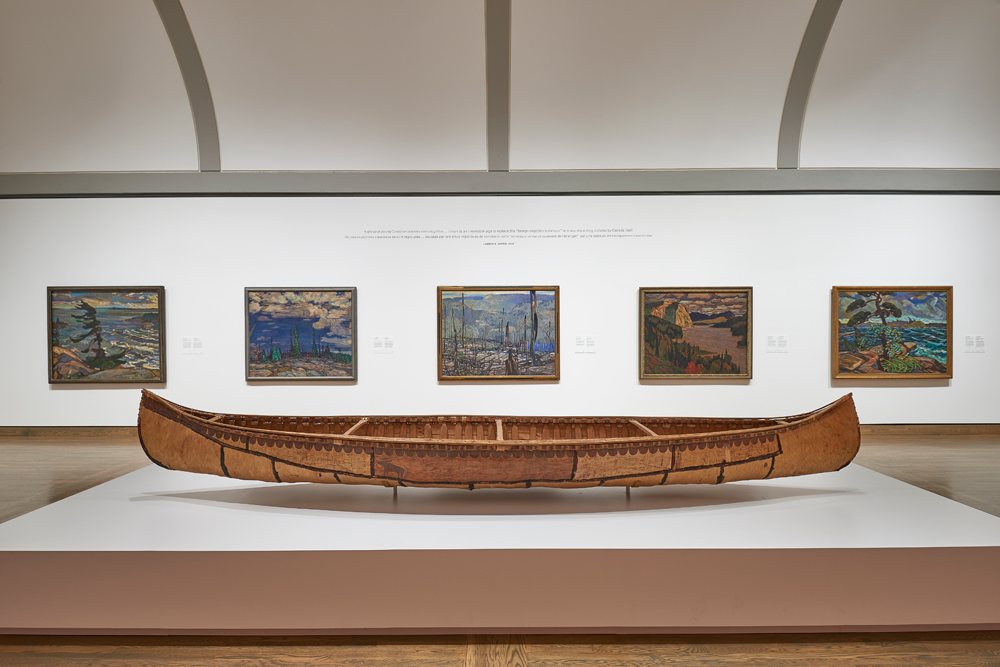 "Canadian and Indigenous Art: From Time Immemorial to 1967," installation view, June 2017, National Gallery of Canada, Ottawa. Photo: NGC.
The Canadian and Indigenous Galleries at the National Gallery of Canada have been reorganized after several years of careful restructuring and planning, and nine months of construction; they finally opened their doors in June 2017. The galleries are divided into two sections: "Canadian and Indigenous Art: 1968 to Present" (an exhibition on until April 2018) and "Canadian and Indigenous Art: From Time Immemorial to 1967," which is a permanent collection that displays objects dating as far back as 5,000 years ago.
We began our tour with the temporary exhibition room at the entry, which acts as an introduction to the rest of the galleries. We were greeted with a showcase of prominent Canadian art mediums: beading (which includes a beautiful video of Inuit artist Karen Fleming), painting, silverware and sculpture (featuring both carving and casting methods). This room is important to note, because as the further I went through the gallery, it became evident that these mediums are recurring themes.
I have been taught that Indigenous understandings of time contradict the Western concept of temporality. Western ideologies tell us that we see history in a linear manner, that time proceeds from the past to the present with dates and timelines and structures. Alternatively, Indigenous teachings tell us that time works in circles, like our medicine wheel or the turtle's back, or the rotation of the seasons. Our knowledge of time is fluid.
Knowing that the Western educational system instils this rigid understanding of time and history, and that the majority of us living on Turtle Island were educated from that colonized perspective which does not encourage an understanding of oral histories and multiple vantage points, I admit I initially approached the first gallery installation with some hesitation, even cynicism.
At first, we entered a room with statistics, dates and facts all displayed on the walls. When it comes to Indigenous history within the Canadian discourse, I have found it to be a polite and non-confrontational rhetoric which encourages the public's complacency on Indigenous issues. This was not the case in this room. We were immediately faced with bold, jarring truths, like the ban of our ceremonial practices in 1884, and that our right to vote wasn't granted until 1960. Other prominent Canadian historical facts were incorporated throughout this exhibition, but the introductory walls here seemed to take an unapologetic look at our history in order to convey the severity of colonization of First Peoples.
My initial skepticism waned as I walked into the "Time Immemorial to Present" gallery. While I understand that the attempt to decolonize a major art institution is an enormous undertaking, I am always searching for methods of reconciliation, whether it be within or outside of the gallery. I was pleasantly surprised by the organic fluidity of the National Gallery's revamped exhibition. Everything, from the descriptions of the exhibitions to the art labels, are translated into English, French or the artist's regional language (whether it be Inuktitut or Anishinaabemowin). Even the audioguides have been recorded by Indigenous speakers to ensure that the pronunciation is correct, demonstrating inclusivity in the process of displaying our community's artworks.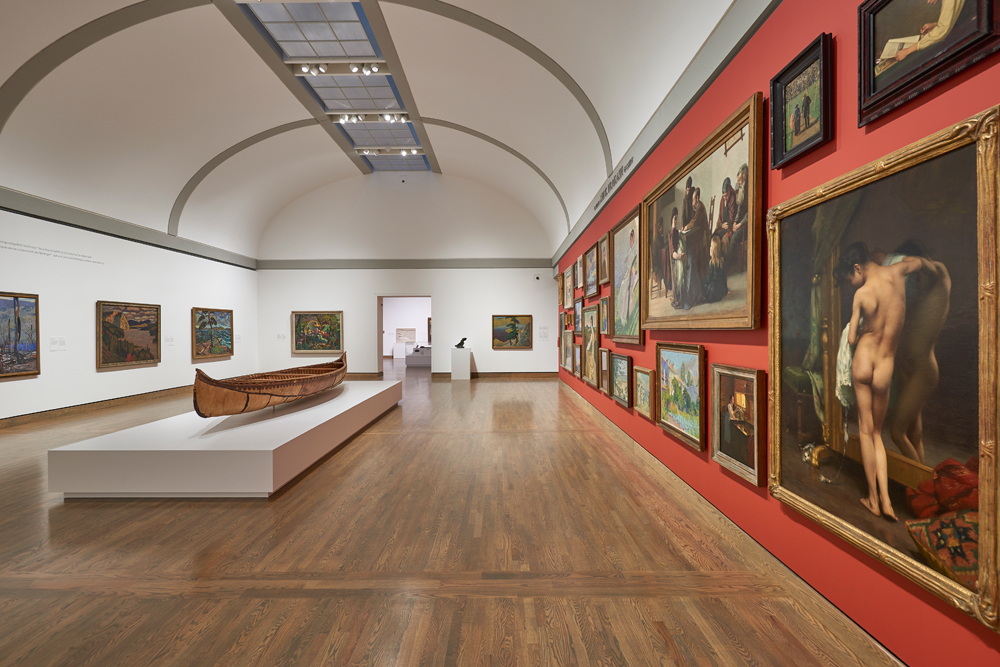 "Canadian and Indigenous Art: From Time Immemorial to 1967," installation view, June 2017, National Gallery of Canada, Ottawa. Photo: NGC.
The first segment of the historic gallery gives us a contemporary perspective in conjunction with ceremonial objects. This room demonstrates the historic cultural impact on modern Indigenous artists who are reclaiming these symbols with contemporary relevance. Luke Parnell's A Brief History of Northwest Coast Design (2007), a set of wooden planks with Haida/Nisga'a designs, leans up against a wall in contrast with a beaver petroglyph and smudge bowl sitting in the centre. Instinctively, my mind began racing. Does the petroglyph belong here? Why wasn't anyone using the smudge bowl?
An alcove sits to the right of the entryway, presenting a beautiful video installation that was derived from a National Film Board series titled Souvenir (2015), by contemporary Indigenous filmmakers Caroline Monnet, Kent Monkman, Jeff Barnaby and Michelle Latimer. These artists were asked to take video footage from the NFB archives and collage them into cohesive pieces regarding Indigenous identity. This was an especially moving part of the exhibition, as not only were the artists successful in maintaining their stylistic integrity, but they also demonstrated Indigenous sovereignty through storytelling and self-representation. This, to me, is an exceptionally important part of reconciliation within the art realm: sharing our perspectives from an Indigenous lens.
While I enjoyed many aspects of the exhibition and installation, I found the historic painting rooms to be somewhat problematic. Surrounded by Paul Kane and Joseph Legaré paintings, I recognized these rooms to include imagery that portrays honest examples of the processes of violent colonization of Indigenous peoples. The paintings represent Indigenous cultures, but still do so from a Western perspective. This is where the rhetoric of "savage" and "civilized" was founded, and though I understand that this is a part of colonial Canadian iconography, it stirred an uneasiness in my Anishinaabe heart. Unfortunately, this iconography is woven into our national identity and unavoidable when illustrating Canadian history.
That being said, I did appreciate the continuity of combining materials within the gallery space. A Métis pipe bag from 1900 which features beading and weaving consolidated itself organically into the curated space in order to integrate Indigenous perspective from the same time period. Given the prominence of the four mediums that were demonstrated at the beginning of the exhibition, it became apparent that canonized mediums like painting are not the sole proprietors of validity amongst art-world norms. I applaud the National Gallery's intention to integrate and unify these artworks while maintaining a cohesive aesthetic.
Further into the gallery, the themes of mixed media continue. Paint, sculpture, and beading are amalgamated into a seamless aesthetic. A stunning Transformation Mask (n.d.) made by Nuxalk and Heiltsuk artist Marven Tallio watches over gorgeous moccasins and mukluks with elaborate bead- and quillwork.
In the next set of rooms, Rita Letendre's Tension on Black (1963) sits proudly alongside Inuit sculpture. Captivating soapstone carvings are displayed in this room filled with abstract paintings and, while both stem from the same era, both are intriguing in their own beautiful ways. I was not expecting to see Davidee Itulu's Incised Walrus Tusk (1964) next to a Guido Molinari painting, but I was surprised by how aesthetically pleasing the two were together, sharing similar aesthetics within their shapes and forms.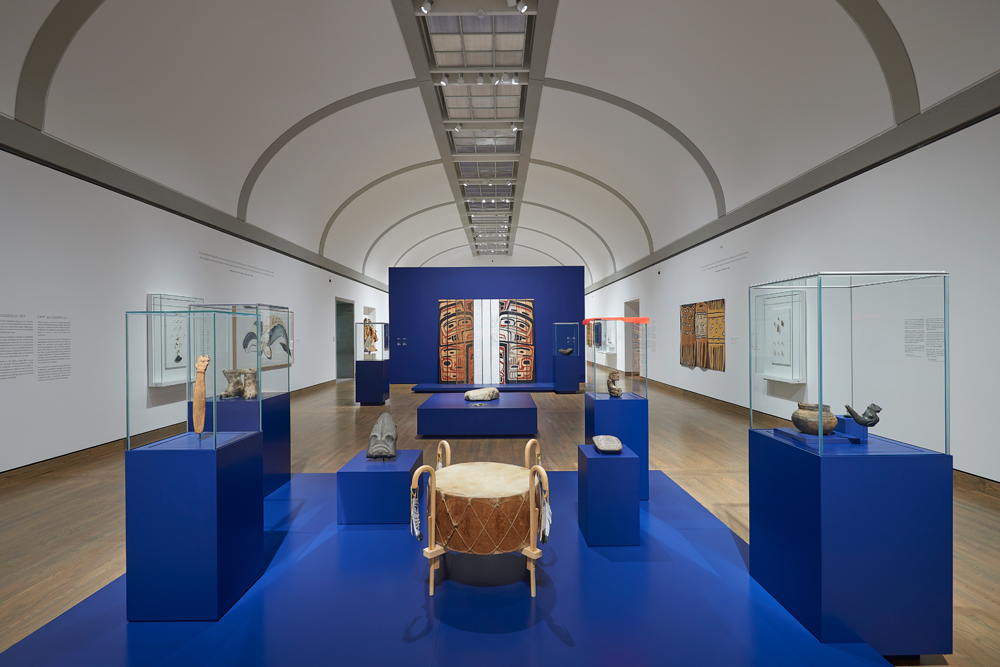 "Canadian and Indigenous Art: From Time Immemorial to 1967," installation view, June 2017, National Gallery of Canada, Ottawa. Photo: NGC.
Off to the side rooms, Kenojuak Ashevak's stonecut image Complex of Birds (1960) sits quietly on the wall. I stood in silence. For such a marvellous piece, it really should have been presented in a central area.
I continued into the last section of the "From Time Immemorial to 1967" gallery, and there it was: a massive acrylic painting by Norval Morrisseau (Copper Thunderbird) titled Artist and Shaman between Two Worlds (1980). Alongside are works by Roy Thomas and Daphne Odjig. This room left me incredibly honoured, as these artists have been my greatest inspirations when it comes to integrating ancestral teachings into visual representation.
As we persevered through the "Canadian and Indigenous Art: 1967 to Present" gallery, Rebecca Belmore's voice echoed through the halls; her video installation The Named and the Unnamed (2002) invokes Indigenous sovereignty for our Missing and Murdered Women and Girls. Brian Jungen's large whale skeleton sculptures, titled Shapeshifter (2000) and Vienna (2000), display his remarkable craftsmanship using white plastic chairs. Meanwhile, Abraham Anghik Ruben's Shaman Beckoning Spirits (2004) sits marvellous in its display case, miraculous and hauntingly beautiful. Overall, the "Canadian and Indigenous Art: 1967 to Present" gallery is absolutely stunning and successful in its representation of contemporary Indigenous art.
Overall, on this visit, my preconceived expectations of the newly redesigned Canadian and Indigenous galleries were dismantled. Given that colonization is implicated in the history and current structures of all of our major art institutions, I was both surprised and impressed by the demonstrated steps that the National Gallery of Canada is taking to elevate Indigenous voices through self-representation and in solidarity with Indigenous artists.
Instead of creating an "otherness," a divide between the Western and Indigenous perspective, NGC was able to integrate the two while providing a candid portrayal of the destructive colonization our communities have faced. In the future, I hope to see this progress as an exemplary model for other cultural spaces to encourage reconciliation for the Indigenous population of Canada.
Adrienne Huard is an Anishinaabe woman from Winnipeg currently studying art history at Concordia University. Her main focus is in Indigenous art and incorporating methods of decolonization within the art realm in order to ensure reconciliation for the community.
This post was corrected on September 29, 2017. The original indicated that the NGC spent nine years restructuring its collections; it is more accurate to say it took several years of planning and nine months of construction.