The Margin of Eras Gallery needs to raise $75,000 to keep running into 2020. The nonprofit gallery, run by radical arts initiative CUE, is facing closure due to financial pressures exacerbated by rising commercial lease costs in Toronto and administrative challenges accessing public funds.
There is quite a bit of urgency, according to creative directors Zanette Singh and Jason Samilski. "In order to keep the doors open for 2020, we would need the money by January, ideally," said Singh.
The gallery recently launched a crowdfunding campaign, Save the MOEG, to try and reach out to the community for help. If they hit their goal, the money will be used to pay for their lease, utility bills and other costs necessary to continue running as a "high-access, fully equipped DIY art space."
The gallery opened in November 2017 and has since held 73 exhibitions and events, worked with 360 artists and put $80,000 into the hands of those artists through artist fees, production support and grants. Their ethos of providing space and care for emerging artists who live and work on the margins, namely BIPOC and LGBTQ2+ artists, has made them a fundamental asset to Toronto's arts community.
CUE's funding comes from a mix of sources—including private foundations and donors—but the bulk is municipal and provincial public funding. In addition to CUE's Ontario Arts Council project grants, they previously held a strategic partnership with the OAC that gave them $10,000. But CUE staff were told more recently that the latter funding envelope had been eliminated. And according to the creative directors, operating on the shared platform of another organization, SKETCH Working Arts, precludes CUE from getting sustained operational funding for the gallery from the city or province.
"Everything that it takes to run a structure like this, the lease and the operational costs, even salaries for our core staff positions are under threat because funders just seemingly aren't as interested in that side of things," said Samilski.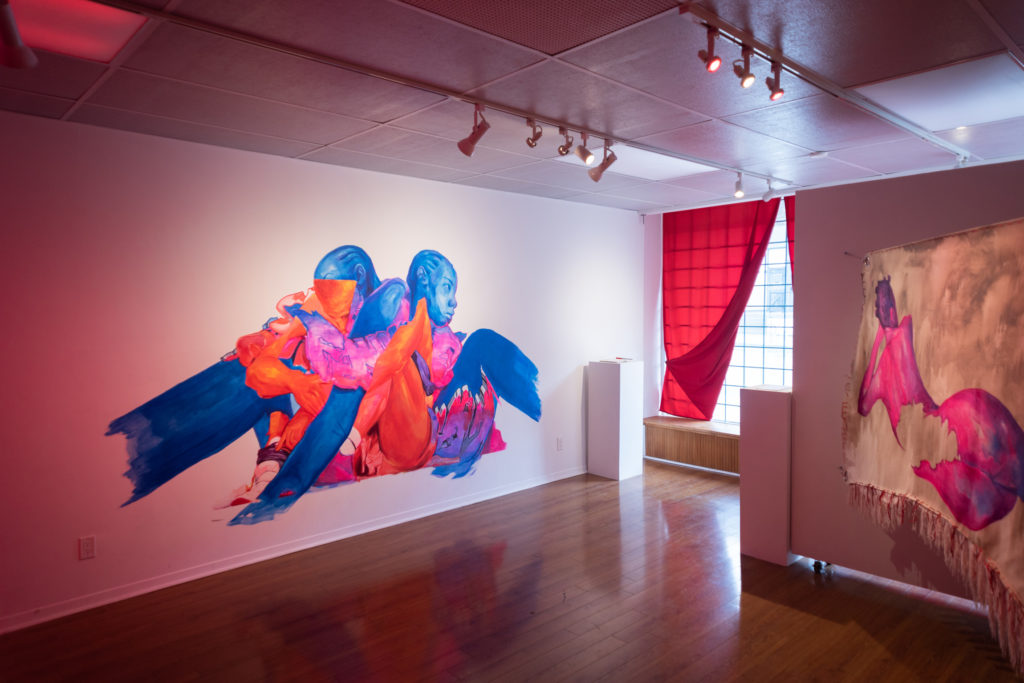 A view of "Through Rose," solo exhibition by Curtia Wright in April 2019 at the Margin of Eras Gallery. Photo: The MOEG.
There have been significant provincial cuts to public arts funding in Ontario under the Ford government, including $15 million from the Ontario Trillium Foundation and $5 million from the Ontario Arts Council. CUE and the MOEG rely on both these funding bodies to continue operating. Samilski says that attempts at securing public funding have become more competitive as a result of these cuts.
Because the MOEG prioritizes nurturing artists' practices and counteracting the historical exclusion of certain artists from institutional galleries, the question of whose work is lost if spaces like the MOEG shut down is at the forefront of Singh's mind.
For instance, the gallery helped nurture Toronto multidisciplinary artist Curtia Wright's career and put on her first solo exhibition, "Through Rose," in April.
"I was so overjoyed to have the opportunity to show in that space, particularly because they've helped me and other artists that I'm really connected to," says Wright. She recalled the gallery staff being incredibly hands-on and going out of their way to execute her vision, giving her more time to focus on her practice.
Before Wright reached out to the MOEG about exhibition opportunities, she inquired at other spaces that asked her to pay up to $5,000 to show for a weekend. The MOEG didn't charge her at all, and they paid her an artist fee.
She mentioned it can feel like a "collective defeat" when these spaces are forced to close, because of how ingrained and necessary they become within the community. "I see how hard Roya [DelSol, the MOEG's coordinator], Zanette and Jason work, and for it to come to this point is really, really disheartening."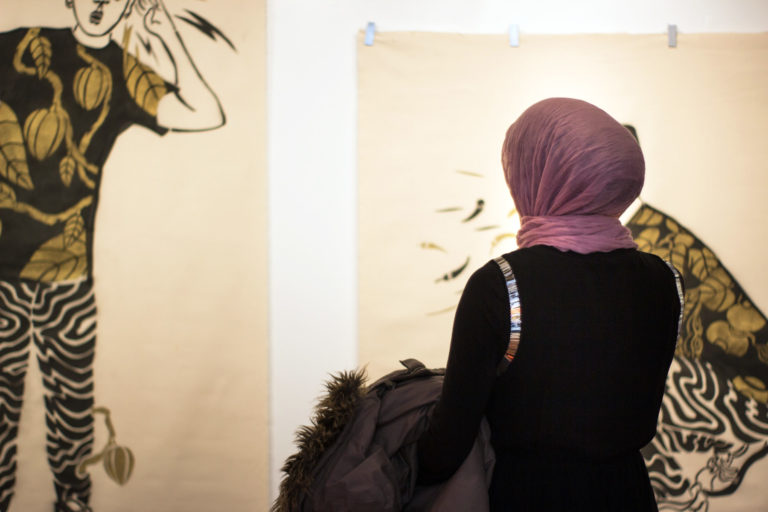 A visitor at the Margin of Eras Gallery's inaugural exhibition, "Welcome to Your Gallery," in November 2017. Photo: The MOEG.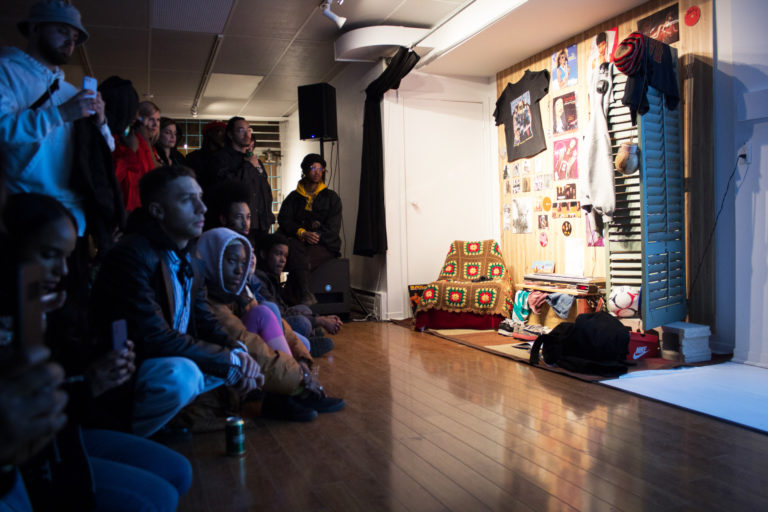 At "HABITAT: Air Congo," a multidisciplinary installation and performance by DESIIRE at the Margin of Eras Gallery in March 2019. Photo: The MOEG.
If the staff are unable to secure funding in time they plan to continue offering easy-to-access grants, mentorship and exhibition support to artists through CUE.
"I hope that [the MOEG] has become a place of possibility in the imagination of artists on the margin. It's really magical and really important for artists to feel like they belong somewhere," said Singh.
It's not only marginalized artists who are affected, but their communities too, who have not been reflected in the programming of major institutions. The problem comes down, say the MOEG's advocates, to funding and who's receiving it. "We are seeing that the biggest transfers of arts and culture funding are still going to institutions that have a historic track record [of] excluding marginalized groups," said Samilski.
Currently, there is a sense of interest across the city in diversifying programming and highlighting underrepresented artists—but precarity is still an issue for many artists in Toronto. As the Toronto Arts Foundation's own new Arts Stats report indicates, 89 per cent of Torontonians believe that the arts make Toronto a better place to live, and yet half of the city's artists make under $30,000 per year, and nearly one in five artists have been renovicted from their home or studio. And 48 per cent of the artists responding to the Arts Stats survey identify as belonging to at least one equity-seeking community.
"There's lots of talk but [the funding] is not translating into direct investment in initiatives. I think there are lots of struggles for people doing things on this level and with the intention of supporting and engaging the communities that they're focused on," said Samilski.