Stephanie Comilang is the winner of the 2019 Sobey Art Award. The announcement was made this evening at a gala ceremony at the Art Gallery of Alberta in Edmonton.
Comilang's documentary-based works create narratives that look at how mobility, capital and labour, on a global scale, are shaped through cultural and social factors. "Representation is everything. Can we see ourselves in the wider world? Winning the Sobey Art Award and representing a demographic that looks like me hopefully lets others know the limitless possibilities of who you can be as an artist," said Comilang in a release.
Each of the four finalists, Nicolas Grenier, Kablusiak, Anne Low and D'Arcy Wilson, receives a prize of $25,000.
The finalists and winner are selected by an international jury, which this year included National Gallery of Canada senior curator Josée Drouin-Brisebois; Dalhousie Art Gallery director/curator Peter Dykhuis; National Bank Collection curator Jo-Ann Kane; independent curator, artist and writer Swapnaa Tamhane; Art Gallery of Alberta curator Lindsey Sharman; former Contemporary Art Gallery executive director Nigel Prince; and Kunsthal Charlottenborg curator Henriette Bretton-Meyer.
Of Comilang's work, the jury wrote: "Through what she calls science-fiction documentaries, Stephanie Comilang speaks to how the world is increasingly experienced through technology. By using the point of view of a drone—the ancient sentient being Paraiso who acts as both recorder and protagonist—the artist shows how communities, made up of mainly migrant women, carve out space in locations that are never really home. The jury was impressed by her ambitious practice which engages in a complex manner with what has been lost through colonization."
Her work has been shown at Ghost : 2561 Bangkok Video and Performance Triennale, S.A.L.T.S Basel, UCLA, International Film Festival Rotterdam and Asia Art Archive in America, New York. During a residency at the Tropical Futures Institute in Cebu in the Phillippines, she researched the linguistic history of the Eskaya tribe and its near extinction under Spanish colonialism; in the recent work Yesterday, In the Years 1886 and 2017, she considers the connections that all migrants have through shared experiences and struggles.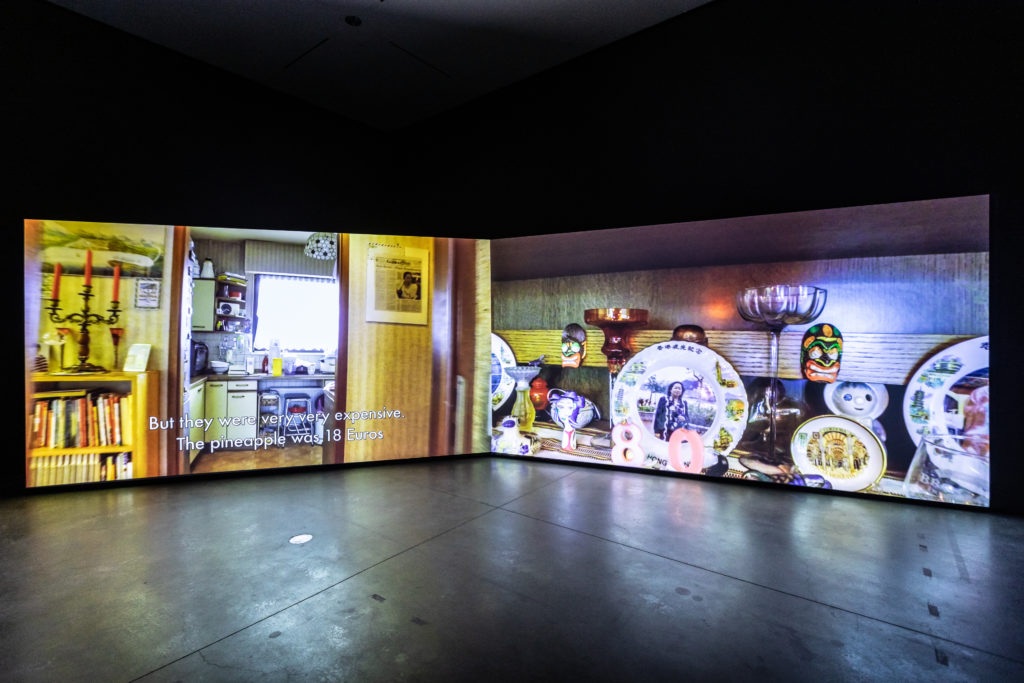 Stephanie Comilang,
Yesterday, In The Years 1886 and 2017
, 2017. 2-channel video installation, 9:49 min. Installation view at the Sobey Art Award Exhibition, Art Gallery of Alberta, Edmonton, 2019. © Stephanie Comilang Photo: Leroy Schulz
The 2019 Sobey Art Award exhibition, featuring work from Comilang and the four other finalists, will be on view at the Art Gallery of Alberta (AGA) until Sunday, January 5, 2020. Curated by AGA curator Lindsey Sharman, the exhibition presents more than 35 works, spanning video-based installations and participatory works to paintings, sculptures, drawings and photographs.
For the Sobey Art Award's 16th edition, more than $240,000 in prize money was distributed. The winner receives $100,000, each of the four finalists will receive $25,000 and each of the longlisted artists will receive $2,000.
The Sobey Art Award is a national prize that recognizes the best Canadian artists aged 40 and under. Past winners of the Sobey Art Award include Brian Jungen, Annie Pootoogook, David Altmejd, Nadia Myre, Abbas Akhavan, Jeremy Shaw, Ursula Johnson and Kapwani Kiwanga.