In the wake of Bill C-81, "an act to ensure a barrier free Canada," and the Canada Council's accessibility and equity research initiatives, the attention to deaf, disability and mad arts is growing. The aim, now, is for organizations to realize commitments to accessibility by developing methods of inclusion that are as creative as their programming. Rather than simply accommodating these artists and audiences, organizations have the opportunity to "crip"–that is to disrupt–the way they think about language, time, representation and even budgeting. What are the futures of these bodies and what can we learn from them?
Definitions of disability have shifted from a solely medical or individual understanding toward the development of new social and cultural frameworks. The recent symposium Cripping the Arts, which took place January 24 to 26 in Toronto, expanded definitions even further to include the sick, mad, chronically ill or anyone with a body that has been marginalized by the art world because of it. The symposium was organized by the British Council, Creative Users Projects, Ryerson University's School of Disability Studies and Tangled Art + Disability. The presentations, discussion panels and performances encouraged the recognition of disability as a creative opportunity, not a pathology, and the "different ways that Deaf, Disabled and Mad artists and audiences contribute to, create and experience culture."
I came to this symposium from a privileged position: white settler, middle class, university educated and, given these privileges among others, able to pass as able-bodied. Having spent much time in 2018 curating an exhibition and editing a short book on the natural, inevitable and universal experience of inhabiting an unwell body, I was eager to learn what "cripping the arts" entailed, and to hear others who are invested in this subject matter articulate its complexities.
To "crip" the arts is to embrace the ways that disability can disrupt the status quo and can lead with difference.
The symposium as a whole was vastly diverse in terms of its presenters, topics, audience members and its means of access for those with mental, sensory or physical differences. Each session unpacked issues ranging from topics like disability representation in the media to specific endeavors like training theatre-sector employees in "Relaxed Performance"–a production methodology that makes theatre accessible to audiences with varied needs.
No matter the topic, all of the sessions at Cripping the Arts circled back to disrupting normative practices within the arts, which have traditionally been ableist, colonial or racist. The movement is pushing well beyond the discussion of physical access–although there is still work to be done here–to ensure that deaf, disabled and mad identifying artists and audiences are no longer dismissed as a speciality minority group, but rather, recognized as equal participants in contemporary art discourse.
What follows is intended as a summary of some points I heard raised repeatedly at the symposium. I encourage all readers, no matter how you identify, to recognize that this movement is important and concerns everyone.
THE IMPACT OF LANGUAGE
To "crip" the arts is to embrace the ways that disability can disrupt the status quo and lead with difference. By "cripping," or subverting, the language used within the arts, exclusionary or patronizing tropes related to disability can be dismantled, allowing access and inclusion to be standardized, terminology to be reclaimed, artists and audiences to be empowered and proper representation to be achieved. Sage Lovell, a creative freelancer and founder of Deaf Spectrum, an online accessibility resource, addressed the ways in which language can also mould aesthetics and identities. Lovell, who presented on the Leadership panel, identifies as culturally Deaf, meaning they characterize themselves based on their experiences and interactions. They pointed out that seemingly softer terms like "hearing impaired" aren't appropriate and can be damaging. Many people choose to reclaim labels, for example using a capital D for Deaf or Disability, to designate a political affiliation rather than a medical one. Lovell went on to note that because language is inherently tied to identity, it only makes sense that ASL speakers would adopt a cultural moniker.
Vanessa Dion Fletcher, the 2018 Bodies in Translation Artist in Residence, performed Finding Language: A Word Scavenger Hunt, which focused on the loss and reclamation of Indigenous language. The work brought together her Potawatomi and Lenape ancestry and her learning disability as she wandered the room finding words and methodically translating them using her Delaware dictionary. Aaron Labbé, an artist whose work LUCID was installed at the symposium, also spoke about the importance of finding language, specifically being given the terminology to identify as Mad after his experiences with psychiatric hospitalization. LUCID is a soundscape installation that encourages "self-care through powerful multi-sensory experiences." Labbé remarked that when he has introduced the work without his personal backstory, it is seen as "innovative," but when he discloses his Madness it is regarded as "therapeutic." This calls attention to the damaging assumption that all disability art is situated in the therapeutic and is therefore separate from critical or conceptual discourse. At the same time, LUCID acknowledges the capacity for the arts to cross linguistic or cognitive boundaries, since elements like light, sound, colour and movement do not require conventional interpretation.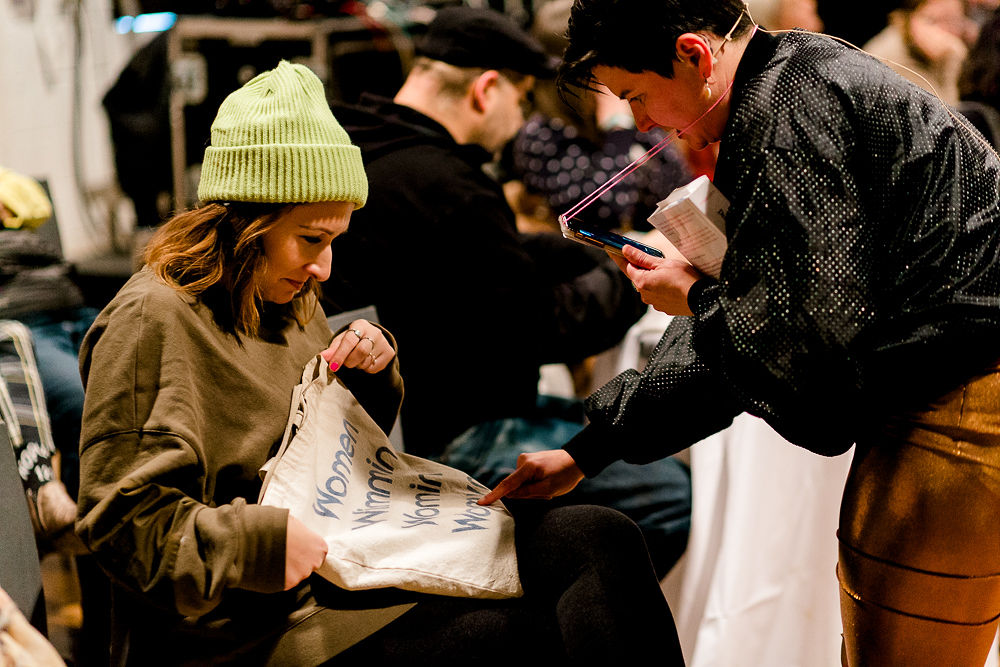 Vanessa Dion Fletcher performs
Finding Language: A Word Scavenger Hunt
. Photo: Michelle Peek Photography courtesy of Bodies in Translation: Activist Art, Technology & Access to Life, Re•Vision: The Centre for Art & Social Justice at the University of Guelph.
When disability is represented it is generally portrayed as the punchline, the curse, or the inspiration.
THE TROUBLE WITH REPRESENTATION
In the symposium's representation panel, Shay Erlich outlined their top pet peeves for the way disabled artists are portrayed in the media. Most of these involved the inability of journalists to detangle the artist's disability from the art itself, and the habit of using methods that are extractive rather than collaborative. Artist Peter Owusu-Ansah provided an example where a journalist focused on the "help" provided to him by the interpreter, making the article more about the novelty of his deafness rather than his voice as an artist. Erlich also called out mimicry as a major issue–having non-disabled folks acting as if they are disabled. They described seeing a ballet that featured a woman in a wheelchair and knowing, the moment she came on stage, that by some miracle, she would be up and dancing before the show was over.
Michael Orsini elaborated on this point, saying that when disability is represented it is generally portrayed as "the punchline, the curse, or the inspiration," and that people are hypervisibilized in some ways while being invisibilized in many others. In the panel Mad Race, Loren O. Delaney, Syrus Marcus Ware and kyisha williams addressed the invisibilization and racialization of Madness. Too often the mental health concerns of Black people go unaddressed, or when they are addressed, they are done so with lethal force–as was the case of Andrew Loku, who was shot within seconds of police arriving at his Toronto home in 2015.
CRIPPING AS DISRUPTING
The theme of disruption carried throughout the symposium with discussions about breaking down exclusionary environments and practices, and the silos that enclose Deaf, Disabled and Mad arts. While the contemporary art world often touts diversity and equality, the spaces in which it's programmed and the rules by which it's governed often operate on white, settler and patriarchal models. The mission of disabled artists and their allies is not only to increase visibility for marginalized artists but to break down, or crip, the colonial and ableist structures that have alienated them.  
For example, methods of Relaxed Performance, as discussed by Andrea LaMarre, Carla Rice and Kayla Besse, subvert the ableist gaze in theatre. It strives to change the etiquette on what it means to be "a good audience member" in an artistic medium which the speakers identified as having a long history of exclusion and exploitation of marginalized individuals. Having proper interpretation, allowing audience members to speak or come and go from the theatre as needed, or having the actors address the audience are some of the methods they propose to increase access. They also noted that in order to have better representation of deaf or disabled actors, they must first foster deaf or disabled audience members. Inclusion has to start at the door, not in a report or as a one-off on the marquee.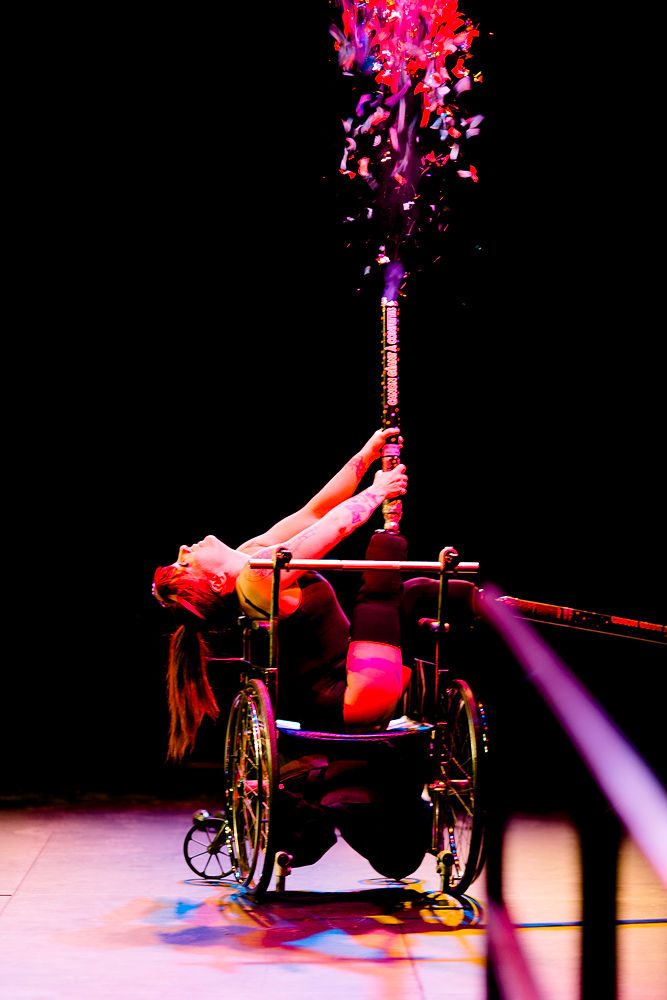 Erin Ball performs in
Crip Shorts
. Photo: Michelle Peek Photography courtesy of Bodies in Translation: Activist Art, Technology & Access to Life, Re•Vision: The Centre for Art & Social Justice at the University of Guelph.
DISCUSSING A CRIP AESTHETIC
Sean Lee, the director of Tangled Art + Disability in Toronto said that disability has a lot to add to art "in ways it has otherwise stagnated." The crip aesthetic ventures to embody difference in ways that are not yet understood or defined and reinforces that deficiency is merely a matter of perspective. Disability or crip arts simultaneously question societal and art-world structures, and as with many movements that have been pushed to the fringes of the establishment, it is grounded in social practice and rife with challenging histories.
In the "Crip Shorts" performance series on Friday night, innovation through difference was made abundantly clear. Jessica Watkins performed in the dark to create an elaborate web around a ring of posts that was not revealed until the lights came back up minutes later, effectively disrupting the presumed visual component of an audience facing a stage. Circus performer Erin Ball performed a routine using a wheelchair as a sawhorse, routinely changing or removing her prosthetics for varied effect. In manipulating her physical form, Ball demonstrated ultimate control, a state of being rarely projected onto disabled bodies by the ableist mainstream. The performance concluded as Erin donned a pair of prosthetics from which she promptly shot confetti out into the audience, indicating that disability art can be performative without being therapeutic, progressive without being overtly political and celebratory without being framed as a miracle.
RIGHTS AND ACCESS, NOT CONVENIENCES AND WANTS
In her presentation, creative producer and artist Lindsay Fisher explained that in inclusive design research, disabled people are considered "extreme users." Unsatisfied with this description of the disabled as intense passive bystanders, Fisher launched Creative Users Projects, a "cultural connector and sector builder of disability arts and accessible curatorial practice." One of the services offered by the online platform is the Accessing the Arts Initiative, a database of art events that outlines their different methods of access such as ASL interpretation, wheelchair access or audio description.
Much of the built environment is inaccessible in its construction, and if we are to acknowledge art as a public good and a civic catalyst, more organizations need to integrate accessibility measures into their planning. "Accommodation" is a dangerous term because it designates accessibility as a matter of convenience rather than a right. There is an element of ableist gatekeeping at work when a committee or an individual is deciding–often based on an unwillingness to commit funds–who gets to come through the door. Chairs make the cut, but ramps don't. Though it may be costly, accessibility is not a luxury.
Hamilton-based community organizer Sarah Jama expressed her frustration with organizations patting themselves on the back for providing only basic physical access. Her accessibility efforts extend to employment, income and education, specifically within POC communities whose disabilities are often compounded with a lack of access to social and economic resources. The panel went on to acknowledge that even the conversation pertaining to rights and progress has the capacity to be inaccessible. "What is it to talk about disability aesthetic without an MFA?"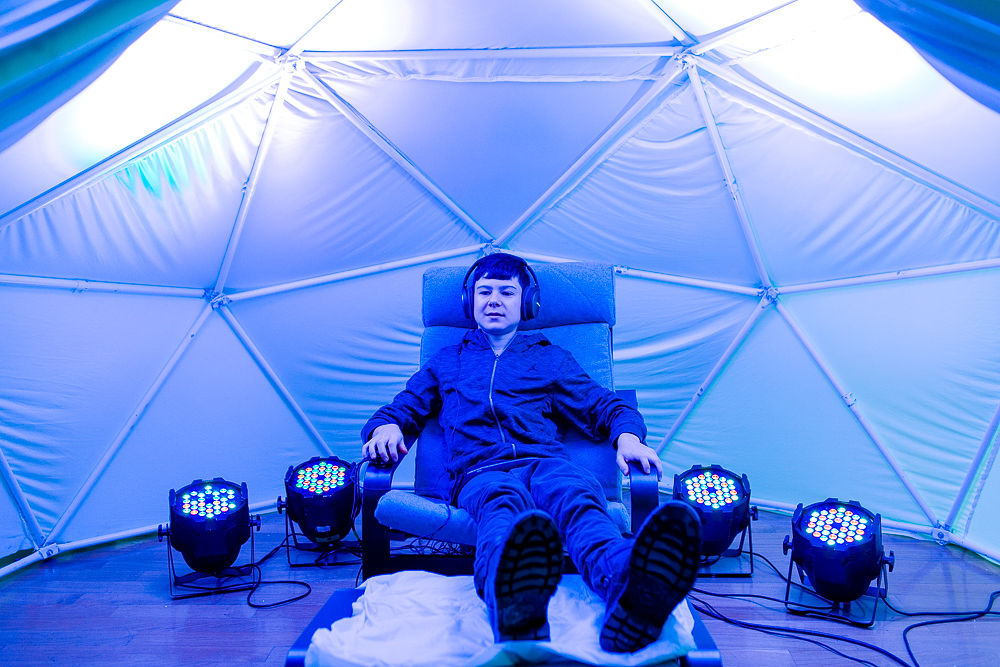 LUCID
installation by Aaron Labbé. Photo: Michelle Peek Photography courtesy of Bodies in Translation: Activist Art, Technology & Access to Life, Re•Vision: The Centre for Art & Social Justice at the University of Guelph.
The conversations surrounding Deaf, Disability and Mad arts are not new and it can be discouraging to hear about the chronic inequity in recognition or inclusion, particularly in disciplines that have a tendency to claim openness more than they practice it. While there is a great deal of work to be done, it has been reassuring to witness the disruptive power of cripping in action. Slowly but surely a bar is being set for arts organizations to properly serve audiences by expanding their notion of access into their galleries, theatres and institutions instead of leaving it at—or even well before—the door.