In Toronto on Saturday, police arrested three people who were participating in a Black Lives Matter action that involved painting and stencilling colonial monuments.
Police detained and charged Daniel Gooch, Danielle Smith and Jenna Reid with three counts of mischief under $5,000—a charge often relating to destruction or damage of property—and conspiracy to commit a summary offence.
The monuments they and others painted were of Egerton Ryerson, who helped create the residential school system; John A. Macdonald, whose policies as prime minister oppressed Indigenous peoples; and King Edward VII.
Now, in a new open letter titled Artists in Support of Black Lives, more than a two thousand artists and arts workers are calling—together with Black Lives Matter Toronto—for the charges to be dropped, for the monuments to be removed, and for an immediate 50 per cent reduction of the Toronto Police Services budget, among other measures.
"Artistic interventions on monuments have a long and well established history," notes the letter, which is signed by Governor General's Award winners Dionne Brand and Andrew James Paterson, Toronto International Film Festival artistic director and co-head Cameron Bailey, Guggenheim Fellow Deanna Bowen, Eisner Award winner Jillian Tamaki, and Oscar-nominated filmmaker Sarah Polley, among others.
"Monuments are not symbols of history but rather, symbols of intentional emphasis," it continues. "Artistic responses to the existence of these monuments is both protected political speech and a recognized artistic practice."
View of the Black Lives Matter Toronto intervention on a King Edward VII equestrian monument in Queen's Park, July 2020. Photo: Michèle Pearson Clarke / Instagram @mpclarke.
The letter also alleges that "this protest was met with an egregious amount of police harassment and intimidation tactics. It resulted in over 20 police officers kettling three of the attendees, arresting them, and holding them for over 16 hours without explanation, or confirmation."
(In two releases, the Toronto Police Services and its Chief Mark Saunders have disputed this allegation, saying, "The three arrests were made in accordance with the law and all rights were respected. There was nothing unique about these arrests or the process which followed.")
The new letter is posted in solidarity with the work Black Lives Matter Toronto has been doing for several years.
"The Movement for Black Lives is an arts-led movement," says artist and Black Lives Matter Toronto core team member Syrus Marcus Ware. "The majority of us on the team in Toronto are artists, spoken word artists, dancers, writers. This is a movement of tremendous creativity, and artists are essential to this organizing."
And that creative approach locally is making a big global impact. A July 19 speech about the monument action, and subsequent arrests, delivered by storyteller, artist and writer Ravyn Ariah Wngz has been viewed more than a million times on social media in recent days.
"We've tried many different ways to get the attention and conversation of those in leadership roles and positions. It took us having to do this to get y'all to show up. We've been writing letters…making books, photography, performance art," Wngz said. "We've been doing it every single way possible to let you know what we deserve, what we need. And you don't even need to dream it up; we've done it for you.
"So it's really ridiculous to me that we're still talking about monuments," Wngz continued. "It's really outrageous to me that we have to fight for our dignity. You know, in the United States, there's a saying: 'Life, liberty, and justice.' Black people are still on 'Life.'"
Arts institutions of all sizes need to speak up too, says Ware: "Now is the time to show up. Now is the time to move beyond performativity and move towards action."
The monument intervention on Saturday is not the first large-scale painting action Black Lives Matter Toronto has been involved in this year—though it is the first in which arrests have been made.
"We had 80 artists—some of Canada's best and most well-known artists—coming out to paint the streets [on June 19], saying that we want to defund the police, that we want to live in safer communities," Ware points out.
This week, Canadian Art asked a Toronto Police Services spokesperson why artists and activists were arrested and charged for painting public monuments on July 18, but not for painting public roads on June 19.
"Each situation is assessed on a case-by-case basis at the time and will take into account a variety of factors," the police spokesperson wrote in an email.
Ware sees the situation differently. When asked why police made arrests for painting monuments in July, but not for painting streets in June, Ware said the difference now, from his perspective, is "what's happening is that we are seeing change happen."
"What's happening is the movement to defund the police, which is a global movement, is growing and garnering tremendous support all over Turtle Island and Inuit Nunangat," Ware adds. "City councils are making decisions about dismantling the police and these conversations are leading us in the right direction and the police are retaliating with tactics that are all too common—the police cracked down on peaceful protests for an action that would have washed off in the rain."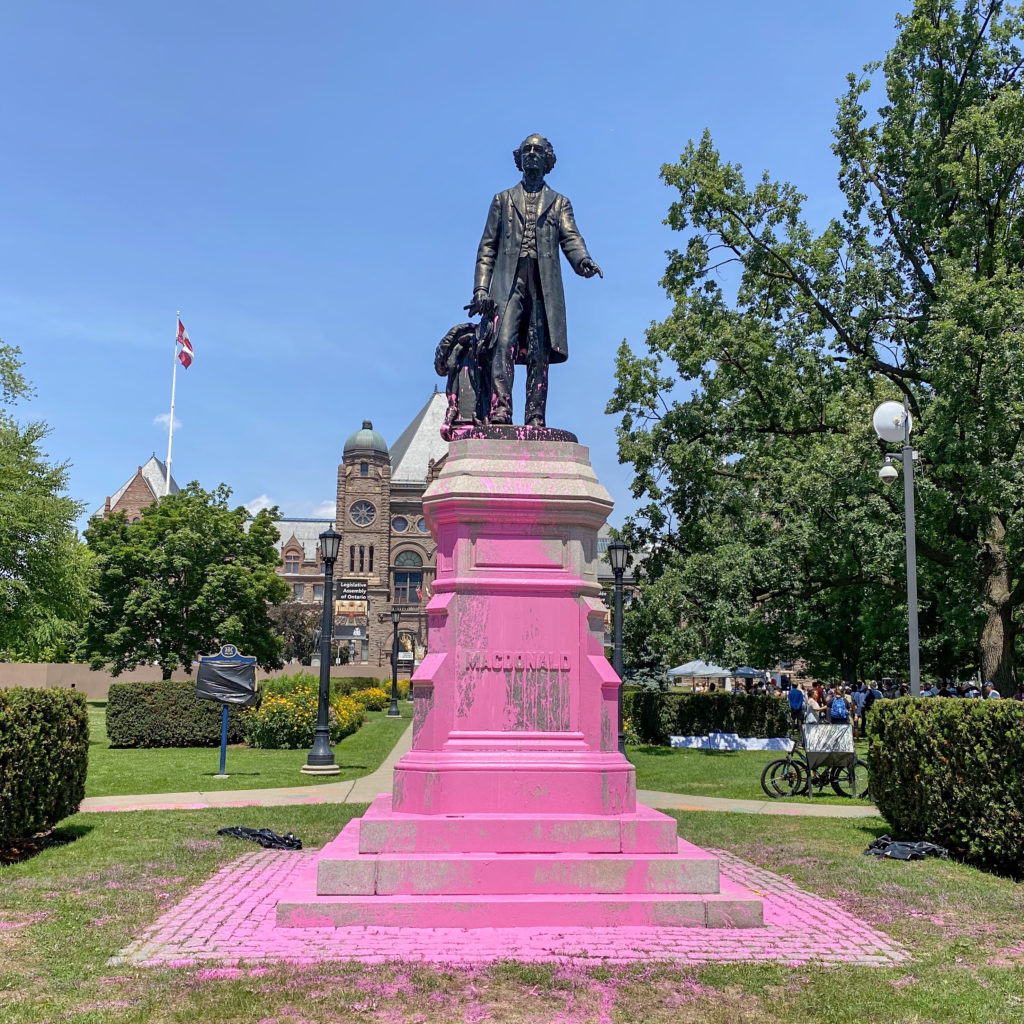 View of the Black Lives Matter Toronto intervention on a John A. MacDonald monument in Queen's Park, July 2020. Photo: Michèle Pearson Clarke / Instagram @mpclarke.
In addition to the list of demands posted by Black Lives Matter and supporters, Ware also notes that he would like to see arts institutions—many of whom posted statements in support of Black Lives Matter on social media in early June—step up and make public statements in support of this monument action, its meaning, and the artists who made it possible.
"Now is the time to show up. Now is the time to move beyond performativity and move towards action," Ware says. "We need arts institutions and art galleries and artist-run centres to say, 'When we said we support Black lives, we also support the people who put their lives on the line for Black lives. And we support the Black people saying it's time to take down monuments to slavery and colonialism.'"
Artist Bridget Moser, who has, in the past, been shortlisted for the Sobey Art Award, is one of many who assisted with the painting actions on June 19 and July 18. She also signed the Artists in Support of Black Lives letter released July 23.
"It was really interesting to see the police tweets about the situation [on July 18]," Moser says, "because the tweets said the police were on the scene to 'ensure the safety of everyone'—but the only moment I felt unsafe was when police arrived."
"Paint is never eternal," adds Moser. "We are talking about materials that will wear and weather away. Whereas the legacy of colonial violence will not, unless we do something."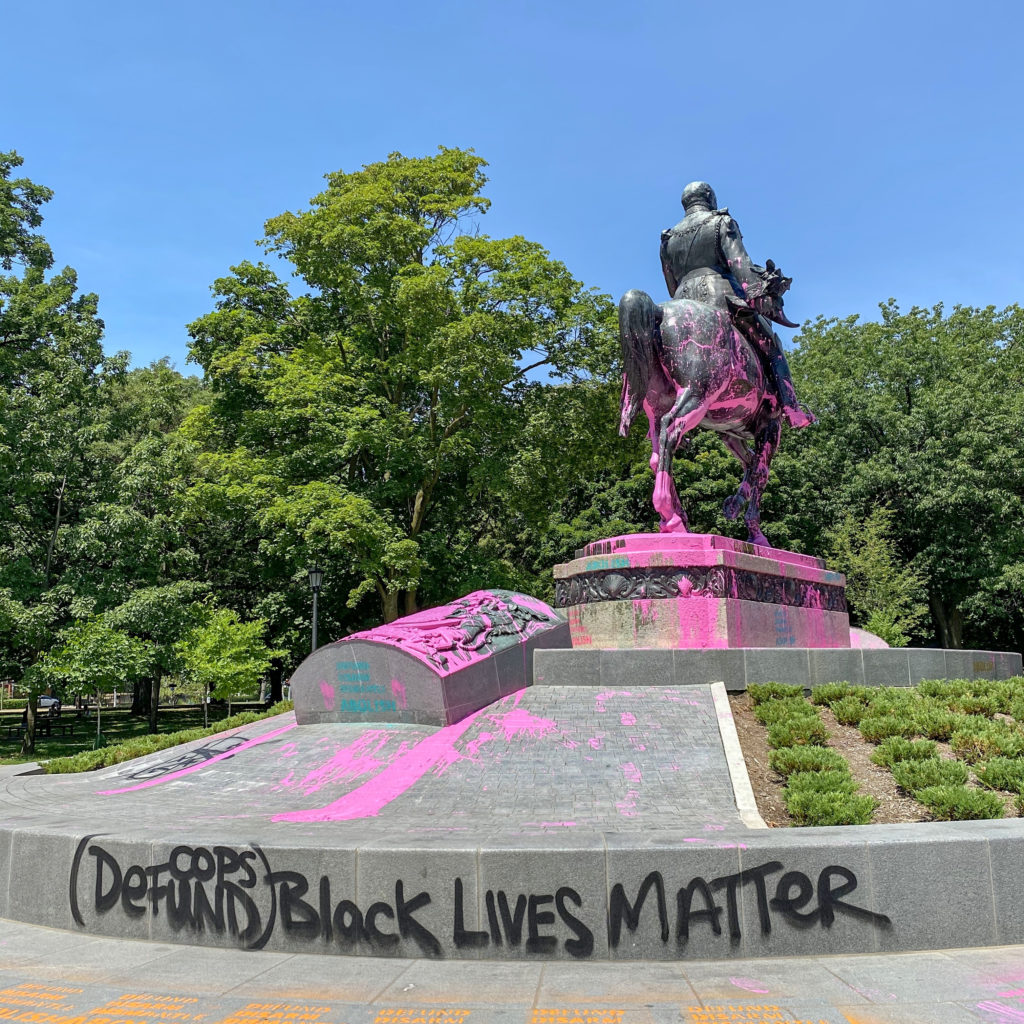 View of the Black Lives Matter Toronto intervention on a King Edward VII equestrian monument in Queen's Park, July 2020. Photo: Michèle Pearson Clarke / Instagram @mpclarke.
Nataleah Hunter-Young is a writer, film curator and visual culture scholar whose knowledge includes expertise in the way images circulate online.
When asked about the impact of photos of these painted monuments today on social media, Hunter-Young says via email that "The circulating images put viewers on notice that all monuments to colonization will fall— including the police and prisons—it is only a matter of when."
"BLMTO's painting action is a reminder to us all about how white supremacy sanitizes and retells historical narratives to normalize colonial violence," Hunter-Young adds. "To whom is the genocider John A. MacDonald a hero to be venerated? The ongoing Canadian colonial project is a violent one. It was founded through the commission of Indigenous genocide and continues this work today, in part, through its monuments."
Arts actions are key for disrupting this colonial violence, says Hunter-Young.
"I believe artists can redetermine how we see the world we live in, even the very fact of what is possible to see (like a world where killing and caging is not the state's answer to every problem)," says Hunter-Young.
"The pink paint demands that you look again at this country/world, but that you look differently. Look and be reminded that this country does not know the peace it purports to represent," she states. "Look and be reminded that these monuments are living symbols that instruct the delusion that Canada is a peacekeeping nation. These monuments don't tell our history, they ritualize its erasure and ceremonialize forgetting."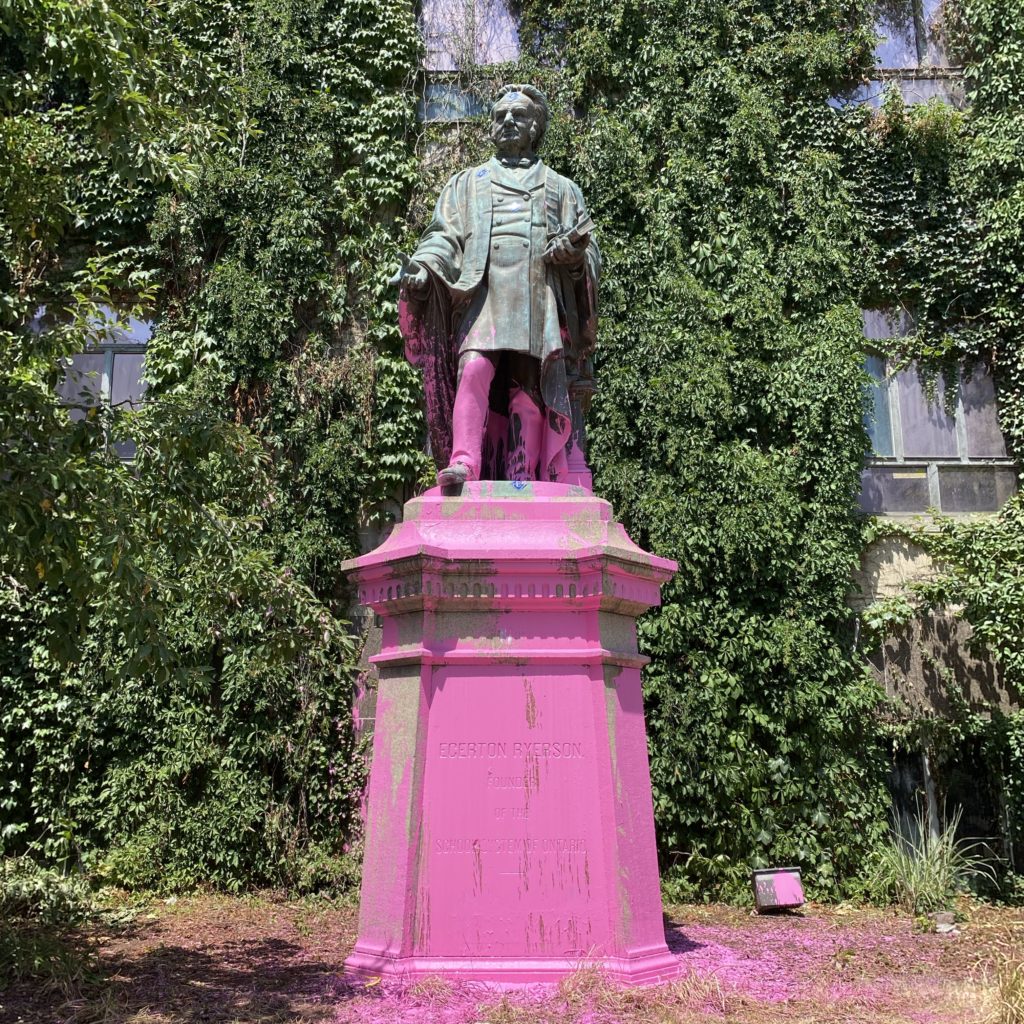 View of the Black Lives Matter Toronto intervention on a Egerton Ryerson monument on Bond Street, July 2020. Photo: Michèle Pearson Clarke / Instagram @mpclarke.
Under the City of Toronto's graffiti bylaw, there are official municipal means for evaluating the artistic value of unofficial art interventions in public spaces.
But that process was apparently not accessed by police or others on July 18. Mischief charges were laid instead, and, at press time, still remain. And the Criminal Code of Canada says that if the three arrested are found guilty of the mischief charge, they are liable to "imprisonment for a term not exceeding two years."
The Black Legal Action Centre, in a July 22 release about this weekend's arrests, notes that "No equity-seeking society should tolerate such…monuments to racism…. Over the weekend, the police in Toronto chose to arrest and charge three protestors. The police could have exercised their discretion not to arrest. They did not."
"The case now rests with the Office of the Crown Attorney at Old City Hall in Toronto," the Black Legal Action Centre statement adds. "The Crown is obligated to drop charges that are not in the public interest. It is BLAC's position that these charges are not in the public interest. The public interest demands the tearing down of these pillars of racism—not those who protest their existence. BLAC urges the Crown Attorney to drop these charges."
More and more artists are joining that call—or should be in future, says Nataleah Hunter-Young.
"I think artists and arts workers in Canada should be very concerned at the criminalization of artistic expression and political speech," concludes Hunter-Young. "All those invested in the arts on these lands must immediately demand that all criminal charges be dropped against those arrested in connection with BLMTO's artistic protest."