When Gathie Falk was growing up in rural Manitoba in the 1930s, there were no materials for making art in her family's home—"no crayons or coloured pencils or paint," she has written. "The only paper we had was kept on a high shelf and used for letters. During the brief period of my mother's second marriage, I was given a set of watercolours for Christmas. I didn't know what to do with them. I wanted perfection, but I couldn't control the sloppy wet marks I made."
How things can change. This week, some eight decades later, Gathie Falk—now based in Vancouver, and still working in her studio regularly—is being featured in a solo booth at Frieze Masters London. The booth, organized by Vancouver's Equinox Gallery, is presenting a selection of Falk's ceramic sculpture from the period of 1967 to 1976, including her vibrant, now-iconic sculptures of apples, oranges and shoes. The booth program is being supplemented by a catalogue including an essay from Daina Augaitis, formerly Vancouver Art Gallery chief curator.
"Like many female artists, Falk has been largely under-recognized on the international stage and it is through presentations such as Frieze Masters that we can help to shed new light on recent art histories," says Equinox Gallery director Sophie Brodovitch in an email. "The fair opened Wednesday at 11 a.m. [UK time] and we are pleased to have already placed three works, including one to a significant New York collection and another to a very important collection in Belgium."
Gathie Falk,
26 Apples
, 1969. Glazed ceramic. Photo: Site Photography.
Gathie Falk,
Preserved Lemons
, 1967. Ceramic and resin. Photo: Site Photography.
Falk's solo booth is of a piece with Frieze's wider emphasis on women artists this year. "The talks program for Frieze Masters exclusively featured female artists, marking the centenary of women's suffrage in the United Kingdom," the New York Times recently reported. "We want to use our platform proactively," Jo Stella-Sawicka, Frieze London's artistic director, told the Times. "There's a strong female theme." Further, Frieze this year is doing an invitational section called "Social Work" featuring both "established and lesser-known feminist artists."
Elizabeth McIntosh,
Hug
, 2018. Photo: Instagram/@canada.nyc.
A solo booth at Frieze features new works by Vancouver painter Elizabeth McIntosh. The booth is organized by New York gallery Canada, which was co-founded by ex-Montrealer and NSCAD alumus Phil Grauer. McIntosh is an associate professor at Emily Carr University of Art and Design in Vancouver and last year was an artist-in-residence at Fogo Island Arts in Newfoundland.
Another solo booth at Frieze is going to Zadie Xa, herself a 2007 BFA alumnus of Emily Carr University of Art and Design. Now based in London, where she received an MA in Painting from the Royal College of Art in 2014, Xa created work that was also on view this summer in the group show "Body Armour" at MoMA PS 1 in New York. The Frieze booth featuring her work is organized by London gallery Union Pacific, which promises a booth semi-closed with "sliding doors [that] are references to Korean rice paper doors. They are translucent … acting as theatrical curtain, characters in a performance, painting and architectural barrier. Inside the booth is a large fan, divider screen and mobile sculptures made from wood and textile."
Zadie Xa is one of four artists who have been commissioned by Mount Street and Frieze to produce limited-edition artworks, which will be available for sale exclusively over four days from a customized vehicle positioned on Mount Street in London's Mayfair. The collaboration, Mount Street Editions by Frieze, will have all proceeds donated to charities focused on women in the UK: Dress for Success and the Young Women's Trust.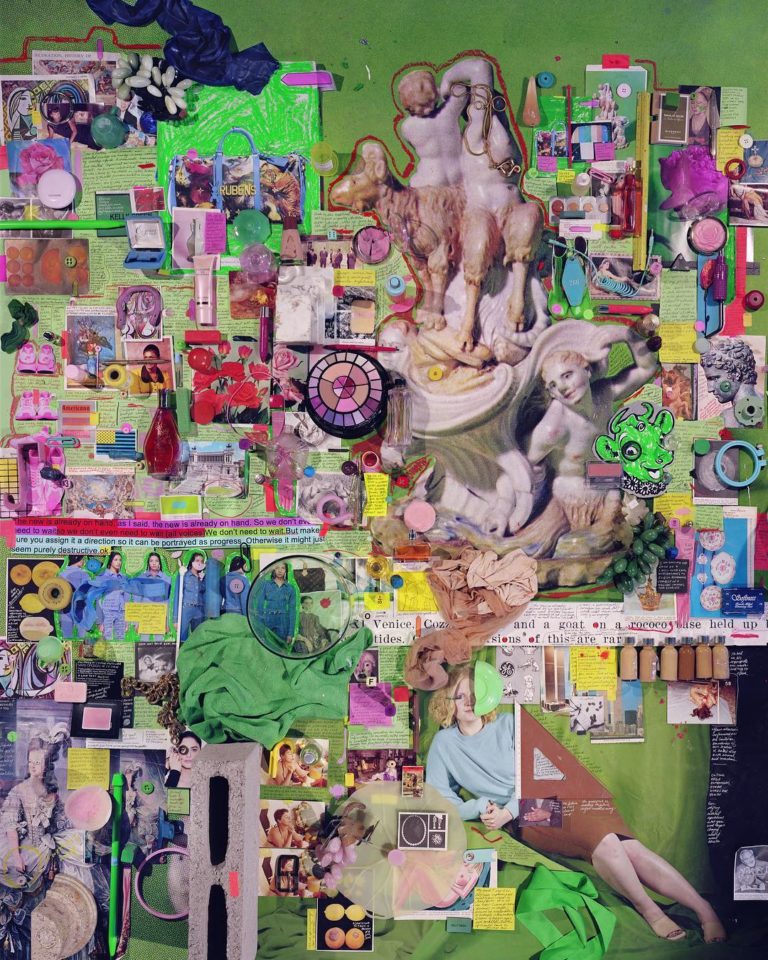 Sara Cwynar,
A Rococo Base
, 2018. Photo: Instagram/@coopercole.
Toronto dealer Cooper Cole also has a booth at Frieze, featuring photographic works by Vikky Alexander and Sara Cwynar. Among the Alexander works on view will be Aqua Obsession (1983/2016) while Cwynar will be showing new works including A Rococo Base (2018).
In group presentations, works by senior Winnipeg painter Wanda Koop will be at the Frieze booth of Los Angeles's Night Gallery, which was founded by Canadian Davida Nemeroff. Likewise, some works by the late Agnes Martin will be in a group booth for Pace Gallery at Frieze Masters that is being curated by artist Adam Pendleton at Frieze Masters.
Elsewhere in London during Frieze Week, more works by Canadians are on view. At its London gallery, greengrassi is presenting a solo show by UK-based Canadian artist Janice Kerbel.  AA Bronson and General Idea's work—particularly paintings from the Imagevirus series within a gallery hung with Imagevirus wallpaper—are being exhibited in a solo show at Maureen Paley. And Vancouver artist Rodney Graham is being featured in a two-person show at Lisson Gallery alongside American Dan Graham. Artsy has reported that the new Rodney Graham portion includes "new lightbox works that are simultaneously cerebral and entertaining, as well as frozen narratives with a comedic edge (like Vacuuming the Gallery 1949, 2018, in which the artist cheekily assumes the role of mid-century art dealer Samuel Kootz)." Frieze Week also coincides with the tail end of Toronto painter Kim Dorland's first solo show at Beers London.
This story was updated on October 3, 2018, with a quote from Sophie Brodovitch that arrived after press time.