Multiple records were broken at Canadian art auctions this week.
Leading the pack was Heffel's much-anticipated sale of Lawren Harris's 1926 painting Mountain Forms, which was hammered down for $9.5 million tonight, two to three times its estimate of $3 to $5 million. Including the 18 per cent buyer's premium, the total price came to $11.21 million.
This sets a new world record for the artist. Mountain Forms also is now the most expensive work by a Canadian artist ever sold at auction—beating out Paul Kane's Scene in the Northwest — Portrait of John Henry Leroy sold in 2002 for $5 million.
Mountain Forms is a large-scale painting (five feet by six feet) by the Group of Seven founder. It was recently included in the exhibition "Idea of North: The Paintings of Lawren Harris," which was co-curated by Steve Martin and showed at the Hammer Museum in Los Angeles, the Museum of Fine Arts in Boston, and the Art Gallery of Ontario in Toronto.
Family legacy was also at stake for Vancouver's Heffel Fine Art Auction House in the sale.
"The pinnacle of our father's career was selling this painting in 1980, and Robert and I are honoured to offer it once again," said David Heffel, president of Heffel Fine Art, in an press release prior to the sale.
Heffel already set a world record for Harris this past year when it sold the 1930 painting Mountain and Glacier for $4.6 million. In the past 12 months, Heffel also sold three other Harris paintings that went for over $1 million. (Outside of the auction scene, Mayberry Fine Art of Winnipeg also recently sold a large Harris painting at Art Toronto just a few weeks ago for $1.2 million.)
Mountain Forms depicts Mount Ishbel located in the Sawback Range in the Rocky Mountains. Also at auction tonight was a small, sketched, graphite-on-paper study for Mountain Forms, estimated at $10,000 to $15,000.
The painting came from the collection of Calgary-based oil company Imperial, which is downsizing its art collection through sales as well as through donations to institutions.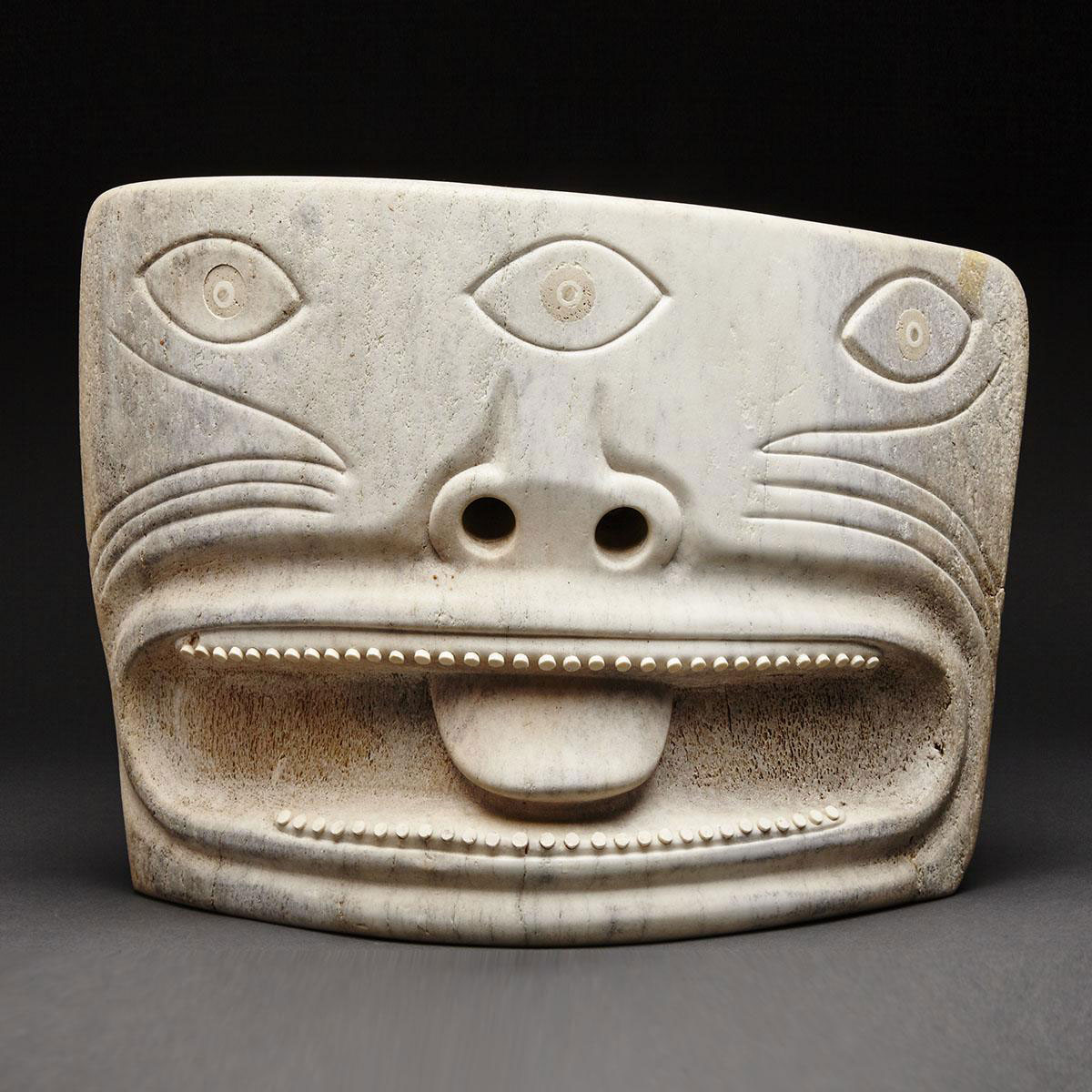 Karoo Ashevak, Spirit Faces (Tooth Pull). Courtesy Waddington's.
A record for Inuit artist Karoo Ashevak (1940–1974) was also set at the Waddington's auction of Inuit & First Nations Art this week.
Ashevak's whalebone sculpture Spirit Faces (Tooth Pull) went for $132,000—two to three times the original estimate of $35,000 to $45,000.
Ashevak was only in his mid-thirties and had been carving for just five years when he and his wife died in a house fire. The Canadian Encyclopedia estimates his total output as being roughly 250 sculptures altogether.
The BC collection from which the Ashevak sculpture came had acquired the work directly from the artist. This was its first time at auction.
Waddington's also found success in its Canadian Fine Art auction. Among the highlights was the sale of James Wilson Morrice's small oil on panel work The Crossing for $204,000—far surpassing the original estimate of $100,000 to $150,000. Also notable was the sale of Tom Thomson's small graphite and gouache on board work Forest Branches, which went for more than three times its original $25,000 to $30,000 estimate at $108,000.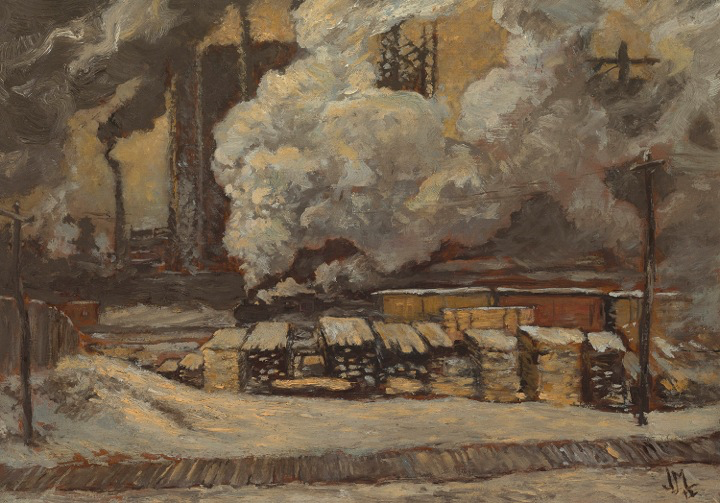 J.E.H. MacDonald's sketch Tracks and Traffic (1912). Courtesy Consignor Canadian Fine Art.
At the Consignor Canadian Fine Art auction, the centrepiece was Tracks and Traffic, a 1912 oil sketch of the well-known canvas by another founding Group of Seven member J.E.H. MacDonald. It sold for $230,000, meeting its $200,000 to $250,000 estimate and surpassing its previous auction price in 2014 of $200,600.
Like Heffel's big Harris sale, this Tracks and Traffic sketch also possibly accumulated some aura related to the "Idea of North: The Paintings of Lawren Harris" exhibition. The finished painting of this scene is currently part of the Art Gallery of Ontario's collection, and was recently included in "The Idea of North" at the AGO.
Also among the Consignor highlights was the sale of Tom Thomson's Country Landscape for $103,500 and Franklin Carmichael's Bracken for $69,000.
This story and its headline were updated on November 24 to include information on the buyer's premium, which increased the selling price of Mountain Forms from $9.5 million to $11.21 million.