Several records were broken at Canada's big fall art auctions this week in Toronto. Some of the records were for novelty or rarity paintings, some were for rising market names, and others were for iconic Canadian artists. Overall, says Waddington's VP Stephen Ranger of what he observed at his house's two auctions, "the results point to a continued resiliency of the Canadian art market…. Despite the fact that the stock markets took a beating this week, we had a full room, with very active and assertive bidding."
At the Heffel auction at the Design Exchange November 22, one of the most notable stories was the record sale of a painting by Frederick Banting, co-discoverer of insulin. The 1925 painting, entitled The Lab and depicting the University of Toronto laboratory where the Nobel-winning 1921 discovery happened, went for $313,250 including buyers' premium—more than ten times its low estimate of $30,000. Heffel will donate its roughly $50,000 commission from the sale to the University of Toronto's Banting & Best Diabetes Centre.
In more traditional art market names, Heffel also broke an auction record for iconic B.C. artist E.J. Hughes. Hughes' 1946 painting Fishboats, Rivers Inlet went for $2.04 million including buyers' premium. Interestingly, Heffel had previously set an auction record for Hughes with this very work when it auctioned it previously back in 2004 for $920,000, premium included.
Heffel also set auction records for Newfoundland and Labrador artists Mary Pratt and Christopher Pratt. Mary Pratt's 1998 oil painting Preserving Summer – Black Currant Jam went for $133,250 premium included. It was originally estimated at $30,000 to $40,000. Christopher Pratt's 1969 oil on board painting House in August went for a $253,250 premium included.
Other high-end prices achieved at the Heffel auction included $2.88 million including premium for Jean Paul Riopelle's 1953 painting Jouet, doubling the low estimate of $1.2 million. Heffel also previously auctioned that same work in 2009 for $1.17 million premium included. The Lawren Harris 1926 oil on board Mountain Sketch XC, at market for the first time given that it had originally been a gift from the artist and was descended to family collections, went for $1.38 million including premium.
This painting,
The Lab
is by Nobel-winning scientist Frederick Banting of the Toronto laboratory where he co-discovered insulin. It set an auction record this week. Image: Courtesy Heffel.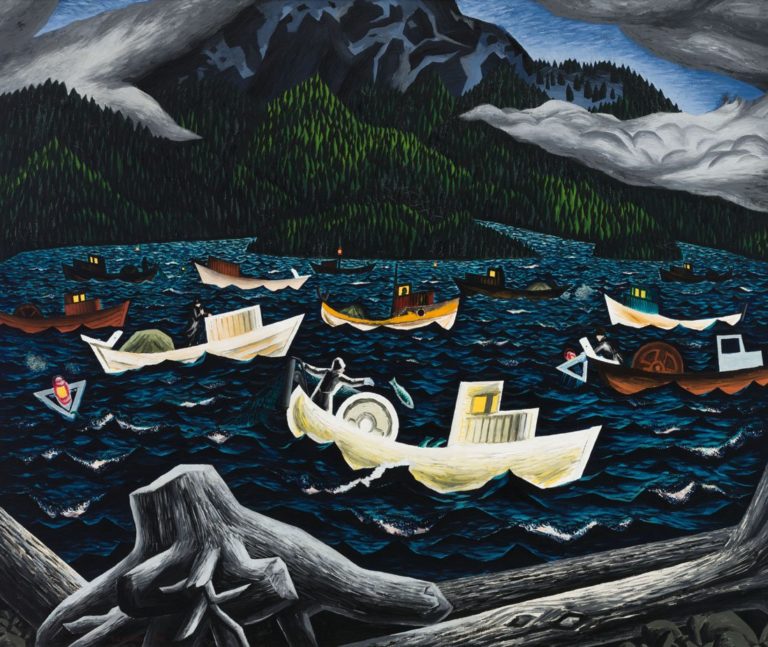 E.J. Hughes'
Fishboats, Rivers Inlet
of 1946 set a new record for the artist at the Heffel auction. Image: Courtesy Heffel.
The auction record for a Canadian print was also broken this week at the Waddington's Inuit Art Auction in Toronto on November 20. There, Kenojuak Ashevak's iconic 1960 stonecut Enchanted Owl went for $216,000 hammer price. The original estimate was half that, $100,000 to $120,000—and much more than a different Enchanted Owl print which, as Inuit Art Quarterly notes, went for $59,000 at auction in 2015.
Ashevak's Enchanted Owl was originally printed in an edition of 50, and was done so soon after Cape Dorset printmaking began. The image quickly became widely recognized. Eventually, it was reproduced on Canadian postage stamps.
"Twenty-five of the prints had a green tail, and 25 had a red tail. Some of the red ones have faded to orange, and this one had a really clear red," Waddington's VP Stephen Ranger explained afterwards of the Enchanted Owl result. He also noted that most of the Enchanted Owl prints are owned by museums and institutions already, "so it is very rare to see them out on the market."
This fall season has also seen the rise, in and out of auction, of the profile of Peter Clapham Sheppard. This Group of Seven–adjacent artist created mainly urban-focused paintings that until recently have been somewhat overlooked. That is changing with the publication of a book, Peter Clapham Sheppard, authored by Beaverbrook Art Gallery director Tom Smart and supported by Sheppard collector Peter Gagliardi.
A world auction record for a painting by Peter Clapham Sheppard was set at the Waddington's Canadian Art Auction on November 19. It was for his painting Elizabeth Street of the early 1930s, which depicts a downtown Toronto scene. The painting went for $204,000 hammer price, at least four times its initial estimate of $40,000 to $60,000.
That initial Sheppard estimate was "one-twentieth of what would be assigned to a comparably sized [Lawren] Harris canvas of the Ward [neighbourhood in Toronto]," art historian Gregory Humeniuk wrote in the Globe and Mail in advance of Elizabeth Street's auction. He added: "In today's art market, a truly significant work by him plays well to the rule of thumb that it's better to buy an A work by a B artist, than to buy a B work by an A artist."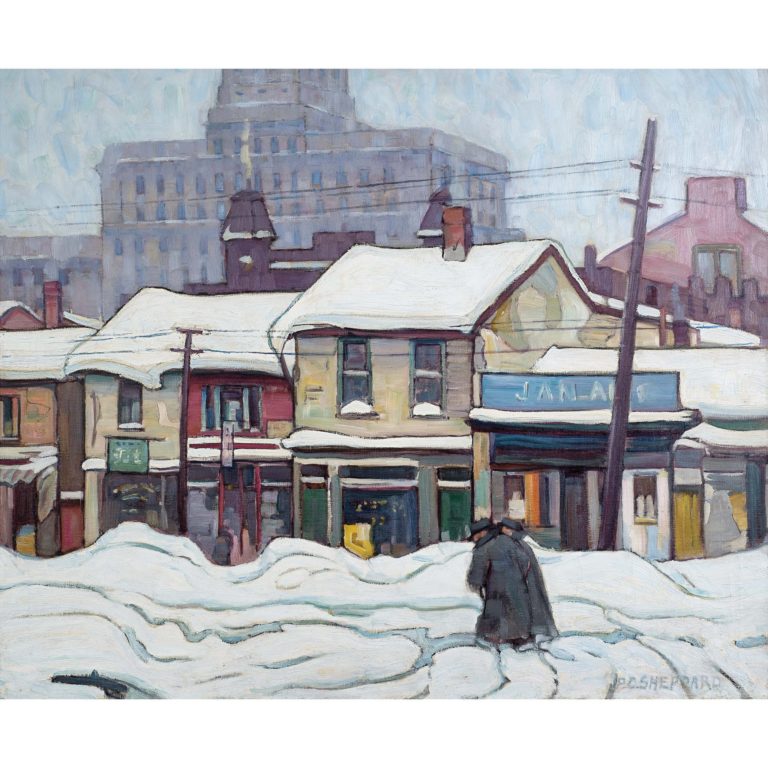 Peter Clapham Sheppard's 1930s painting
Elizabeth Street
set a new record for the artist at the Waddington's auction. Image: Courtesy Waddington's.

William Kurelek's
Threshing Outfit Being Brought Lunch
was bought directly from the artist in 1972 for $250. It is expected to go for much more at Consignor's auction next week.
Every auction season sees at least one work originally purchased for very little, or acquired under unusual circumstances, receiving lots of interest. In Fall 2018 that was a William Kurelek painting originally purchased for $250 in 1972, Threshing Outfit Being Brought Lunch. It went for $82,600 including buyers premium at the Consignor Canadian Fine Art Auction on November 20 at Toronto's Gardiner Museum. That surpassed the $50,000 to $70,000 estimate.
The original owner of Threshing Outfit was a student who saw Kurelek's work at Isaacs Gallery in Toronto in 1972 but couldn't afford any of the works. So the artist made her a painting she could afford—at her request, it was a farm scene typical of some of Kurelek's subject matter. The painting stayed in the original purchaser's family until its sale on November 20.
Consignor also broke two artist auction records. First, it sold the large Kenneth Lochhead canvas Colour Rotation (1964) for $54,280 including premium. Then it delivered Bertram Brooker's Delta Ice House for $82,600 including premium. In both cases, the artists' previous auction records were roughly doubled.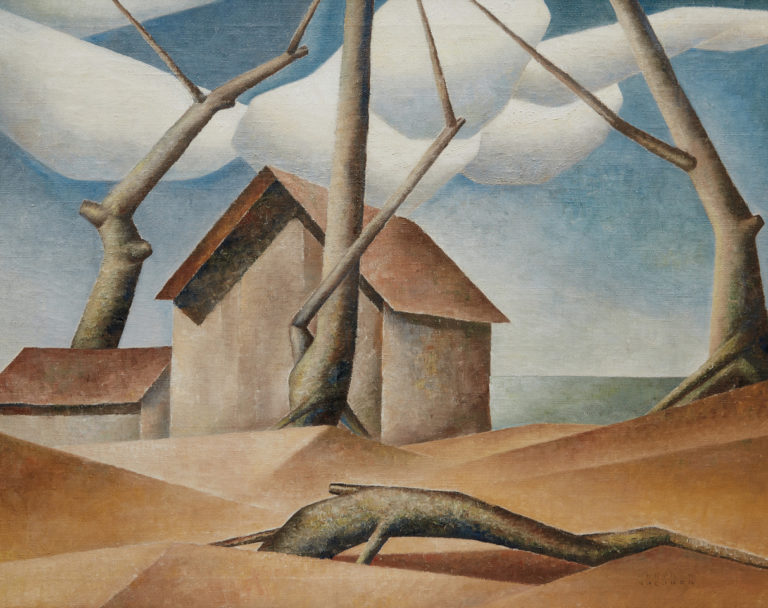 Consignor set a new record for Bertram Brooker with this 1942 painting,
Delta Ice House
.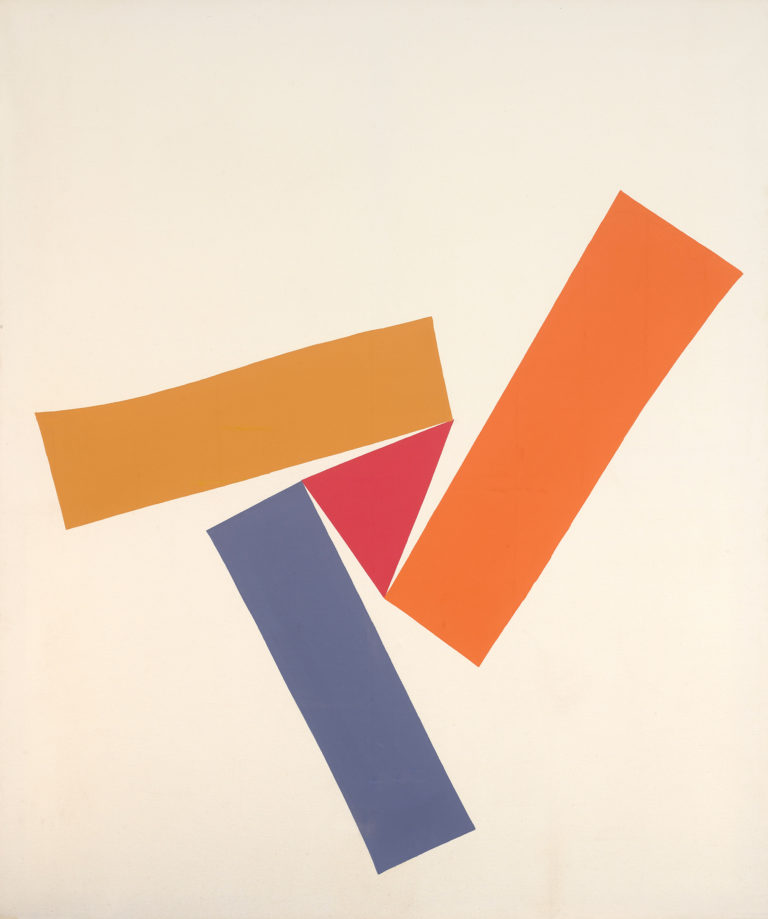 Kenneth Lochead,
Colour Rotation
, 1964.