$3 million. $1.3 million. And a solid $600,000.
These are some of the top-end prices (including buyer's premium) achieved at Heffel's fine Canadian art auction held in Toronto tonight—sums for Lawren Harris' large painting Mountains East of Maligne Lake (1925), Harris' small sketch Morin Island, Eclipse Sound, North Baffin Island, Arctic Painting XXVI (1930) and Jack Bush's Winged Totem (1973), respectively.
But are such figures enough to turn Toronto into an international art-market hub? Especially following last week's $450-million Salvator Mundi sale in New York?
Robert Heffel, vice-president of Heffel Fine Art Auction House, is still hoping yes.
"We really want to grow the Canadian art market into a more global market," Heffel told me in an interview earlier this week. "We want to build Toronto into a big international art centre" competitive with New York or London.
There are a few glimmers, perhaps, of movement in this direction.
Tonight's Heffel sale, for instance, featured not just the usual (if often stunning) slew of Canadian works consigned by Canadian collectors: there was also an international artwork, a 1963 painting by German Josef Albers, consigned by a collector from San Diego.
Typically such a work, like other paintings at auction by Albers, would have gone to Christie's or Sotheby's in London or New York.
But here in Toronto, Albers' Study for Homage to the Square: New Garland was hammered down, after heavy bidding, at $337,250—three times its high estimate of $100,000.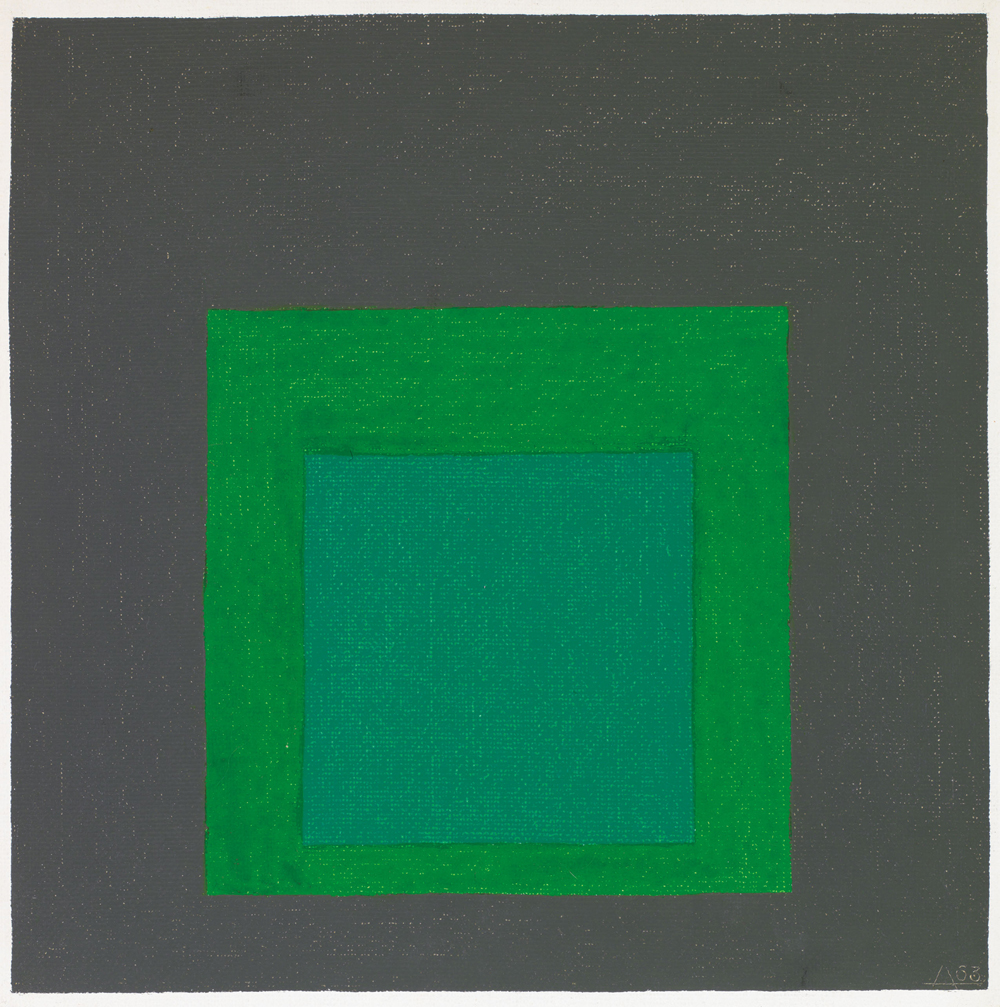 Josef Albers Study for Homage to the Square: New Garland. Oil on board, 1963. 40.6 x 40.6 cm. Courtesy Heffel. This work achieved a price of $337,250 (including premium) at the Heffel fall auction.
"Toronto has TIFF, the second-largest film festival in the world. In terms of live theatre… Toronto is the third-biggest in the world. Toronto is one of the major stock exchanges," Heffel told me earlier in the week. "When you think of the global art auction market you think New York, London, Paris, Hong Kong. We would like to make Toronto part of that conversation."
Robert Heffel points out that the lead item in their auction—that top-price Harris, Mountains East of Maligne Lake—also came from a collection overseas, from the UK.
"This fellow worked for one of the big oil companies in Toronto, and then he moved down to the US of work, but he kept buying paintings from Laing Galleries [in Toronto]." Heffel told me. "He acquired [Mountains East of Maligne Lake] in 1959 and it descended to his son in England."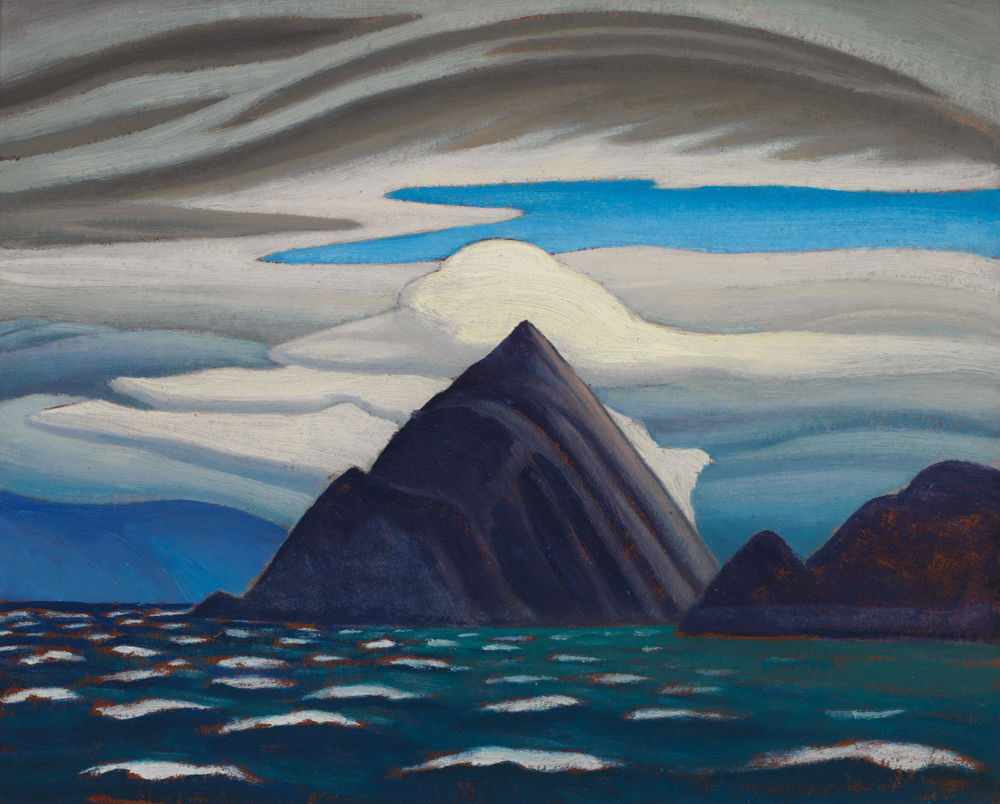 Lawren Harris, Morin Island, Eclipse Sound, North Baffin Island, Arctic Painting XXXVI. Oil on board, 1930. 30.5 x 38.1 cm. Hammered down for $1.3 million including premium at Heffel auction. Courtesy Heffel.
And yet, one wonders how much an endeavor to gain international attention rests on the performance of just one or two Canadian artists: Namely, Harris, whose works has been championed by actor Steve Martin and a single canvas of whose sold for a massive (in Canadian terms, and some international ones too) $11.2 million at Heffel's fall auction last year. And also Bush, whose work has attracted more stateside attention since a record sale in New York in 2013.
Certainly, there are more Canadian artists and artworks deserving of international attention.
Many of them are already beloved by Canadian collectors, as demonstrated at the Heffel auction tonight: a single watercolour by Jack Shadbolt, dated 1946 and depicting mid-century Vancouver's Woodwards building, was hammered down at more than $90,000, nearly a record for the artist and three times the initial estimate.
Another west-coast watercolour, Emily Carr's Indian Encampment (c. 1908-9), which depicts Coast Salish people residing on the shores of Vancouver's False Creek, went for $229,250 including premium, more than triple its high estimate of $70,000.
A small James Wilson Morrice oil painting, Le petite plage de St-Malo (c. 1899-1901) was hammered down at $481,250, including premium, following intense bidding—more than triple its $120,000 high estimate.
Even a contemporary work, Vancouver artist Gordon Smith's 1998 acrylic on canvas Pond Painting II, attracted busy bidding, and was hammered down at more than $125,000—more double its low estimate of $50,000.
Interestingly, however, one of the main international-market trends that Canada could be poised to attract new buyers with—Inuit art—was nowhere to be seen in this fall's live Heffel auctions.
Waddington's instead took up that banner for Canada's fall auction week, holding a live Inuit art auction on the evening of November 21 at its headquarters in Toronto.
"The Inuit sale had a 90 per cent sell-through rate," says Linda Rodeck, senior Canadian art specialist at Waddington's. "We certainly see international interest in the Inuit market from France, Germany and the US."
However, when it comes to developing international market interest in other Canadian artworks, Rodeck is more skeptical about prospects.
"When non-Canadians have bought [historical Canadian art] from us, it has generally been people with a sentimental attachment to this country," Rodeck says. Like: "my granny lived in Montreal, or my grandpa worked on the railway."
As a result, Rodeck says, she and her Waddington's colleagues remain focused on trying to develop new buyers for Canadian art within existing Canadian markets.
"Some of our biggest spenders Monday [at our fine Canadian art auction] had never bought at auction before—first time ever at auction," Rodeck says. "Also, the average spend was $12,000, which is a significant amount of money for a decorative object."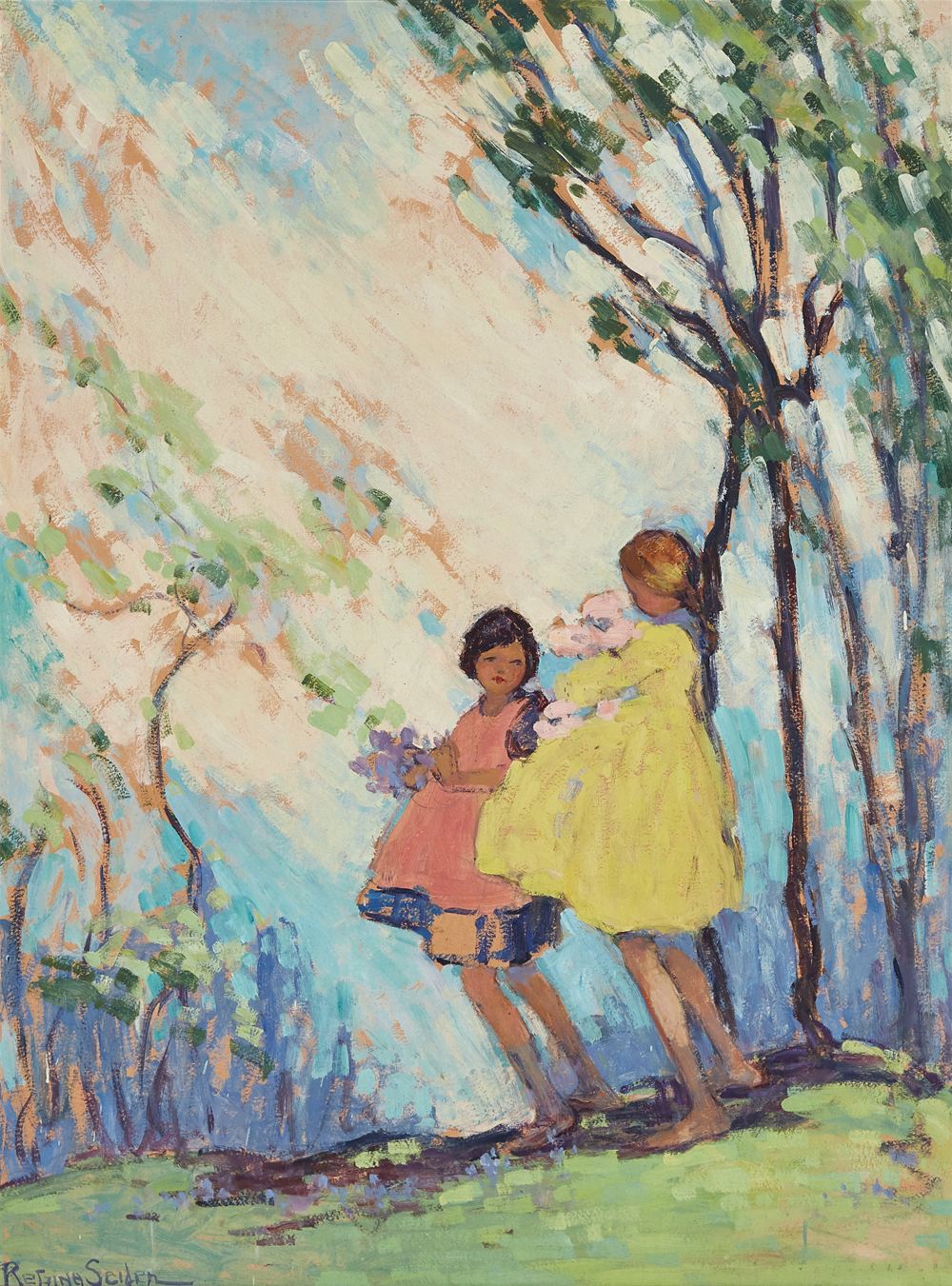 Regina Seiden's Gathering Spring Bouquets achieved $43,200 at the Waddington's Canadian art auction.
Among the top sellers at Waddington's Monday night auction were works by Canadian women—many of whom are still, perhaps, relatively unknown or undervalued outside of the Emily Carr–Marcelle Ferron nexus.
In the Inuit sale, Rodeck noted, there were some people specifically looking to collect women artists.
Furthermore, Waddington's set a new record on Monday of $43,200 (including buyer's premium) for Montreal painter Regina Seiden's Gathering Spring Bouquets (originally, it was estimated at just $6,000 to $8,000). Daphne Odjig's canvas Walking with Donald also experienced intensive bidding to achieve $48,000 with buyer's premium, doubling its high estimate of $20,000.
Daphne Odjig's Walking With Donald was estimated at $20,000 but achieved $48,000 at the Waddington's auction.
Works by Maud Lewis and Doris McCarthy also enjoyed interest—once collectors were made aware of who they were.
"Doris McCarthy was actively painting for 55 years or more," says Rodeck. And while "the people who come to the sale are educated and knowledgeable, I can't tell you how many people … didn't know her work, who hadn't heard of her despite two biographies and her retrospective at the McMichael. It is interesting to me that even the Canadian art cognoscenti don't know someone who should be a household name."
McCarthy's 1999 canvas Storm Clouds of Keel eventually went for $36,000 including buyer's premium. Estimate was $20,000 to $30,000.
Doris McCarthy's Storm Clouds of Keel (1999) realized $36,000 at Waddington's.
So where does all this leave the Canadian art market? This is an issue that will be mulled over in days and weeks to come, no doubt.
For one thing, Canada's fall auctions aren't over yet. There's still the Consignor sale of important Canadian art at the Gardiner Museum Thursday, and a Concrete Contemporary auction at Waddington's this coming Monday. Add to this a passel of year-round online auctions for all of Canada's major houses and there are plenty of shifting trends to be plumbed.
"I would certainly welcome a real international interest in what we do," says Linda Rodeck of the Canadian vs. global market issue. But until then, she will be taking her signals from the consistent goal of "how do we keep selling great things to clients who will come back."
For his part, Robert Heffel was already, earlier this week, talking up how his live spring auction will include a Jeff Wall lightbox. The Vancouver artist's Dead Troops Talk lightbox famously sold for $3.6 million US at a Christie's auction in New York in 2012—why not try to keep some of those revenues, and tax dollars, here?
"Canadian art needs to be on a global scale," Heffel says of the path he sees ahead. And he wants other auction houses and dealers to get on board: "We are all part of the ecosystem. It's important for us to all work together and recognize we want to grow Canadian and international art in Canada."