Vancouver's False Creek: its name speaks to ambiguousness. Actually an inlet, the area was once, fatefully, mistaken for a creek. Now, it is home to a fittingly in-flux structure hosting a series of artist residencies.
The Blue Cabin Floating Artist Residency opened to the public on August 25, kicking off a yearlong moorage in False Creek. Not quite a boat, not quite a home, the residency provides artists with a floating, off-the-grid living experience and exhibition space, surrounded by views of Vancouver.
The structure itself is a restored squatters' cabin, originally built in 1927. For almost 50 years, the cabin served as a studio for artists Al Neil and Carole Itter. Then, in 2015, the North Vancouver site on which the cabin was situated was purchased, and the cabin was slated for demolition.
Thanks to the co-ordinated efforts of grunt gallery, Other Sights for Artists' Projects and Creative Cultural Collaborations (C3), the cabin was salvaged and painstakingly restored, with the goal of turning the historic home into a mobile residency.
"[The cabin is] not a structure that's ever been owned, it has resisted ownership for almost a hundred years and that's not going to really change," says Vanessa Kwan, grunt gallery's program director and a member of the Other Sights production team. "That's been very important for the collective to maintain; to say that this is a space that is cared for and is stewarded but it is not something that any one entity or person can own."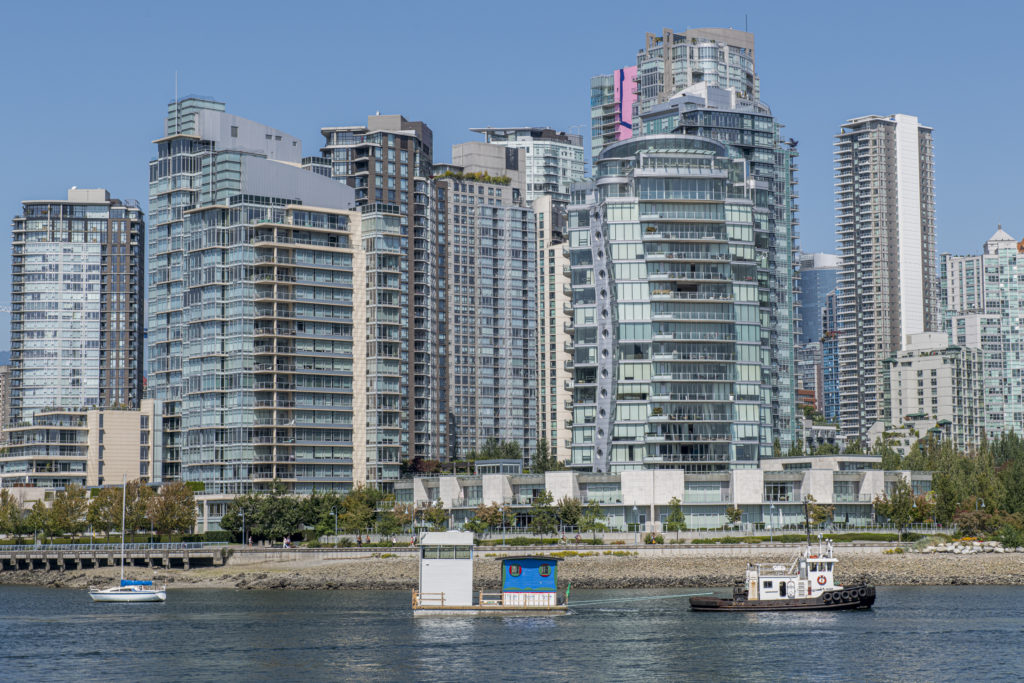 The Blue Cabin being moved to its new home for the coming year on False Creek. Photo: Henri Robideau.
Although the cabin will continue to exist outside of standard models of ownership, floating in a transient space, the coming year will see four residency periods designed to give artists an opportunity to turn the cabin and purpose-built deck house into personal workspaces.
"Our first decision was to look at the first three residencies as an opportunity to work with the Indigenous host nations here," says Kwan. "It was really critical for us to begin in conversation with artists and colleagues whose work is coming from a very particular connection and deep connection to this place in particular."
Participation in the first three residency periods was by invitation, following a process of deliberation among entities involved in the project. Eventually, Squamish/Tsleil-Waututh artist Angela George, Squamish artists Janice George and Buddy Joseph and Musqueam artist Debra Sparrow were invited to take part.
These first residency artists share a weaving focus in their work, and the inaugural Blue Cabin program is titled "Skeins: Weaving on the Foreshore" to highlight the cultural importance of this practice. Knowledge exchange and public engagement are also key themes for the residency; workshops, classes and presentations are expected to be components of each six-to-eight-week stint.

The Blue Cabin Floating Artist Residency's moorage for 2019/2020 on False Creek. Photo: Henri Robideau.
There is also an international component to Blue Cabin's residency cycle: the Australia Council for the Arts will be sponsoring Gunditjmara artist Vicki Couzens, whose practice compliments those of Coast Salish weavers, for a residency term following a collaborative short-listing process.
The first year of residencies at the Blue Cabin are now fixed until September 2020, but an announcement about upcoming opportunities is expected early this fall. Much like the cabin itself, and the waterway where it currently resides, the Blue Cabin Residency will remain in motion, inviting new participants and temporary guests.
"The context of the cabin is a moving and floating residency," Kwan says. "It's designed to be shifted to different waterways in and around the coast."