First presented in 1996, Liz Magor's One Bedroom Apartment collects the entire contents of a typical one-bedroom apartment: furniture, housewares and personal belongings, packed with moving materials and gathered together. In this interview, Magor talks about how each subsequent iteration of the installation—for example at Marseille's Triangle France in 2013, the AGO in 2015 or Zurich's Migros Museum für Gegenwartkunst in 2017—has reflected the social and economic conditions of its production, most recently in an exhibition at the Esker Foundation in Calgary that opened this fall.
Tess Edmonson: "One Bedroom Apartment" has been shown in a number of different iterations since its first presentation at Susan Hobbs in Toronto in 1996. How did you begin thinking about this work, and how has it evolved since then?
Liz Magor: When I first thought of the work, in 1996, I was aware that people were moving from city to city looking for work—it was the beginning of a period of real insecurity for workers. So to meet a need, there was a company that would rent you everything you needed to furnish an apartment. I'd heard of renting a furnished apartment before, but here the apartment would be empty and you would rent the bed and the table and everything. It struck me as odd because I had always thought of home furnishings as a personal thing, something that you don't rent. Like, you don't rent your dog or your friends.
So I made the installation based on that rental package with just one component coming from the studio: a sculpture of a white dog, which is always situated under the dining-room table. The dog was in what I consider an anxious position, where he's alert and very naked-looking. Starting with that first installation, I've always put china dishes on top of the dining room table as though it's being unpacked. As I was installing the work for the first time, I recognized that, even if you're moving your own belongings, it's an uncomfortable time. Everything that once felt like a really natural extension of yourself suddenly becomes foreign, uncooperative and a burden.
The first time I did it, we rented everything that was on this particular list. But in subsequent installations, we gathered stuff in whatever fashion we could. Renting is really expensive, and many galleries didn't have a budget to rent that kind of furniture for six weeks or so. Sometimes the curator would find someone who had all their belongings in storage and we would just take all that person's belongings. Sometimes the staff of the gallery would have things in storage and they'd pull those things out and we would cobble together the contents of a one-bedroom apartment. As we started collecting what was available from the culture that supported the gallery, we started to see that the economic level that the gallery found itself in really reflected the kind of furniture we had available to us. So, if it was an artist-run centre, the furniture was IKEA or very old stuff. If it was like when I did it at the AGO, we could get a lot of furniture that was kind of historic—very cherished furniture that had been in the basement of the AGO. Sometimes the curator would find a really cooperative citizen in the city. When I did it in Marseilles, the curator found a furniture dealer who lent us a whole suite of things. In that case, everything kind of looked like it belonged together. Other times it's very hodge-podgey. Each time it's a reflection of the social and economic conditions that the work finds itself in and I started to really like the variation.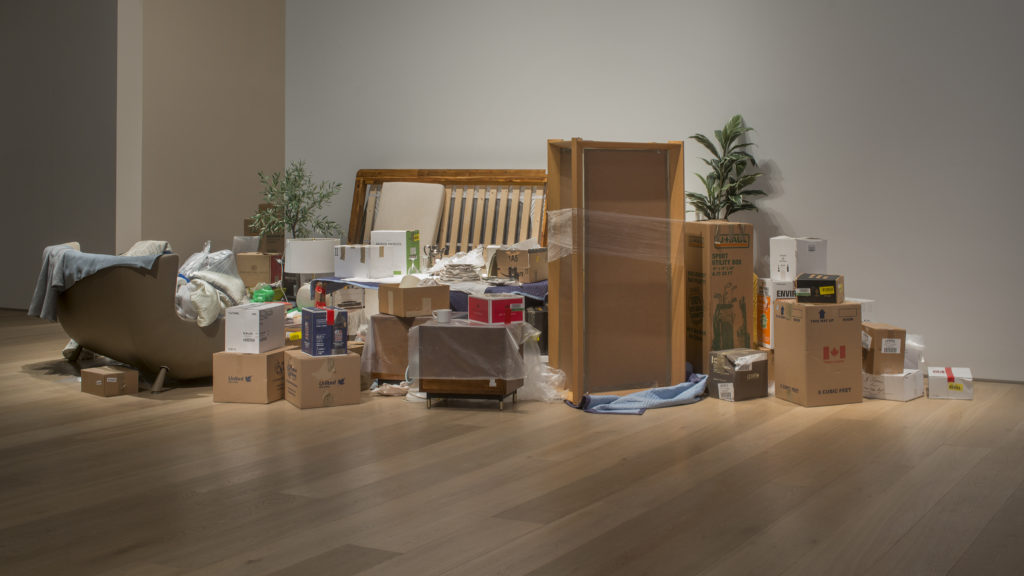 Liz Magor,
One Bedroom Apartment
, 1996–. Contents of a one-bedroom apartment, found and sourced furniture, boxes, packing materials and books, dimensions variable.
TE: What does it look like in Calgary?
LM: The Esker is a private foundation and it's in this odd situation physically. It's on the fourth floor of a brand new building and on the ground floor there are retail and other businesses. One of the businesses is a furniture store that carries a line of beautiful furniture. It's very rich looking, very sexy furniture, very beautiful materials. It's not understated, it's overstated. It's very style-y. They offered to lend us the whole lot, the whole one-bedroom package. In boom-and-bust economies it's either all coming together or all falling apart. This is very together. We have an aesthetic continuum and a consistency that maybe I've never had before, and it's a really particular aesthetic.
TE: Could you talk about the installation's sculptural element—the dog?
LM: There were two dogs that I made at the same time in Toronto and Vancouver, because I was travelling back and forth. I was, at that time, interested in people who would do this kind of historical reenactment, usually of wars and different historic periods all over the United States and Canada. I went to this big pan-historic reenactment event in Williamsburg, Virginia. There was an encampment of Vikings, an encampment of coureurs de bois, an encampment of Scottish Highlanders. I came to this encampment of people that were reenacting early Irish tribes and they had their king. He was a big guy and he was sitting in a chair, covered with his clothing made of skins of animals.
The other people were doing various things, but this guy, because he was the king, was just sitting in a chair and was covered with fur. It was kind of chilly, getting into the early winter, and on his lap, he had two of these little Italian greyhounds, which are these almost hairless, whippet-type dogs. They're kind of barenaked and seem to have no protection at all. They have no fur on them and this guy was covered with fur. The dogs were cold and they were all tangled up on his lap. And I just had this impression that his vulnerable id had fallen out and landed in his lap. I had already started to think about reenactors as people who are soft, like vulnerable on the inside and not happy about it, so that they were covering it up with all this armour and all this bristly carapace on the outside. When I saw him with these dogs, I thought, well, here is a graphic example.
I went home and I modelled a dog like that. I don't think there was even the internet then, so I couldn't really look up a lot of pictures. I just made these sort of whippet-like dogs: one that was sleeping and one that was sitting up. The sleeping one I put in an installation that was at the Toronto Sculpture Garden, a space where artists were invited to do six-month installations in the park across the street from St. James Cathedral. I rented an old, historic 19th-century log cabin and I filled it with the kind of stuff a reclusive survivalist would put in his cabin if he was retreating from the world. It was stocked with food and there were various sorts of armaments and guns and axes and hand grenades. In the bed was this dog, the sleeping dog, that's called Messenger. At the same time that I showed Messenger (1996), I showed One Bedroom Apartment at Susan Hobbs with the alert dog in a more urban household.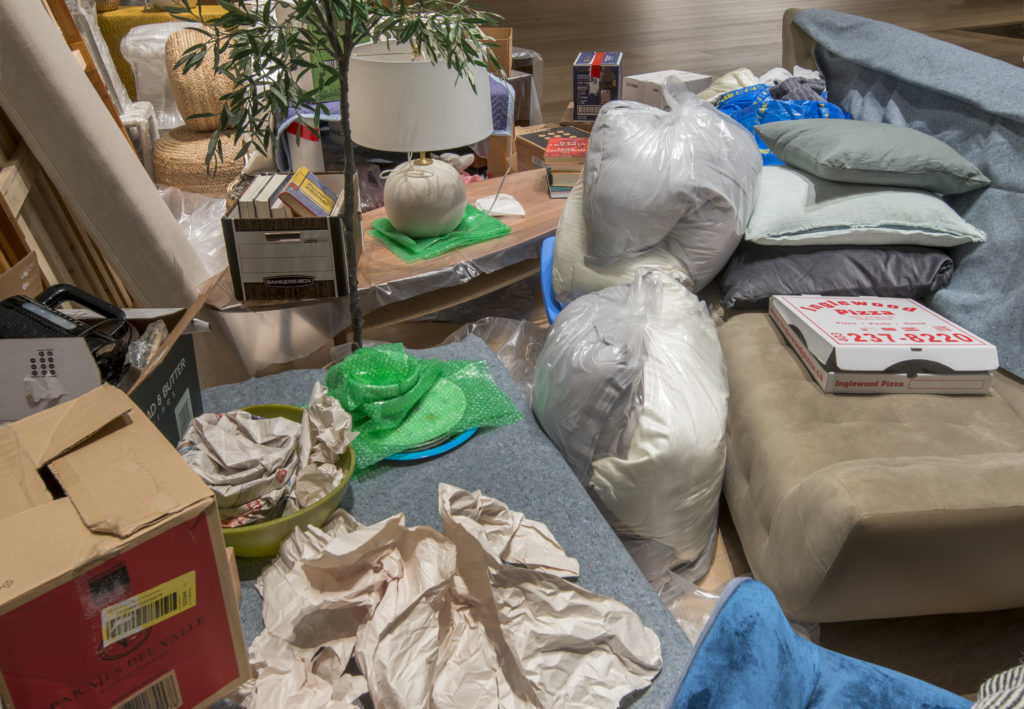 Liz Magor,
One Bedroom Apartment
, 1996–. Contents of a one-bedroom apartment, found and sourced furniture, boxes, packing materials and books, dimensions variable.
TE: I'm interested in how this installation considers the relationship between assemblages of objects and the history of labour—the way economic histories shape people's domestic lives and their relationships to objects, and how they shape affect and desire.
LM: Yeah, I definitely think of objects as externalizations of a psychological or an emotional condition or state. I often think about the effect of the outer world, outside of your home, outside of your private life, on your emotions and psychological state. The pressure comes from outside—it pushes and impinges on the person. And then what emerges in what we buy or what we have affection for or what we surround ourselves with is a symptom of what those outside forces are, which we often don't acknowledge.
In other words, we think we're doing private things. You know, "This is my personal house, this is my favorite thing, this is what I really like." But it''s kind of weird how everyone really seems to like the same things at the same time. There's nothing very personal about it. So I make situations where objects are in relationship to each other. But I'm never uninterested or unaware of the relationships that are greater than that—like the environment within which those things are manufactured and marketed and purchased and used and then discarded. Those objects go through a life history that's completely dependent on, or parallel to, an economic and a sociological history that's going on at the same time.
"Liz Magor: One Bedroom Apartment" is at the Esker Foundation through December 19, 2020. An exhibition of Magor's new work, "Downer," is at Catriona Jeffries from December 5, 2020 to January 23, 2021.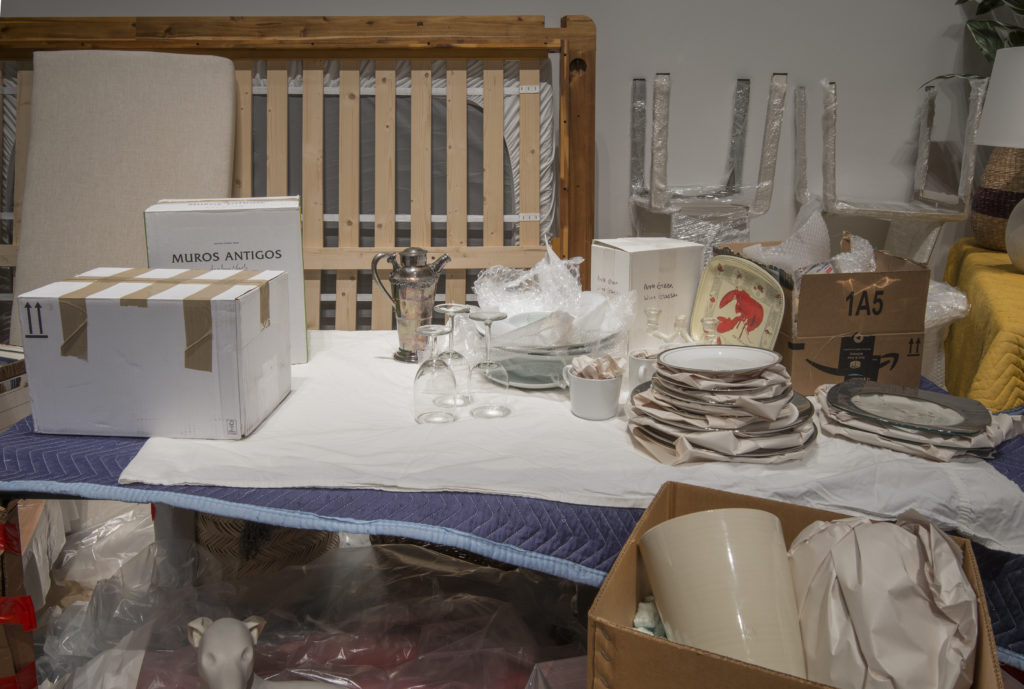 Liz Magor,
One Bedroom Apartment
, 1996–. Contents of a one-bedroom apartment, found and sourced furniture, boxes, packing materials and books, dimensions variable.