For the French Pavilion at the 2019 Venice Biennale, Laure Prouvost created a surreal, immersive experience where viewers were invited to "join them" on an oceanic deep-sea voyage of sorts. It was one of the most talked-about pavilions, combining fantastic, speculative sculptural installations with all manner of objects alongside a film that related more serious themes of immigration, borders and climate change. Jonas Staal, a Dutch artist, writer and researcher, takes a somewhat different approach in his work, looking at the relationships between art and political organization, theories of democracy and the history of propaganda in art.
As their recent project at Mercer Union comes to a close, we discussed the ways they think about their work as translators, collaborating with each other as well as the materials and objects they produce, and about some of the vital urgencies of what it means to be an artist working in the Anthropocene.
Jayne Wilkinson: On the surface your practices seem quite different. How did you start working together?
Jonas Staal: We met a few years ago at a conference in Brussels; they had invited a group of artists to reflect on the future of the European Union. It began with a conversation, actually a joke at first, about what would happen if our two practices were to merge: the notion of an "obscure parliament" was the immediate answer we came up with. What would it mean to think of a parliament of the other-than-human? Could we approach each of the components in Laure's installations as political actors and not just as objects of contemplation—which they never are in Laure's work in any case—and to politicize them even further?
Laure Prouvost: It was at Kadist, in Paris, where we first made the exhibition of the Obscure Parliament, or Aube's cure Parle Ment. We were playing with language in terms of how the words are translated in French: aube (morning, dawn); curé (priest); parle (speak), ment (lie). So: dawn, priest, speak, lie. That was the beginning, and then we were invited to do chapter two at Mercer Union, so of course it also became about the idea of a union of things.
JW: The exhibition at Mercer is a real assortment of materials—video projected on the floor, plants, soil, signs, a wooden structure spanning the gallery, an archway, boobs, nipples, arms, hands—it produces a very immersive but also unstable feeling. How do you determine what you put into the gallery space, or the forms and materials that comprise this "union of things"?
LP: Yes, the undercurrent. Well, to start, I think it's very much about giving power to other materialities, about producing a kind of harmony with different beings. At the same time, it's complex, because we are dealing with things that are abstract—humans articulate and trigger abstract ideas through language. We're humans creating a space for nonhumans, for other-than-humans. As artists, you're constantly doing that: using different methods to give power to the medium, power to materials, power to pixels.
JS: Yes, and somehow you collaborate. Obviously, you're aware that you are the one responsible for moving an object or using a material, but that object can also move you in some way. Maybe not in a literal way, a stone is not capable of moving me by itself, physically, in space—but it does move me in another kind of sense.
LP: You might sweat, you might feel you are becoming something different, you might feel your legs are turning into octopus legs…I think that I am almost more of a translator than I am an artist. Jonas, it's like you're the artist and I am translating.
JS: One of the first times I encountered Laure's work was in an exhibition I reviewed. Her work was using all these different kinds of slogans. I was already researching propaganda, and I thought: This is a very strange kind of propaganda. It is very clearly directing me, and I want to respond to it somehow, to either resist it or go with it, but I'm not 100 per cent sure what I'm resisting. It doesn't propagate a singular world; it propagates the possibility of worlds. I think our work has a lot to do with the history of utopian artistic practice moving toward something we could call "utopian realism." Because our utopias are not two steps ahead; they are in the here and now.
LP: Completely—completely present, completely in the moment.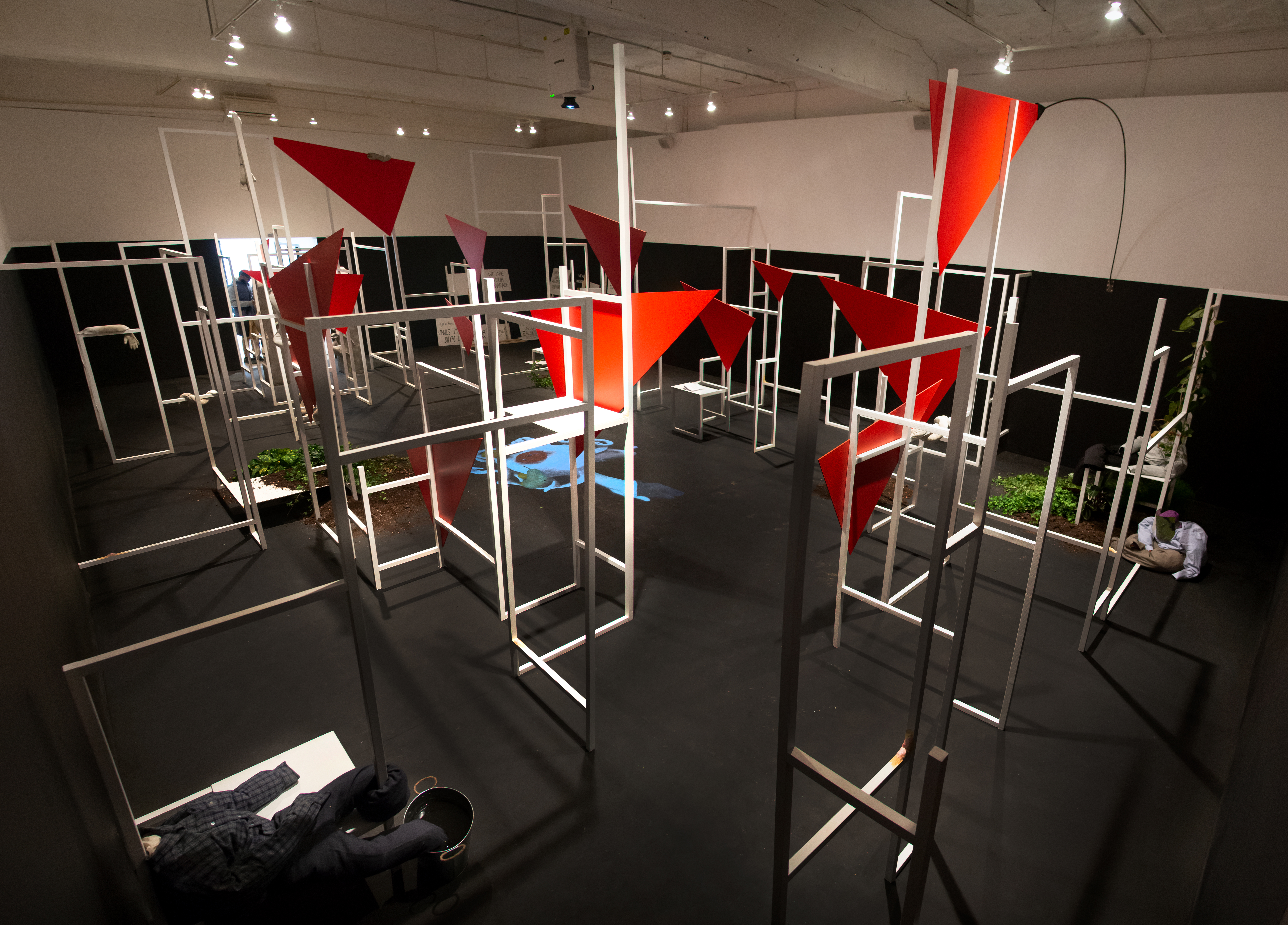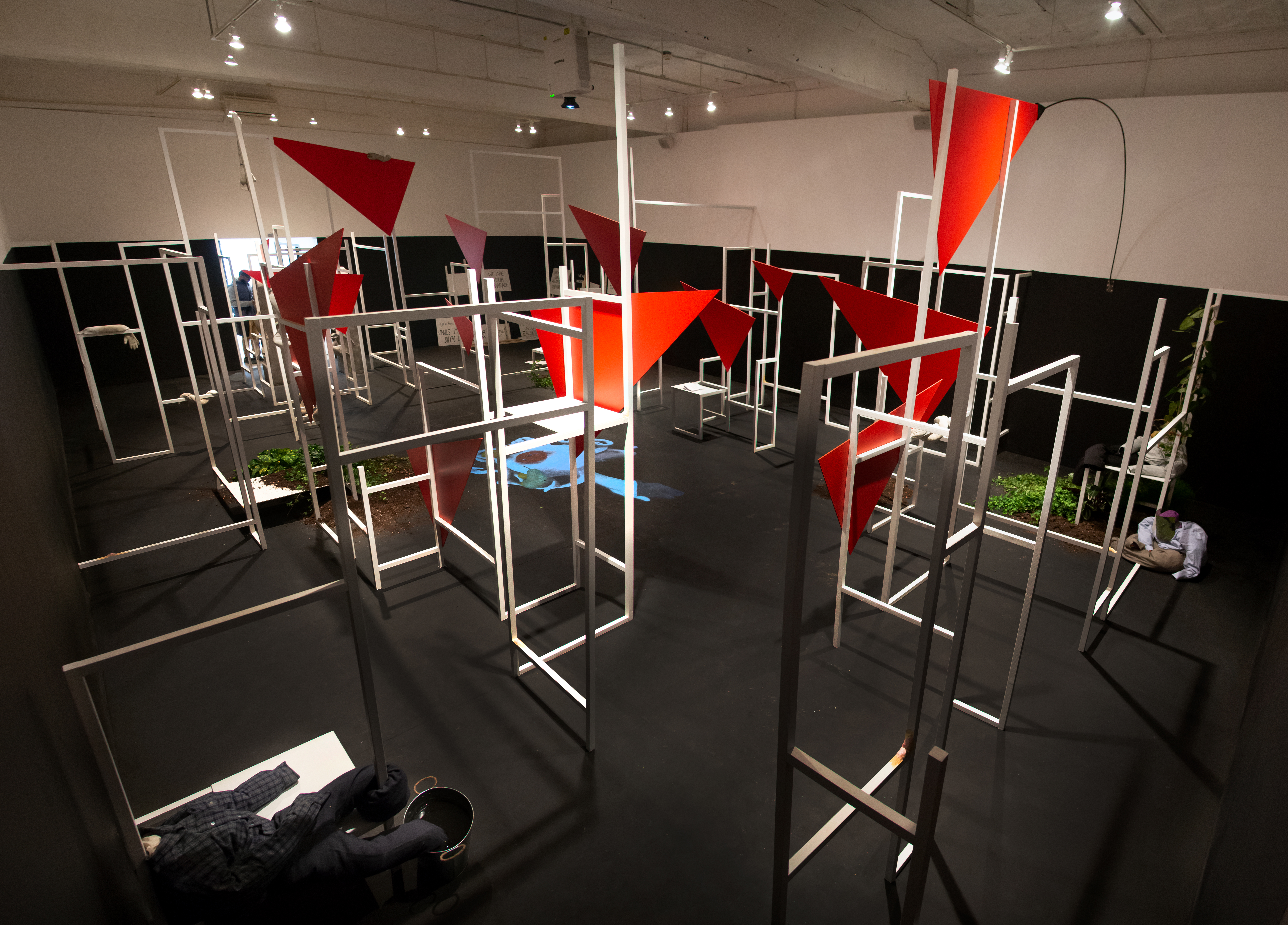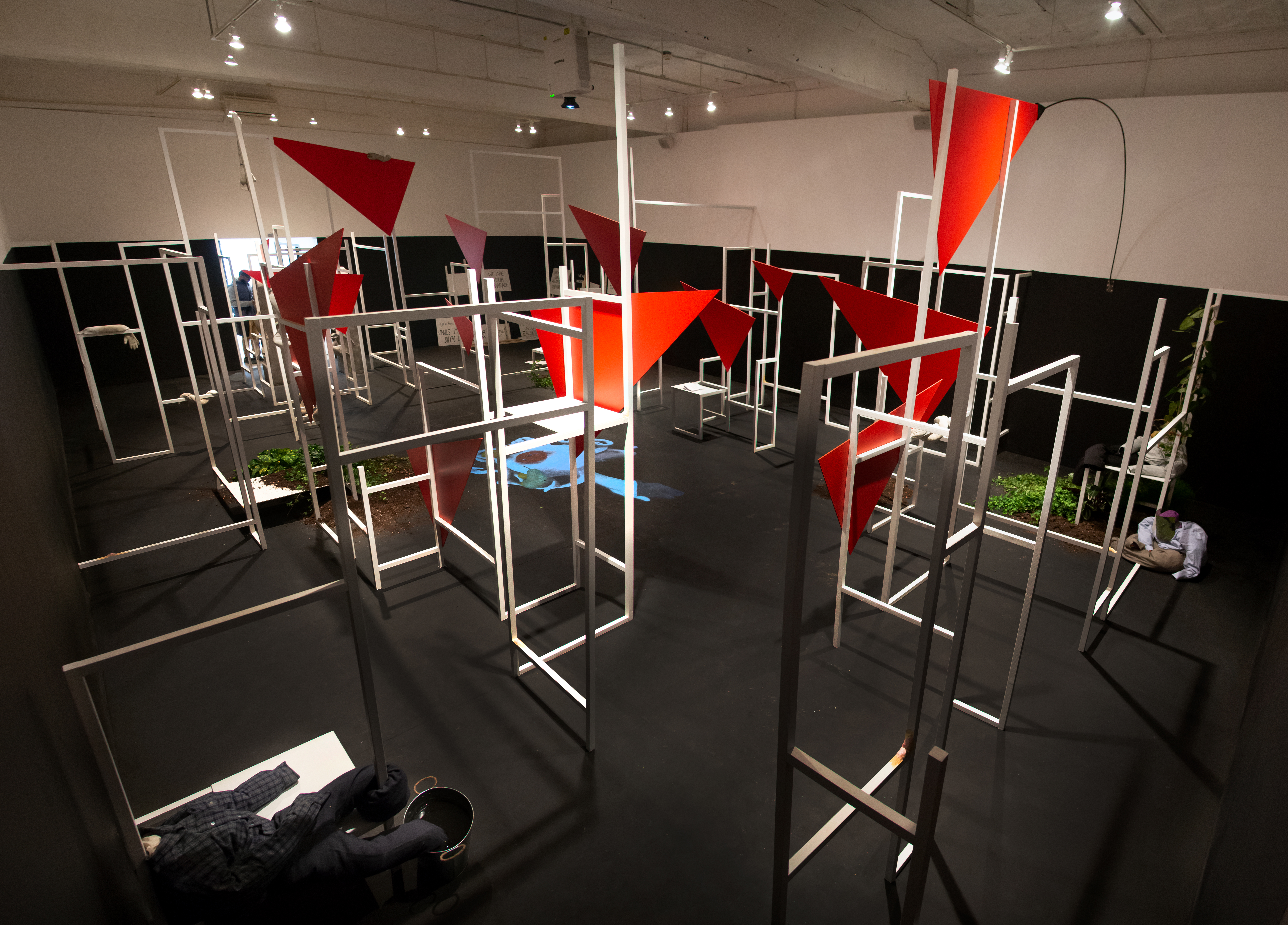 JW: Can you talk then about your relationship with the historical avant garde, about how that is brought into the present? Russian Constructivism is one of the clear references, but there are also very surrealist elements, especially around the playful use of language—and the Dadaists and Surrealists basically formed through poetry.
JS: It's an interesting tension always. In the process that led to this project, we had quite a clear conceptual-theoretical framework, which dealt with the notion of the obscure as relational—as that which manifests in between humans and objects, nonhumans and other-than-humans. It can be a haunting experience, familiar and unfamiliar. And we connected that haunting experience to the work of the Constructivists and their theory on the comradehood of objects—that objects in the revolutionary situation would themselves become active subjects in the process of building socialist society.
This is what we discuss as the obscure: a relational process in which humans, objects, plants and other decomposed things, even toxins, articulate union—a speculative ecology of sorts. It's an important component in Laure's work: she does not approach nature as something purely organic; she also engages inorganic materials that result from chemical processes.
LP: The writing is actually a kind of magical situation as well. It was a lot of fun to work on the texts. Language is a system we're supposed to uphold. But as artists, we can use it in a way that's a bit more open, to re-open it, with the spelling mistakes, with the different interpretations. Language is so malleable. It's not tested; it's like its own medium. Definitely for me, this is the core of the project. Language is a very human material, but it can still articulate the nonhuman in some ways.
JW: This idea, of having comradeship with objects, seems to run parallel to the idea of nature overtaking human structures. Laure, in a lot of your recent work the octopus is a recurring motif, and there are these references to tentacles and shape-shifting. Why did that become important for you? Your work at the 2019 Venice Biennale was really about the presence of humans and sea creatures alongside one another.
In some ways, our society is super immediate. We live in ecstasy now, we want to feel everything, we want to touch, touch, touch. We need to be completely in connection, at once.
LP: Yes, completely. I mean the installation for the Venice Biennale was very much about this idea of survival. The French, the British pavilions, they are all on top of a little hill, like these colonial vestiges. It feels very much like it's all about elitism still—which pasts have been put on top, and the possibilities of survival with global warming. The octopus is about getting at the origin of the human brain, or even of the world. It's an extremely elegant animal. It's so fantastic how it has its neurons in its tentacles, its touch and feel—it's super immediate.
In some ways, our society is super immediate. We live in ecstasy now, we want to feel everything, we want to touch, touch, touch. We need to be completely in connection, at once. And at the same time, we are losing a kind of physicality. I think it's a mental state, like how children want to touch and lick and sense things all the time. How can we re-bring consciousness to our lives, so that we become at that level, almost like a child, or an octopus?
JS: To become re-sensitized?
LP: Yeah, a little bit. To reconnect to this aspect of consciousness, not just to the brain, but to being conscious of the way we sense things.
JS: This also has a lot to do with a perspective of the world that considers what is called nature as a kind of neutral backdrop, an idea that the term "Capitalocene" now challenges, as it makes visible that this neutrality is meant to turn nature into an extractable, rightless resource. Art has cultivated, for a long time, this idea of nature as the eternal. Now it's no longer possible to think of the components in our ecology as this eternal backdrop; it is an active, moving set of actors that implicate us, and potentially unmake us. Our discussions are very much situated in this particular moment in time, when we are facing an emerging ecology of extreme weather, toxic tsunamis and plastic hurricanes.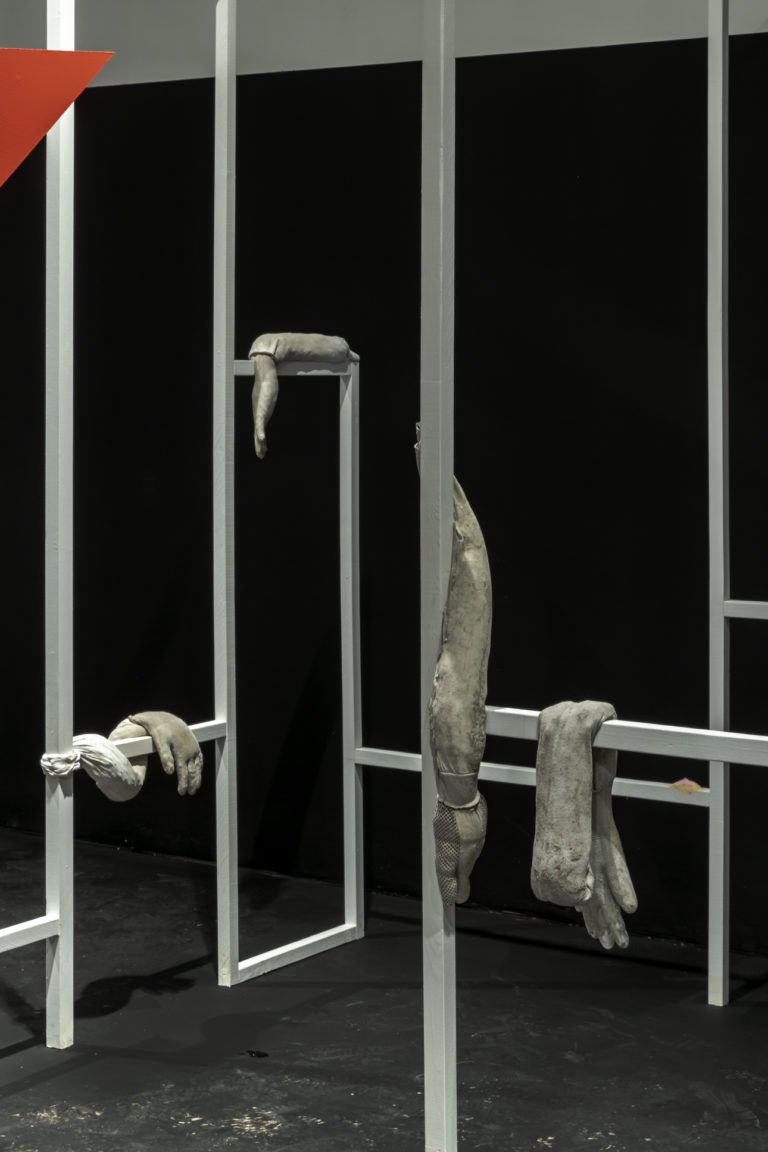 Laure Prouvost and Jonas Staal,
Obscure Union
, installation view. Commissioned by Mercer Union, Toronto, 2019. Photo: Toni Hafkenscheid.
JW: This aspect of touch and immediacy is so relevant now. We're constantly using touch screens to connect with each other, as though we're trying to touch each other through our screens. It's also related to the outsourcing of intelligence that a phone, as an object, allows.
JS: Yes, although the interface of an iPhone, of a touch screen, has nothing to do with what you're doing. You think you flip a digital page but the computational system in the back end does something fundamentally different. It's a simulacrum that's being generated to suggest that you are controlling a gesture, but actually the gesture is computed separately, computed through data sets, shared through other data sets. This is the actual process you are a part of, and that's what you want to be able to visualize as an artist. You want to push the system to the surface and show the actual agencies that are unleashed in the tiny gesture of your finger moving across the screen.
JW: How can you do that, as an artist?
LP: Well, I think that's what Jonas is doing by taking Facebook to court.
JS: That's actually a good example. I'm working with lawyer Jan Fermon on a court case against Facebook, to enforce its collectivization by having it recognized as public property, as public domain. We've all worked for Facebook, we've all invested our active labour into Facebook. We [the public] made Facebook. We created its value. We were never paid for it. On top of that, it has captured a lot of our affective relations and even regulates our political engagement disproportionately. The impact is so enormous that it is absolutely irresponsible to leave Facebook outside of democratic control. And there are many historical examples of private initiatives that at some moment become of such public significance that they are recognized as something that has to be governed collectively.
I think there's a certain arrogance of artists in thinking that we are world-makers. I'm not sure it's about that; it's more about recognizing yourself as an intermediary or an enabler, or translator. It's about aligning yourself to agencies that are there already, that you are inspired by and want to contribute to.
I think there's a certain arrogance of artists in thinking that we are world-makers. I'm not sure it's about that; it's more about recognizing yourself as an intermediary or an enabler, or translator as Laure said. It's about aligning yourself to agencies that are there, that you are inspired by and want to contribute to. Not to claim a kind of terra nullius in which you declare the world to the world. That's not the point. It's more about enabling worldings that might not have otherwise been visible in the same way, but which are certainly present.
LP: Our generation of artists is more conscious of all this. We're not unique; we're part of a much more complex ecology. It's not this idea of a master artist who is going to tell the world what it's about. We've moved on from that. I hope. Or at least a lot of us have. It's a fascinating situation. We're at a point in history where there are all these perspectives, realities, and no more do we have the idea of a master telling a single story.
JS: There's also this paradox: the luxury of previous generations was that they were working for History with a capital H—the history of the future, the history that is collected. But now, even if there are still collections and attempts to create museological, historical memory, what does it mean to create a memory for a future that has no history? We live in a present that is so radically undoing the future, or the possibility of the future. I think it brings us back to a point of Laure's of-the-present-ness. We have to somehow, fundamentally, embrace the potentialities and contradictions and ambiguities of the "now." There's no future history that is going to save us.
JW: So, what happens after the exhibition? I realize you are not the artists but the co-administrators of the "Obscure Union"—what is the future of this union once the exhibition closes?
LP: Well it's a bit tricky because we are co-administrators, yes, but we have been kind of undone from the process. They don't need us.
JS: They had a very clear program. A very extensive program of events. The Obscure Union is perfectly fine operating without us—whether we do or don't help enable their assembly in our role as co-administrators.
LP: We were talking about how beautiful it is when an artwork can be very engaged with changing the world, how beautiful an artwork can be when it proposes a situation for humans. But the danger is that you have an idea for something but you don't have the capacity to see it through. Or you make it but then you have to leave it, to be home with your family, or whatever your needs are. The great thing with this project is that we can propose something and then let it live on its own, because it doesn't especially need humans to live. So, I think we'll just keep doing Obscure Union all over the world. It will have its own life.
JS: Planetary Unionization!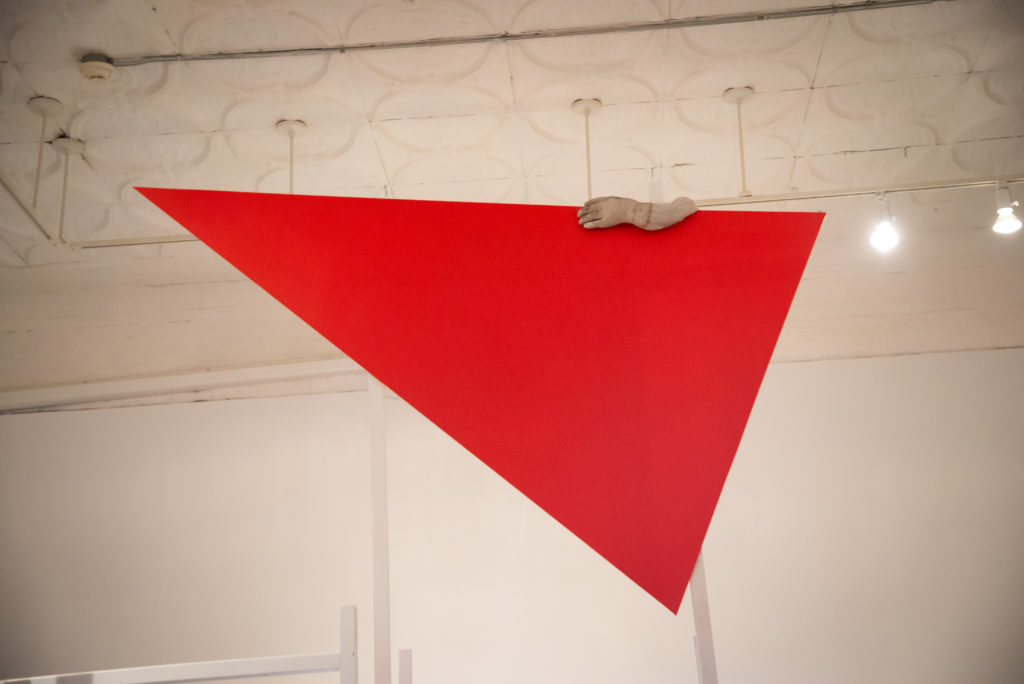 Laure Prouvost and Jonas Staal,
Obscure Union
, installation view. Commissioned by Mercer Union, Toronto, 2019. Courtesy the artists.