This Monday, December 1, the eyes of the art world will be on Tate Britain, where the Turner Prize is being announced. And this year, there's a Canadian in the running: Ottawa-born, Glasgow-based artist Ciara Phillips. Known for her work in printmaking, Phillips is nominated for a project she did last year at London gallery the Showroom—a project that brought together artists, designers and local women's groups to create together at a temporary print studio Phillips set up in the gallery. Phillips is also a member of a UK group called Poster Club, which does collaborative print projects for gallery and non-gallery contexts. Here, Phillips discusses the challenges of doing an installation for the Turner, the place of printmaking in social change, and the way her early experiences at Canada's own Queen's University shaped her practice.
Q: Collaboration and negotiation are a notable part of your practice—you were nominated for the Turner Prize in recognition of a collaborative project you did with activist groups and fellow artists at the Showroom. How does it feel, then, to deal with the individualistic nature of events like the Turner Prize, where you are nominated alone and (from what I understand) create a related exhibition piece alone?
A: It was great to be nominated for the project at the Showroom, but it was also a challenge because the workshop was really at the heart of that.
When Tate first called they said "You can just remake Workshop in the context of the prize"—so they were open to that idea—but I felt that that was going to be quite difficult, because the Turner Prize is such a different and specific context from all the other contexts where I've set up a temporary printing studio.
Typically I've set up Workshop in places with much smaller audience figures, and it has always been possible to have the space to work and also to engage with people by saying "hello." Whereas the Turner Prize show has estimated an audience of 70,000. I've never intended Workshop to be a performance of making art or of printmaking, and that's what I felt it would become at the Tate.
Also, the Turner Prize has a lot of press attention, and a lot of it is quite negative. It's one thing to put myself in that situation, but it would be a completely different thing to invite other people to come in and be a part of that. So I made a decision to try and reflect things that came out of the collaborative project, but not put myself or others in that situation of being so exposed.
Workshop at the Showroom was surrounded by my own work as well—the walls were plastered with my prints. I have taken a similar approach to that in the Tate show, where my individual work fills the space but there elements of it that also reflect the collaborative outcomes of last year's project.
Overall, the idea of setting up a printing studio and inviting people to work with me in it is something I've been working on for a number of years. It is separate from my individual practice, but it is connected my wider interests.
Q: I understand you're an admirer of the work of Corita Kent, who used printmaking as a mechanism for social change and social progress. Yet Kent worked in the 1960s, and in 2014, much activist work has migrated online to social media, e-blasts, online petitions, and so on. Why and how does print media still have a place in social change?
A: That's definitely something I'm interested in, but it's not the reason I've come to print.
For me, print is interesting in several ways. Its historical legacy is something I look at, and the sources I come to often draw on printed material from further back than the 1960s, extending into the 16th century as well.
In terms of working, there is something in printmaking that I'm really drawn to. But there is also the element of it that it relates to things that exist outside of the context of fine art. Print very much has a foothold in the fine-art context, but I think it's interesting that the medium extends beyond that.
When I first came across Corita, I was really interested in how she used screenprinting formally, and then I started learning more about her approach to being an artist—being an educator and addressing things like the Civil Rights movement and the Vietnam War.
I guess the point I'm making is that initially I haven't come to print because of its connection to social change, but recently that has become more important for me. The Showroom project was one of the first situations where I worked with a group of people, [Justice for Domestic Workers], that are actively campaigning for their rights. I've worked in different social contexts for a long time (primarily with adults with learning disabilities and mental health issues), but that has always run alongside my practice and not been brought into it. Perhaps that is something that's changing in my work, that I'm developing
I think there is something about the immediacy of working with people that is really important in the Workshop setup—being present physically and connecting to make an outcome together—that is at the heart of that for me. Sometimes things come out of it that function in a different, a possibly more practical way, than my art.
The banner that was made at the Showroom by J4DW was a departure for me personally. I wouldn't describe it as a piece of my art; it came out of a process related to my art, but it's great that it left the gallery immediately after being made and been used since.
I think there's something valuable about the physical object that gets unrolled each time that Justice for Domestic Workers are on a march.
Q: You have spent the bulk of your career in the UK—you did your MFA at the Glasgow School of Art, to start with—but you were born in Ottawa and did your BFA at Queen's University in Kingston. What learnings or experiences from your early years or undergraduate courses do you still draw upon in your art practice today?
A: I think a lot about the BFA course at Queen's—there was something important about how I was taught there that is a big part of what I'm doing now. Our profs at Queen's really had a hands-on approach to teaching.
I remember in the printmaking department, it was the professors who did the demos for the technical aspects of printing. They showed us how to make stuff, and at the same time they had a chance to talk about a lot of other things. We would talk around art and print and lots of other issues.
That's quite different in the UK. I teach here and my teaching is more one-to-one tutorials, or group critiques where I talk to students about their work, but I'm not present with them in the studio in the same way. So my experiences at Queen's have had a huge impact on what I'm doing now.
In terms of my early years, my dad worked for Canada's Department of External Affairs, so we travelled in and out of Canada when I was growing up. When it came to thinking about doing a master's program, the possibility of going somewhere else wasn't that unusual to me because I'd spent time in London as a kid and my mother is Irish.
I definitely didn't think I would be in Glasgow for 12 years—the plan was two!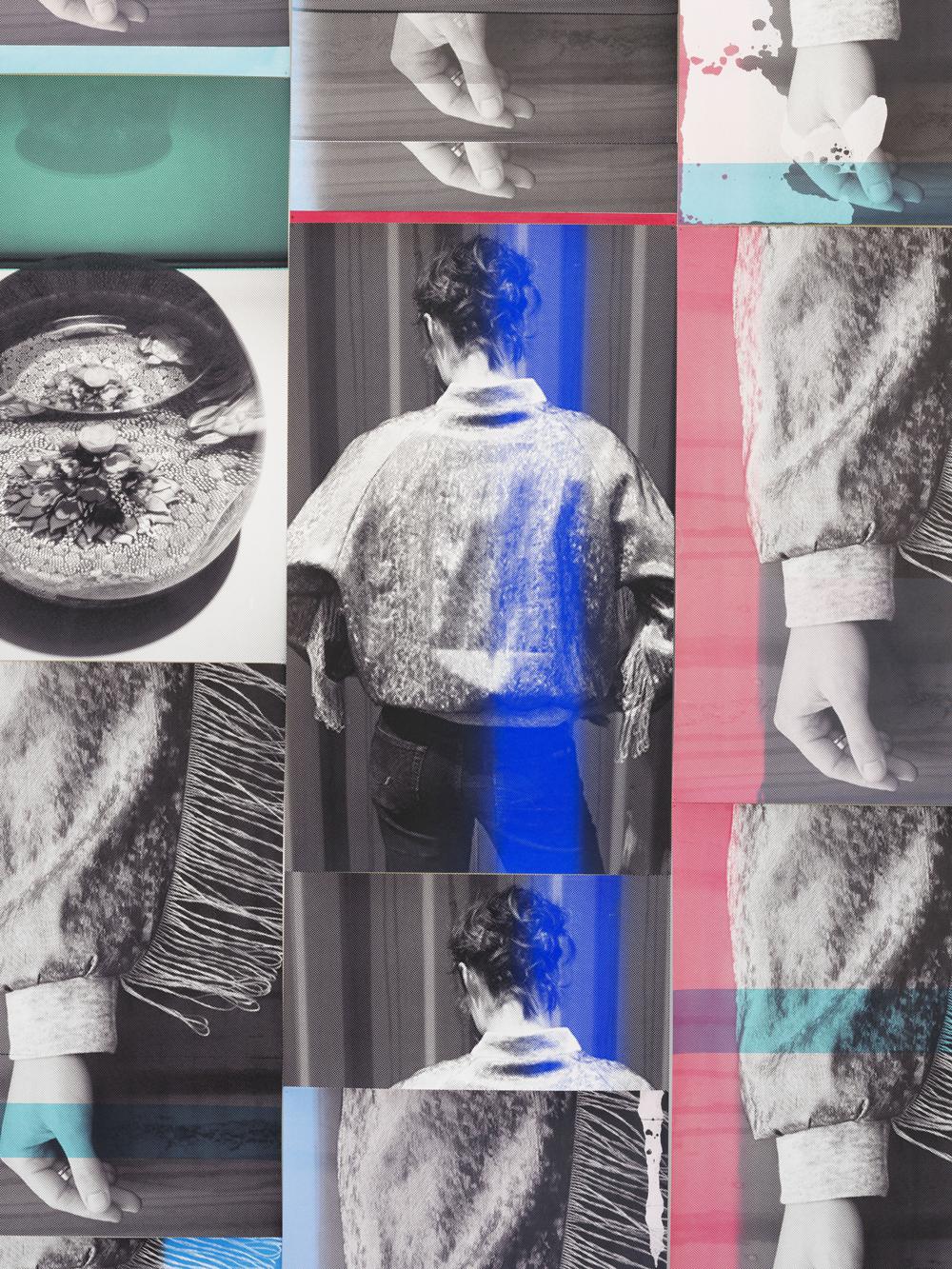 Q: It sounds like Glasgow is a special place, then, for making art. And you wouldn't have been nominated for the Turner Prize if you didn't live in the UK. What do you feel are the pros and cons of being an artist in the UK as opposed to Canada?
A: It's hard for me to talk about being an artist in Canada, because I've only been back twice in the last 12 years. But there are going to be opportunities for me to come back in future, which is really exciting.
Glasgow specifically has a really great do-it-yourself culture, and doing the master's here, it felt like a great place to stay. I think as you develop a community around your work, time just flies. I didn't really know when I came here that the city has this active community; I just knew about it because someone had come from Glasgow School of Art on exchange to Queen's, and that made me think about studying here.
There are quite a lot of Canadian artists in Glasgow. I think through the years a lot of people like me have come to do the MFA program and then a similar thing happens—they keep on staying.
Q: What's next for you? Any projects or shows coming up in Canada?
A: I'm not sure if I'm at liberty to say just yet, but there are a couple of projects in 2016 I'm working on. It's something that I'm really looking forward to. It will be great to spend some time in Canada.
This interview has been edited and condensed.