"We believe that art is imperative. We believe that art is transformative. We believe that art is labour." Such is the underpinning ethos of a new labour union in Vancouver set to represent a vulnerable population: arts and culture workers.
For many people across Canada, jobs in the arts and culture sectors are defined by precarity. To address this precarity, a group of just such workers in Vancouver has gathered to create the Arts and Cultural Workers Union (ACWU) IATSE Local B-778. The ACWU was formally established by its founding members in January 2020 and operates in solidarity with the broader labour movement to address labour insecurity and exploitation within arts and culture sectors. The union's founders include community-focused multidisciplinary artists and organizers Laura Gaaysiigad Cuthbert, Emily Neufeld, Jonny Sopotiuk, David Ng, Jen Sungshine, Ali Bosley, Zandi Dandizette, and Catherine de Montreuil, to name a few. The goals of the union are robust, and as the COVID-19 pandemic relents in BC, the group's aspirations include province-wide collective representation for arts and culture workers, along with freelance representation and extended, portable health benefits and resources for its members.
The founding members of the ACWU are also the founding members of the Vancouver Artists Labour Union Cooperative (VALU CO-OP). VALU—a unionized production studio where workers are also represented by the ACWU—aims to develop into a multifaceted gathering site for artists and workers, offering resources, events, residencies and space for community projects.
At least, this was the plan until the COVID-19 pandemic prompted the co-operative to change course. The group's long-term goals remain intact, but now VALU's work in the community is more important than ever. To start, the co-operative recently celebrated the launch of a mutual-aid program with Coming Together Vancouver to raise funds for COVID-19 relief.
In this conversation, VALU's project coordinator and board president Catherine de Montreuil discusses the future of VALU and the ACWU as democratic pillars advocating for arts and culture workers in new and innovative ways.
I think what sets VALU apart is that we've come together on the basis of shared politics rather than shared aesthetics.
Megan Jenkins: How are you conceptualizing the labour-specific aspect here?
Catherine de Montreuil: In many ways, we are a group of people who have come together with a common purpose: to improve labour conditions—both our own and those within the arts and cultural sector we work in. Being part of a labour union, we collect dues from our paycheques at the co-op, which are funnelled into the ACWU benefit structure, which in turn represents us in the workplace. The first phase of the union for us is representing our own co-op, and then branching out to represent other arts and cultural workers, mostly in established institutions and art spaces.
We're also creating a freelancers' unit within the union, so that arts workers who maybe have multiple jobs at different spaces or in different studios as assistants, or who maybe run their own photography studios or consulting practices, can have representation through us by paying a flat monthly rate to become a union member.
The long-term goal is also to build up the capacity to provide medical and dental benefits, as well as retirement savings plans. These things are often missing from the arts sector, and access to them is so far off the radar for most of us who work in the arts or do any kind of freelance work.
MJ: What is your own experience with arts organizing like?
CDM: Working in artist-run centres, I've seen and experienced first-hand the financial precarity arts workers face. After I graduated from Emily Carr University of Art and Design, I had several part-time jobs at arts non-profits. Like anyone, I needed to work a certain amount of hours to pay bills. But there wasn't any capacity to hire me for more hours than what I was getting.
I was really torn between feeling super loyal to the initiatives I was part of and wishing I could have more time and capacity. With patching together short-term contracts and part-time jobs, I would either be extremely busy or have a ton of time on my hands but not enough money coming in. I realized that burnout is so common in the arts, and it started feeling politically wrong to me.
MJ: There is precedent for artist co-operatives and unions, but having this coalesce into an income-generating initiative that has created employment for your members is a remarkable feat, especially now, given the economic effects of the pandemic.
CDM: There are a lot of artist unions and co-operatives we have looked at as part of the research for this project. Historically artists' labour unions have been quite intense, generative collectives that burn bright but briefly because of a lack of wider support, and likely, in part, because of the complexities of democratic group decision-making. More recently there have been some innovative union models within the art world, with many of them bypassing the formal structures of unions and co-ops altogether in order to form mutual-aid-style organizations.
Knowing that this kind of burnout is common, we [the ACWU] tried to prevent that from happening by joining a preexisting union—the International Alliance of Theatrical Stage Employees (IATSE). We initially planned to start our union with complete autonomy, mostly because we weren't sure anyone would want us! But we had several meetings early on with representatives from IATSE, and they have been incredibly supportive from the beginning; they asked us to join them as our own B-Local.
Co-operatives and unions are the time-tested, proof-positive models that the conditions of our labour can change for the better.
Being connected to that bigger structure really makes this viable for us. We're able to set our own terms and develop our own structure; meanwhile, IATSE has provided the ACWU with legal support, access to their training fund and some additional funds to help the union get on its feet. They're also helping VALU bargain our collective agreement.
MJ: The co-operative model is so empowering for its membership, and this sounds like an excellent way to connect with other unions. Can you share more about the subversion aspect of this for-profit model?
CDM: Co-operatives are so cool because they subvert the capitalist logic behind a business, and they use that model to serve the workers' and the community's needs. Instead of profit ending up in one or two people's—or investors'—pockets, any financial surplus we generate is actually taking care of the workers who are doing the job. Non-profit charities likewise work on hierarchical models, often filling in societal gaps where the government has shirked responsibility; they are also unfortunately utilized as a place for wealthy folks to obtain tax breaks.
Workers' co-operatives do something different. It's a democratic working model that doesn't rely on plutocracy to survive; instead, the workers collectively own the "business" itself. At a talk at Emily Carr in 2018, Andrea Fraser highlighted that so much of the art world is reliant on non-profit structures, but non-profit structures are themselves reliant on the health and wellbeing of corporate, capitalist economies. I think it's really important to think critically about this system, and the fact that the art world is propped up by a lot of oppressive frameworks.
The Lim Sai Hor Kow Mock Benevolent Association Building in Vancouver. Photo: Annie-Canto.
MJ: I saw on Instagram that VALU has moved into your Chinatown Studio! What does this mean for VALU?
CDM: Yeah! We've moved into the Lim Sai Hor Kow Mock Benevolent Association Building (also known as the Lim Association) on Carrall Street. It's where VALU produces our print materials and goods, and is also the ACWU Union Hall headquarters.
The building was initially constructed in 1903 by the Chinese Empire Reform Association, and has been run by the Lim Association for a very long time, supporting Chinese Canadian labourers. And so the building has a long history of being a hub for labour advocacy and addressing racial tensions in the city. One of our members, David Ng, has known the Lim Association members for a long time; he also worked in the building on and off for 20 years. The space became available and they felt we'd be a great fit.
MJ: It's a complicated neighbourhood, though.
CDM: Considering the role many arts organizations often end up playing in gentrification, we were really aware of that. We took time considering whether to move in, but we were ultimately invited by the Lim Association. They wanted to make sure the space was focused on the community—they didn't want another random coffee shop to open up in the building.
One of the first Community Projects initiatives of VALU will be to help digitize the archives of the Lim Association. They've been super generous, inviting us into their space and showing us their ancestral altar, and sharing their oral histories with us; we're really looking for ways to help, and to preserve that archive with them in a collaborative way.
We're hoping to leverage our position and our relationship with the Lim Association in order to get funding to help upgrade the building. There are just so many buildings in Chinatown that have fallen into disrepair because of systemic problems. The access to resources and funding has just not been there in an adequate way.
It seems like a lot of the time the bylaws and the City's structures are more friendly toward developers—tearing down a building and putting a new one up rather than maintaining buildings with heritage status or repairing existing structures.
MJ: Speaking of the City of Vancouver, Council recently approved cultural funding that provides operating funds for many non-profit cultural organizations in the city. This was widely considered a civic endorsement of the arts community. But the City doesn't support self-employed artists in the same way.
CDM: This is a big topic of discussion with PAARC (the Pacific Association of Artist-Run Centres) members right now; VALU has also been listening in on that conversation and looking for ways we might be able to provide support. Thankfully we have a lot of really amazing artist-run centres in our city, but the way the City has laid out this structure means these organizations and galleries become gatekeepers themselves in terms of distributing those funds.
So how does, or how should, the city support artists? This brings up big questions: How do we decide who is an artist in the first place? What do we consider artistic practice? This conceptualization is an ongoing discussion for us; we're always revisiting this idea in our values, and we maintain an expanded view of this definition.
VALU is a workers' co-operative, which is technically a for-profit model that we're subverting. This means we don't qualify for this same kind of funding as non-profits, and so aren't really a part of that distribution cycle in terms of getting cultural funding into artists' hands. What we are aiming to do instead is provide flexible, supportive and equitable employment options for artists.
But to try to bridge the gap we're talking about here, we've begun partnering with other organizations who are not-for-profit, and are staying linked by agreements that work more like mutual aid.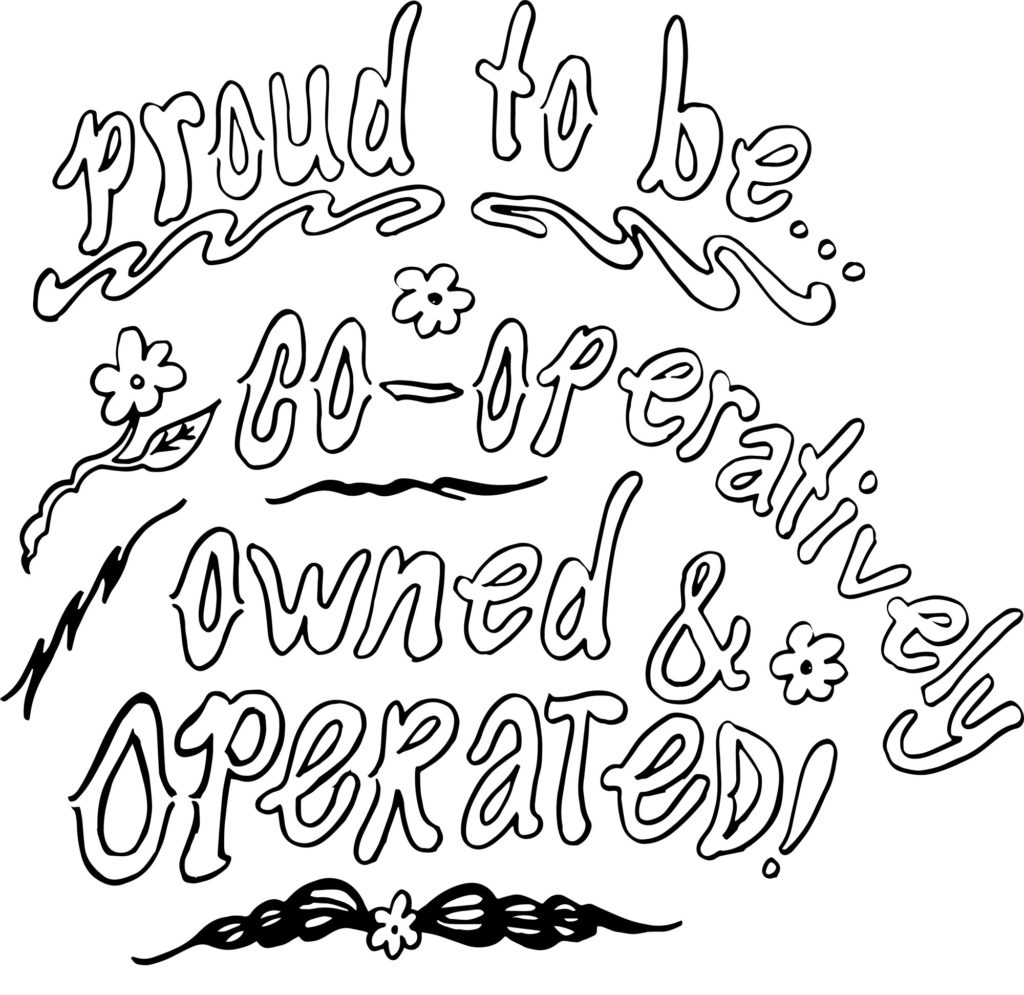 Text-based artwork by Ali Bosley.
MJ: Can you elaborate on how VALU and the ACWU define artists and artistic labour?
CDM: We are really loose about that by necessity. We came together as an artist-run co-operative and did have a moment of wondering how we were going to decide who is an artist and who is not. We have 17 members right now, and everyone has really different ways of defining that, I think, and we all have really different practices.
Laura Cuthbert, for example, runs Populous Map and works in data art, which is this really incredible project documenting hidden histories in BC. We also have Emily Neufeld, who works in sculpture and architectural interventions along with photography. Then we've got people who are illustrators, social-practice artists, painters, printmakers and media artists. Jonny Sopotiuk, who initially began organizing the ACWU and VALU, has been a labour organizer for more than 15 years and has brought that experience to organizing in the arts, as well as to curating and to his own creative practice. Then a handful of us are more involved in arts organizing, and some of us are writers, publishers, gardeners, dancers, video makers, facilitators…the list goes on.
I've been thinking about how this collective differs from the other collectives I've been part of. I think what sets VALU apart is that we've come together on the basis of shared politics rather than shared aesthetics.
It's quite cool and creates some really interesting conversations, even as we're figuring out our visual identity, let alone conceptualizing these much bigger ideas.
MJ: Can you talk me through your plans to expand from here?
CDM: Our plans and our ability to expand the ACWU are kind of rooted in our Chinatown Studio at the moment. We knew we'd need a source of income to fund this union model, so we opened Chinatown Studio, which is basically our own union-run print shop. We just bought a really beautiful, fancy printer, so we can work with a huge range of print materials. We also do screenprinting: T-shirts, tote bags and other campaign materials, like buttons and stickers.
That is essentially our income-generating model; it's how we've created jobs for ourselves, and how we are building funds so that we can create greater outreach. This allows us to bolster the union, the co-operative and our community initiatives.
It's mostly a process of remembering and recentring our values, and of always asking, Does this align with what we're trying to do here? How can we bring those values into stronger focus?
We want the Chinatown Studio and the union headquarters to eventually function as a workers' organizing space and resource centre; we also want to host arts events and performances, and present training opportunities. Jonny wants to open a non-profit dental centre, and some of us have talked about creating an alternative arts-education program and an artist residency program. I really want those programs to take place within a sustainable farming project, but I'm not sure how everyone else feels about that!
Given the opportunity to really grow and create some outreach, we'd love for the ACWU to represent as many arts workers across the province as we can. That's ultimately what we're laying this groundwork for.
MJ: I was reading through the co-operative's "VALUes"—a list of VALU's guiding principles—and one of my favourites was "we have an ethical responsibility to share resources, redistribute power, and use our artistic practice to serve our communities." Can you discuss how redistributing resources and power is so important to our communities in this moment?
CDM: This has definitely played out on an internal level with us, and we want to bring it to the greater community through contributing resources and our Community Projects group. On an internal level, we recognize that we have intersecting levels of privilege and access to resources within the makeup of our co-op. For example, some members might have more access to money, or time, or experience, or equipment, and have contributed to the initiative with what they have available; we're paying attention to how we can make a more equitable system among us.
That's an ongoing conversation that takes a lot of commitment and self-reflection. At a certain point we realized that some of our members were feeling a greater sense of ownership over what we were doing than others, for example, and that's something we have collaborated to address by sharing more information, holding more regular meetings and distributing responsibilities. It's mostly a process of remembering and recentring our values, and of always asking, Does this align with what we're trying to do here? How can we bring those values into stronger focus?
MJ: How have those values shifted to respond to our current circumstances?
CDM: We were barely off the ground as an organization, and then the pandemic hit. We watched our entire income model deflate, because all of the goods we produce are often given out at conferences and the like by our union partners, and those events have been unilaterally cancelled.
But it felt weird to just be looking out for our own survival at this time, when so many people are in need. So we've partnered with Coming Together Vancouver on a mutual-aid project. They are a really incredible grassroots initiative working to facilitate mutual aid and linking people within the Vancouver community to share resources. We've designed a series of items in a new retail collection, and we will be contributing any surplus funds generated by the project with Coming Together Vancouver, who will distribute the funds where they're needed. It's a way for us to survive this difficult time while also leveraging what we do have in order to provide support to our community.
MJ: Why do you think VALU is gaining traction and seeing so much interest now?
CDM: There's this idea that we do art because we love it, and that should be enough. But the bohemian dream doesn't really exist in real life the way it used to; co-operatives and unions are the time-tested, proof-positive models that the conditions of our labour can change for the better.
We're not reinventing the wheel here. This is something that has precedent, and that we can elaborate on in creative ways to best serve our community. It's more like improving the wheel.