It's been reported that Toronto has more high-rise condo projects under construction than any other city in North America. But could Toronto also be the North American capital of condo-parody art?
On Friday, an anonymous artist collective installed a fake development-proposal sign outside of Toronto's Old City Hall.
Though the sign looked almost identical to official development-proposal signage across construction sites in Toronto, reading the fine print—namely, the suggestion that Old City Hall be turned into a parkade for a 90-storey condo tower built atop it—proved just a smidgen too unbelievable.
The signage went viral, as did the website that the fake sign directed readers to: developmentproposal.tumblr.com.
On the website, more ersatz (though only just) Toronto condo proposals are posted. These include proposals for a 40-storey residential complex attached to the side of the CN Tower; a 22-storey residential building constructed upon a working Toronto Island ferryboat; a 20-storey tower built on top of OCAD University's Will Alsop–designed Sharp Centre for Design, with the Alsop building turned into parking spaces; and a 50-storey tower rising up from Toronto City Hall's council chambers, embraced on either side by Vijo Revell's iconic curved walls.
The Development Proposal project has made a splash—but really, it is just the latest in a decade-long string of Toronto artworks that satirize or critique the pace and nature of the "condo-ization" of Canada's largest city.
In 2006, artists Luis Jacob and Amos Lattelier created Pigeon Condo—"luxury housing for pigeons at the desirable intersection of Yonge Street and the Lakeshore Boulevard, in the heart of Toronto's revitalized waterfront." (Its slogan? "If you had wings, you'd be home by now.") In 2010, Sean Martindale made a project of turning illegal condo ads (that is, banners and sandwich boards) into tents that he resituated in public space. In 2013, Oliver Husain's montage of found video footage of condominium "fly throughs" was exhibited at Susan Hobbs Gallery alongside drawings and silk paintings based on condo showroom décor. And in the current issue of C, Andy Fabo writes that installing the exhibition "Chroma Lives" in a condo showroom on Avenue Road in June "seemed as unexpected and subversive as our appropriating a gigantic retail space on Bloor Street in 1983. Both sites evoked the multi-faceted ironies of their socio-economic contexts."
Here, via representative Daniel Rotsztain, the anonymous artists behind Development Proposal speak about their current condo development concerns—and highlight one of their earlier Toronto works in this vein, too.
The Development Proposal signage for OCADU.
Q: What other artists or artworks inspired this project, Development Proposal?

A: Of course, there's an international tradition of street art that we're inspired by. And Toronto has its own tradition of politically responsive street art that we're huge fans of, like SPUD's mocking likenesses of Rob Ford that popped up around the city during his controversial mayoralty, or those landfill stickers that appeared on garbage bins last year, reminding Torontonians where their garbage really goes when they throw it away.
The project was mostly inspired by the development-proposal signs themselves, which seem to suddenly appear on every corner of the city constantly. Their dullness is iconic: their look, their pervasiveness and their aesthetic. And the real ones already seem like a parody! There are all these proposals with a tiny strip of two-or-three-storey heritage buildings with a massive glass tower, completely out of proportion, rising above it.
So we wanted to make something to make people consider how the development process in this city works, and how so many of us are left out of the way this city is developing. We wanted to address the idea that it seems like nothing is too special be considered for a condo development, so we made parody development proposals for Toronto's most sacred buildings.
The Development Proposal for City Hall.
Q: What other works has your collective, or artists in your collective, done relating to condo development or urban issues in Toronto?

A: We once transformed a Canada Post box into a mini condo. The project was a comment on the ubiquity of 2000s condo design—an immediately recognizable look that makes them identifiable among tall structures from other eras. Their heavy use of glass, the uninventive balcony design, the bluish-greyish colouring, all point to buildings that are unmistakably condos built in the last 10 years.
We did this project near College and Ossington, a neighbourhood on the edge of glass-condo development. Its seemingly sudden presence served as a symbol/warning of what was to come, but its size put the passerby in the position of power in a process that can often feel uncontrollable.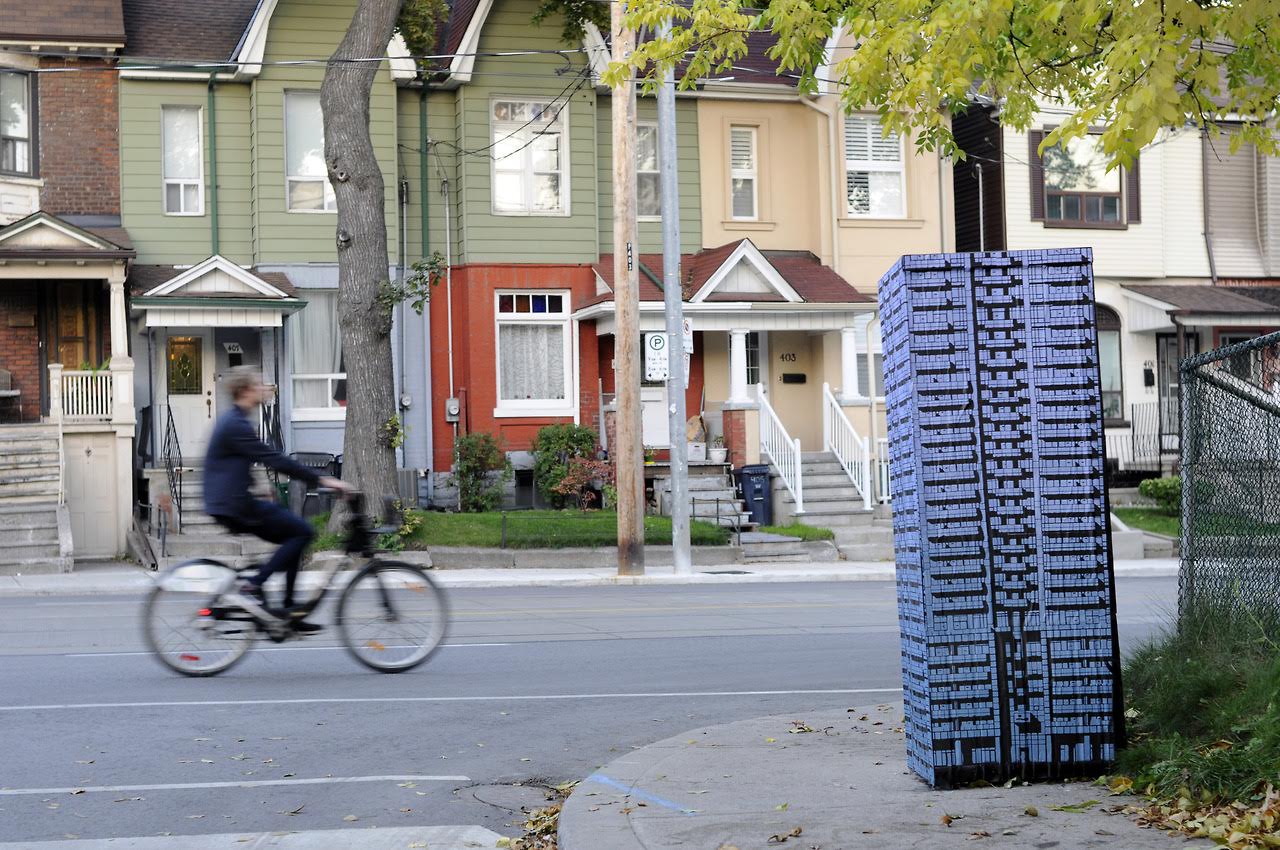 Earlier in their street-art careers, the artists behind Toronto's viral Development Proposal project turned a Canada Post box into a tiny condo. Photo courtesy of the artists.
Q: What do you hope comes out of your Development Proposal project? (Besides a condo on a Toronto ferryboat?)

A: We're thrilled with the conversation this project has stirred. And that's what we were hoping for: to engage Torontonians in a process that has become very banal and un-engaging through these development proposal signs, and remind them that they have a say in the future of their city.
We want the city to go beyond the sign when it comes to development proposals. It's a very passive way of asking Torontonians about the future of their city. It requires them to stop, read the sign, and go to a meeting at a very specific time and place that may interfere with their schedules.
We have technological tools that can meet people where we're at. We can have online town halls on social media for people to air their concerns, and voice their visions for the future. We can hire people to stand outside the building and beside the sign during peak rush-hour times.
But most importantly, we need to have a government that reflects our values and actually listens to our ideas. We need to hold them to that and to create effective mechanisms to develop more community space, services, affordable housing and thoughtful development in Toronto.
We didn't want to critique the City without providing an alternative vision, so on the website you can find an alternative: a development proposal that makes more room for community space, affordable housing, is a thoughtful addition to the city, and reflects the city and its residents.
The Development Proposal for the CN Tower.
Q: Why remain anonymous?

A: It's not about us or our practice, it's about starting conversation about the future of Toronto and the lack of engagement of the development-proposal process.
The project is responding to a general feeling we've detected in the city, which isn't against development in general, but about the ludicrous nature of recent proposals.
By being anonymous, we hope to represent many people's concerns. We also hope to replicate the feeling of anonymity of these proposals: Who is behind them? Where are they? Who is representing us at the city? Who are the faces behind the signs?
Read more about this project at developmentproposal.tumblr.com.

The Development Proposal for a Toronto Islands ferryboat.